Our Values:  Creativity, Collaboration, Inclusiveness, Effectiveness. 
The purpose of our events and exhibitions is to provoke discussion, reflection and action and to nurture an emphatic, socially-aware and action-oriented community. ACW will host a two-week event with an exhibition, performances and workshops around the theme of See. Say. DO from Oct. 4-14, 2018.
Twenty established and emerging artists and their topic expert team members are creating social and environmental justice works, transforming the cutting-edge art space Squirrel Haus Arts in South Minneapolis into an inviting and magical universe which draws the visitor into a thought provoking, interactive journey with the intent of inspiring action in our community.
The team will learn from all the "topic experts " as they build the art object and workshops. Topics include Recovery, Gender/Sexual Equality, Disability, Water Quality,Wellness, CTSD, Compassionate Conversations and Labor/Union issues.. An example of  topic expert team mates who will work with the Recovery artist, Barbara Bridges,  are Marya Hornbaucher, an author in recovery from addiction  and David Swarthout, a psychotherapist specializing in addiction. Marya has already influenced my thinking. She indicated when people ask her if she is "in recovery" she responds with strength, contentment, and peace of mind "Today, I'm alright."  .  The team will learn from all the "voices" as they build the art object and workshops.  Read More   What is an Authentic/Expert Topic Voice?
October-4-14, 2018.
VIP Fundraiser Oct 5, 2018.
Opening Night October 6, 2018   6:00-10:00
20 Artists and 20 Topic Expert  voices, 7 Pre/During and Post-Performance Discussions, 6 Workshops, Non-Profit Networking Night, Pop-Up Performance Night,  Dodging Bullets Discussion and
Filming

.  3450 Snelling Ave S, Squirrel Haus Arts in South Minneapolis.
---
Topics
Grace Bianchi   – Body Image    SUPPORTED   Read  About Project
Barbara Bridges -Recovery   Become a team mate Learn More  

Kira Corser   – Climate Change /Human Rights  Become a team mate  Learn More
Madelynne Engle  – Truth and  Resilience  SUPPORTED  Read About Project
Maris Gilbert  – Water Quality  Become a team mate   Learn More
Craig Harris – Human Senses-CTSD  Become a team mate  Learn More

Laura Hill   -Reclaiming our Narratives: Exploring Race & IdentitySUPPORTED Read About Project

Anne Kleinhenz   – Heart Listening  Become a team mate  Learn More
Barb Kobe – Emotional Nature – Embodied Knowing – Empathetic Connection  Become a team mate  Learn More
Candy Kuehn  -Dark Energy/Brain Neurology  Become a team mate  Learn More
Felicia Lenee -FE -Compassionate Arts in Action  SUPPORTED  Read  About Project
Wesley May – Identity    SUPPORTED  Read about the project

Nikki McComb   – Art is my Weapon  Become a team mate  Learn More

Layl McDill    – Persuasive Technologies  Become a team mate Learn More
Rebecca Ratzlaff  – Labor/Unions  Become a Team Member Learn More
Kate Renee – Seven Deadly Sins-Glutthoney  Become a team mate  Learn More
Danielle Ricci  –   Ongoing Refugee Crisis    Become a team mate   Learn More
Shira Richter  –  Motherhood: Women, Men and Money SUPPORTED  Read About the Project
Barry Scanlan    Environmental Corporate Abuse    Become a team mate    Learn More
Jill Waterhouse  -Gender/Sexual Equality  Become a Team mateLearn More
________________________________________________________________________________________________________
Support a Team.  Become a Team Member!

Do you have a specific social topic you would like to sponsor? The artist/authentic voice teams need about $1,000.00 for both of them to research, travel, buy art and educational supplies/materials. Each artist has selected an authentic voice (or 2). We might also call these integral team mates a "primary source voice." ALL of the team members learn from the other team members.  You will become a member of the team. We value your voice.
Support benefits included (all optional) :
Studio visit
Listed on website and programs
One ticket to VIP Event
Monthly artist news/networking/events emailed
Access to the Art to Change the World forum
Membership in book club
Invitations to celebrations and gatherings
ACW coaster set
ACW Hot Beverage Mug
ACW  Tote  Bag
Invitation to an authentic Maine Seafood Chowder dinner created by native  Mainer Barbara Bridges  OR   A small artwork created by an ACW artist.
Donate Here  https://www.arttochangetheworld.org/donate/ Post Director, Barbara Bridges, to indicate the amount and the artist you want to support  info@arttochangetheworld.org.  You will receive a letter for your taxes.  Call to discuss details with Barbara if you have questions: 612 845 0416.
Sponsors of See.Say.DO. 
Minnesota Humanities Center "This work is funded in part with money from the Arts and Cultural Heritage Fund that was created with the vote of the people of Minnesota on November 4, 2008."
_______________________________________________________________________________________________________________________
Membership Benefits  All levels
Left : Liberty and Justice for All
Kate Renee  Read More

Picture to right:  My Brothers Keeper  Nikki McComb  Read More
---
---

Fall 2020
Found In Our Waters
Our concern for the quality of our water should be a national and international dialogue. The Maine shrimp disappeared in 2013. The clam and oyster shells are 40% thinner than a decade ago. There is a toxic alert on the salmon caught in Lake Superior. The future water concerns are here today.
We seek collaborators to stage exhibitions, panel discussions, student workshops, and school visits. It is our belief that social practice art invites the participants to consider serious social issues while experiencing the joy of collaborative creating. Location on Route One to be selected by participants. Route One Project
Apply Now   AApply Now  Application-Artist-4  Application-Expert Voice-4
See All Membership Options Picture to Rt: Totis 1 Barbara Bridges Read More 
---
Workshops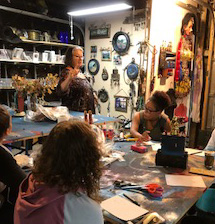 We seek artists who would like
to participate in studio visits
from small groups of Area
Learning Center Students.
Layl McDill:  Polymer Clay Workshops
Contact  Barbara Bridges    drb@bridgescreate.com
Banner photograph of  The Path : Choreographer Danielle Ricci