Fall 2018  What's Your Issue?
Art to Change the World (ACW) is a non-profit, multidisciplinary coalition of artists, educators, scientists, authentic/expert voices and supporters who are committed to creating art and public events which deliver powerful and transformative experiences.
What makes ACW unique is that it brings together the arts and sciences, at a time when both disciplines are struggling to be heard above the fray of "fake news." It is our belief that art and science are integral to each other and essential components to the development of culture and critical thinking. ACW's events include exhibitions, performances and onsite workshops and school visits. The events serve as an incubator for traveling corporate and community/school workshops.
For our debut exhibit, Art to Change the World, will host a two week event with performances and workshops around the theme of What's Your Issue: See something DO something, from October 5-14, 2018. There will be a dozen established artists and their authentic/expert voice partners creating major social and environmental justice works on topics such as gender and social equity, recovery, self-healing, water quality and climate change. The space at Squirrel Haus Gallery, a new cutting edge artspace that has agreed to host ACW for this event, will be transformed into an alternative universe which draws the visitor through a sometimes shocking, and always thought provoking, interactive journey. (This will not be your mother's gallery visit!)
Your membership and donations will provide compensation for exhibition and workshop participants plus social justice warrior awards at events.
Do you have a specific social topic you would like to sponsor? The artist/scientist teams need a minimum of about $2,000.00 for both of them to research, travel, buy art supplies and educational materials.  Call to discuss details: 612 845 0416 or just select the donate button. Member level premiums apply to one time donations.
Apply Now  Application-Artist-4  Application-Expert Voice-4
You must be an active member of  the ACW community to  be a featured artist in the "What's Your Issue" Event.  This might include participation on  discussion boards, book group, contributing to data bank,  support of community members events and exhibitions and/or other service to the organization.
Left : Liberty and Justice for All
Kate Renee  Read More

Picture to right:  My Brothers Keeper  Nikki McComb  Read More
---
---

Fall 2020
Found In Our Waters
Our concern for the quality of our water should be a national and international dialogue. The Maine shrimp disappeared in 2013. The clam and oyster shells are 40% thinner than a decade ago. There is a toxic alert on the salmon caught in Lake Superior. The future water concerns are here today.
We seek collaborators to stage exhibitions, panel discussions, student workshops, and school visits. It is our belief that social practice art invites the participants to consider serious social issues while experiencing the joy of collaborative creating. Location on Route One to be selected by participants. Route One Project
Apply Now   AApply Now  Application-Artist-4  Application-Expert Voice-4
See All Membership Options Picture to Rt: Totis 1 Barbara Bridges Read More 
---
Workshops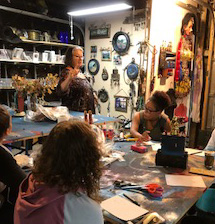 We seek artists who would like
to participate in studio visits
from small groups of Area
Learning Center Students.
Layl McDill:  Polymer Clay Workshops
Contact  Barbara Bridges    drb@bridgescreate.com
Banner photograph of  The Path : Choreographer Danielle Ricci