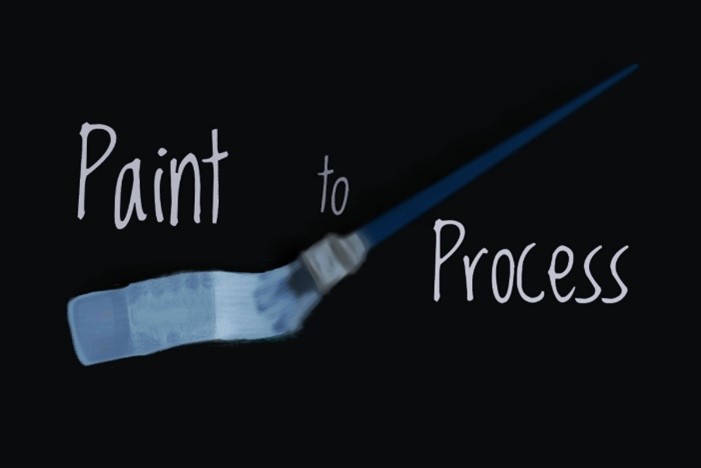 Paint to Process
  This program is for anyone who's survived  trauma. A free art care package will be provided and together, via Discord, the group will create art and support each other's healing.
$100 bag of Free art supplies!!!

---
Project Manager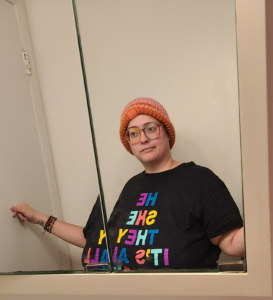 Seren Low (they/them)
I am not an artist, I am a processor.  The more I understand myself and my neurodiversity I see my projects past, present, and future as the ways I can best express myself.  I use the ideal of expressionism, dada, serialism, folk art, street art, and Americana to process my experiences and the things I learn.
I believe this ability truly bloomed in high school when I was first exposed to the freedom the sculptural arts have given me. I continued my education in the liberal arts education at Rosemont College located outside of Philadelphia. As I learned skills and history, I worked hard towards completing the classes needed. I received my BFA in Studio Art and my minor in Art History.
This time cumulative into a solo show in which I processed my view of myself as an AFAB person in their 20s in 2009. It was entitled "Female HA-HA" about the in my opinion hilarious uncomfortability of being a young woman in 2009. It was even written up in the Philadelphia Inquirer.
However, because of my personal life I found little time to create until I had long covid in 2020 when art became part of my recovery.  Art being therapy not only of the mind and spirit but of the body starting with paint by numbers and moving on to needle point then drawing. I began to heal and in 2022 I made a deal with myself to draw a day or more and I did it. I reawoke my processing self.
Instagram/TikTok: @bedsidearts
Processor, Activist – West Virginia
________________________
By Alkemy

DID (Dissociative Identity Disorder) both possessive and non-possessive is one of many mental health conditions people can develop due to severe childhood abuse. This particular issue can stop part of a person's identity at the age they were when they experienced trauma. Though, even if a person doesn't specifically have DID, it's still therapeutic to consider the needs of their childhood self who lived through the painful experience. As someone who has non-possessive DID as well as PTSD and other concerns, I understand how stigmatizing and isolating it can be. Childhood abuse is something that can affect your entire life and is often swept under the rug. Keeping it buried adds to the hurt and shame while preventing healing.
The goal of Paint to Process is to give those who have survived childhood trauma an artistic, supportive, and safe space. Here participants can express the hurt and efforts at healing that the world so often doesn't care to see. I hope that participants will leave feeling seen, supported, and lighter. Paint to Process offers participants a way to learn about themselves, let old hurts go, and take back power over their narratives.
For supplies, I propose simple but fun and safe materials. Nontoxic and eco-friendly, a care package for their past selves who needed one and still do. Some people are sensitive to art supplies or if they have possessive DID they may worry about what their alters will do with toxic supplies. As far as eco-friendly, we are part of the world too and we can't fix the world if we can't take care of ourselves. My current list of supplies includes pencils, erasers, watercolors, glue, sketchbooks, finger paints, and mini face-paint kits. Participants can use these in a variety of ways even after the program ends. I also am thinking of adding a single, unopened of course, children's bandaid, I already have them and we're expecting a small number of participants so it wouldn't cost extra. The total cost should be $563.12.
For promotional and exhibition options, participants can choose not to share if it would be triggering. If they are comfortable, though, sharing their work will be a great way to raise awareness and hopefully bring us closer to a more understanding future. At the end of the project, I plan to host an in-person and virtual event depending on participant needs, involving sharing art and face-painting or photo-editing respectively. The idea is that we can paint each other's faces as a show of "I see you". This would make for a great photo opportunity. I also plan to ask participants to share their thoughts which is great for showing others what the experience was like.
Where and when? I'm thinking online, once a week, Tuesdays, at 7 pm, for a couple of months. We wanna have enough time to feel comfortable and connect but not drag it out. The final meeting of the project, at least the initial round of it, if done in person will be at a local park, Arbor Meadows Park in Cottage Grove, weather permitting. On the same day and time if possible. I chose Tuesday as it's a rather unassuming day, slightly close to the weekend as weekends are tough and Monday can be tiring as the first day of the week. My hope is this will put it at a time people can aim for if they're struggling and that it's late enough to be after work and school generally speaking.
We're expecting a total of four participants and are restricting participation to members. Membership is $50 but there are also scholarships. Our procedure for scholarships is submitting a paragraph explaining your need, 3 JPGs or URLs of work samples, a resume, and a list of what you would/could do to help with ACW. We are a collective.
See here for Volunteer Possibilities.
https://www.arttochangetheworld.org/volunteer-opportunities/
Post info@arttochangetheworld.org
Logo by Alkemy who is an artist of many mediums mainly focused on the surreal. Ne has survived abuse and is using art to build a better life with the hope of helping others do the same.
Contact them for more information:  Alkemy Frost alkemyfrost@gmail.com
---
How to Sign up for Discord
Interested in discussing the pronouns with others in an open safe space?
You can find a variety of conversations happening including our pronouns channel call Pronoun-Plaza on ACW's Discord at https://discord.gg/ufK2XpHPuw.
Unveiling the ACW Discord Server!
ACW members now have a new place to gather! Discord is an app that allows for easy talk and text. Joining will allow members to connect any time on a variety of topics, many subjects already have their own channels within the server and more can be added. Come talk, share art, discover new friends. It can be daunting trying something new but we hope it'll be well worth it. Included below is a step-by-step guide.
How to join Discord via computer:
Go to https://discord.com/
Click download or open in browser
Click register
Add phone number or email
Enter a username and password
Add your birthday
Click create an account
Answer Captcha
Choose a profile picture
Click next
Click not interested
Click join a friend on discord and enter the link for the ACW discord or exit and click here https://discord.gg/4w8AvUCDyY
How to join Discord  via phone:
Go to google play store
Search Discord
Click on the app
Click install
Click open
Click register
Add phone number or email
Enter a username and password
Add your birthday
Click create an account
Answer Captcha
Choose a profile picture
Click next
Click not interested
Click join a friend on discord and enter the link for the ACW discord or exit and click here https://discord.gg/4w8AvUCDyY
If you have any questions contact Alkemy at alkemyfrost@gmail.com