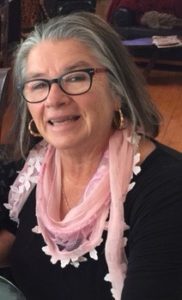 Barbara Rogers Bridges has been an artist and a teacher/college professor for over 40 years. Her social practice sculptures have been exhibited in Maine, Miami, the Virgin Islands, Maryland, Chicago, Mexico, Spain, Canada, and throughout Minnesota. Bridges taught K-12 art in Minnesota, Maine and the Virgin Islands and and trained teachers in higher education at the University of Minnesota and Bemidji State University.
Barbara creates social practice art from fabricated components in a variety of media and rescued "power objects." She manipulates the objects to create meaning and provoke discussions and reflection on a wide variety of social topics. Barbara is founder and director of Art to Change the World.    Read More
---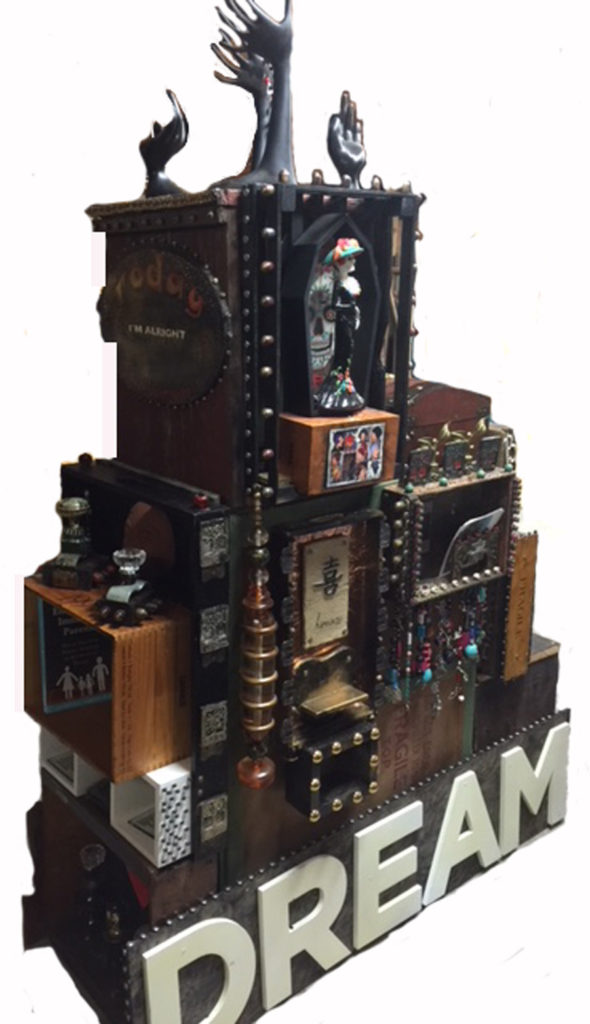 Healing
Most of us know someone who was, is, or who we wish were, in RECOVERY. What does that word actually mean when connected to trauma? I chose to use the word RECOVERY because my series is a message of hope.
Your trauma is not terminal.
You are not broken.
You can create your own life raft of hope and resilience with practical strategies.
---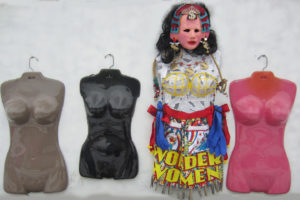 Transcending Race: But Not The 24″ Waist
96"W X 38" H X 6 " D
Mixed Media  Clay fabrication, manikins, fabric, beads and found objects
The social practice art work called Transcending Race: But Not The 24″ Waist   explores the challenges faced by 60 something women as they were " allowed" to enter the workforce.
We started seeing the term " wonder women " about 15 years ago. This term was used to describe how the then 50 something women had been "allowed" to go to work as long as they continued to cover the childcare, shopping, cooking and cleaning.   They truly were "wonder women". It worked for everyone until their age started to catch up with them. They started asking for help. This was not received well.  THEN I started reading articles about how bitchy those baby boomer women were in their menopausal years. Darn right they were grouchy…they were exhausted!
My life size assemblage art work called Transcending Race: But Not The 24″ Waist, with a supporting research study, is an homage and a critique of the DC Comic (owned by Time Warner)  Wonder Woman.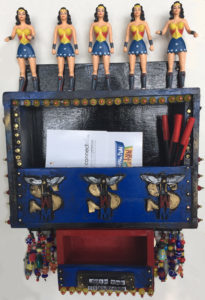 Transcending features very tired eyes in a clay mask of the artist's face, breasts in a cage and the lasso of NO TRUTH. She wears a princess crown which embraces the multiple worldviews of the Empirical, Interpretive and Critical Theory and a 50's style apron finished with clothespin lace and with pockets ready to receive more answers to the study question, "As a woman, what is an important life decision you have made influenced by money? "
To participate in the study: http://bridgescreate.com/women-and-money/
To view the results: http://www.bridgescreate.com/newsletter-signup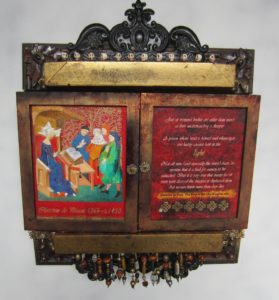 ---
First, Second, Third and Fourth Waves
Mixed Media
36" W X 18" H X 4" D  View of Blazing, Guerrilla Girls and Kate Renee tributes

I have spent a lifetime pondering waves. Hailing from Maine, over the last 67 years I have experienced, and reflected on, the impact of waves on us as biological organisms – often fighting against each other. Where the waves meet is where the action is.
As a scholar, I have spent many hours examining, oftentimes in excruciatingly minute detail, theoretical waves of human thought. Waves deliver tranquility, sustenance and insight – along with trash and terror.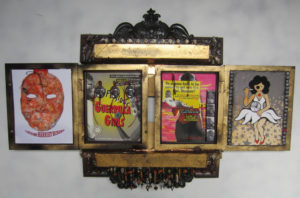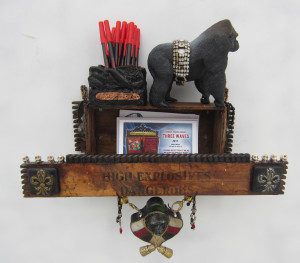 In reconsidering the history of feminist thought, I discovered Christine de Pizan, born in 1365 in Venice, Italy and who left us a collection of brave and still relevant reflections. I have created what I am now calling a sextet. A sextet is a group of six people or objects. Sometimes they sing.
I feel that Three Waves, which has the look and feel of a very elegantly painted Mexican or Russian icon, starts a song which I hope to facilitate with feminists from all Waves – and beyond. When opened, the sextet interior space features an homage to the Guerrilla Girls, one to The Blazing World character, Harriet Burden, by Minnesota author Siri Hustvedt, and finally, one arresting example from Minneapolis Third Wave feminist Kate Renee.
---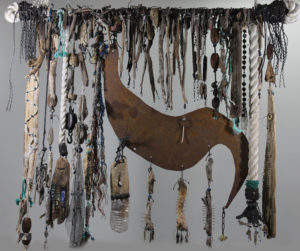 Found In Our Waters
Totis 1 (Treasures of the inland Sea)
Mixed Media: Collected from the shores of our Inland Sea.
6 feet H x 10 feet W x 6 " D
Our concern for the quality of our water should be a national and international dialogue. The Maine shrimp disappeared in 2013. The clam and oyster shells are 40% thinner than a decade ago. There is a toxic alert on the salmon caught in Lake Superior. The future water concerns are here today.
I seek collaborators to stage exhibitions, panel discussions, student workshops, school visits and adult events around the country. It is my belief that social practice art invites the participants to consider serious social issues while experiencing the joy of collaborative creating.  Here you will view authentic voices and pictures taken with cell phones, professional and unprofessional cameras and videographers and uncut videos from the Art-A-Whirl event.  Please enjoy the dynamic sound of people at an art show looking, making, and learning.  Read More
---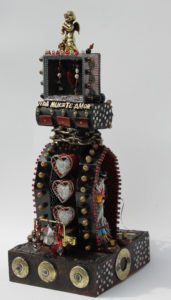 24″  T X 18″ W X 18″ D  Found Objects:  Arbol de Vidas, hand blown glass heart, wooden skulls, beads, resin constructions, re-purposed wood.  
The Mexican culture has a very healthy attitude towards cycles of life, death and love. Inspired by the aesthetic of my second home, my indigenous ethnic origins and my age, this series asks "Is love a social construct? "How do YOU want to grow old and die." My discussions with the elders and millennials in Zihuatenjo informed my choices of power objects in this series,
" Over the years, I have spent many intriguing hours visiting the cemeteries of Mexico.  Each plot is a space simply waiting for the next visit from loved ones who remember the food, music, culture and art the person who has passed by bringing gifts, playing music and leaving food and memorabilia.
My discussions with the elders and millennials in Zihuatenjo informed my choices of power objects in this series and is created from a variety of precious materials to celebrate our universal human experience.
---