Project Description    Barbara Bridges Topic:  RECOVERY   Today, I'm Alright.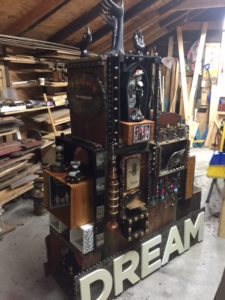 RECOVERY. If you are reading this word, "RECOVERY" it would be unusual if you do NOT know anyone who WAS, IS, or you wish WERE, in RECOVERY. What does that word actually mean when connected to trauma? I chose to use the word RECOVERY for my series because my series is a message of hope.   Your trauma is not terminal. You are not broken. You can create your own life rafts of hope and resilience with practical strategies
Art to Change the World's first event, See. Say. DO. Intends to change the world by using art to deliver a message of hope and serving as a catalyst for positive concrete change. Please open all the cupboards and drawers, consider what you see and take one of the contents, if invited.  Leave your reflections and comments in the art and attend our workshop!
In my project on Recovery, my team members are Marya Hornbacher, an author who is in recovery from addiction  http://www.maryahornbacher.com/ and David Swarthout, a psychotherapist specializing in addiction. Marya has already influenced my thinking. http://www.drdavidswarthout.com/ She indicated when people ask her if she is "in recovery" she responds with strength, contentment, and peace of mind "Today, I'm alright."  I decided to name the work after this insight. Personally, I have experienced addiction (food) and my friends and family have also been challenged.  It would be difficult to find anyone who does NOT have this issue in their lives- we just don't talk about it – so we suffer alone. I now believe my loved ones are sick of people treating them like it is all over-that they are recovered.  I now know that Today- they are alright.  This new insight has informed the direction of my large 5'X 5' W X 7 ' work. The sculpture has  influenced the workshop design which will  engage our audience moving forward. https://www.arttochangetheworld.org/barbara-bridges/
Workshop: Our two hour workshop invites EVERYONE who has a connection with TRAUMA  to join us for two hours of resource sharing, art-making, conversation and most importantly – identifying strategies for change.  This workshop invites people who have had their life touched by trauma: People recovering from disordered eating, gambling, chemicals, alcohol, or sex addictions and  people recovering from death, divorce, cults or abuse. Each participant will go to the drawers and cupboards of TODAY, I'm Alright to choose a talisman to discuss at the workshop and then take home with them to help in their recovery. Friends and family are also invited to this workshop. Everyone needs to evolve and change for a recovery to be successful. Recovery is way more complicated than to " Just Say NO".    Workshop Outcomes October 2018
How the art gets made. Journal 
July 11, 2018  Decided today not to include the Recovery chair.  The objects are presenting themselves at a rapid pace and I need the space on the 4th side of "I'm Alright".  The 12 step Recovery programs have problems with people who do not embrace a "God" belief system since the basic concept is to trust your "Higher Power".  The standard line is… you can choose anything for your higher power… even a door knob.  In my workshop, participants will be encouraged to take one "recovery object" from the sculpture to use as a talking point during the session and then take away with them as a talisman.   Here are examples of the Higher Power Door Knob Sculptures.   I have often heard that during detox…the person feels bugs crawling on them.  My trunk keeps them contained… you can control that perception.  Wranklets can be worn on wrists or Anklets and are used to remind the wearer of their power to chose their pathway.    Read More:  now . View Progress/Artist Journal
Building the Artwork
Authentic Voices: Marya Hornbacher, http://www.maryahornbacher.com/  a five time published  author who is in recovery from addiction and David Swarthout, http://www.drdavidswarthout.com/ a psychotherapist specializing in addiction.
---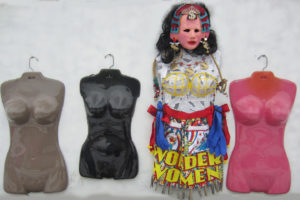 Transcending Race: But Not The 24″ Waist
96"W X 38" H X 6 " D
Mixed Media  Clay fabrication, manikins, fabric, beads and found objects
The social practice art work called Transcending Race: But Not The 24″ Waist   explores the challenges faced by 60 something women as they were " allowed" to enter the workforce.
We started seeing the term " wonder women " about 15 years ago. This term was used to describe how the then 50 something women had been "allowed" to go to work as long as they continued to cover the childcare, shopping, cooking and cleaning.   They truly were "wonder women". It worked for everyone until their age started to catch up with them. They started asking for help. This was not received well.  THEN I started reading articles about how bitchy those baby boomer women were in their menopausal years. Darn right they were grouchy…they were exhausted!
My life size assemblage art work called Transcending Race: But Not The 24″ Waist, with a supporting research study, is an homage and a critique of the DC Comic (owned by Time Warner)  Wonder Woman.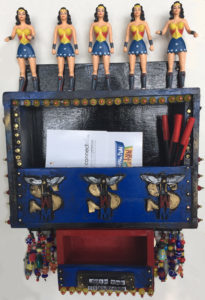 Transcending features very tired eyes in a clay mask of the artist's face, breasts in a cage and the lasso of NO TRUTH. She wears a princess crown which embraces the multiple worldviews of the Empirical, Interpretive and Critical Theory and a 50's style apron finished with clothespin lace and with pockets ready to receive more answers to the study question, "As a woman, what is an important life decision you have made influenced by money? "
To participate in the study: http://bridgescreate.com/women-and-money/
To view the results: http://www.bridgescreate.com/newsletter-signup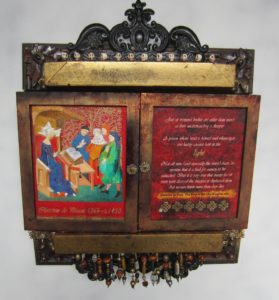 ---
First, Second, Third and Fourth Waves
Mixed Media
36" W X 18" H X 4" D  View of Blazing, Guerrilla Girls and Kate Renee tributes

I have spent a lifetime pondering waves. Hailing from Maine, over the last 64 years I have experienced, and reflected on, the impact of waves on us as biological organisms – often fighting against each other. Where the waves meet is where the action is.
As a scholar, I have spent many hours examining, oftentimes in excruciatingly minute detail, theoretical waves of human thought. Waves deliver tranquility, sustenance and insight – along with trash and terror.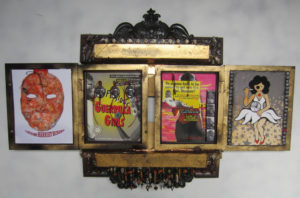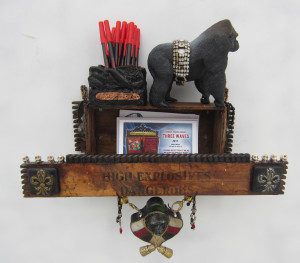 In reconsidering the history of feminist thought, I discovered Christine de Pizan, born in 1365 in Venice, Italy and who left us a collection of brave and still relevant reflections. I have created what I am now calling a sextet. A sextet is a group of six people or objects. Sometimes they sing.
I feel that Three Waves, which has the look and feel of a very elegantly painted Mexican or Russian icon, starts a song which I hope to facilitate with feminists from all Waves – and beyond. When opened, the sextet interior space features an homage to the Guerrilla Girls, one to The Blazing World character, Harriet Burden, by Minnesota author Siri Hustvedt, and finally, one arresting example from Minneapolis Third Wave feminist Kate Renee.
---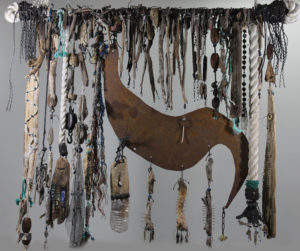 Found In Our Waters
Totis 1 (Treasures of the inland Sea)
Mixed Media: Collected from the shores of our Inland Sea.
6 feet H x 10 feet W x 6 " D
Our concern for the quality of our water should be a national and international dialogue. The Maine shrimp disappeared in 2013. The clam and oyster shells are 40% thinner than a decade ago. There is a toxic alert on the salmon caught in Lake Superior. The future water concerns are here today.
I seek collaborators to stage exhibitions, panel discussions, student workshops, school visits and adult events around the country. It is my belief that social practice art invites the participants to consider serious social issues while experiencing the joy of collaborative creating.  Here you will view authentic voices and pictures taken with cell phones, professional and unprofessional cameras and videographers and uncut videos from the Art-A-Whirl event.  Please enjoy the dynamic sound of people at an art show looking, making, and learning.  Read More
---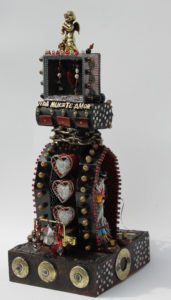 24″  T X 18″ W X 18″ D  Found Objects:  Arbol de Vidas, hand blown glass heart, wooden skulls, beads, resin constructions, re-purposed wood.  
The Mexican culture has a very healthy attitude towards cycles of life, death and love. Inspired by the aesthetic of my second home, my indigenous ethnic origins and my age. This series asks "Is love a social construct? "How do YOU want to grow old and die." My discussions with the elders and millennials in Zihuatenjo informed my choices of power objects in this series,
" Over the years, I have spent many intriguing hours visiting the cemeteries of Mexico.  Each plot is a space simply waiting for the next visit from loved ones who remember the food, music, culture and art the person who has passed by bringing gifts, playing music and leaving food and memorabilia.
My discussions with the elders and millennials in Zihuatenjo informed my choices of power objects in this series and is created from a variety of precious materials to celebrate our universal human experience.
---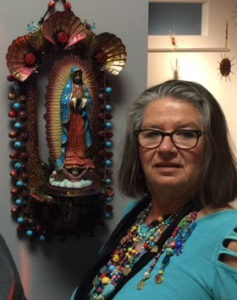 "Why did I  start ACW?  I wanted to create an organization for change of which I would want to be a member. Over eighty percent of student learning is consumed visually, according to recent research. The time for artists to raise their voices for maximum impact is NOW.  I include a rather lengthy overview of my life so far to assure you that if I say I am going to do this – I will!"
The Artist
Barbara Rogers Bridges has been an artist and a teacher/college professor for over 40 years. Her social practice sculptures have been exhibited in Maine, Miami, the Virgin Islands, Maryland, Chicago, Mexico, Spain, Canada, and throughout Minnesota. Bridges taught K-12 art in Minnesota, Maine and the Virgin Islands.
Barbara creates social practice art from fabricated components in a variety of media and rescued "power objects." She manipulates the objects to create meaning and provoke discussions and reflection on a wide variety of social topics including agricultural practices (Ode to Gluten), living a considered life (Talking Chairs and Academia Nuts), water quality (Found In Our Water), recovery (Reflection Pool) and Feminism (Three Waves, Wonder Woman and La Mujer).  See bridgescreate.com  She is a sculptor on a mission to demonstrate how art can serve as a catalyst for social change and is committed to creating, and empowering others to create, high quality art objects which honor their powerful message. Read More about the Art
The Art Teacher
Barbara Bridges seeks to empower all people to embrace the creative process. Barbara's teaching career began in Maine in 1976 where she was an art teacher. Since then she has expanded her sphere of influence to Mexico, the Caribbean and Minnesota.  Barbara has partnered with various Minnesota institutions such as the Minneapolis school district, the Minnesota Online High School, Perpich Center, the Walker Art Center, the Minneapolis Institute of Art, the Weisman Museum and the Minnesota Museum of Art. The online discussion group, ArtsNet Minnesota, came out of those collaborations. ArtsNet Minnesota  boasted a membership of over 600 as well as a site that contained over 8,000 pages of material. Barbara has a passion for giving the gift of creativity back to her students. She believes, if motivated and informed, everyone can be creative.
Amongst her proudest achievements were three Educator of the Year awards in 1998 and 2008, from the Art Educators of Minnesota and the National Art Educators Association. Testimonies for Dr. Bridges
The Professor
Barbara has served as a professor for over twenty years at the University of Minnesota and Bemidji State University and has contributed in a variety of ways. Her appointment includes teaching Foundations of Education, Human Relations and Critical and Creative Thinking, also serving as the architect of the unique DLiTE (Distributed Learning in Teacher Education) – a hybrid online K-8 teacher licensure partnership program and the FasTrack secondary initiative designed for previously degreed candidates who wish to teach high school. The combined programs have served over 6000 teacher licensure students average age 35, working, and place bound with children. Although Barbara serves Bemidji as a general education specialist, she has been a powerful force in art education for many years. Barbara led a National Art Educators Fellows Institute at her home in Maine which included the President of the National and International Art Educators. Artist      Minneapolis, Minnesota  http://www.bridgescreate.com/fellowsb/