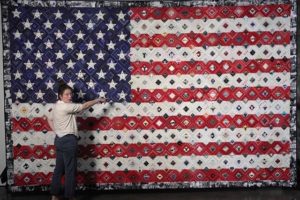 Today many of us will burn meat, load carbs, light off explosives in our yards (or go to city fireworks and let the mosquitoes chew us alive at dusk) and attend parades. I just saw the preparations for the Bangor, Maine (my home town) parade on Morning Joe because Susan Collins, our Maine senator and celebrity swing voter, will be marching in it.
I am thinking about what "independence" means in a very different way from my last half century of July 4ths. We have all managed to get ourselves in our little "think alike" bubbles in what may produce a very dangerous outcome.
Art to Change the World was designed to burst the bubbles and to break down the silos we have made for ourselves. All people who are trying to live on the planet in a considered way need to join forces – practically and authentically.
Easy to say and hard to do. Being a simple country girl from Maine, I tend to keep my ideas pretty simple. Would it reduce human conflict if we all tried to:
1. Collect ALL the data ALL the time? (Challenging but Doable)
2. Get OVER Yourself!! (Almost Impossible). We have been taught to develop our worldview and then stick to it. We have been taught that OUR truth is THE truth. From an empirical point of view…is it statistically probable that within the 7 billion people on the planet …your truth is THE truth?
Join ACW to discuss this and other intriguing topics!!