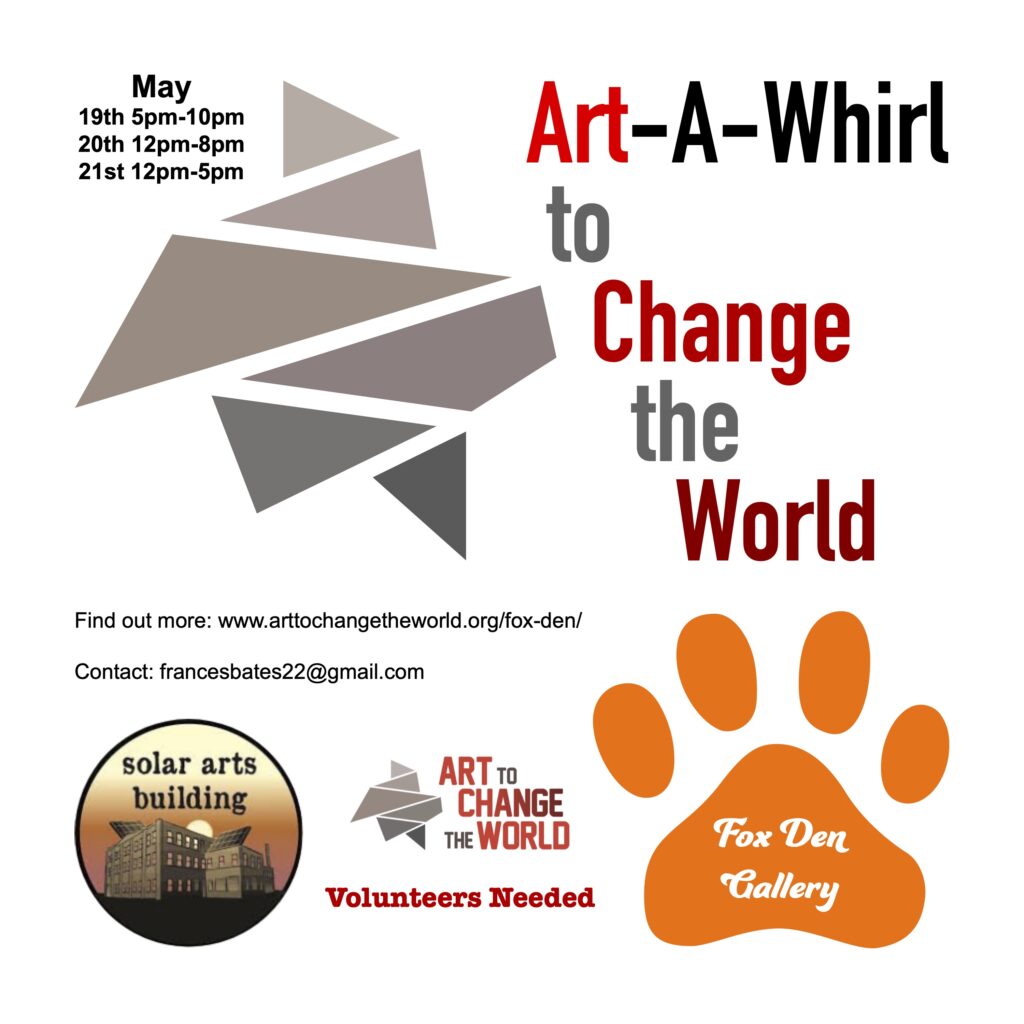 Fox Den Dates
Solar Arts  711 15th Ave NE 2nd Floor
We're excited to have the Fox Den on the second floor of the Solar Arts Building to use for ACW solo or small group exhibitions for special events at the building this coming year. Applications will be evaluated by a team of 5 jurors. Applications are welcomed, and artists notified on a continual basis throughout the year. ACW will actively promote the use exhibition for the public scheduled event. In addition, should the artist choose, ACW will support and promote a special private showing in the space over the weekend lasting up to four hours.711 15th Ave NE, Minneapolis, MN 55413.  Second floor.
Must be an ACTIVE ACW member to apply.  ACTIVE members have paid their ACW membership dues and contributed time, talent or treasure to the collective.  ACW will only survive if  we all work together.  We would like to continue to offer our events free, pay small stipends to our leaders and  give all sales proceeds to our artists.
_______________________________________________________________________________________________________
Schedule 2023
January: Solar Arts is not open
February: ACW posters
March: Contrast Orange (Focusing on the color orange)
April: Repaint (Art made using a thrifted canvas)
May: Art-A-Whirl
June: Pride Show
July: Solar Arts is not open
August: TBA
September: Literary art
October: TBA
November:
Art This Way
Small Business Saturday
December: Holiday art shows
Interested folks should send questions or application to francesbates22@gmail.com
Applicants
I am seeking formal application emails if folks are interested in being in the Fox Den. Duties, Important Details and Requirements are as follows:
Active membership in ACW, including 6+ hours in volunteer work already completed in the last 12 months. No exceptions.
Availability for Space Set-up at a mutually agreed upon time.
Must be there for art sales or have working QR codes to receive payments
Art-A-Whirl
Application

Due by May 15
Include a description of work you would like to exhibit
Tell us the days you want to reserve

Attendance at an ACW Orientation/Discussion in person at the Solar Arts Building
Ability to work for the full time you are signed up – including actively promoting and explaining the work ACW is doing. This might involve being IN the Fox Den, handing out buttons in the main area, or standing outside the building. We are looking for four people to be working at all times. Artists participating for at least 2 days will be paid a $100 stipend. All people working in the Fox Den will be assigned a focus project area to promote. If you have a person interested in your work…you will be called into talk and to sell!!
Please note: Preference will be given to folks signing up for the most hours/days