We're excited to have the Fox Den on the second floor of the Solar Arts Building to use for ACW solo or small group exhibitions for special events at the building this coming year. Applications will be evaluated by a team of 5 jurors. Applications are welcomed, and artists notified on a continual basis throughout the year. ACW will actively promote the use exhibition for the public scheduled event. In addition, should the artist choose, ACW will support and promote a special private showing in the space over the weekend lasting up to four hours.711 15th Ave NE, Minneapolis, MN 55413.  Second floor.
Must be an ACTIVE ACW member to apply.  ACTIVE members have paid their ACW membership dues and contributed time, talent or treasure to the collective.  ACW will only survive if  we all work together.  We would like to continue to offer our events free, pay small stipends to our leaders and  give all sales proceeds to our artists.
---
Art A Whirl 2022
Times for the Art-A-Whirl at Solar are: Friday 5/20 5pm-10pm, Saturday 5/21 12-8pm, Sunday 5/22 12-5pm – Solar Arts   711 NE 15th Ave, Minneapolis, MN 55413  Second Floor

Fox Den Exhibition
Artists: 
Deb Ripp
Nina Robinson
Kelly Frankenberg
Susan Ganien
Scorpio AKA Brian  Serrano
Becca David
Art Lessons: Studio 215
Free Drawing Lesson with 40 year veteran  art teacher, Barbara Bridges
Make a healing cuff with Dr. Bridges. $10  Your words.  info: drb@bridgescreate.com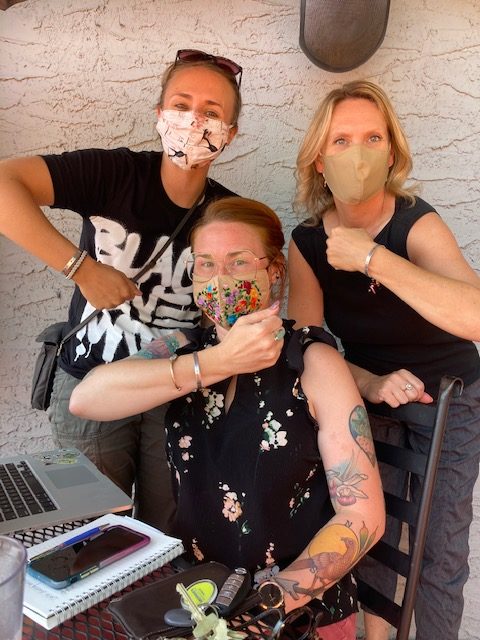 Learn About:
Huxley/ Emma Norton.(the new project which will pay 20 artists $300 each for 4 artworks=$1200.)
ACW mentorship programs (Internships and Coaching Project).
Noble Truths Studio Visits and The Club Critique.(Including studio addresses and cards of Owen and Greg who created those projects).
Exhibitions
Past Events
_________________________________________________________________________________________________________________________________________________________________________________
Please note: All art sold will be processed by the artist themselves. If your art is there, you need to be there. ACW no longer has the capacity to process sales for ACW artists.
I am seeking formal application emails if folks are interested in being in the Fox Den. Duties, Important Details and Requirements are as follows:
Active membership in ACW, including 6+ hours in volunteer work already completed in the last 12 months or by May 15th.  ACW members only.  No exceptions.
Ability to work for the full time you are signed up— including actively promoting and explaining the work ACW is doing. This might involve being IN the Den, or handing out buttons in the main area or standing outside the building. We are looking for four people to be working at all times. Artists participating for at least 2 days will be paid a $100 stipend. All people working in the Fox Den will be assigned a focus project area to promote. If you have a person interested in your work…you will be called into talk and to sell!!
Attendance at a ACW AAW Orientation/ Discussion on May 6th– 6:3-7:3 in person at the Solar Arts Building is required.
Availability for Space Set-up at a mutually agreed upon time Sun, Mon or Tuesday evening.
Please note all participants signing-up for this event will be paid a $100 stipend. (Exhibition Costs, Orientation, Babysitting+)
Interested folks should email the answers to the following questions to luciennes@lucequilts.com. Please note: Preference will be given to ACW task force and board members with an internal priority deadline of 3/28- 12pm. If not filled, The deadline for applications is 4/11-12pm. Depending on applications.
Please put in the title of the email application AAW
Name, Email, Phone.
Quick Explanation of 6+ hours volunteering for ACW.  Must be completed by May 15.
General Description of work you would like to exhibit (Done just to insure variety and think ahead ref: Space)
Days of AAW you want to reserve:
1.___     All Days  Times for the Art-A-Whirl at Solar are: Friday 5/20 5pm-10pm, Saturday 5/21 12-8pm, Sunday 5/22 12-5pm
___ Friday 5/20 5pm-10pm
___    Saturday 5/21 12-8pm
___   Sunday 5/22 12-5pm
Please note: Preference will be given to folks signing up for the most hours/days.