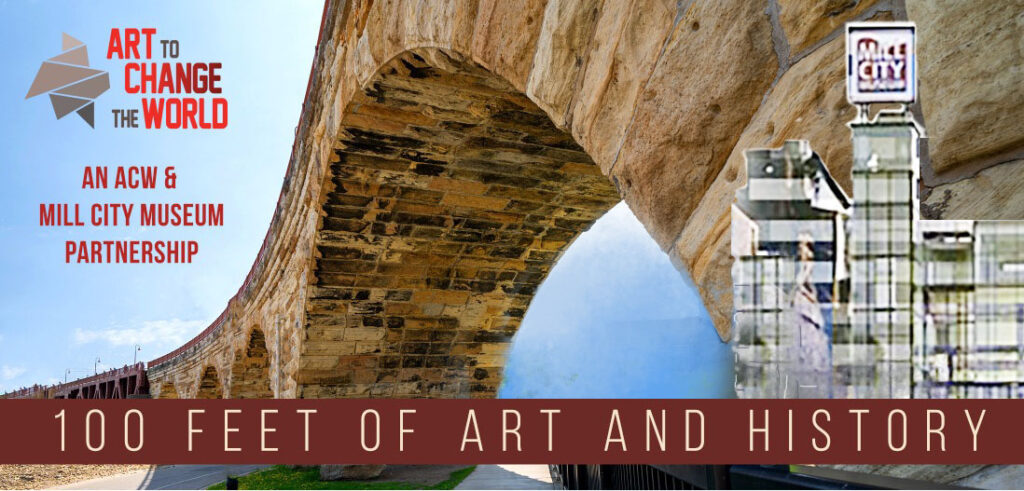 Art To Change The World /Mill City Museum Collaboration – Stone Arch Bridge Festival and Beyond 2024 – 100 Feet of Art and History
ACW has been selected to collaborate with the Mill City Museum to create a 100 foot interactive installation on the river side wall of the Museum. We hope to be able to pay each of 6 artists $2,000 for an artwork including audience activities.  Funding being pursued. Depending on the proposal, artists may be able to attach items to the wall of the east engine house and mill wall as "crowd attractors" for the festival. The works must be fastened/could be integrated into the chain link fence or on the stone wall. You will have 10-15 feet for your installation. The theme must incorporate the river/riverfront history/stone arch bridge/heritage zone to secure funding. Title of the project to be decided by selected participants.
The contract includes an interactive component to be implemented for the two days of the Stone Arch Bridge Festival -June 15-16, 2024. Prepare for 300 + interactions. You should design with the understanding that these artworks will be unattended from installation to deinstallation which could be the first week in August.  We will be right outside the riverside access to the Mill City Museum so you could take interaction activity moveables inside at night during the Stone Arch Bridge Festival.  Depending on feasibility Mill City Museum would like us to leave the installation there through at least Mpls Aquatennial (July 27). You must be available the week before the festival for installation and include a plan for deinstallation. Note:  You will have already been paid to create the works and there is a high probability you will end up with the work at deinstallation.
You do not have to be an ACW member to apply but if accepted, will be expected to join the ACW community.  $50 memberships and scholarships available. https://www.arttochangetheworld.org/product-category/support-us/
Click here to see past projects and events: https://www.arttochangetheworld.org/events-b
Jurors will include ACW representative, Mill City representative, Sara Collins, Stone Arch Bridge Festival director and a creative outside ACW.
Audience Engagement is a mandatory component for all ACW events.  Each of the 6 artists will design an interactive experience for the Mill City Museum Stone Arch Festival visitors.
Mill City Museum will be able to provide temporary studio space and storage based on project needs.
Interested in more details on this Call for Art opportunity?  Click here for Application: https://www.arttochangetheworld.org/mill-city-call-for-artists
If you have any questions please contact Project Manager, Barbara Bridges drb@bridgescreate.com  Project Support: Wini Froelich, Mill City Museum Wini.Froelich@mnhs.org