Event Outcomes  – Pictures and Action Promises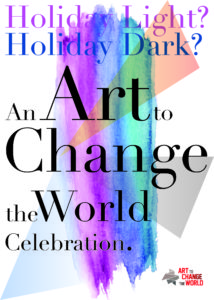 Holiday Light?  Holiday Dark?
An Art to Change the World Celebration
 Join Art to Change the World at the California Building during California Dreamin' weekend at 2205 California St NE, Suite 201, Minneapolis, MN 55418.
The event will include an exhibition, affordable small works, special speakers, workshops, music, food and beverages.  Together, we will explore divergent holiday experiences and seek to inspire people to be creative as we all discover how art CAN change the world! Special ACW Token: Be the Light
Opening Reception: November  1   6:00-9:00 Friday
November  2nd   9:00am – 9:00pm Saturday
November 3rd   12:00 pm – 6:00pm Sunday
November 9   5:00 – 7:00 PM Closing events Saturday  
Participating ACW Artists: Judy Onofrio, Nikki McComb, Yuta Uchida, Emily Forbes, Suyao Tian, Jill Stebbins, Wenwen Liao, Ann Meany, Andrew Braunberger, Barbara Rogers Bridges, Layl McDill; Candy Kuehn; Yuta Uchida; Malcolm Potek, Linda Lade; Installation Artist: Shirin Ghoraishi; Writing Workshop with Anya Achtenberg; Music with Pony: Clifton Nesseth, Paul Sauey and the Royal Hiptites: Marko Fields, Craig Harris, Austin Gerth,  Eric Jaques, Tom Crawford, Kristi MacKay
Program
Nov 1 and 2  Royal Hiptites appearing at Mojo's Coffee from 8:00-10:00  Marko Fields – Guitar, vocals, Craig Harris – Keyboards, Austin Gerth – Drums, percussion, Eric Jaques – Guitar, vocals, Tom Crawford – Bass, vocals, Kristi MacKay – Vocals, flute, percussion  Details
Nov 1, 2 and 3 Activity:  Humor, Heartbreak, or Happiness? with Linda Lade  Details
November  1
Exhibition and small works sale
Karimi, Kelli Miles, Danielle Ricci
Music from Pony from 6-9 in Suite 201  Clifton Nesseth, Paul Sauey
Food from Mojo's Coffee
November 2
Exhibition and small works sale
Karimi, Kelli Miles, Danielle Ricci
Anya Achtenberg Workshop – Holidays in Place and in Placelessness/Multi-visions 2019: a creative writing workshop 3:00-5:00 in Suite 201.  Reserve your spot:  aachtenberg@gmail.com
Food from Sen Yai Sen Lek starting at 5:00
Special Day of the Dead party at Mojo's from 8:00-10:00. Royal Hiptites play
November  3
Exhibition and small works sale
Shirin Ghoraishi  Installation –  Special Tour and Discussion with the artist on Sunday at 1:00.
Review the Fundraiser Artworks
Share your best and worst holiday stories . Join us on Twitter #HolidayLightHolidayDark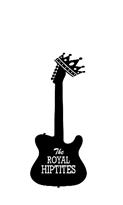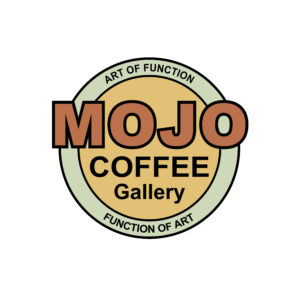 ---
Participating Artists
A multi-media sculptor, Judy Onofrio has been creating art for over five decades.  Over the course of her career, she has worked in various mediums including jewelry, ceramic sculpture, large-scale installations, fire performances, and currently bone sculpture.
Judy Onofrio has always been in love with the stuff of the world. In the first three decades of her fifty-year career, she worked with clay, then built, painted, and often set on fire enormous sculptural constructions. For the past twenty years, she has told optimistic stories about strong women, lush gardens, and circus through her elaborately embellished figurative sculptures. 1996 –2008
In 2008, when Onofrio was confronted by a serious illness, everything changed and she turned to her studio practice to process her experience of mortality, renewal and healing. The resulting series mirrored Onofrio's own journey through illness to renewed health.
Always a master of material, Onofrio began to subtly and organically integrate animal bones into her repertoire of sculpted, embellished and painted forms.   2009 2019
Then Onofrio took a leap of faith. The female figure, star of her work for decades, vanished. Sleek, vibrant color mutated into shades of slippery, creamy ivory, and bones became the material of choice. Onofrio's increasing awareness of the physical and spiritual energy of life lived, held in the bones left behind in the earth, had a profound influence on her understanding of healing and enlightenment. Written by Sherry Leedy
Read More:  http://www.judyonofrio.com/
 Artist   Rochester, Minnesota  
---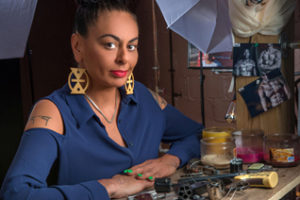 Nikki McComb's public safety campaign titled  #ENOUGH uses art as a catalyst for change and social disruption. Taking on the trenchant problem of illegal firearms, McComb uses photographs and video to reach people from the street level to the legislative arena and to help provide communities an outlet where they feel safe enough to seek help, empowered enough to give help, provoked enough to work harder to unify, and unified enough to make change collectively through art. For seventeen years, McComb has applied her artistic interests and skills to working relentlessly in North Minneapolis and surrounding communities in youth and family achievement. In addition to being an art educator, she has organized exhibitions, including Art Is My Weapon, a program whereby local artists select decommissioned guns to then create new work for display. McComb is a 2017 recipient of The Jerome Hill Artist Fellowship, a 2016 recipient of a Micro Grant for photography and a 2014 and 2015 recipient of several community leadership awards.  Artist Minneapolis,Minnesota  Read More
---
Yuta Uchida is a painter, born and raised in Hiroshima, Japan. After finishing high school, he moved to Superior, WI, where he found a passion for painting while he participated in art shows and exhibitions. He completed BFA in visual arts at University of Wisconsin-Superior, and he earned MFA at Minneapolis College of Art and Design. His work has been featured at various exhibitions nationally and internationally, and local and national magazines.   Read More:  https://www.yutauchida.com/  Artist,  Minneapolis, MN
---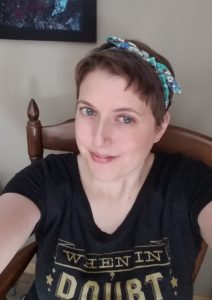 Emily Forbes is a self-taught artist who began using art in adulthood as a means of therapy after a car accident resulted in disability. She is always exploring new mediums and pushing her own artistic boundaries, with a certain affinity for acrylics, alcohol ink, and mixed media. Her expressive, intuitive style takes influences from nature, modern life, and a sense of hope.
A native Minnesotan, Emily has a degree in Urban Studies and has always had a very analytical and creative mind. This allows her to quietly observe the world around herself and turn it into ethereal, imaginative works that give the viewer a feeling of wonderment and joy. She believes the key to life is finding one's own magic.
Artist Minneapolis, MN
---
Suyao Tian is a professional designer, artist, and recently started her curation practice. She was born and raised in China. Before she came to United States she received her first BFA in Music Education and was a music assistant professor in college. She came to United State to pursue her artistic dream, and got her BA and MFA in design and fine art with honors.
In 2017 she launched her fashion brand Modern Cover™ for which she created the created the idea, designed the products and branding, and while managing marketing and production. Modern Cover™ brand inspiration began much earlier 7,400 feet up, in the Qinghai Province of Northern China where she spent her childhood. Many of her childhood peers had dry, cracked hands due to the harsh winters. From the experiences of her childhood and opportunities within design, she realized her desire to help children hand to hand through the creation and sale of playful, lighthearted, and delightful products. With each sale, a portion of the proceeds will go to help kids in need across the world. As we grow, we increase our ability to affect change in the lives of children. worldwide. https://www.moderncover.net
In her fine art reach, she creates a unique style of watercolor painting. mainly using watercolor medium while also using different pen marks to define the details of each painting to give the audience layers and depth of the painting.
Her creative process is to extract the fragments of memory and separate, reorganize and integrate them. This process is her communication with them, and a process of self release and expression. These peculiar images often appear in her memory, dreams and subconscious imaginations, so she uses abstraction to catch a moment, feeling, and unclear form when they appear in her mind. She uses bright colors to celebrate her freedom! That becomes her identity to speak out to the world. https://www.instagram.com/suyaotian/   IG: @suyaotian
She had professional working experience at MCAD gallery for a while, and recently she started to practice her curation projects. She curated DIALOGUE art exhibition, inviting 23 established and emerging artists from MN to bring their work from different perspectives and directions in order to create compelling stories and conversation about Art, Immigration, Citizenship, and Identity.
She believes art can change the world and wants to use her passionate love of art to collaborate will all the talented people to make the world be a better place.   https://www.moderncover.net
Minneapolis, MN Artists and Curator  Read More
---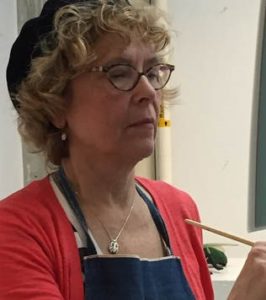 Jill Stebbins is a physician, visual artist, and mother of four children. Before starting medical school in her 20s, Jill drew the human figure. Those drawings were relegated to the basement of her family's home in Wisconsin when she began her medical practice until she dug them out of her basement more than 30 years later. Most were on newsprint and had acquired water damage and mold, yet they had just enough integrity to be saved.
Back in Minnesota and retired, Jill preserved the most compelling drawings by tracing them onto tracing paper, and eventually, on a synthetic, transparent medium. In early 2017, she traced several copies of the same figure, cut them out, and arranged them in a collage. That started her artistic exploration of using multiples of one figure in a frame. She began to realize that the space between the figures was sometimes as interesting in form and composition as the figures themselves. Thus, began her series of "The Space Between Us."  To find out more about Jill, visit her website at https://www.jillstebbins.com.
Artist,  Minneapolis
---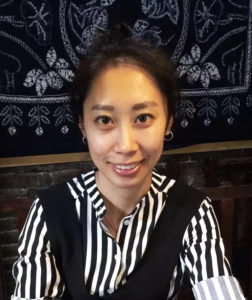 Wenwen Liao is a professional experimental animator and artist. In addition to producing her own art, she is the lead designer and animator at both Jukko and Global Gaming Initiative.
Wenwen grew up in a seaside city in the south of China where she started developing her artistic tastes. She was influenced by her father who was an artist specializing in chinese painting. She followed her passion for art by going to the Central Academy of Fine Arts in Beijing where she graduated in animation and film. She furthered her studies by moving to the United States and attended the Minneapolis College of Art and Design (MCAD) where she got her Master of Fine Arts.
Wenwen's art uses simple and elegant colors to create pure and beautiful moments. She attempts to bring warm, loving and innocent feelings to the viewer that is full of positive energy and kindness. Her paintings tell stories which are a simple and loving portrayal of the world seen from the eyes of children. The children's stories frequently incorporate their friends and animals they encounter. The children's innocence is naive but full of affection for everything around them. They care about the animals, love the beauty of nature and like to share moments with others.
Email: wwenliao@gmail.com
Artwork and films: http://cargocollective.com/wliao
Instagram: https://www.instagram.com/wenwenartist/
Designer, Minneapolis, Minnesota
---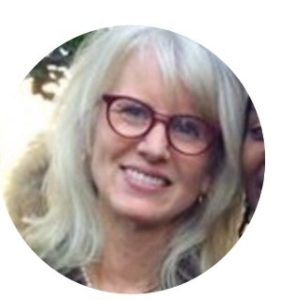 Ann Meany is a self-taught sculptor. She creates her hand built three dimensional works in her St. Paul studio.  Her sculptures have been exhibited in many exhibits throughout the midwest.  She is currently showing at the Dow Gallery in St.Paul.
Ann strives to create sculptures that evoke an emotional response. Her work is about social change and the need for conversations and action.  She believes if her pieces can elicit a feeling, a story, a conversation then change is possible. 
Ann teaches 8th grade at the City of Lakes Waldorf School in Minneapolis. She plays hockey and loves her family. 
https://www.arttochangetheworld.org/ann-meany  For more information about Ann's art go to https://fineartamerica.com/artists/annmeany
---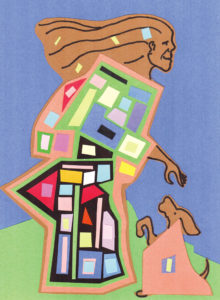 Andrew Braunberger has been making images since he discovered his thumbs. He first began smearing soft pastels in high school and continued to love them through college at the University of North Dakota, graduating with a BA in Arts and Sciences through the Honors Program in 1992. He hasn't dropped them since.
Many of his works are in acrylic and oil, often with soft pastels used on top of these other media. His colors are vibrant and interact with varying levels of opacity. Sometimes he dabbles in digital art, but enjoys the tactile experience of other media much more.
Artist Statement:
I have had a number of different spins to describe my work. The whole medical model of a mechanical view of who we are sometimes seems accurate when faced with abandoning meds. I feel like I am pouring spontaneous activity into my pieces, and this goes beyond the chemistry set I am dancing in. Making art is my way of participating at these areas of who we are beyond the mechanized viewpoint.   Artist  Minneapolis, Minnesota
---
Barbara Rogers Bridges Founder and Director of Art to Change the World
Barbara has been an artist and a teacher/college professor for over 40 years. Her social practice sculptures have been exhibited in Maine, Miami, the Virgin Islands, Maryland, Chicago, Mexico, Spain, Canada, and throughout Minnesota.
Bridges taught K-12 art in Minnesota, Maine, and the Virgin Islands. She was voted Art Teacher of the Year twice in Minnesota.
Barbara has partnered with various Minnesota institutions such as the Minneapolis school district, the Minnesota Online High School, Perpich Center for Arts Education, the Walker Art Center, the Mpls. Institute of Art, the Weisman Museum, and the Minnesota Museum of Art.  The online curriculum site and discussion group, ArtsNet Minnesota, came out of those collaborations.
Barbara has served as a professor for twenty years at the university of Minnesota and Bemidji State University and has contributed in a variety of ways. Her appointment includes teaching Foundations of Education, Human Relations and Critical and Creative Thinking and also serving as the architect of the unique DLiTE (Distributed Learning in Teacher Education)  – a hybrid online K-8 teacher licensure partnership program and the FasTrack secondary initiative designed for previously degreed candidates who wish to teach high school. These programs were the first online teacher licensure programs in the nation.  Artist    Minneapolis, Minnesota and Zihuatenjo, Mexico   Read More
---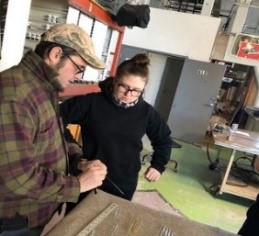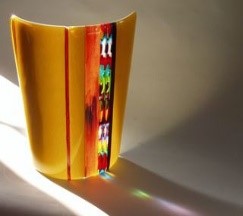 Malcom Potek has been working in glass since 1991. He works primarily in kiln cast assembly and cold-work. Malcom, an experienced torchworker, creates custom canes for inclusion in his kiln work as well. A teacher for twenty plus years Malcom leads workshops throughout the United States as well as in the shop and privately. With his experience he develops curriculum both for public art projects and as part of the Potekglass Curriculum.  Read More:  https://potekglass.com/classes     info@potekglass.com.
---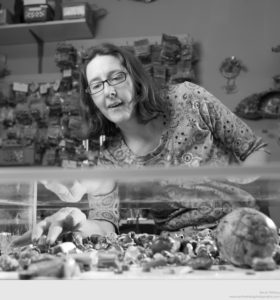 Layl McDill
Remember that feeling when you went to a museum and saw all the mysterious old tools from ancient worlds laid out in row after row? Or maybe you got a peek inside some broken electronic and saw all those circuits. Then there are all the times when something mysterious about nature is explained and still you just can't hardly believe it. The word that comes closest to describing that fantastic feeling that drives you to pursue more knowledge and fills you with joy is "wonder."
I use wonderment as a mechanism to show the things we live with everyday in a new perspective, like the green hills you drive by everyday or the laundry hanging on the line. When you are surrounded by my polymer clay sculptures it is as if you are seeing the world through a patterned lens where the mundane is much more precious and mysterious.
My technique and materials are also very mysterious. I use primarily polymer clay with the ancient technique of millefiore. Tiny images that cover every surface of my sculptures inevitably make the viewer wonder "How did she do that?" And even though I have been doing it for more than twenty years, it still seems amazing that I can create a tiny picture inside a chunk of clay.
I have spent my artistic career rendering versions of the world we live in into windows of wonderment. With my most recent work I hope to tingle the viewer's imagination towards opening their mind to seeing something in a new perspective. In one of my recent pieces, "The Root of the Problem," a tree grows above a bulb of roots filled with antique mirrors. "Air Celebration" is a joyful piece that makes you think about our most precious invisible necessity.  Both of these pieces speak of awareness or even possibly give a subtle nudge towards activism to change our impact on the earth. Read More
Viewers are drawn to the magic and wonder of my work. They will be not only fascinated by the technique but presented with some thoughts about ways to look at the world we live in and given their daily dose of wonderment.  Artist      Minneapolis, Minnesota     Visit her website
Photo by Sara Whiting
---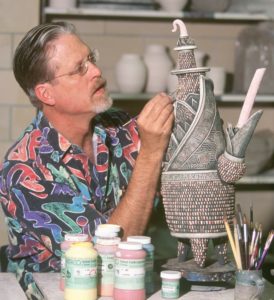 Marko Fields
After teaching for 20 years, MARKO FIELDS, BFA, MFA, McKnight Fellow, founded, created and is the primary owner of
Mojo Coffee Gallery. Marko is widely exhibited, collected and published. His work can be found in numerous public and
corporate art collections, including: The Museums of Fine Arts of San Francisco – The DeYoung; The Renwick Gallery of the
Smithsonian Institute, Washington DC; The Ceramic Research Center, Arizona State University; MARKArts, Wichita, KS; The
Beach Museum of Art, Kansas State University, Manhattan, KS; Emprise Bank, Wichita, KS; The Sprint Corp., KC, MO; and
The Hallmark Corp., KC, MO.
Though retiring from academia, Fields continues to publish and frequently lecture, demonstrate and present at universities, ceramic centers and conferences. His studio is located in the California Building, adjacent to Mojo Coffee Gallery.   Read More:  https://connienorman.com/blog/2010/08/03/marko-fields-plinth-gallery-artist-interview/   Artist, Minneapolis, Minnesota  –  Owner Mojo Coffee  Read More:  http://mojocoffeegallery.com/
---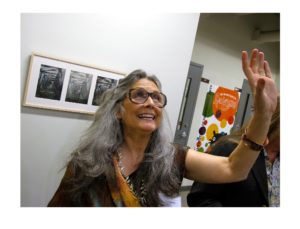 Candy Kuehn creates wearable art, costumes, wall pieces, and sculptures in numerous media. She makes art pieces that are functional, reversible and have multiple uses that sometimes change with the passage of time. Many works live as well on the wall as they do on the body, on the ceiling, on the floor and on the stage.
As a painter her medium ranges from cloth to ceramic glazes. Her work features whatever makes a person or piece of art beautiful and moving. Her work has appeared at the Textile Center of Minnesota's Art-in-motion shows, the St. Paul American Craft Council Fair and the Minnesota Craft Council Fair Market Place at the State Fair grounds. She has also created costumes for the dance theater company Ballet of the Dolls productions of "The Red Shoes," "Enchanted Night," "Sleeping Beauty," "Nutcracker (not so" Suite," and "Cinderella").
Candy was artist-in-residence in the Textile Center Dye Lab for 2007-2009 school years. Her digital photo drawings and portraits have been exhibited in several shows, Southeast Minneapolis Public Library had three shows and fabric installation in children's area over the last six years, the Fine Art Show at the Minnesota State Fair for three years, and for WARM at several venues.
She received honorable mention at the WARM 40th anniversary show. She created digital illustrations for large scale projections and costumes for the Interference Arts production "It is She Who I See", and "Elijah". Candy's "Human and Earth History" panels were selected to be part of the City of Hopkins' Art Street public art program, was seen on the outside wall of the Hopkins Center for the Arts, and won Children's Choice Award. Candy created costumes and large digital projection images for 'Conviviere" and 'The Palabras Project' for Zorongo Flamenco, and costumes about Picasso's earliest paintings, a Zorongo commission in New York City. The Marcy-Holmes neighborhood, commissioned an electrical box cover, for 'Fresh Boxes' which can be seen in Dinkytown, Minneapolis Minnesota. Her digital works have shown in The Hudson Hospital Rehab Wing and Westfield Hospital in Wisconsin and a show in Owatonna Hospitals, in Minnesota, Spring 2017. In  2016, Flow Arts Gallery, curated her work into several group shows, and her digital work was also chosen for "The Paranormal Show" at Banfill-Locke Center for the Arts, Anoka, Minnesota and "National Parks; Personal Perspectives", at The Phipps Center for the Art , Hudson, Wisconsin.  Read More   Artist  Minneapolis, Minnesota 
---
---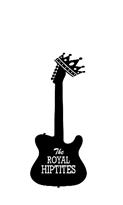 The Royal Hiptites are a group of seasoned musicians committed to creating a significant body of original blues, funk, rockabilly and power pop tunes, with the goal of recording and establishing a significant regional presence. It's not quite accurate to describe us a merely 'in rehearsal', as we have a sizable body of original music and we are tight as hell; we're already a very good and experienced band, on the way to becoming somewhere between excellent and extraordinary. You'll really like what you hear.
Marko Fields – Guitar, vocals
Craig Harris – Keyboards
Austin Gerth – Drums, percussion
Eric Jaques – Guitar, vocals
Tom Crawford – Bass, vocals
Kristi MacKay – Vocals, flute, percussion
The Royal Hiptites are a driven funkrockblues band, very danceable; Pony is a duo purveying beautiful, haunting melodic passages. Both bands are vocally driven, both are narrative, though the Hiptites are far more lively and cheeky.  Book Them! Marko Fields markofields@msn.com  Musicians, Minneapolis

---
Shirin Ghoraishi . Virtual reality and dark spaces is the theater in which I stage my work, in order to illicit the right to the interrogation of space by our conscious mind and unconscious spirit, so that we might endlessly, irresolutely seek knowledge. Within my work I attempt to raise basic philosophical questions such as reality by highlighting the hidden and mysterious beauty of organic forms. I see these organic forms as being statically beautiful, meditative, and have the power to influence my audience's perceptions of reality.  A light that appears deep in darkness, at the intersection of artificial and organic, producing an uncanny environment, and a fabricating a reality lurking through time.
I am obsessed and seduced by our behavior as beings; our bodily awareness and our senses that are deceived when we are trapped in virtual reality; hypnotized yet hesitant, enchanted yet uncertain. Everything that I translate into my installations is influenced by my own experiments of those moments of doubt and confusion. My questioning of our perceptions and their limitations and errors is a continuous source of inspiration for artists, and other workers in science and technology. The complexity of my inspiration work as a tool to facilitate — using technology and psychology —   installations that create an illusion through an uncanny world, accompanied by a mixed reality experience that pushes the boundaries between our understanding and perception of reality and illusion. This interdisciplinary research combined with the surveillance collected from my audience creates a constant dialogue and experimental process for this project.
My creative process is based on experimentation and learning, exploring the relationships between our body, our perception, and our senses, and its limitations and errors. In my   installations I employ materials such as resin and water beads, which I found related to our senses and made the experience easy to understand. Based on my strategies and plans I give this simple material a place and purpose to serve. Then, I take away one element from the installation, which is the light, to help emphasize the response of our senses and change the way we receive our space, surrendering us to the experience. With light and reflection, I mimic an uncanny vision that is almost new to the eyes; which is often accompanied by a digital experience of that certain space, within a portion of a gallery. Each project is a step forward to reach beyond my understanding.  Installation Artists, Minneapolis, MN.
An interactive illusion to an immersive reality ~  Read More  
---
PONY   Clifton Nesseth and Paul Sauey 
Although it is our first offering as Pony, our EP is a summation of all our work prior to date, a kind of survey course in the music that we've generated over the past decade plus, as a collaborative duo, as band leaders, and as sidemen. The small circle of listeners who have been kind enough to have followed the musical progress of our former bands will hear growth and continuity, as well as recombinations of familiar sensibilities, nuanced by the world education of post-college life. The lyrical content is broad-ranging. Contrast the darkly existential, humanistic nature of Paul's writing in Sight to the environmental narratives established by my own offering Oak Tree. You'll find the music is underscored by questions and suggestions. Rather than providing the answers in words, we deflect to our instrumental loves and vices, filling the space with the sounds of string rhetoric, violin, cello, fingerstyle guitar, sub bass, and drums. In our proudest moments, Hollow and On Wind, the music is a completely egalitarian collaboration, equal parts us.
The production is extremely thick and layered. In places the vocals are triple tracked in both harmony parts, and there are three violins on each line of a four-part violin interlude. The cello and bass pedals intone heavy voicings, resounding together in the lower registers. The drums are free, thunderous and unrestricted, the kind work of our friends and ace percussionists, Alex Van Rysselberghe and Brett Bjornrud. In its fleeting, best moments, the music elicits the gentle, feminine shade of our good friend, Amy Chatelaine, who humbles the voices of men.
In the home of the woods there are so many layers and textures, all wood, rocks, and leaves, and wind. These feels are the root inspiration for the instruments of sacrificed trees, drums of rock, and the kinetic air of the human voice that we have planted, splashed, and patiently waited to take root, grow, and bare a canopy of green, red, and yellow, and brown. We want the listener to hear something new at each successive spin, and so we have buried things between the rocks, the leaves, and the trees, and the air, hoping that you may find them when the sun is shining the right way or when the rain has washed away some of the debris, clarifying the meanings and unfinished catechisms that continue to urge us to place pen to paper, words to melody, and melody to form.
We hope it is pleasant to the ears, challenging to the mind, and warm to the soul. Thanks for listening.   Musicians, Minneapolis
Read or Listen to More https://www.ponyfolk.com/
https://soundcloud.com/abandnamedpony    Book Them!  skiingfiddler@gmail.com 
---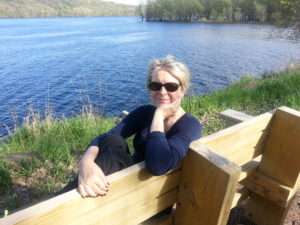 Linda Lade : "I've been a student of spiritual traditions and psychology. These days I care about art, beauty, and right relationships. By that I mean I hold a vision that humans can transcend the old paradigm and learn to live interdependently with Earth and all forms of life. Then we can all shine.
Among the many things that bring me happiness are walking among old trees, being near water, and spending time with my grandsons, as well as writing stories, teaching meditation, playing with clay from time to time, and reading great novels.
During my years of earning money, I was a teacher, counselor/therapist, and system administrator in higher education. I love helping people uncover their gifts and move toward revealing their higher selves."  Writer, Supporter, St. Paul, Minnesota
---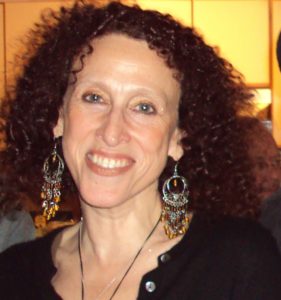 Anya Achtenberg  Writing Workshop – Holidays in Place and in Placelessness/Multi-visions 2019:a creative writing workshop  3:00-5:00 in Suite 201.    Saturday November 2 from 3:00- 5:00. Food and beverages following.  Read More about Workshop
Anya Achtenberg is the award-winning author of Blue Earth, a novel about Minnesota, and The Stories of Devil-Girl (an autobiographical novella)—both with Modern History Press); and poetry books, The Stone of Language (West End Press); and I Know What the Small Girl Knew (Holy Cow! Press). Her fiction has received awards from Coppola's Zoetrope: All-Story, New Letters, the Raymond Carver Story Contest, the Minnesota State Arts Board, and others; and her poetry awards include first prizes from Southern Poetry Review and Another Chicago Magazine. Stone was finalist in 5 national poetry contests before the book was published. Individual works of fiction and poetry have been published in Harvard Review; Malpaís Review; Gargoyle; Tupelo Quarterly; Journal of Feminist Studies in Religion; Hinchas de poesía; Poet Lore; Taos International Journal; Paterson Review; Another Chicago Magazine; Southern Poetry Review; and many others.
History Artist, a novel Anya will complete in 2020, explores the aftermath of holocausts in various communities in New York and Boston through an ensemble of connected characters, and centering in a young woman of Cambodian and African American origins, born at the moment the US bombing of Cambodia began.
Anya takes breaks by working on Matadors at the Crossing, another volume of poetry.
Anya's essays and teaching on writing craft go beyond writing conventions, to develop creatively expansive and inclusive approaches reflecting the profound experiences and histories of communities that are diasporic and dislodged, disenfranchised, in resistance. The collection How Dare We! Write: a multicultural creative writing discourse, includes her essay on identity and its relationship to the inadequate instruction to "write from a sense of place".
Anya is hunting for time to finish 2 books that collect her radical creative writing pedagogy and workshops, and bring them to larger audiences. One volume will cover her Writing for Social Change: Re-dream a Just World workshop series, which reframes and re-contextualizes writing craft and concepts in the direction of an expansively creative way of working that simultaneously moves the writer into an expanded context and the presence of what might have been invisible; and toward social justice.
She first hopes to finish a shorter volume encapsulating her work on the relationship between the body and elements of story; the relationship between kinds of bodies (such as the captive body, the liberated body, the traumatized body, the body in resistance), and characterization and the forms of stories we write. At the 2019 annual summer conference of the International Women's Writing Guild, when she premiered her developed workshop, Body Stories, Body Song, and the Elements of Story Craft, on this way of bringing forward an authentic and rooted craft, it was clear to participants that they wanted this material, transformative and generative for their writing and their way of looking at craft, gathered in a book.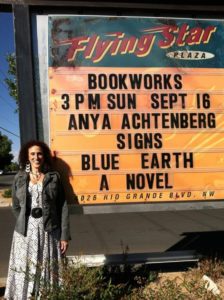 Formerly curating Cuban film festivals in Minneapolis and elsewhere, Anya has organized and led groups to Cuba on a number of arts- and history-focused, multicultural journeys, for writers, artists, filmmakers, educators and the general population. (She loves it, and is warmly welcomed in Cuba with these groups. Wants to continue!) She has also written essays, creative nonfiction, and prose poetry on Cuba.
Anya is a national and international writer's consultant.   She has also taught creative writing workshops nationally and soon to be internationally, often privately but also for schools and writers' organizations, including for Sarah Lawrence College; Goddard partner the Transformative Language Arts Network; for writers' organizations including The Loft, Intermedia Arts, the International Women's Writing Guild, and SouthWest Writers; the University of New Mexico's Honors Program; the University of Minnesota's Split Rock summer program; and online for Udemy.com; Writers.com; TLAN; and independently. People in 60 countries have taken her online creative writing courses.
Thanks to her tech angel Anna Brandt in Norway, a Patreon.org page will soon be launched for her, with different levels of subscription, to make her workshops and writings more available, and help to sustain her work as writer and teacher both.
Her website, The Disobedient Writer, can be found here: https://thedisobedientwriter.com/
---
Special Guest Artist  – Walt
Fundraiser for Art to Change the World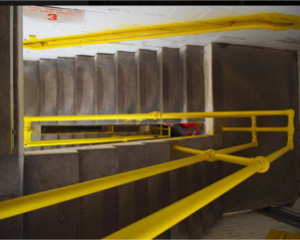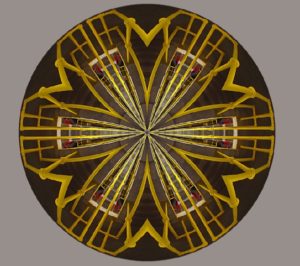 A scientist by training and curious by nature, Walt started in the late 1960s and early 1970s working with repeated patterns and optical illusions, influenced by M.C. Escher and others of the Op Art era.
He set up a T-square with saw blade for its notches, and triangle with bent paper clip holding a template to advance notch by notch, using Rapidograph pens to create lines close together.
Later, during the 1980s living in Northeast Minneapolis, he created a setup that allowed repetition of photographic wedges with soft and somewhat overlapping edges, yielding beautiful mandala-like images.
Once introduced to Photoshop, Walt began playing with its capabilities to repeat and bookmatch patterns kaleidoscopically. He samples existing photographs, photographs scenes and items found in nature or everyday objects, eventually distorting some of the images such that just the colors are left to be repeated.
A graphic that asks, "What have you done lately?" hangs to the side of Walt's computer station, encouraging constant experimentation. A new body of work would be made for a rural Wisconsin library exhibit about every two months for many years. It was a retirement project shared with his late wife, Maxine.
All works are one of a kind. The art has included series inspired by barn quilts, tiles, random numbers, patterns made from people's names, bar codes, and more.
Recently, as Walt observed his 91st birthday, Facebook friends and family have been supplying images, amused at what Walt does with them. He posts these experiments online but no longer makes prints or exhibits. He is divesting his mid- and late-career work to benefit the causes supported by friends and family.