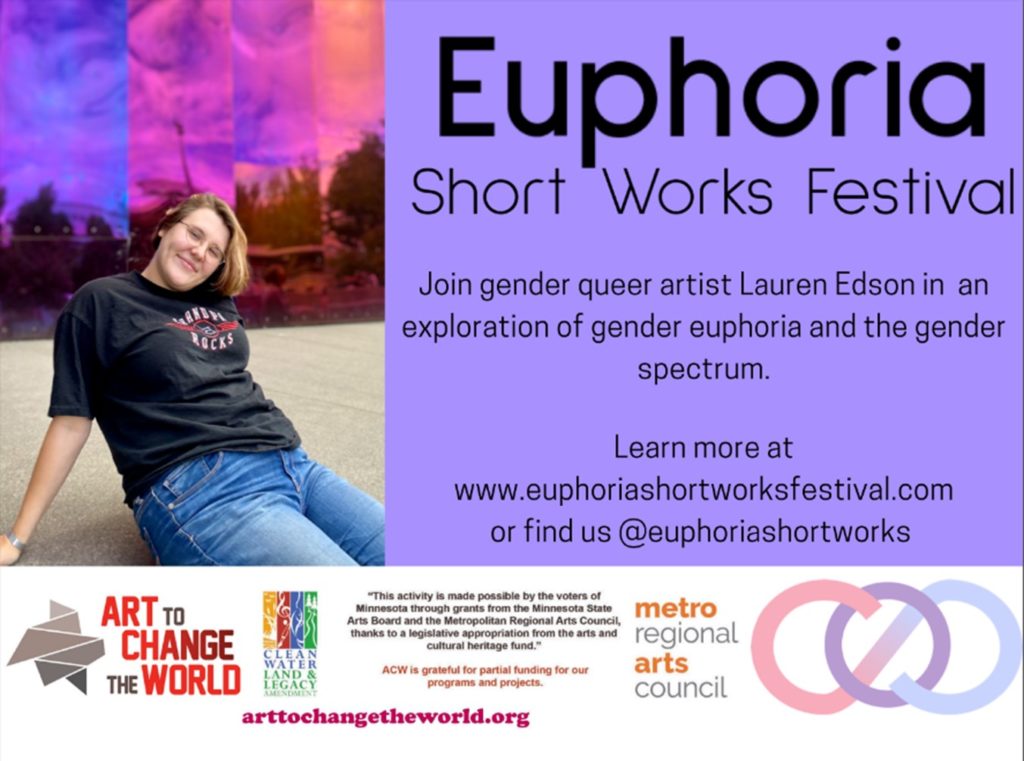 Team Euphoria
Art to Change the World's Coaching Project Team Euphoria proudly presents the Euphoria Short Works Festival!
April 30th, 2027 West Broadway, Minneapolis, MN 55411 Capri Theater Starting at 7:30  FREE
Performers   
Hadar Isra – ,  Identity Crisis (C Michael Menge and Chip Gehring) , Candy Kuehn -, Eden Johnson , Reanna Madson, Annika Hansen -, DIVAJ (Jaye Sinkfield) ,  Read More: https://www.arttochangetheworld.org/performers/
Funded by
MRAC $15,000.00
Mike Vennewitz  $2,000.00
ACW  $1,550
Mary Wilson $1,000.00
Mojo Coffee Fundraiser  $1,000
Layl McDill $1,000.00
Katie Palmer $150.00
Arts Midwest $2,500.00
WARM  $5,800.00
---
Read More about what our young Coaching Project Manager thinks about Gender Euphoria!
What is gender? How does the way we express our gender affect our daily lives? How and why would someone feel euphoric about their gender? My project explores these questions and more as we dive deep into understanding and celebrating the intricacies of gender expression.
My name is Lauren Edson and I am the Project Manager for Team Euphoria in the Coaching Project for a Better World. As a genderqueer artist, it was important to me to use my platform to create a safe space where one can feel accepted and celebrated for their identity with my art. Inspired by my theatre background, my coaches—Mark Jelinik and Susan Hensel—and I decided to create a fringe festival of sorts. And thus, the Euphoria Short Works Festival was born.
Every individual experiences gender in their own unique way. The format of a short works festival allowed us to collaborate with many different artists and see what their idea of gender euphoria looks like across various artistic disciplines.
But what exactly is gender euphoria? Gender euphoria is a phrase I've used a lot throughout this process, but many are unfamiliar with the concept. Simply put, gender euphoria is the opposite of gender dysphoria. It is the psychological state of bliss and comfort that happens when one's gender expression aligns with their gender identity. At this moment in the media, there is so much focus on the negative and the bad, especially when it comes to gender related topics. Those are most certainly important things to talk about, but I wanted to create a time with my art, if only for a moment, where we focus on the positive and the joy surrounding feeling comfortable in your own skin.
I've been working with local artists Zach Staads and Reanna Madson to create a video for the festival to explore the feeling of gender euphoria. We've designed spaces to encapsulate the stories we've collected about people's relationship with their gender and the euphoria they've felt throughout their lives. Through this series of photos, we hope to express the wide range of euphoric experiences one can have in regards to their gender.
In just over a month, it will be time for the festival and I cannot wait to share all of the hard work that went into this project! Mark your calendars for Saturday, April 30th and head on down to Capri Theater located at 2027 W Broadway Ave, Minneapolis, MN. The show starts at 7:30 pm and features several incredible Minnesotan artists. Hadar Isra will be performing a spoken word piece, Identity Crisis will be doing comedy, Candy Kuehn will be displaying wearable artwork, Eden Johnson will be reading poetry, Annika Hansen will be doing a dance performance, DIVAJ will be performing an original song, and Katie Weston will be sharing a short film.
If you'd like more updates on the festival, you can find us on all social media as @euphoriashortworks or on our website https://www.euphoriashortworksfestival.com. Once again I am so excited to share all of the hard work that has been put into this project and I can't wait to see you all at the festival.
Read more about the Coaching Project for a Better World: https://www.arttochangetheworld.org/coaching-project-for-a-better-world/
More information:  Lauren Edson <laureneedson@gmail.com>
________________________________________________________________________________________________
March
Send Barbara the list of artists and emails
Lauren gathering headshots or any photo they want and bios for website.  Deadline this Sunday, March 27th.
Have them done for the website.
Promo schedule.
Eventbrite will be made and put in the April newsletter.
Will be buying supplies for props.
Will ask artists what their local paper is and send along with bios to Layl to get out to local papers.
Send press release to Layl to send to Northeaster.
Have each artist invite their circles.
ACW will donate 6 door prizes, surprises between each act, – need a flashy name for the "give away"- "Embrace Your Gender Prize"
Lauren will look for a "big prize" or 4 other smaller prizes
order Stickers that have Euphoria logo on it to give to each attendee.- Send Logo to Barbara to order 100 to 200
February
Euphoria:
14 submissions will be pared down to 10
working on contract – rough draft coming out the end of this week
Survey post – got 50 interactions
How to get the word out to the ACW members- possibly try a newsletter with Just the survey.
A Lighting expert is getting involved.
At Capri on the 30th of AprilNeed:
Paragraph to use in all promos.
Press Release-
Make sure to contact Capri to be sure this is on their online calendar and other promos they do.
---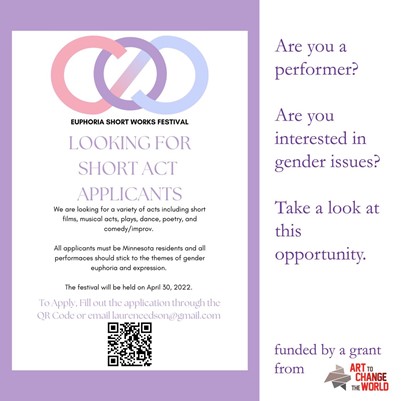 Are you a Minnesota performer? Are you interested in gender issues?
Art Coach Susan Hensel is serving as a coach/mentor, along with Mark Jelinek, for Lauren Edson who is creating a small works festival on the topic of gender euphoria, or gender acceptance. This grant is funded by MRAC, Mojo's Coffee, Barbara Bridges, Mary Wilson, Katie Palmer, Layl McDill, Mike Vennewitz and Art to Change the World
https://www.arttochangetheworld.org/coaching-project-for-a-better-world/ The Project pairs applicants with established artists and scientists.  Lauren Edson is developing is a small works performance festival titled Gender Euphoria. https://www.euphoriashortworksfestival.com/ Follow the process on instagram @euphoriashortworks and facebook at euphoriashortworks.
Find information on how to apply above. Contact Project Manager Lauren Edson laureneedson@gmail.com with questions.
Each Performer will receive $100.
___________________________________________________________________________________________________________________________
January
Edson, Jelinik, Hensel present
Surveys Out
Venue Capri Theater
Might Use Show Tix 4 U if covid still in place
9 Applications so far
Will create announcement for Newsletter- still need surveys, performers
Ask if Capri Needs Liability from us.
ALL people receiving money need a W-9
_________________________________________
December
Team Euphoria
Progress:
Website and Social Media set up – hope to migrate to ongoing dialogue in a Blog style conversation on the website.
Survey to those that understand gender expression
QR code to survey is Live
Lauren will make art about the survey
Website will live on
Pre-Post Test  Planning to Collect  data on how things change during the event.
Applications are going out to performers. 5-20 minutes. We need W-9 s from all performers -then I will be able to dispense checks the night of the performance.
Wants this to be a space for all opinions.
At the Capri Theater
6 acts so far
Plans-
Explore religious angles on gender.
Sending the survey out to groups and encouraging everyone to send.
Share survey with task force and
Gone out to over 3,000 in emails.
Post on ACW newsletter – Susan will write article.
Share demographics with Barbara so we can reach out to any areas that are needed
Suggestion: explore having an ASL interpreter
Schools. Scholastica,  st Kate's St. Katherine's has a certification program.  Offer  $100 and a free ACW membership?
Madelina suggests breaks between performances to fill in surveys
Need: share the call with performers- Barbara will share with Diane.
Funding for a rehearsal night-? To Lauren if this is needed.
November
Lauren, Susan, Mark
Progress:
All social media is live- reached 400 on Facebook
3 venues:
Capri $500 for one night, wants a run through rehearsal.
Art House North – waiting to hear from
Strike- waiting to hear from
Call for performers- needs to add $100 stipend.
Has 4 applications (short film, poetry, spoken word, musician)
Barbara will send Opera Connection
Name of Exhibit: Euphoria Short Works
Working on graphic that shows a snapshot of what is "Gender Euphoria"
Rough draft of first survey- on SlackTo do: Contract Trans Alliance
Barbara will connect Lauren with Ari
Website- finishing this weekend
Send list of social media links to Barbara to put links on website.
Survey- One before the event and one during the event with QR Code
Sending out Call for Artists.
Call will be in the Newsletter.
Watch for possible future donors to expand the project.
October 20
Progress:
Concept laid out: 
Short Works Festival 
Data plan- survey about gender expression
Plan for Lauren to create a dance based on this.
To Do List created in Slack
Logo created 
Social media created
Started looking for venues
Target audience identified: 16 and up. Those that are less informed about the Gender spectrum and those that are. Action:
Will reach out to theaters etc. 
Creating Survey questions
Find Venue (Theater venue for technology)
Launching Social media platform
Website built 
Continue to Contact Artists
Put out on Facebook. 
Share finished copy with Barbara so we can push it out. 
QR code for survey at the event- and other ideas for the sharing stories after the event. 
Creating a flyer 
Needs: Resources for contacting performers.