HATCH, a NE Arts District committee, is hosting a Pecha Kucha at Nick's fabulous Rogue Buddha gallery http://roguebuddha.com/ on June 24 from 6:00 – 7:30
Pecha Kucha is a wonderful way to build community. Six artists talk about 20 slides for 20 seconds each with discussions to follow.   I am honored to be included.  Join us!
—————————————————————————————————————————–
January 6,  2017    Welcome Party
I am writing to give you a status report and invite you to a members meeting and party on January 6, 2018 starting at 5:00.
Board Member, Lynn Olson, has graciously agreed to host us at Language Central located at 2300 Central Ave NE, Minneapolis, MN 55418. https://www.languagecentral.us/  You will also have the opportunity to meet your Board of Directors and give them any input you might have.  Madelynne Engle is flying in for the meeting  and other members not living here in Minneapolis are encouraged to attend!  We do not have money for travel yet but we will find lodging for you.  I will also have a Zoom session set up so out of town members can have the opportunity to chat one-on-one with all attendees. Shira Richter, in Israel, and Elissa Raffa, in Greece, and I have conferenced for several hours using Zoom…. it is a brilliant piece of software.  RSVP PLEASE!
---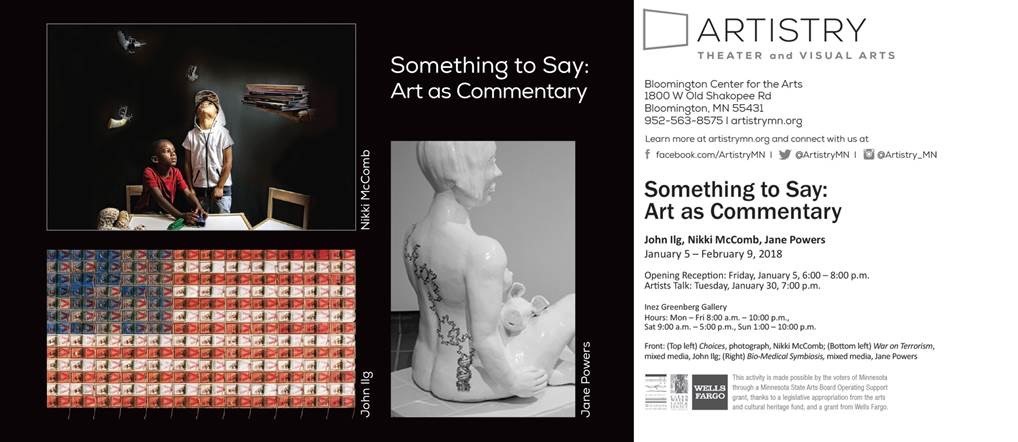 ---
---
May 18, 19, 20, 2018

Art-A-Whirl 2018  Invitation
Mark the calendar: I invite you all to join me in my studio in Northeast Minneapolis for Art a Whirl 2018.  I have a very organic found object studio and wood shop. Dates are May 18,19 and 20.  Please bring one work to be displayed. I would also like to encourage you to think about creating an interactive work which would cause people (children, especially) to consider your topic. Plan for a 3 hour workshop time slot during one of those three days. This is an opportunity to access our youth and promote our Fall 2018 event. They are our future! Annually, about 20,000 people attend Art-A- Whirl. I will be putting a full page ad in the NEMAA  A-A-W 2018 catalog so I need to know if you are interested in participating. I need a picture or short descriptive phrase of your planned activity. Your name and contact will be included in the catalog ad.  Mark your calendar: I am also planning a pot luck/hot dish after-party for all the A-A-W artists on May 20 at 5:00 PM. I will be serving my famous Elote Mexican corn straight from the firepit. What will you bring?