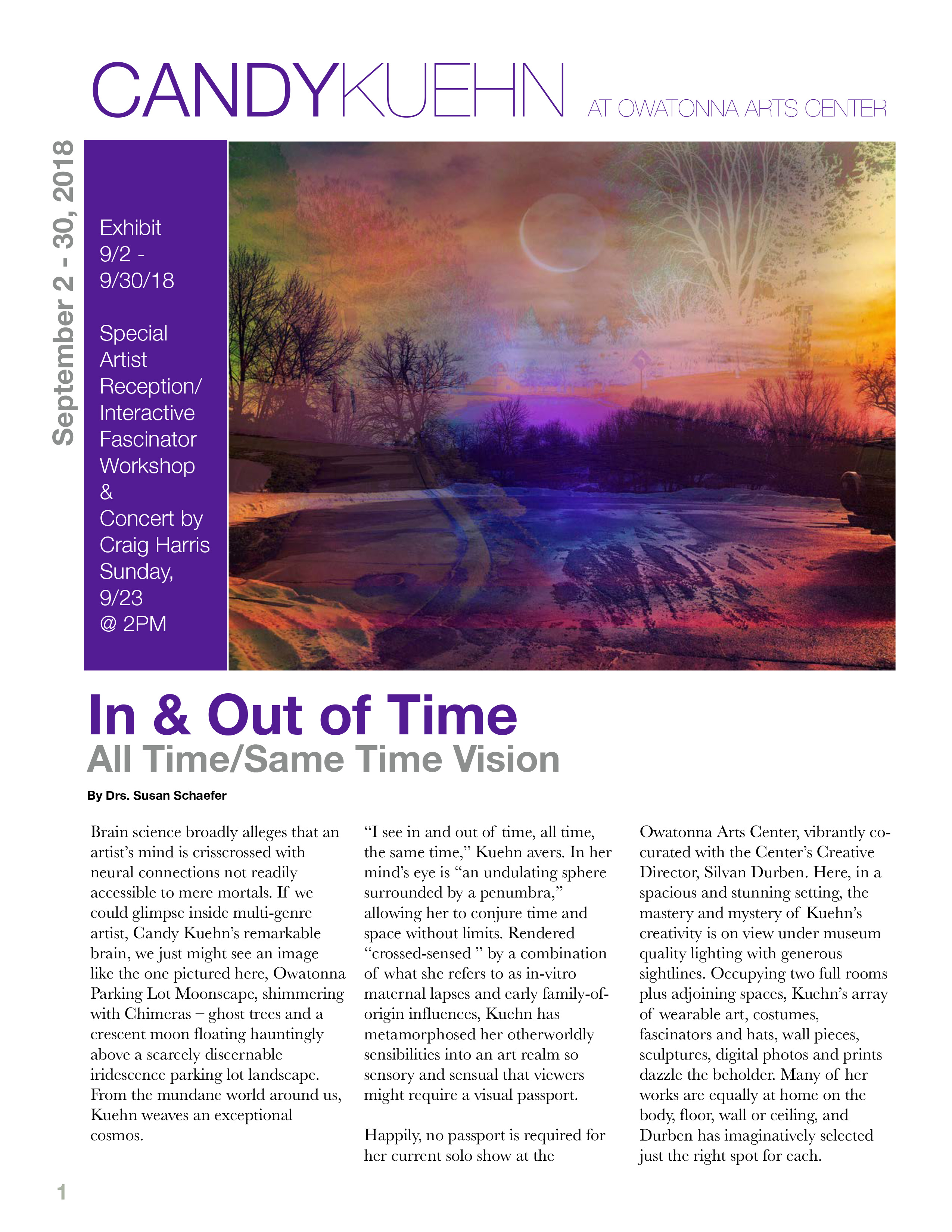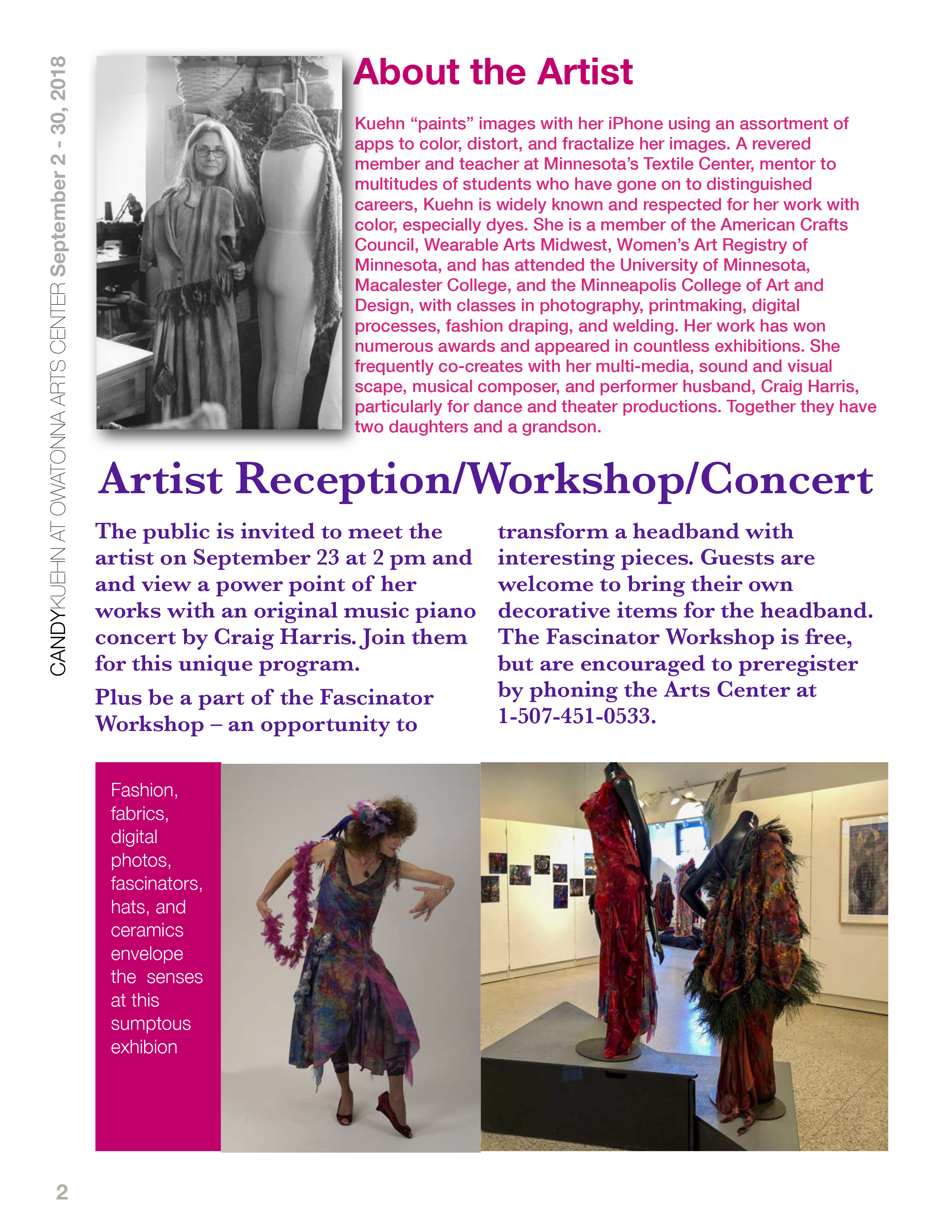 ---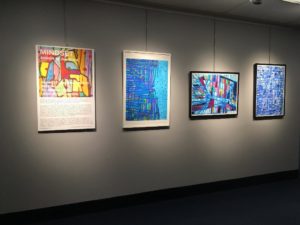 Jes Reyes   I can't believe it's September already! Fortunately, I love when fall sets in. The wind, the low sun, the shadows, the leaves, and large amounts of tea I begin to drink, all pushes me into reflection and relaxation. I hope this new season will give you peace as well.
I currently have Mindset up, my new solo show at the University of Minnesota. Now that most of my inventory is on display, I have some room in my studio to start some new work. I have been playing with acrylic mostly these days. I hope to share some new pieces with you next month. As someone who used to only make films, painting has sure given me a new energy. I am happy I have been incorporating it more into my practice. I haven't left making film but I really love painting and mixed media art, and something tells me to just go with it on this one.
In this issue, I have a few events I want to share with you – Martha Bird's project at the Minnesota History Center and Art to Change the World. Jamie Schumacher has a new book release event coming up and I feature her work with an interview!
Exhibition Details:
Mindset
Artwork by Jes Reyes
Dates:
August 21 – December 21, 2018
Private tours offered per request
Location:
2nd Floor, Bio-Medical Library
University of Minnesota
505 Essex St SE
Minneapolis, MN 55455

By: Mac Becco
Maris Gilbert loves water—and she always has. As a Florida native, she grew up with water in every direction. When she moved to Minnesota for art school and discovered Lake Pepin, she felt like she'd found a mini-ocean in the heart of the Midwest. She spent time at Lake Pepin whenever she could. The lake became a place she could relax, as well as a source of inspiration for her art.
But when Maris learned about the serious threats to Lake Pepin, everything changed. She felt it was unfair, even wrong, to stand by and do nothing while the lake that brought her so much joy and artistic inspiration was in peril.
So, she decided to create art that would highlight threats to Lake Pepin and, hopefully, inspire others to take action.
Today she works as a therapist, environmental activist, and artist who is on a mission to inspire greater love for local waters.
Home Away from Home
Maris moved to Minneapolis to attend MCAD, and she brought her obsession with water and shorelines with her. She took sailing classes at Lake Calhoun, but she missed the expansive waters of her Florida childhood. Eventually, a women's sailing excursion acquainted Maris with Lake Pepin and she finally found the big water she had been missing.
"After a weekend sailing on Lake Pepin, I just fell in love with the whole place. It brought back memories of sailing and being at the helm with my dad. Of course, it's also just really gorgeous," says Maris.
For years after, Maris visited Lake Pepin for art shows, artistic inspiration, and personal rejuvenation from city life. Then, she took a Lake Pepin Legacy Alliance (LPLA) boat cruise and learned that Lake Pepin's sweeping vistas and glistening water were deceiving. The lake was—and still is— filling with sediment and in a fight for survival. Her Midwestern 'ocean' was only a few inches deep in certain spots and was in danger of disappearing in just a few generations.
"I never knew there was a sediment problem until I started following the Lake Pepin Legacy Alliance," admits Maris.
That year, the LPLA boat cruise connected local artists with scientific experts who discussed sedimentation, endangered mussels, and the lake's value as a water filter to the Upper Mississippi River. Maris was surprised that she hadn't heard any of it before and stunned by how similar the issues seemed to those in Florida. As she became more engaged, Lake Pepin truly became her home away from home.
Since then, Maris has become a fierce advocate for Lake Pepin and one of LPLA's most engaged members. She donates artwork to LPLA fundraisers, attends LPLA events, interacts with LPLA videos online, and participants on the LPLA Council of Champions. As a Minneapolis resident, Maris is hoping to use her art to increase awareness of Lake Pepin sedimentation throughout the Twin Cities.
Art as Activism
Maris talks like the most approachable scientist you will ever meet. Ask her about a painting and she will explain complex environmental issues in a way that touches the heart and activates the brain. She sees environmental patterns, relationships, and connections that most of us would miss. Highlighting those relationships in her artwork, Maris hopes to inspire people to connect with water in new ways and take action to protect them.
"My goal in making art is to be an advocate—to create something that inspires people to say and do something. I used to just show nature's beauty, but now I show the beauty and the peril," she says.
In a recent example, Maris painted the Le Sueur River bluffs, an erosive source of sediment, with a scene of Lake Pepin embedded in the corner. The painting was inspired by one of LPLA's online videos that discussed the priority areas for sediment reduction efforts.
Maris likes to focus on shorelines because they represent the connection between water, land, and people— and they are often where people are most affected by environmental degradation. This is definitely true in Lake Pepin, where sediment accumulation is creating new "shorelines" that are destroying wildlife habitat, interfering with recreation, and isolating local communities.
Natural water filters, such as mussels and mangroves, are another artistic focus for Maris because they have important connections that regulate ecosystem balance. Lake Pepin mussels filter suspended sediment in a similar way that Florida mangroves filter salt from seawater. They are both crucial to aquatic life and water quality. After recognizing this parallel during the LPLA boat ride, Maris was motivated to paint a series of freshwater mussels using sludge from her paint jar—an artistic representation of Lake Pepin sediment affecting native species.
"The whole lake is a filter for the Mississippi River and then you have these tiny filters in the lake, like the Higgins Eye Mussels, that are endangered. What happens when you mess with natural water filters?" she wants people to ask.
This fall, Maris is participating in a two-week event with Art to Change the World, a Minnesota non-profit that brings together art and expertise to spark positive social change. During the event, Maris will underscore the connection between her two homes—Lake Pepin and the Florida coast. These distant waters are connected by the Mississippi River, which flows into the Gulf of Mexico and creates an ecological "dead zone" that extends to the Florida panhandle. Of course, they're also connected by Maris's heart.
In a two-floor art installation, called "Beauty in Peril", Maris will display paintings and water samples from Lake Itasca (ground floor), Lake Pepin (narrow staircase), and the Florida coast (second floor). LPLA Executive Director, Rylee Main, will join as an "authentic voice" or expert to share more information and answer public questions during a workshop devoted to the cause.
Action Creates Hope
The water quality issues facing Lake Pepin and the Florida coast are massive and complex. To stay hopeful, Maris keeps herself engaged and informed. This is evident by the hand-written notes, scattered throughout her studio, that she diligently records while watching LPLA videos and painting.Maris says that she is hopeful about Lake Pepin's future because,
"I've seen the progress LPLA has made in such a short period of time. The restoration project gives me hope that people are ready to take action. People are on it."
Of course, she is one of those people. Her advice to others?
"Become a member, give money, and go to an event every once in a while. Follow LPLA on Facebook, share their posts, watch their funny videos, and tune in on Mondays for heaven's sake."
We couldn't agree more. Thank you, Maris, for your endless support and activism. You are the tide rising all of our boats.
Ayeeyo project is going well. Our final event is September on the 22nd 3-Check us out: https://www.facebook.com/ayeeyompls/
---
You may or may not know this, but our member Skyler McBurnie is active with the local non-profit Bollywood Dance Scene. Their mission is to spread inclusivity, community, and diversity through the South Asian arts. This is done through community involvement as well as our powerful performances. One of their biggest events of the year is the MinneUtsav festival, celebrating South Asian culture through improv, dance workshops, and the show they are in, The Land of Maaya.
Come see them perform in this heartwarming story of Nisha, a teenager with blindness, raised by a single mom in India. Nisha, with her gifted imagination, introduces the audience to an imaginary world which also holds answers to the real life problems she faces. Through beautiful choreography and compelling storytelling, the play draws attention to the need for treating people with disabilities with respect. The show runs August 17-26 at Anne Simley Theatre at Hamline University. I'd love to see you there – tickets and more information can be found here.
Full Event List and Details
Sunday, August 19
2:00 PM        Land of Maaya
Anne Simley Theatre at Hamline University
6:00 PM        BollyProv
HUGE Theater
Wednesday, August 22
6:00 PM        Acting Workshop
Phoenix Theater
Thursday, August 23
9:00 PM        BollyProv
HUGE Theater
Friday, August 24
7:00 PM        Land of Maaya
Anne Simley Theatre at Hamline University
Saturday, August 25
7:00 PM        Land of Maaya
Anne Simley Theatre at Hamline University
Sunday, August 26
2:00 PM        Land of Maaya
Anne Simley Theatre at Hamline University
Tuesday, August 28
6:00 PM        Improv Workshop
Phoenix Theater
---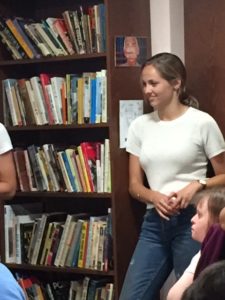 ACW members Jill Waterhouse, Barbara Bridges, Ana Musachio and organizer from Cow Tipping Press, Nicolette Musachio  attended this event to support our writer Nick Cocchiarella at a reading at Eat My Words Books in NE Minneapolis.  There were 70 people there.  The power of  the ACW collective! The owner of EMWB reported it was double the number of  usual attendees.  #eatmywordsbook, #cowtippingpress #differentlyabeled  #socialjusticeart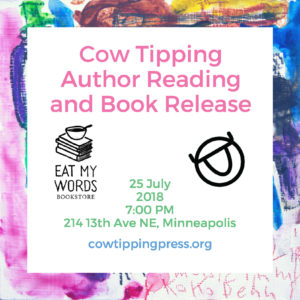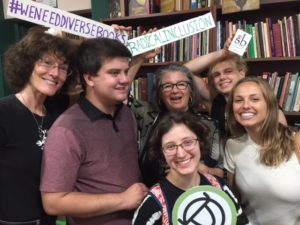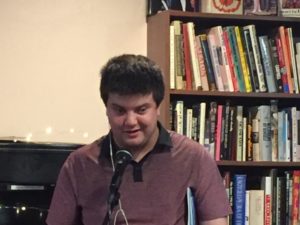 _____________________________________________________________________________________________________________________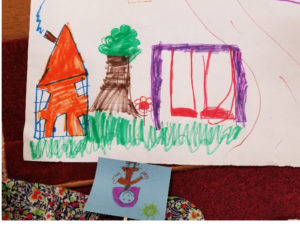 Ayeeyo Mural and Storytelling Summer Lake Street Live: Mural, Movement, & Storytelling #LakeStreetLive, #ArtistAgainstIslamophobia #DontYouFeelItToo #MillionArtist Movement
Location: Ayeeyo 1837 East Lake Street, Minneapolis MN
Using​ visual ​art,​ ​story​telling ​and​ ​dance – we hope to build community & celebrate diverse cultures of our neighborhood on Lake Street at Ayeeyo Childcare Center's East Lake Street location, and the surrounding blocks this summer.
Ayeeyo Mural, Movement and Storytelling Project ​collective will kick off our mural painting at Ayeeyo during Lake Street + Minnehaha Open Streets on Sunday July 22nd!
We will be artmaking with ​Million Artist Movement (MAM) and dancing with Don't You Feel It Too? (DYFIT) ​Come join us and voice your ideas about what you love about our neighborhood for our community project.
​This is a kid-friendly event for ALL AGES!
Community Days:
● Sunday, July 22nd 11am-5pm ● Saturday, August 11, 3-6pm ● Sunday, August 12, 3-6pm DYFIT ● Saturday, August 25, 3-6pm ● Sunday, August 26, 3-6pm DYFIT
Final Mural Party Community Celebration Weekend:
● September 8: Puppet Show with the Bookworms
● September 9: Mural Party Celebration – DYFIT, MAM, and more!
Events surrounding our mural creation will include: ● Painting with ​Daren Scott Hill​ and various local artists ● Storytelling & Art Making with ​Million Artist Movement ● Dance with ​Don't You Feel It Too? ● Puppet show with The Bookworms ● Community Dialogue ● Taste variety of local foods from our neighborhood ● And more!
____________________________________________________________________________________________________

HATCH, a NE Arts District committee, is hosting a Pecha Kucha at Nick's fabulous Rogue Buddha gallery http://roguebuddha.com/ on June 24 from 6:00 – 7:30
Pecha Kucha is a wonderful way to build community. Six artists talk about 20 slides for 20 seconds each with discussions to follow.   I am honored to be included.  Join us!
—————————————————————————————————————————–
January 6,  2017    Welcome Party
I am writing to give you a status report and invite you to a members meeting and party on January 6, 2018 starting at 5:00.
Board Member, Lynn Olson, has graciously agreed to host us at Language Central located at 2300 Central Ave NE, Minneapolis, MN 55418. https://www.languagecentral.us/  You will also have the opportunity to meet your Board of Directors and give them any input you might have.  Madelynne Engle is flying in for the meeting  and other members not living here in Minneapolis are encouraged to attend!  We do not have money for travel yet but we will find lodging for you.  I will also have a Zoom session set up so out of town members can have the opportunity to chat one-on-one with all attendees. Shira Richter, in Israel, and Elissa Raffa, in Greece, and I have conferenced for several hours using Zoom…. it is a brilliant piece of software.  RSVP PLEASE!
---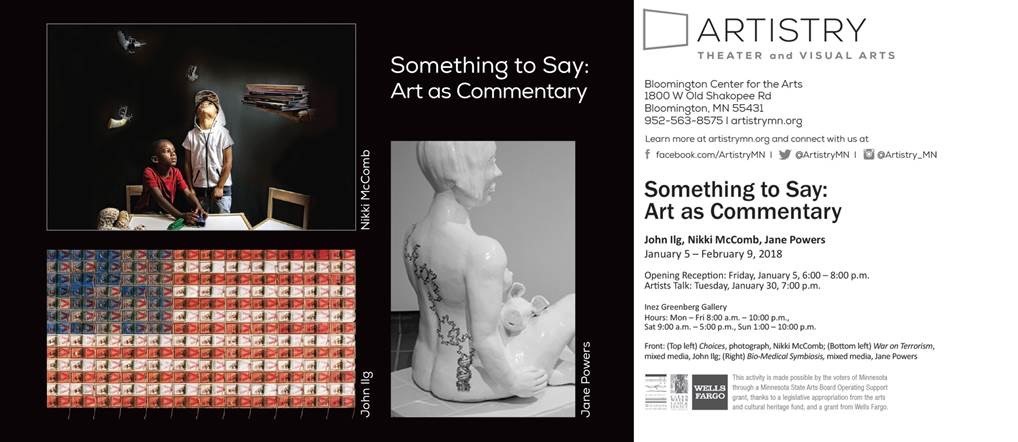 ---
---
May 18, 19, 20, 2018

Art-A-Whirl 2018  Invitation
Mark the calendar: I invite you all to join me in my studio in Northeast Minneapolis for Art a Whirl 2018.  I have a very organic found object studio and wood shop. Dates are May 18,19 and 20.  Please bring one work to be displayed. I would also like to encourage you to think about creating an interactive work which would cause people (children, especially) to consider your topic. Plan for a 3 hour workshop time slot during one of those three days. This is an opportunity to access our youth and promote our Fall 2018 event. They are our future! Annually, about 20,000 people attend Art-A- Whirl. I will be putting a full page ad in the NEMAA  A-A-W 2018 catalog so I need to know if you are interested in participating. I need a picture or short descriptive phrase of your planned activity. Your name and contact will be included in the catalog ad.  Mark your calendar: I am also planning a pot luck/hot dish after-party for all the A-A-W artists on May 20 at 5:00 PM. I will be serving my famous Elote Mexican corn straight from the firepit. What will you bring?