Huxley commissions 224 artworks from ACW and NEMAA artists
Arts District Palette is an ACW project focused on developing relationships in our NE Arts District community.  Partnering with NEMAA , The Northeast Minneapolis Arts District, The Northeaster, The Huxley apartments,  and Sociable Cider Werks, ACW will develop May Day welcome swag bags stuffed with 20 artists' works, gifts from local businesses and an invitation to an outside pop-up art event in August where the new NE residents and artists will mix socially distanced.
Partners:
Art To Change The World  https://www.arttochangetheworld.org/mission
Northeaster  https://www.mynortheaster.com
NEMAA  https://www.nemaa.org
The Northeast Minneapolis Arts District  https://northeastminneapolisartsdistrict.org
The Huxley  657 22nd Ave NE • Minneapolis, MN 55418 -TE Miller Development 112 Units www.huxleympls.com
Sociable Cider Werks for Pop Up Palette Party (PUPP)  August 8,  12:00 – 8:00   https://sociablecider.com/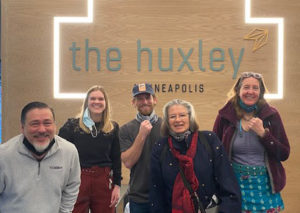 ---
Welcome May Day Tote Bag for our new Huxley neighbors. Black two sided with logos.
---

ACW was thrilled to receive so many outstanding submissions for the Arts District Palette project.  Three jurors chose the following artists to have 12 works commissioned by the Huxley Apartments.  The lucky residents of this new apartment complex in Northeast Minneapolis will get to choose two pieces from this collection of local artists.  The art ranges from ceramic rattles to landscape paintings to collage to mixed media art.  There will certainly be something for everyone.  We are excited to introduce these artists to new art collectors that will be our forever fans! Judges:  Abby Ross, Sally Gibson, Mike Schardin.
Introducing the ADP Artists:
Layl McDill
Kelly Jean Ohl,
Cory Favre
Mary Bacon
Kathryn Flora
Scorpio Rising
Marko Fields
Hannah Foster
Candy Kuehn
Laurie Salmela


Lucy Schroepfer
Anne Kleinhenz
Ashtyn Sibinski
Jodi Reeb
Jo-Anne Reske Kirkman
Jodi Janz
Owen Brown
Susan Gainen
Barbara Bridges
Alison Price
* All local business, restaurants, organizations, churches etc will be invited to include promotional opportunities. Gift certificates and products etc.  More than just a business card.  Offer ACW/NEMAA discounted Lessons and Studio Visits for residential residents. Invitation to August pop up art event and mixer including free drink.
 Delivery Date for gift Swag Bags is May 1.   May Day "basket" One artist's work will be selected to appear on one side of the swag bag.
Event Date: August 8 12:00-8:00.- Outside Pop Up Palette Party /Meet and Greet Socially Distanced Gathering  at Sociable Cider Werks. Meet your neighbors and the NE Artists.  Art. Food, Libations, Music and Door Prizes.
ADP artists pop-up show and large work installation in SCW's  Gallery August  and September!  1500 Fillmore St NE
Minneapolis, MN 55413
Benefits for Partners:
Good will for supporting relationship building for new residents in NE Minneapolis
Positive PR for supporting the artists in NE Minneapolis -over 1000 with NEMAA and 400 with ACW.
The Huxley receives May Day bags
Radio Ads and mentions on radio programming promoting the project
Social media promotion on Instagram, Face Book and Website
Articles in the ACW monthly Newsletter – 400 members
Articles in the Northeaster on the NE Arts District Arts Insight Page
Pursuing local  television and Trib and Pioneer news coverage.
Logos on Tote bag
Inclusion on Project Cards and Posters
Calendar listings in the Northeaster
Listings in the NEMAA Newsletter
Inclusion on Posters
Funding
ACW believes in compensating artists.  We will commission artists to make objects but also to gather the other objects for the Welcome Swag Bags.  The artists need work.
Partners
ACW contributes ADP project creation and management and $1,000.00 towards artist stipends and project expenses.
Northeaster contributes funding for the Swag Bag $600.00 and article
The Northeast Minneapolis Arts District contributes $500
NEMAA contributes $500.00
Huxley contributes $8400.00 and exhibition space
Social Cider Werks contributes $300 and venue
ADP General Supporters
Lowry Auto Repair  $100
Sterling Auto Care  $250
Anonymous  $900
Sunny's  Deli and Grocery $300
Sponsor NEMAA 10″  X 10″  Fundraiser
Anonymous $600
Swag Bag  Supporters
Northeaster
ACW
NEMAA
Huxley
Sociable Cider Werks
Mojo's Coffee
XNE Minneapolis Arts District
Eastside Food Coop
Holland Neighborhood Association
Michael Vennewitz  In Memory of Diane Loeffler
56 Brewing
X Solar Arts
KFAI
Central Ave Liquor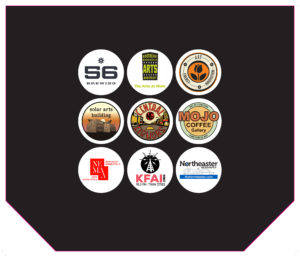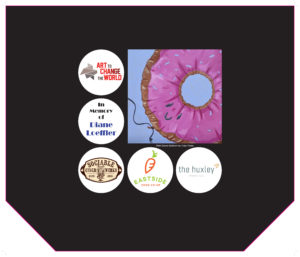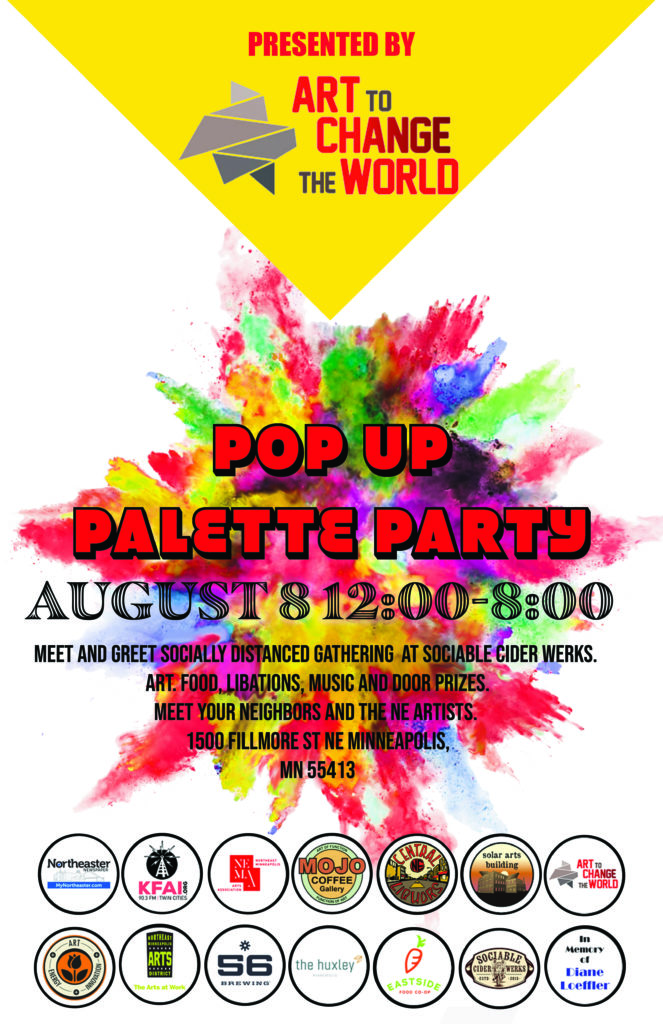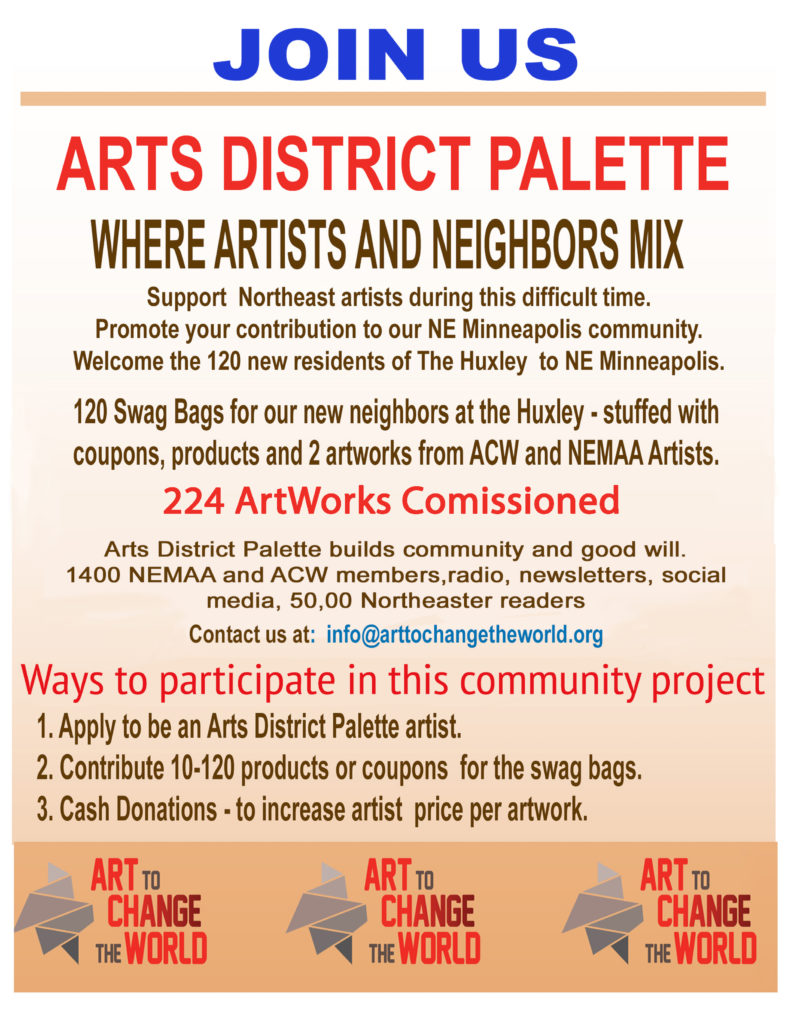 Important Dates
April 24  Hanging the show at the Huxley.  All ADP artists drop off their works between 9-12.  Please be prepared to stay ½ hour to an hour to help install your works.  We are a collective!  The Huxley  657 22nd Ave NE • Minneapolis, MN 55418
May 1 Stuff the bags with objects and coupons on May 1, between 10:00 and 12:00.  NOTE: All community members can submit 10-120 objects, coupons and flyers until April 29.   Deliver to:  2505 Howard St NE  Minneapolis, MN 55418    Delivering the bags to Huxley when completed. 
August 8  Sociable Cider Works Exhibition  Pop Up Palette Party and Show.  Arrive at 9:00 to set up.  Breakdown and clean up at 8:00. .