Huxley commissions 224 artworks from ACW and NEMAA artists
Arts District Palette is an ACW project focused on developing relationships in our NE Arts District community.  Partnering with NEMAA , The Northeast Minneapolis Arts District, The Northeaster, The Huxley apartments,  and Sociable Cider Werks, ACW will develop May Day welcome swag bags stuffed with 20 artists' works, gifts from local businesses and an invitation to an outside pop-up art event in August where the new NE residents and artists will mix socially distanced.
Partners:
Art To Change The World  https://www.arttochangetheworld.org/mission
Northeaster  https://www.mynortheaster.com
NEMAA  https://www.nemaa.org
The Northeast Minneapolis Arts District  https://northeastminneapolisartsdistrict.org
The Huxley  657 22nd Ave NE • Minneapolis, MN 55418 -TE Miller Development 112 Units www.huxleympls.com
Sociable Cider Werks for Pop Up Palette Party (PUPP)  August 8,  12:00 – 8:00   https://sociablecider.com/
Welcome May Day Tote Bag for our new Huxley neighbors. Black two sided with logos.
* 20 artists create 12 works each. (for 120 swag bags) Compensation will be $40.00 (or $50.00-seeking more funding) per object. This is a promotional opportunity for the artists.
* All local business, restaurants, organizations, churches etc will be invited to include promotional opportunities. Gift certificates and products etc.  More than just a business card.  Offer ACW/NEMAA discounted Lessons and Studio Visits for residential residents. Invitation to August pop up art event and mixer including free drink.
 Delivery Date for gift Swag Bags is May 1.   May Day "basket" One artist's work will be selected to appear on one side of the swag bag.
Event Date: August 8 12:00-8:00.- Outside Pop Up Palette Party /Meet and Greet Socially Distanced Gathering  at Sociable Cider Werks. Meet your neighbors and the NE Artists. Art. Food, Libations,  and Door Prizes.
ADP artists pop-up show and large work installation in SCW's  Gallery August 1 and September 31!
Benefits for Partners:
Good will for supporting relationship building for new residents in NE Minneapolis
Positive PR for supporting the artists in NE Minneapolis -over 1000 with NEMAA and 400 with ACW.
The Huxley receives May Day bags
Radio Ads and mentions on radio programming promoting the project
Social media promotion on Instagram, Face Book and Website
Articles in the ACW monthly Newsletter – 400 members
Articles in the Northeaster on the NE Arts District Arts Insight Page
Pursuing local  television and Trib and Pioneer news coverage.
Logos on Tote bag
Inclusion on Project Cards and Posters
Calendar listings in the Northeaster
Listings in the NEMAA Newsletter
Inclusion on Posters
Funding
ACW believes in compensating artists.  We will commission artists to make objects but also to gather the other objects for the Welcome Swag Bags.  The artists need work.
Partners
ACW contributes ADP project creation and management and $500.00 towards artist stipends.
Northeaster contributes funding for the Swag Bag $600.00 and article
The Northeast Minneapolis Arts District contributes $500
NEMAA contributes $500.00
Huxley contributes $8400.00 and exhibition space
Social Cider Werks contributes $300 and venue
ADP General Supporters
Lowry Auto Repair  $100
Sterling Auto Care  $250
Anonymous  $900
Sponsor NEMAA 10″  X 10″  Fundraiser
Anonymous $600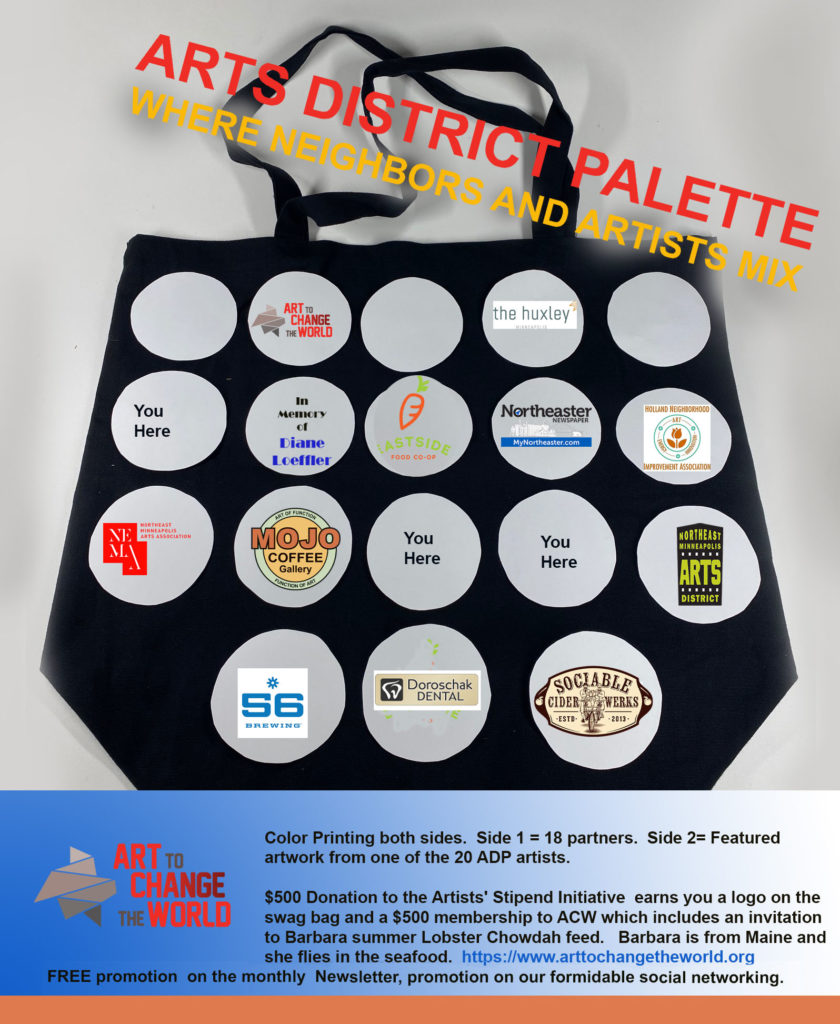 Swag Bags   Color Printing both sides.  Side 1 = 18 partners.  Side 2= Featured artwork from one of the 20 ADP artists.
$500 Donation to the Artists' Stipend Initiative  earns you a logo on the swag bag and a $500 membership to ACW which includes access to putting FREE ads in the monthly Newsletter, promoted on all our social media, an ACW T-Shirt and an invitation to Barbara summer Lobster Chowdah feed.   Barbara is from Maine and she flies in the seafood.  https://www.arttochangetheworld.org/shop/membership-annual-500
Swag Bag  Supporters
Northeaster
ACW
NEMAA
Huxley
Sociable Cider Werks
Mojo's Coffee
NE Minneapolis Arts District
Eastside Food Coop
Doroschak Dental
Holland Neighborhood Association
Michael Vennewitz  In Memory of Diane Loeffler
56 Brewing
Solar Arts

Artist price per object initiative.  Goal $50.00 per art work. We currently have $30.00 per work supported.  Need $4,800 to meet goal.
| | |
| --- | --- |
| Donor    Sociable Cider Werks    $300 | Still need $4, 500 |
| Donor   Mojo's  $500 | Still Need $4,000 |
|   XDonor  The Northeast Minneapolis Arts District   $500 | Still need $3,500 |
|   Donor  Doroschak Dental  $500 | Still need $2900 |
| Donor Eastside Food Coop  $500 | Still need $2,400 |
| | We have $40.00 per art object! |
We Made  $50.00   an art object.  Help support the ADP Leaders and Interns!
| | |
| --- | --- |
| XDonor  Doroschak Dental  $500 |  Still need $2400 |
| Donor   Holland Neighborhood Association $500 |  Still need $1900 |
| XDonor  56 Brewing    $500 | Still need $1400 |
| XDonor  Solar Arts  $500 | Still need $900 |
| XDonor Sunny's  $500 | Still need $400 |
| Donor Donor  Michael Vennewitz  In Memory of Diane Loeffler  $500 | We met our Goal for the Artists!! |
| Donors | 4 More Swag Bag Spaces for the ADP Committee Chairs and Interns |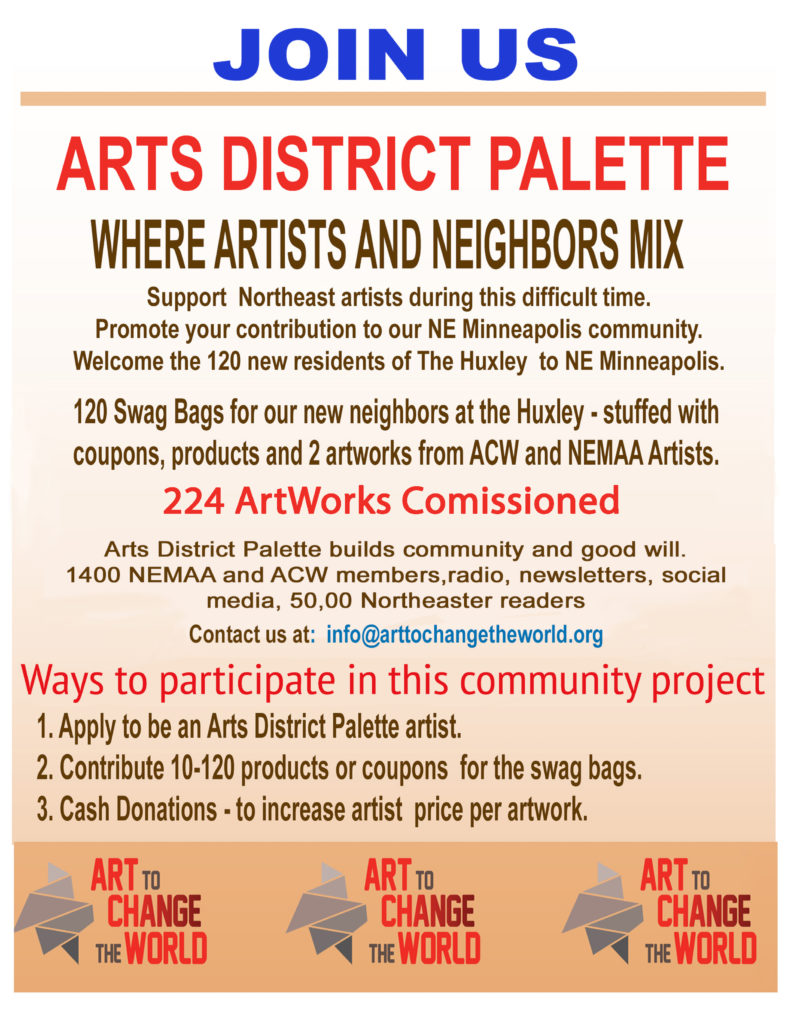 ROUGH PASTE UP!!