Read More
---
---
Art to Change the World Studio Visits
University of Minnesota OLLI event. This is OLLI  https://ccaps.umn.edu/olli
Your authentic experience will start with an interactive discussion session focused on the topic "CAN art change the world? " with ACW artists.  The sessions following will be held at the studios of the following social practice artists. Each session will be from 10:30 to 12:00 with an optional special partnership price at one of the unique North East restaurants. Max. 15.  Read More
---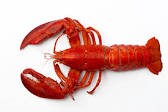 2019 Chowdah Feed  November 20 at 5:30
ACW  Director, Barbara Bridges, is a Maine native.  She makes a famous seafood chowder with seafood she flies in from Maine.  It is her Grammy LeBlanc's recipe. Cheesy biscuits accompany and the traditional blueberry pie with ice cream finishes.  There will be a Seafood Chowdah feed on  November 20 at 5:00 at her unique home and studio for all ACW Patrons who have contributed  $500 and above.   2018 Event  
2019 Event
Other Benefits:
Belonging to an international and diverse networked community
Leading and participating in Ubuntu film/book and workshop/discussion
Listing in the membership directory
Use of ACW as Fiscal Agent for grants
4 Artist-led studio tours and discussions per year
ACW hot beverage cup
1  ACW T -Shirt
1 VIP ticket to all events
Dinner/gathering with Patrons
William White
Jill Stebbins
Sally Gibson
Herman Milligan
Linda Lade
Layl McDill
---
Donor Party Thank You Event Pictures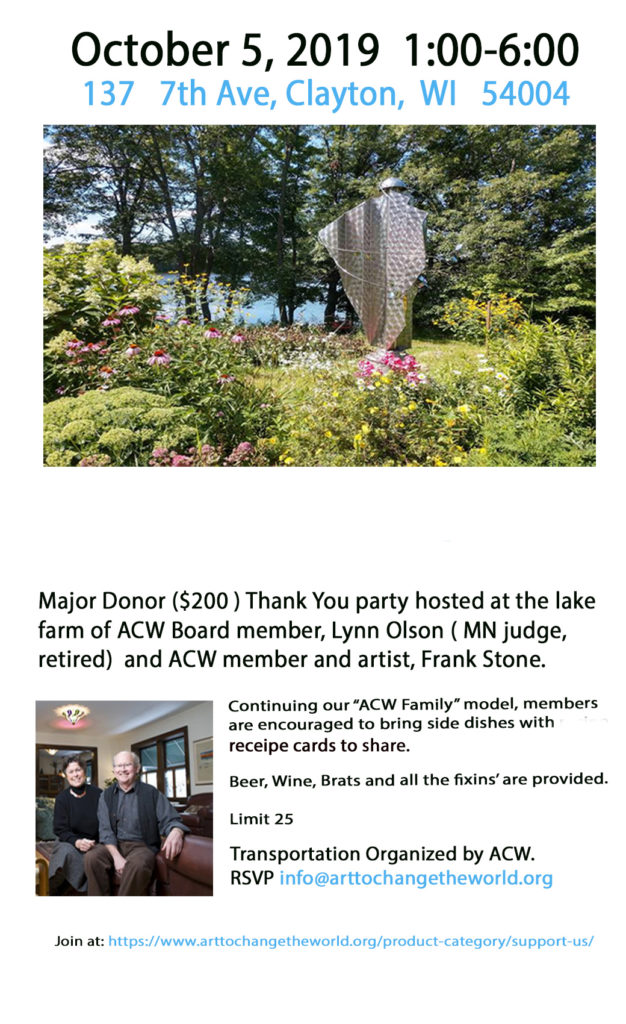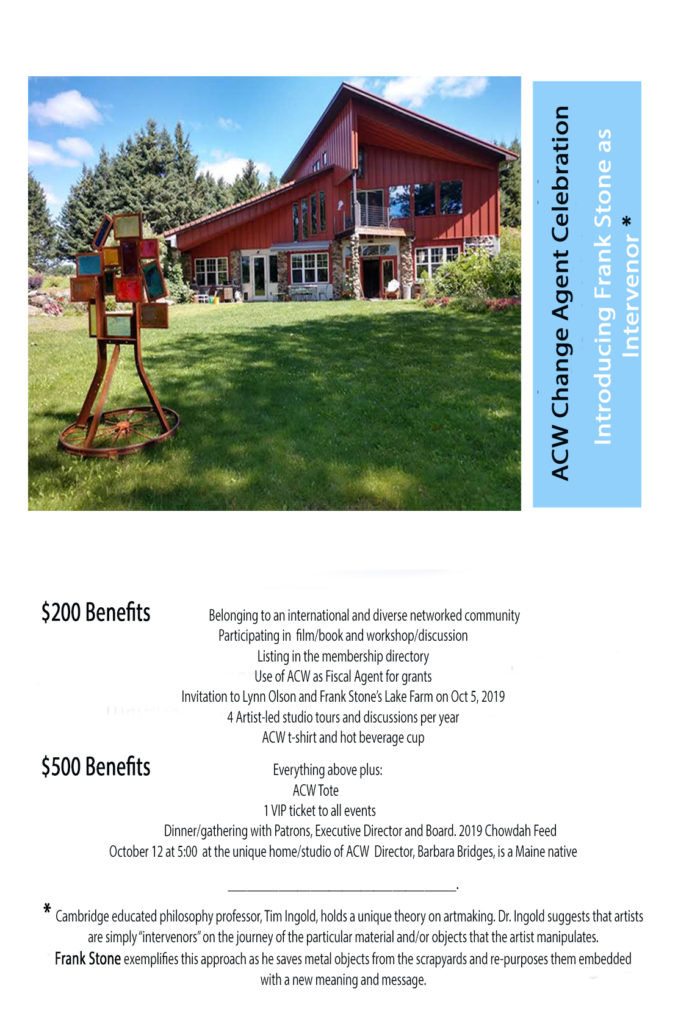 Jill Stebbins
Barbara Bridges
Frank Stone
Lynn Olson
Margo Ashmore
Candy Kuehn
Sally Gibson  Plus 1
Anne Kleinhenz
Jim Randall
Sifei Cheng
Danielle Ricci
Linda Lade
Suyao Tian
Timothy Scott
Anya Achenenberg
---
SEE. SAY. SHOW  Sept 2019.  See Photos
You are invited to join founding artist member Anne Kleinhenz for See. Say. SHOW on Sunday, September 15 from Noon-2PM.

See. Say. SHOW
September Members' Event
Hosted by Anne Kleinhenz

Sunday 9/15/19
Noon-2PM
Meet up at studio location:
A-Mill Artist Lofts
315 Main St. SE
Minneapolis MN 55414
Come to the front door at 315 Main St. SE to be buzzed into building.

We will gather to talk art and have a chance to show & tell projects or ideas we have in progress or whatever inspires us!

Hope to see you there!
Please join us for ACW See. Say. SHOW ​on ​the Second Sunday of each month from  12:00- 2pm ​for an ​art sharing session!   Click here for details past and future
---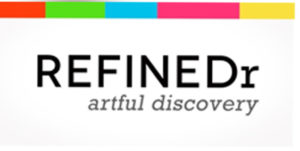 THANK YOU to Herman Milligan for the ACW fundraiser: REFINEDr Art4Good to, an initiative of The Fulton Group, LLC .  June 28, 2019
Artists included, Carly Beseman, Barbara Rogers Bridges, Anthony Calabrese, Remo Campopiano , Pat Carney, Teresa Cox, Paige Dansinger, Justine Di Fiore, Lyle Ferguson, Nathanael Flink, Greg Gossel, Christopher Harrison, Daniel Kerkhoff, Anne Kleinhenz , Candy Kuehn , Jay Larson, Kim Matthews, Layl McDill, Ann Meany, Melissa May Metzler, Brittany Omann, Kurt Schulz, Andrea Stanislav, Jill Stebbins, Frank Stone, Kellie Rae Theiss, Xavier Tavera, Susan Wagner, Christopher A. Williams, and Harold Zisla.
Click here to see Art4Good Event Pictures
---

June 20 Opening and June 28  June 29 Workshops
As part of the Art is My Weapon exhibition, curated by Minneapolis photographer, Nikki McComb, Homewood Studios is offering a healing workshop.  The Art is My Weapon exhibition opens at Homewood on June 20, 2019. Join us from 5:30-7:30 for the opening reception.  Homewood Studios  2400 Plymouth Avenue North  Minneapolis, MN 55411    612-587-0230
June 29, Saturday  Community healing workshop.  All ages.
2:00-4:00  Workshop
4:00-5:00  Pizza and Conversation
The workshop is FREE but there is a maximum registration of 15. Register by emailing George Roberts george@homewoodstudios.com and use Invent & Present Workshop in the subject line.
June 28, 2019  High School Workshop
We have 5-8 candidates from South High School and 5- 8 candidates from North High School.  I think this is a brilliant idea.
12:00 Meet and Greet over Pizza
1:00-3:00 Workshop
Invent & Present! is a partnership project which seeks to provide the opportunity to work with TODAY, I'm Alright, a large interactive healing cabinet created by twin cities sculptor, Barbara Bridges. Participants, led by Barbara, Laura Mann-Hill from the Children's Theatre Company and George Roberts from Homewood Studios, will imagine and embody their dreams for the future. They will work collaboratively to "build their own life raft" by creating a unique presentations using music, visual and performance strategies.
The participants will explore the cabinet and talk about the healing objects they find in the cabinet with the workshop leaders and each other. The participants will also choose an object from the healing cabinet that they will take home. To read more about TODAY, click here: https://www.arttochangetheworld.org/barbara-bridges/    To read more about this partnership, click here and scroll down: https://www.arttochangetheworld.org/coming-events/
Partners:
Art to Change the World (ACW) is a non-profit, diverse coalition of artists, educators, scientists, topic experts, and other change makers who join forces in service of positive social change. We employ the arts, education, audience engagement, and organizational partnerships to invoke positive discussion, reflection, and action.
* A positive, non-competitive, collaborative community across disciplines, age, race, economics and abilities.
*A safe space for change makers where all voices and multiple perspectives are empowered.
South High School, Minneapolis
South High School is a public high school with over 80% black and brown students.  ACW has a partnership with South and are collaborating to provide access to the Art Is My Weapon exhibition.
North News is a grassroots print and digital community news source and youth journalism training program in North Minneapolis. We seek to deepen understanding and empathy for the Northside through our deep, interrogative, and community-sourced journalism. Our goal is to expand local and Twin Cities-wide perceptions of this place, which is often reduced to a single, negative narrative – one of crime, poverty, blight, and disparity. We dig deep beneath the surface to lift up North Minneapolis' nuanced truths. We are a source of great pride within our community. Our monthly print paper has a circulation of 10,000 through 400 public bulk drop sites and home subscriptions in the 14 neighborhoods that make up North Minneapolis.
Homewood Studios is an artists' workspace and galley/meeting space in North Minneapolis serving a predominantly African American neighborhood, is designed for local artists and their neighbors in the belief that a visible presence of working artists contributes to the vitality, self-image, and coherence of our community.
Children's Theatre Company (CTC) is the nation's largest and most acclaimed theatre for young people and serves a multigenerational audience. It creates theatre experiences that educate, challenge, and inspire for more than 295,000 people annually. CTC is the only theatre focused on young audiences to win the coveted Tony Award® for Outstanding Regional Theatre and is the only theatre in Minnesota to receive three Tony® nominations (for its production of A Year with Frog and Toad). CTC is committed to creating world class productions at the highest level and to developing new works, more than 200 to date, dramatically changing the canon of work for young audiences.
Art is My Weapon, lead by Minneapolis photographer, Nikki McComb, aims to use art and creativity to spark social change. Following the momentum of The Guns in the Hands of Artists exhibit We hosted a gun buy-back in the Twin Cities. Supported by the Minneapolis Police Department and The City of Minneapolis the weapons were decommissioned and distributed to Minnesota artists to create statements about the impact of gun violence in our community. We have been able to engage the public, community leaders, organizations, elected officials, and the media etc. in respectful nonpartisan conversations around gun violence that ultimately lead to greater public awareness, conscientious community action and responsible solutions to reducing gun violence.​
---
---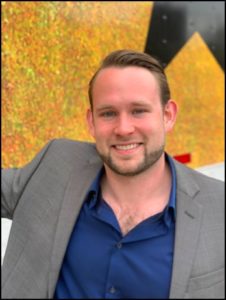 ACW illustrates our "never before tried" approach to Art Changing the World.
 As the Director of this wild pony ride we are on, it is my job to help discover new ways for artists to monetize their practice. I started Art to Change the World because I believe artists should be paid for their time and the old gallery model does not always accomplish that goal. We have worked hard to expand our membership to include alternative perspectives and I would like to introduce one our newest members today.
Richard Raymond is a young engineer and real estate investor in North East Minneapolis. He is very passionate about politics and social justice but he is new to the idea of using art as a medium with which to invoke change. He is very excited to learn from this community and be able to contribute to it in a meaningful way. He owns two B and B properties in NE Minneapolis. https://www.airbnb.com/users/47931140/listings?user_id=47931140&s=50.
We are JUST starting to design what we are calling the North East Art Experience  B and B  project.  Please join us on this workgroup if you have a B and B in North East, would like to be one of the 6 artists to hang your work (you earn 90% of all sales) or if you have ideas on how we should shape this project. info@arttochangetheworld.org
This is what we are thinking so far. Please send ideas for event or entertainment.
Artists will hang work in two month rotations for a six month pilot program.
There will be a one night event called the North East Art Experience  No rentals in units that night.  5:00-7:00 
All six artists will be expected to attend.  Do not have to be NE artists.
$10 tickets booked ahead of time – children are free.
Vendors will be approached for food and drinks.
A vendor coupon hand-out will be developed to encourage the attendees to go on to our vendor supporters following the ACW event.
Special B and B rental discount coupon will be offered to attendees.
Vendors may want to hang ACW work during the ACW event.
Artworks will be 10% off on the night of the event.

Each unit will have entertainment. Musician. Spoken Word Poet. Celebrity.
May 11

Join me on May 11 for ACW member Danielle Ricci's  "Artist's with Mission" Collaboration.
TOTIS 1 will  join the work of Julie Sriek and Samantha Rei with the Borealis Dancers to illustrate how Art CAN Change the World!
Playwright's Center  2301 E Franklin Ave, Mpls.     Join us!  email info@arttochangetheworld.org

---
May 14, 2019
Untetherd
Featuring Craig R Harris Solo keyboard
May 14, 2019 at 7:00 PM
Homewood Studios, 2400 Plymouth Avenue North, Minneapolis, MN 55411
Cost: Free
Craig R Harris presents the second of his 4-concert series of solo keyboard-based performances. Craig will be revisiting music he has created for dance and theater shows throughout his career – revitalizing it, creating new work based on raw materials from these shows, and presenting new compositions currently in development.
---
June 29, 2019

Title: Art to Change the World Private Event (Facebook link)
Artist name: Malcom Potek
Location: PotekGlass Studio Shop & Gallery, 2505 NE Howard St, suite C, Minneapolis 55418
Date(s) of event: Sat. 6/29 @2pm
Cost: $47.50 member price
We are excited to host an exclusive glass-making experience for Art to Change the World members! You are invited to PotekGlass Studio Shop & Gallery in suite C at the Flux Arts building for a private kiln-forming demo and class. Simple to start endless in its potential, kiln-forming is to glass what conducting is to instruments.  You will explore the foundations of glass fusing by learning to cut patterns out of sheet glass, make frit and work with a variety of glass formats by combining them in the kiln to produce a glass ring dish.
---
May 4, 2019
ACW SOCIAL EVENT
6:30 to 8:30
Location: Clay Squared to Infinity
2505 Howard St. NE
Minneapolis, MN 55418
Meet other ACW members at Layl McDill's studio and play with clay too!  Pot luck- bring a dish to share.
Contact layl@claysquared.com to rsvp.
www.laylmcdill.com
Multicultural arts and history journey across Cuba!
Dates TBD:
10-day trip during the 2nd half of October 2019
Havana to Santiago, stops in-between.
(Matanzas? Trinidad? Camaguey? Santa Clara?)  YOU help plan the trip!How did this fiercely resilient and brilliantly creative island produce such a dazzling cultural life marked both by genius and mass participation? We'll immerse ourselves in the arts and cultures of Cuba, meet professional and everyday experts, to learn about the historical, spiritual, and political roots of Cuba's excellence in all the arts. Cuba travel regulations have not changed, says Marazul Tours, conscious Cuba travel services provider for 40 years. Writer Anya Achtenberg, who has led numerous multicultural arts and history tours to Cuba, will organize our program with your input. She is a former co-curator of Cuban Film Festivals at Minneapolis' St. Anthony Main Theater, and has long worked against the US embargo.International School of Film and Television; Rumba nights at Casa del Caribe; Church of Oshun in Cobre; small art galleries/Palace of Fine Arts's Cuba collection; ceremonies of Afrocuban religion; tumba francesa…endless possibilities. Interested in knowing more?  Contact info@arttochangetheworld.org
Picture:  Hilltop in Gibera: Site of the Festival of Poor Cinema by Davis  Schnack
---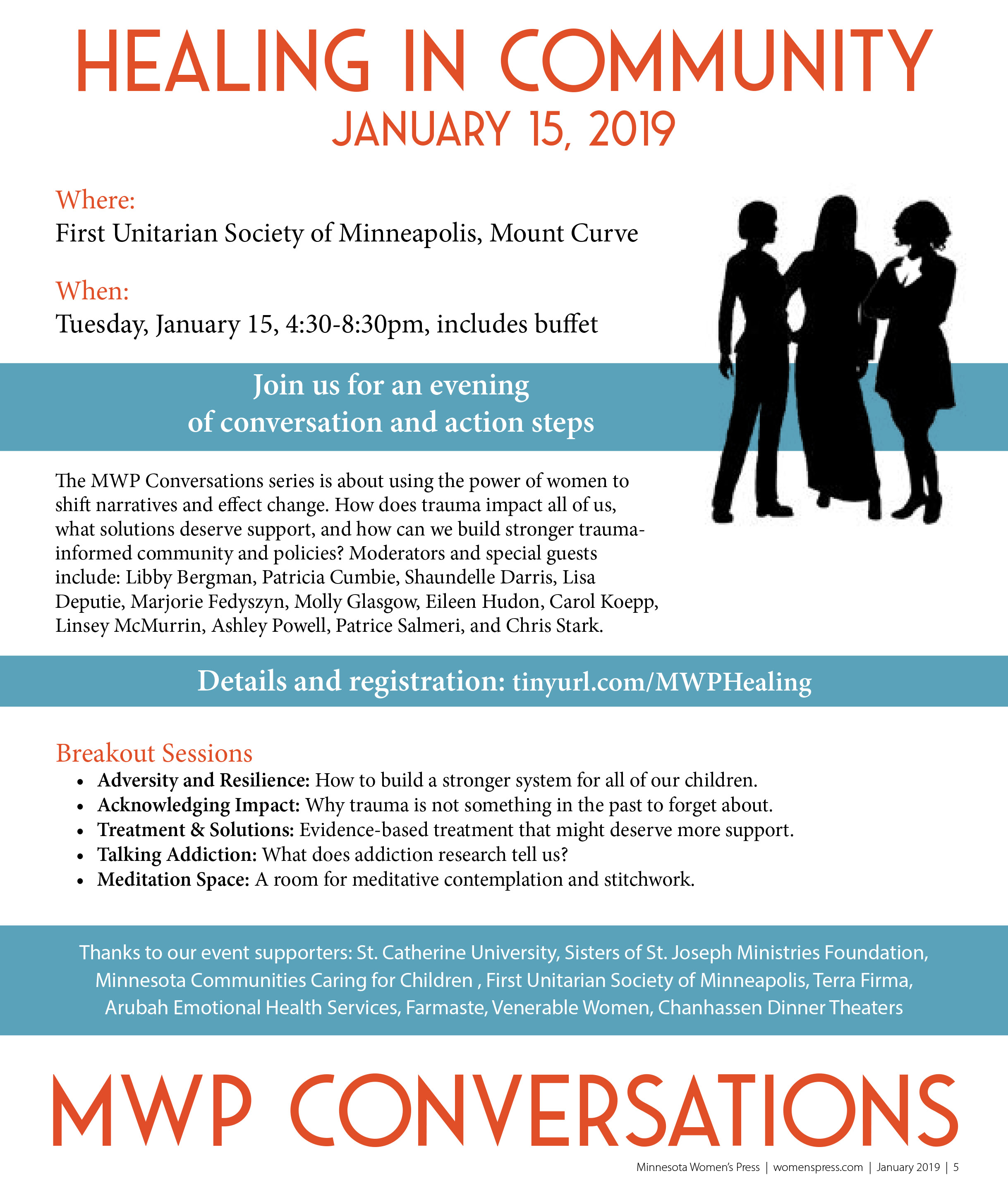 December 14, 2018  Barry Scanlan Opening
December 23, 2018   http://laylmcdill.com/windows-into-wonderment/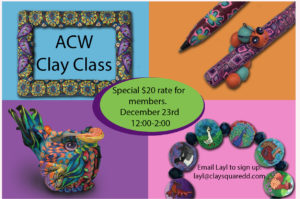 November 17  Maine Chowdah Feed 
December 1  Barb Kobe Healing Dolls Workshop
December 6  Erik and Ana's  Face to Face Social Event