Back to Events Page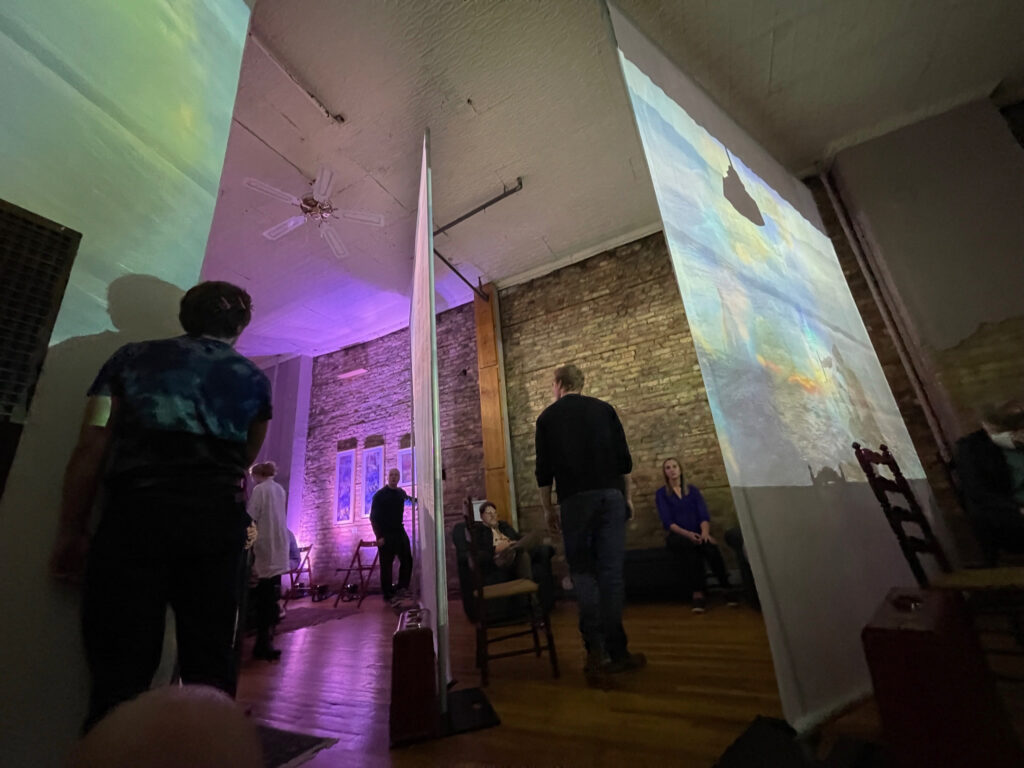 The Legacy Dream Space
by Craig Harris & Candy Kuehn, in collaboration with Kym Longhi & Jim Peitzman
Do you Wonder about the Past?
Do you Dream about the Future?
Are you Curious about how our lives create what follows?
In the Legacy Dream Space composer/multimedia artist Craig Harris and visual artist Candy Kuehn continue their long term collaboration with artists Kym Longhi and Jim Peitzman to create The Legacy Dream Space project, a multi-dimensional story space designed to explore Loss, Hope and Legacy – wondering about the past, dreaming about the future, and engaging in the future's unfolding.

The Legacy Dream Space is a story space that is rich in visual, aural and thematic content, evolves through community engagement, and incorporates what has transpired into the present content. A series of events provide opportunities to explore the theme, capture new content, and integrate a community's presence and stories into future instances of the work. Exhibitions include a freestanding multimedia installation, digital illustration prints on walls, hanging painted/printed fabrics, music and performance opportunities, and community gatherings.
The Legacy Dream Space requires public engagement to realize the project vision. Various ways are provided for participants and exhibition visitors to engage with the material available, to explore stories and previous engagement, and to make offerings to this living time capsule.
The Legacy Dream Space exists as an ongoing creative environment. The work originated in 2017, and has evolved throughout the pandemic. Beginning in October 2022 the creative team entered a year of development that culminates in an exhibition at the Owatonna Art Center in September of 2023. A series of events and exhibition/performance opportunities throughout the year. The process is designed to strategically develop the creative materials and the necessary technologic foundation to mount the Owatonna exhibition and future iterations of the project, while also building community engagement and agency. The long term goal is to establish the content, process, technology and other resources required to easily mount future exhibitions at art centers and other locations regionally and nationally.
Each instance of The Legacy Dream Space is an artwork – a collection of materials, events, gatherings and performances designed to invite communities into this ongoing pursuit to collectively create a legacy that supports mutual understanding, healthy communities, and a sustainable future for humanity and the planet.

The Artistic Team
The Legacy Dream Space is a project conceived by composer, performer and multimedia story teller Craig Harris, and is the latest initiative in a long series of multi-dimensional story space projects. Projects like A Sharing Place (1991) and Tzedakah Box I & II (1994 & 2011) were multimedia installations that provided environments where people shared their stories, and visitors to the spaces were able to interact and engage with the content. It is SHE Who I See, Elijah in the Wadi and SenseAbility are examples of story spaces set in performative environments. GONE – a Suite about Loss began as a dance theater composition, and has evolved into a multimedia exhibition, installation and performance that formed the catalyst for The Legacy Dream Space.
Visual artist Candy Kuehn, a longtime creative collaborator on Harris' projects, provides an enormous database of exquisite visual material incorporated into the project, including photography and digital illustrations, painted fabrics, sculptural spaces, wearable art and costuming.
Kym Longhi is the Artistic Director of Combustible Company and the writer/director of their work, including: Monster Heart, Bluebeard's Dollhouse, and Herocycle. Prior to co-founding Combustible Company, she was a core company member and featured performer with Margolis Brown ADAPTORS Company for 12 years.  She has worked as an actor-collaborator with Off-Leash Area, Skewed Visions and Flaneur Productions.  Other directing projects include SenseAbility (Interference Arts), Donald Giovanni in Cornlandia, and Dr Falstaff and the Working Wives of Lake County (Mixed Precipitation).  She has served on faculty in the University of Minnesota's Department of Theater Arts and Dance since 2001.
Listen to this excerpt from a composition by Craig Harris
From Passing
from GONE – a suite about loss
Passing is a reflection about the passing process – the transition; sharing in the passage experience; the memory and essence of presence; and processing absence.

Integrating media with live theater, Jim Peitzman's video design and installation has been featured in a variety of innovative performance environments, including composer Mary Ellen Childs' "Dream House," with acclaimed NYC string quartet Ethel, Interference Arts' evocative new works "It Is She Who I See" and "SenseAbility," and several Combustible Company original theater productions, including "Blue Beard's Doll House," staged at the historic James J. Hill mansion in St. Paul, Minnesota. Jim's video artistry has been integral to a variety of Margolis Brown Theater Company productions since 1995, including a DigiFest site-specific work at the Roebling Bridge in New York.
Would you like to  donate to  The Legacy Dream Space  project ? Tax Deductible!   Click here and select One Time Gift and indicate for "The  Legacy Dream Space Project' in the notes. https://www.arttochangetheworld.org/product-category/support-us/
If you would prefer to donate via check, please do so by sending it to Art To Change The World, 2323 Monroe St. NE, Minneapolis, MN 55418. If you want your donation to go to The Legacy Dream Space project, please indicate on the memo line.
Questions?  Contact:  Craig Harris craig@interferencearts.com
________________________________________________
Photo and Video Record
https://youtu.be/X7ob_ppTjqg