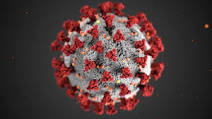 ACW is responding to the Covid 19 crises in the following ways.  Please join us and contact us with your ideas. info@arttochangetheworld.org
---
---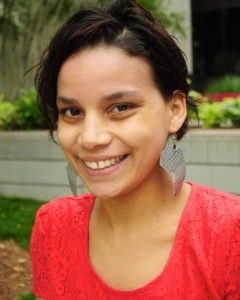 ACW Member, Laura-Mann Hill, amplifies the voices of those who need your support and suggests educational resources. Inform yourself and others in your world!
We must not forget that the uprising that began in Minneapolis and spread across the globe was a result of death and centuries of pain and oppression. As we mourn the recent deaths of George Floyd, Breonna Taylor, Ahmaud Aubrey, Tony McDade and countless more Black people in this country that have been murdered, brutalized, and terrorized at the hands of police; we must resist and reimagine the larger systems which reinforce white supremacy in our society. There is deep healing and rebuilding, especially within BIPOC communities. Art and artists play a critical role in healing and pushing for change, but we need long term commitment, not just in this current moment of uprising. We can join forces with larger grassroots movements, coalitions, and collectives who have put in decades of work and imagination to fight for new ways of being and building a society that ensures peace, justice and freedom for all people. As a mother, I have tried to teach my two girls the value of speaking up for themselves and others.
Adure Lorde writes, " When we speak we are afraid our words will not be heard or welcomed. But when we are silent, we are still afraid. So it is better to speak."
---
Check out the ACW You Tube Channel
https://www.youtube.com/channel/UCLOGaBhofXGLO4wvqGcCOpg
---
Minnesota State Fair  ACW Participants!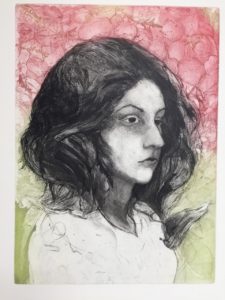 Mirium  Lynnette K. Black
Intaglio on archival French paper
Edition (3): 1/3 and 2/3 available
Image 16" H X 12" W (22 1/2" X 18"W with border)
Unframed $150
Contact: lkblack@comcast.net   lynnetteblackart.com
WON First Prize in Printmaking!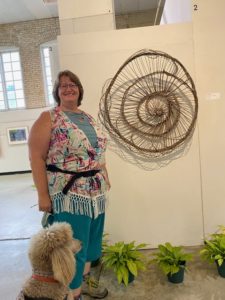 Artist Martha Bird
Title Return Again
Media Sculpture
Dimensions 37 x 36 x 8 inches
I am an interdisciplinary artist that specializes in sculptural basketry. In this piece, individual strands of willow are held together by a concentric series of plaits, created from a continuous hand-weaving process that emanates from the center and spirals out into arches of strands that are braided and double back into the sculpture. This particular style of weaving comes from an open spiral pattern that originates in France. Traditionally, French weavers shape willow rods into traditional basket forms. What I have done is expand the technique to create this sculpture. I changed the scale and the form, altering the original technique to something more inwardly directed, a visual metaphor that suggests both the cycle of life as well as movement. It also calls to the ancestors in all cultures from all lands, as the practice of basketry has touched all countries.
Your contact information. www.marthabirdart.com; marthabirdart@gmail.com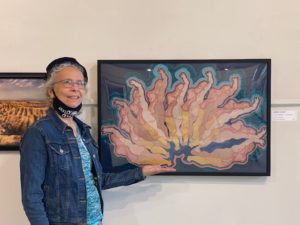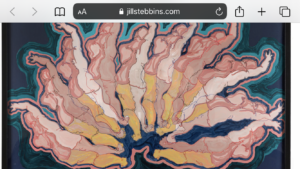 "Sunrise to Sunset"  Jill Stebbins
Acrylic on Duralar
36" x 24"
2019
$350   Framed
When looking at the fan-shape of my painting, I thought of peacock feathers, a bonfire, or the rising or setting sun.  I paint intuitively.  For me it represents the stages of life, with the final figure indicating the end of life.   Feel free to make it your own metaphor.  Contact: Jill Stebbins jmstebbinsmd@hotmail.com
---
Building ACW Community with Sara Hanson
We had a wonderful time casting metal objects from cuttlefish molds we carved.  WOW  Read more about Sara: sarahansonwow.com sarahansonwow@gmail.com
I am beginning to realize that we will not be returning to what we knew before. Even when we see the end of Covid 19- there may be something else coming behind it. The world will belong to those who have the creativity and courage to look at the new menu and make ourselves new and better meals.
Read More About ACW's Covid Community Building :  https://mailchi.mp/e58a18c6e1fa/acw-august-2020-newsletter
---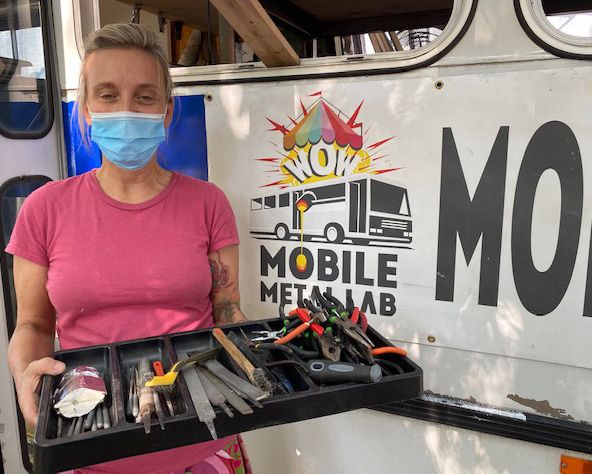 Click to Enlarge Gallery

---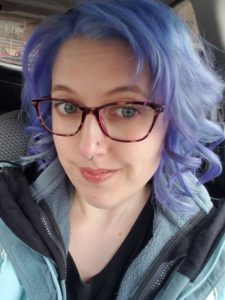 Diversions for  Isolation
Free libraries, museums, art projects, yoga routines, resources  from Emily Forbes
Click here to start your journey!
---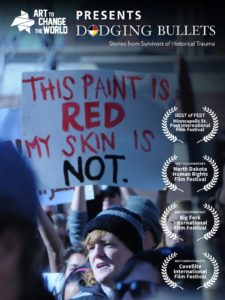 Dodging Bullets Screening and Discussion July 19, 2020 at 6:00 Zoom Meeting with Indigenous author, professor and activist, Anton Treuer, Co-Director, Bob Trench and Community Discussion Leader, Kimberly Whitewater, Wakjexiwiga.  To pre-screen Dodging Bullets and attend  the July 19th discussion, register at:  info@arttochangetheworld.org 
Stories from Survivors of Historical Trauma
The award-winning film explores a cross-generational sampling of Indigenous people, researchers, and politicians to reveal the reasons for disproportionately high incidences of health and social issues that impact Indian Country. This of remarkable first-hand stories names Historical Trauma as the unique and insidious part of the genetic code that resilient populations are still finding ways to dodge. The documentary provides a unique opportunity for communities to reflect on traumatic historical events and how those events can cause cumulative emotional and psychological wounding that may be passed from generation to generation.
Read more about Dodging Bullets:  https://dodgingbullets.org/
Read More about this event:  https://www.arttochangetheworld.org/dodging-bullets-screening-and-discussion
---
We have two Playlists (programs) to start. Melissa Greene with Tips for Teaching Online and Barbara Bridges with Food for Thought. Please consider hosting a program. Stipend available. https://www.youtube.com/channel/UCLOGaBhofXGLO4wvqGcCOpg  Please subscribe (free) so we can get control of that impossibly long URL!
Melissa Greene has over a decade of experience as an online teacher, curriculum writer and new teacher mentor.  Melissa is currently the Racial Equity Coordinator and an online Special Education teacher at the Minnesota Online High School.  She is the lead curriculum writer for Lifeline Training Resources, an online training company. As a former foster parent at American Indian and Family Services, Melissa provided reunification support to families in her community.  Melissa holds a B.U.S. in Psychology and Religion from Eastern New Mexico University and a Masters in special education from Bemidji State University. Melissa resides on the Leech Lake Indian Reservation in Northern Minnesota.
---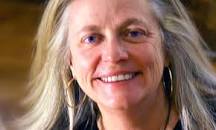 Defunding, Dismantling, Re-Organizing, Re-imagining
I would first tell people to stop worrying about semantics and start focusing on what needs to change!  I would also emphasize that defunding is a gradual process, one that we will all be creating together.  So it is your job to educate yourself and start to help with this process of reimagining and creating!
Michelle Hensley, Founding Artistic Director of Ten Thousand Things Theater in Minneapolis, shares almost thirty years of her company's nationally unique work bringing professional theater to those in prisons, homeless shelters, adult education centers, and rural areas, as well as the general public.  She also wrote the book All The Lights On: Reimagining Theater with Ten Thousand Things.
Currently, Michelle, having retired from TTT, is taking time to figure out how best she might continue to help our troubled world.
Social Action suggestions from Michelle:  https://www.arttochangetheworld.org/from-michelle-hensley/
Read More about Michelle: https://www.nytimes.com/2015/11/29/theater/theater-troupe-gives-those-on-the-margins-a-front-row-seat.html?searchResultPosition=1
https://www.startribune.com/meet-the-woman-who-brought-plays-to-prisons-and-radically-influenced-minnesota-theater/480988351/
---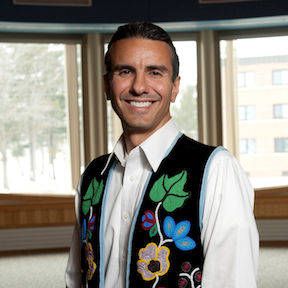 Message from ACW Member, Anton.
Anton Treuer (pronounced troy-er) is Professor of Ojibwe at Bemidji State University and author of 19 books. His equity, education, and cultural work has put him on a path of service around the region, the nation, and the world.
http://antontreuer.com
Anton's Recommendations:
Waadookodaading Ojibwe Language Institute   http://www.waadookodaading.org/
Native American Rights Fund   https://www.narf.org/
Oshkaabewis Native Journal (Bemidji State U)   https://www.bemidjistate.edu/airc/community-resources/journal/
National Congress of American Indians  http://www.ncai.org/
National Coalition Against Racism in Sports and Media http://www.aimovement.org/ncrsm/
 I recommend endorsing this call to action:
https://www.benjerry.com/about-us/media-center/dismantle-white-supremacy
---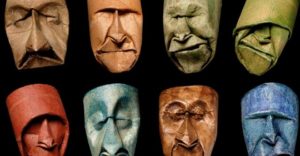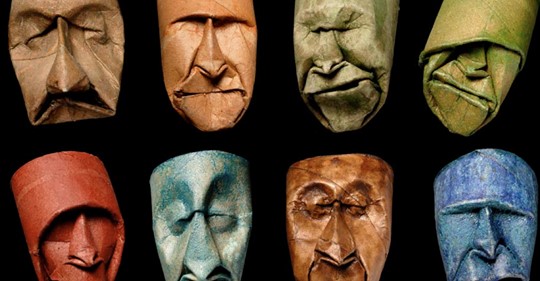 TP Roll mask challenge
Winners

---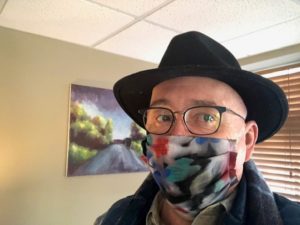 Many of us are sewing masks!  .
Send me pictures.  If you would like to order a custom mask from ACW for $25.00 contact drb@bridgescreate.com.  Includes ACW Membership
See  our ACW mask archive and See how to make your own masks at:    https://www.arttochangetheworld.org/covid-masks/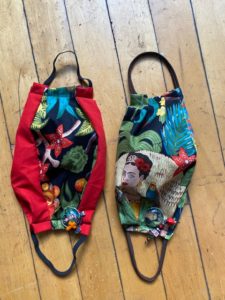 Frida Masks Available
Covid Masks    Hand Made. One of a Kind.  $20.00- $30.00.  Pricing explanation. Frida fabric is very expensive, postage is $4.50 and Cabochons are handmade and and beading  is time intensive.  I am simply trying not to lose money.  Each mask has a pocket to insert a hipa filter-I use a square cut from vacumn bags.   Not included. Hand Wash.    Please reach out if we can create a custom mask for you or a friend. Your charms and your fabric. $40.00   See available masks: https://www.arttochangetheworld.org/covid-masks-2/
Covid Message from Barbara Bridges
---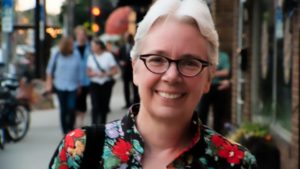 How I spent my COVID-19 vacation
Before the virus, I'd been officing from home for many years as the publisher of the Northeaster newspaper and coordinator of the Minneapolis & Saint Paul Home Tour. There are fewer distractions here. Tour planning was well underway, with about two-thirds of the basics well in hand, anticipating printing the promotional guide about March 25. By March 15 it was obvious the tour should be canceled. So I set that shutdown in motion. People understood and some expressed relief.  Read More
---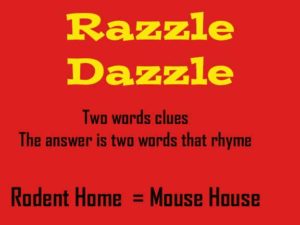 Fun Hour for Kids
Make art, play thinking games, share projects and strategies.  Send an email for details to. drb@bridgescreate.com
Click Here for Razzle Dazzle Examples
---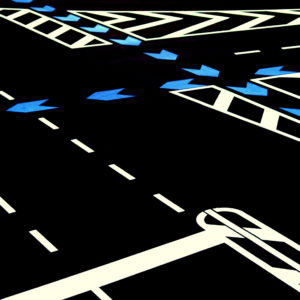 Clif Ware
Occasionally, when reading an article related to the purpose and goals of ACW, I share it with Barbara, especially when it explores ways artists can contribute to creating a more resilient and sustainable existence—for all of Earth's living creatures. Barbara found it pertinent, and subsequently asked me to write about it.
Since the article is brief and easy to read, I'll not comment about the contents. The three artist-organized organizations described—the ReUnion network, INLAND, an arts collective, and terra0, a Decentralized Autonomous Organization (DAO)—illustrate some of the creative ways artists are collaborating in promoting worthy socio-environmental projects.
The writer's final paragraph encapsulates the article's intent:  Read More
---
These are really difficult times for the service providers in our community.  Please consider purchasing a gift certificate from ACW supporter Sen Yai Sen Lek.
---
Words of Wisdom from Layl McDill- ACW Board Chair 

---
---
ACW in the time of Coronavirus- A Sea Change, Mary Wilson,  March 31 2020
The very timeworn opening lines from 'A Tale of Two Cities' seems apropos at the moment; "It was the best of times; it was the worst of times…, It was the winter of despair…, we had nothing before us, we were all going direct to Heaven, we were all going direct the other way…."
 I think that the world we knew before the arrival of COVID-19 has gone and it is never coming back.  We will learn how to fight back and conquer the virus and put a floor under the economy, but along the way we will be creating and adapting to the new "normal".  We are seeing examples of this daily – work and classrooms have moved on-line, the only restaurant meals you can get are takeout, streaming artists and new movies are readily available at home, meals and groceries can be delivered in most places, no live sports but plenty of fantasy leagues, and even breweries are delivering.  How much of this will "stick" – i.e. become more of our way of life going forward?   With more and more activities shifting to the electronic universe including the performance and sales of performance and visual arts, how can you still make art, make an impact, and make a living?
*Make a difference.  The causes that ACW supports are more critical than ever.
*Use forced downtime to be creative,  develop better back-up plans, learn new skills.
*Develop new ways of using the talents and tools available to us to communicate to the broader audience.
We must figure out how to build resilience into our future endeavors – sooner or later some other catastrophic event will radically alter our lives and we will confront untold challenges again – hopefully as more prepared citizens.  The leading attribute to being successful is adaptability.  For all artists including the members of ACW, there are steep challenges as well as opportunities in every environment.  If we envision a future 2, 5, 10 years from now, perhaps we can bring some focus to adapting to the new normal.
For yourself, be generous, notice small joys.  Prepare more, worry less.

Mary Wilson is one of ACW's major contributors and spent her work life overseeing production in Asia for Fairchild Semiconductor.
---
George Roberts
a film of thin gray clouds dulls the evening
sky memento of the work we each must do
sometimes unexpected darkness reveals a path
a direction previously unnoticed because of a
stubborn heart tender shoots of wildflowers grow
first after a wildfire fear or pain the desire to avoid
its truth leads to a second more dire suffering time
spent repairing what has been broken forestalls
risking everything to open the pathways
into our true heart
George Roberts is a poet, printer, and owner of Homewood Studios
Margo Ashmore – ACW Board member
Because of my work, I'd been pretty much out of circulation since well before the COVID-19 situation. Working at home is not new, but I've gotten more familiar with hosting Zoom. The Minneapolis & Saint Paul Home Tour that I'd been planning for April 25-26 – by mid-March I decided to cancel it and will be putting some content online to keep the brand alive. My Northeaster newspaper is still printing with smaller editions having lost event content and gathering-related advertising. I've been attending webinars in the various trade fields that relate to my work, and listened to Art Wunderful podcasts, as well as paying more attention to media in general.
Margo is on the ACW Board of Directors and owner and publisher of the Northeaster and a leader in our community. She is providing a plethora of tips and strategies for our current crises. FREE. Click here
---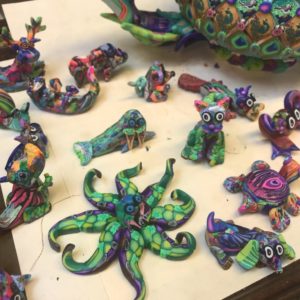 Layl McDill
On March 31st I hosted my first "ART365 Virtual Open Studio".  In the normal world ART365 is a chance for people to visit studios in the Northeast Minneapolis Arts District.  The concept is to eventually have one studio open every day of the year so people can get a chance to see behind the scenes of all the amazing studios in the district.  I was able to host two ART365 days before the pandemic and it was great fun!  I invited all that attended to play and create with my piles of polymer clay- so many fun creations appeared!  But this time I had to pivot to digital so I hosted my ART365 on Facebook Live and Instagram Live.  I was thrilled to have over 300 views and some great interaction with everyone. I made about 20 different animals including a bat, moose, platypus and frog.  My 3 year old nephew from Toledo even joined in and his dad made an elephant from play dough along with me!
The success of this virtual open studio gave me a few hours of the feeling I get when I actually open my studio up the public and I can spread the joy that creating gives me with others.  In this time of isolation we need art more than ever and for me squishing clay can also be therapeutic so I hope I can encourage others to do the same.  Next ART365 Virtual Open Studio" is April 28th 12-2:30.  Dig out your old polymer clay, play dough or even make a batch of home made clay (all it takes is salt flour and water for a simple recipe) and join me at www.facebook.com/layl.mcdill   Or check out my youtube channel anytime at www.youtube.com/laylmcdill
---
Judy Onofrio
Life is an ever changing circus of extremes recently.  We are in quarantine.
I find salvation is my studio where I am privileged to have the sheer joy of being involved in the present and having time away from the reality of the worlds virus.
And, I have a good friend making cloth masks She makes pockets in the mask to insert vacuum cleaner filters. The cloth masks are to be washed and insert new filters after use.
Judy Onofrio is a sculptor from Rochester, Minnesota
http://www.judyonofrio.com
---
How to Start Seedlings

---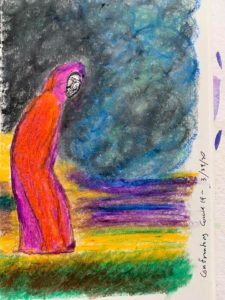 David O'Fallon
Created this image—how I feel walking into these times. also feel strong ,hopeful, angry. But this came out via pastels yesterday in the wee hours. I won't deny the fear and anxiousness—the unknown. And—on we go.
---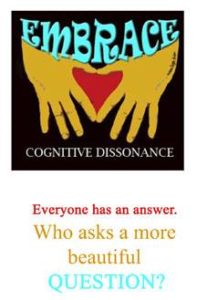 Cognitive Dissonance occurs when what you believe to be true is in direct conflict with what you see to be true. It happens when you realize that your truth is A truth- not THE truth.
Every community enjoys many different people with different life journeys which have brought them to different belief systems. Conflict emerges when one person or group believes that their truth is THE truth. I have had some success facilitating events which are designed by leaders in the community from MANY viewpoints. REAL social change can be effected when the participants collect data from each other, participate in authentic dialogue AND commit to action plans…IF they let go of the idea that their truth is THE truth.
---
Healing Bracelets from Me to You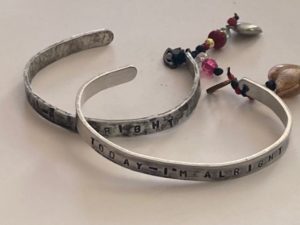 Healing from Me to You
I mentioned previously that I am feeling a sense of foreboding associated with trauma. Are you having similar feelings? I hope this small gesture might be helpful. The first 10 people to email me their address will receive a bracelet drb@bridgescreate.com. Gratis, of course. Read more about this project: https://www.arttochangetheworld.org/today-im-alright
---
Moses Kravitz
An Ode to Covid-19
This epic pandemic
Causing pandemonium
Leading symposiums
Oppressive opprobriums
Masked invitations
Self isolations
Shunned connections
Social rejections
Arousings suspicions
Planned resolutions
Future connections
The final solution
Here comes an injunction
Form follows function
We offer protection
And many inventions
Corona, Corona
Where you been so long
I've been worried about you baby
Can't wait till you be gone
---