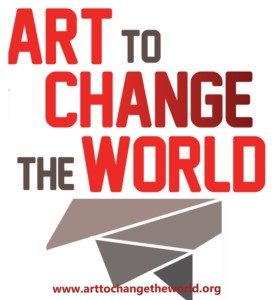 Osher Lifelong Learning Institute  Fall 2020     
How does art change YOUR world?
Meets on Zoom Wednesdays 2:30-4:00
Maximum: 30
Art to Change the World / University of Minnesota OLLI    This is OLLI  https://ccaps.umn.edu/olli
Art to Change the World (ACW) is an international non-profit, diverse coalition of artists, educators, scientists, topic experts, and other change makers who join forces in service of positive social change. We employ the arts, education, audience engagement, and organizational partnerships to invoke positive discussion, reflection, and action.
Your authentic experience will include interactive discussions  on the topic "How does Art Change YOUR world ? "with ACW artists and leaders.
Fall 2020  Wednesdays  2:30-4:00.
Oct 7  Barbara Bridges:  Re-purpose, Re-cycle, Create. Reduce your carbon footprint using art. A tour of Barbara's property and studios showing dozens of creative solutions. Read More about the class 
Testimony:  I'd be a wealthy woman if I had $1 for each time I said, "I am not artistic" throughout my 66 years. After virtually doing session one of How Does Art Change Your World?, a light-bulb moment! My passion for seeing, touching, and learning about artistic pursuits is a symbiotic connection with the passion of artists. We all can apply our imagination and experience to solving challenges, and that's creativity!    Sherri Weiss
See Barbara's Session
Oct 14 Layl McDill:  World of Wonderment. The emotional benefits of embracing your childlike wonder in art making.  Read More about the class

Oct 21 Bob Trench: The Power of Film to change the world. Watch the video BEFORE the class  Read More About the Class
Testimony: Robert's story of how he went about making the film Dodging Bullets was very interesting and educational. It was more involved than I thought it would be. The discussion on historical trauma was enlightening for me. Denise Marlowe
October 28 Margo Ashmore: The Power of the Pen. Is it Art? Publisher and journalist of the Northeaster shares the power and art of the written word. Read More more about the class
Zoom Log In Details

Nov 4  David O'Fallon: Creating Networks of  Action and Hope. David discusses organizing strategies he has used over the past decades.
Zoom Log In Details
---
See the Spring 2019 Outcomes:  https://www.arttochangetheworld.org/4638-2/
See Fall 2019 Outcomes:  https://www.arttochangetheworld.org/fall-2019/
October 2, 2019

2205 California St NE, Suite 201, Minneapolis, MN 55418.

Art to Change the World artists will participate in an interactive discussion and inquiry based experience focused on discovering the nature of social justice art and answering the question, "CAN art change the world?" Participants will share an artwork which has influenced you! Facilitated by ACW director, Barbara Bridges.  https://www.arttochangetheworld.org/barbara-bridges/. Contact Barbara with questions at drb@bridgescreate.com.
Optional Lunch following at Sen Yai Sen Lek https://www.senyai-senlek.com/
Danielle
Ann
Barbara
Thomas Fulton
Read More about Art to Change the World  https://www.arttochangetheworld.org/mission/
Resources Fall 2019
______________________________________________________________________________________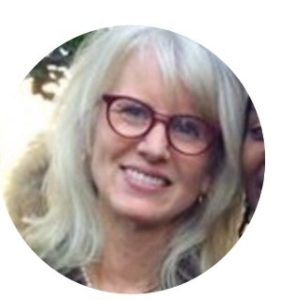 October 16, 2019   10:30-12:00

Dow Building B15 (basement studio)
2242 University Avenue W, St. Paul
Ann Meany is a self-taught sculptor. She creates her hand built three-dimensional work in her St. Paul studio.  Her work has been exhibited in many galleries in the Twin Cities and she is currently showing at the Dow Gallery in St. Paul. During our visit together in my studio, we will work with clay, so plan to get your hands dirty.  LUNCH at the Naughty Greek. Please RSVP to Ann at  meanhen@usfamily.net
For more information about Ann's art go to https://fineartamerica.com/artists/annmeany
---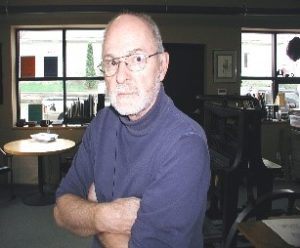 October 23, 2019  10:30-12:00

Homewood Studios
2400 Plymouth Ave N. Minneapolis, MN 55418

George Roberts is a letterpress printer, a poet and a gallery owner.  He has lived in the same house in North Minneapolis for fifty years and has invested in his community as a high school literature and writing teacher (North High School 1970-2001), a board member of Northpoint Health and Wellness Center (with an emphasis on art and healing) 2001-2009, and as founder, with his wife Beverly, and artistic director of Homewood Studios (1999-present).  He is one of eight studio artists in residence at Homewood Studios.  Our mission statement reads: Homewood Studios, an artists' workspace and gallery/meeting space in North Minneapolis, is designed for local artists and their neighbors in the belief the visible presence of working artists contributes to the vitality, self-image, and coherence of our community. That pretty much says it all.  LUNCH following at Breaking Bread on 1210 W. Broadway Avenue.   Please RSVP George at george@homewoodstudios.com. Read More:
"In getting ready for this studio visit, I want us all to think about the ACW mission and to consider what questions are appropriate for viewing art and art-making through that prism.  I will be showing an on-going project, The North Minneapolis WHAT WE WANT Project, as a focus for this conversation.   The eight artists in our studio are busily preparing for our annual group show in November, so my studio will be full of projects in their last stages of readiness.  Please feel at ease to during your visit and ask questions about any of those or anything you see."
__________________________________________________________________________________________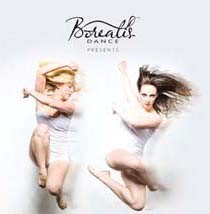 October 30, 2019   10:30-12:00
California Building: , 2205 California St NE, Suite 201, Minneapolis, MN 55418.
Danielle Ricci is an educator, choreographer, director, and dancer. She received her BFA in Dance Performance from University of California, Irvine in 2006 under direction of Donald McKayle. In 2014 she graduated with an MA in Arts and Cultural Management from St. Mary's University of Minnesota, and an MFA in Choreography from Jacksonville University in 2018. She has also studied at The Ailey School in New York City as part of their Certificate in Dance Program. Danielle has danced professionally in California, Texas, and Minnesota and has also performed on stage with members of Joffrey Ballet, American Ballet Theatre, James Sewell Ballet, and Minnesota Dance Theatre. Danielle is the Founding Artistic Director of Borealis Dance Theatre a professional modern dance company based in Minneapolis and a professor at Winona State University.   Read More: https://www.borealisdance.org/  Lunch at The Sample Room 2124 Marshall St NE, Minneapolis, MN 55418 Please RSVP Danielle at: danielle.borealisdance@gmail.com.
____________________________________________________________________________________________________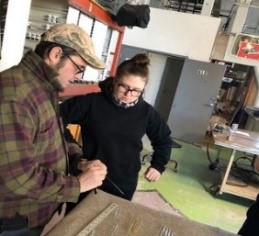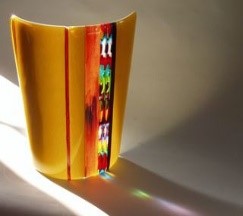 November 6, 2019  10:30-12:00
FLUX  – Potek Glass
2505 Howard St. NE, Mpls. 55418
Malcom Potek has been working in glass since 1991. He works primarily in kiln cast assembly and cold-work. Malcom, an experienced torchworker, creates custom canes for inclusion in his kiln work as well. A teacher for twenty plus years Malcom leads workshops throughout the United States as well as in the shop and privately. With his experience he develops curriculum both for public art projects and as part of the Potekglass Curriculum.  Read More:  https://potekglass.com/classes  LUNCH at The Mill -1851 Central Ave NE , Mpls.  Please RSVP Malcom at:   info@potekglass.com.