ACW  supports the empowerment of our young members.  We have two rotations of interns in the summer/fall and in the winter/spring.
Apply to be an intern info@arttochangetheworld.org
ACW Community Engagement Guidelines 
---
Summer /Fall 2021 Interns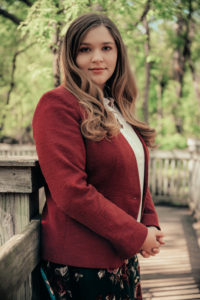 Rebecca Froehlich is a working artist and communication professional. She graduated with a BFA in Painting from University of South Dakota in 2017 and experienced training as an Artist in Healthcare at Sanford Arts Vermillion, Sanford USD Medical Center, and the University of Florida's Shands Summer Arts in Health Institute. While working with people with dementia at Sanford Arts Vermillion, she completed content analysis-based evaluation of the program, The Impact of Arts Engagement on BPSD (Behavioral and Psychological Symptoms of Dementia). She has experienced leading community-based art projects in rural and urban settings. She will graduate with a Master's In Education from Augsburg University in Spring 2022. Rebecca is available to hire for copy writing, grant writing support, and commissions for crochet, wildlife photography work, and murals. Find her on Instagram at @rebfroehlich and learn more: http://bit.ly/RebeccaFroehlich
Intern, Artist, Minneapolis 
---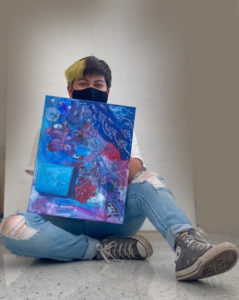 Aristóteles Carbajal (Ari) loves art— he prefers painting, Though young and often tired, when inspiration moves their spirit,Ari attacks the canvas. He challenges the viewer to look deep into his art. Where a lot of good things happen! A lot of these "good things" were inspired by Ari's sister who told Ari they sucked at drawing. This early criticism went on to fuel Ari's choices in subject matter, medium and composition. Ari challenges any and all canvases. Look deep within their world, there is so much to see.
Social media: Instagram @mossy_raccoon  Artfol  @mossy_possum TikTok @mossy_raccoon
Artist/ Intern     Stillwater, Minnesota 
---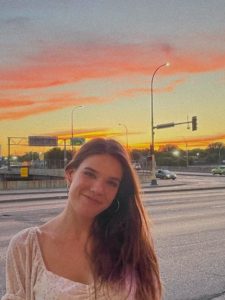 Beatrice Crow is an educator and an emerging artist and designer in Minneapolis, MN. Born and raised in New Hampshire, Beatrice grew up painting, drawing, and spending lots of time outside on her family's farm. She earned a degree in art history and studio arts from Carleton College in the spring of 2020, and during her time there fostered an interest in graphic design for social media, watercolor and gouache painting, printmaking, and arts education (culminating in summer internships at the Guggenheim Museum and the Children's Museum of Arts). Beatrice now is a teaching assistant at a therapeutic preschool in St. Paul and sustains a painting practice from her studio. Her work focuses on the vibrant colors of sunrise and sunset. In her freetime, Beatrice can be found learning a new craft, watering one of her many plants, or trying out one of the many Twin Cities breweries.
---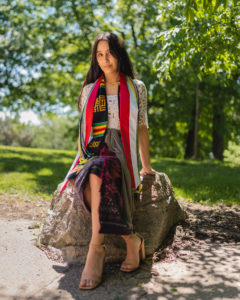 Natalia Granquist is an artist/art historian who is deeply interested in providing platforms to stories that have been silenced or suppressed. She loves to do research, especially through a decolonial lens, and even more so if it is about a woman of color. Recently, she graduated Cum Laude from St. Olaf College with distinctions in art history and studio art. Her thesis in art history focused on amplifying the stories of Teha'amana and Ni Pollok who were exploited by south sea Orientalists. Through her artwork and writing, she strives to uncover lesser-known stories and to relay her own gaze as a Balinese woman navigating the historically white male-dominated world of art history. With experiences in building websites for Columbia University and St. Olaf College, Natalia enjoys digital curating and seeking methods of furthering digital interactivity. In her free time, she likes to paint wearable art on denim jackets.
View her previous work here:
https://soilissentient.cargo.site/
https://pages.stolaf.edu/lastinglegacy2021/
Personal pages:
https://luhnatalia.cargo.site/
https://www.linkedin.com/in/natalia-granquist/
https://www.instagram.com/nataliagranquist/
---
2019 Intern

Bianca Dawkins is currently the service experience manager for Nordstrom She has outstanding leadership skills and has successfully implemented innovative ways to make change in the nonprofit and for-profit sector! She was the first youth representative for the City of Minneapolis Youth Violence Prevention Executive Committee for over 4 years, appointed by former Mayor R.T Rybak. Bianca has been a Youthprise Change Fellow and a grants manager for Greater Twin Cities United Way, helping fund over 5 million in grants out into the community. Bianca is determined to share her story as a survivor of violence, homelessness and health disparities to inspire youth! Bianca is also in the process of starting her brand management agency, LAV8!  You will be hearing from her with ACW engagement invitations!
Bianca recently accepted an appointment at the Minneapolis Foundation!
Social Justice Activist   Minneapolis, Minnesota
Testimony:
Bianca ( African American at the Minneapolis Foundation)  ACW includes all voices with a racial equity lens in our decision making model by taking the step to reach out to our POC artists for their input. We value the inclusivity and understand that great things happen when communities from all different backgrounds come together with a holistic approach.
---
2020/2021 Interns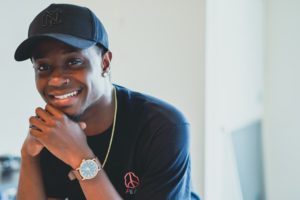 Devin Larkins is an Independent, hardworking individual with experience in a wide range of photography categories.  Devin specializes in portrait, fashion, and aerial photography. His work appears in Wisconsin, Iowa and Minnesota. When DSLR isn't hanging around his neck, he is usually out flying his DJI Mavic 2 Zoom drone. A significant amount of his ariel work is sold on his website. He enjoys working both independently, on a team, and in leadership positions.
Through photography he has learned and specialized in multiple software editing tools, such as Adobe Lightroom, Adobe Photoshop, and Procreate.   Read More! https://www.devinlarkins.com
Contact Devin  Devinlarkins16@gmail.com  952-228-6169
Photographer  / Minneapolis, Minnesota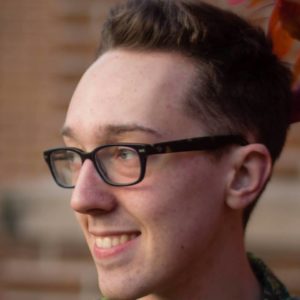 Johnny Barrett is an emerging artist, specializing in graphic design and
illustration. He has a background in programs like Photoshop, Illustrator,  InDesign and CorelDraw, as well as traditional art techniques like  painting, printmaking, sketching and sculpting. His work covers a wide range of styles and mediums, usually depicted in bright colors and energetic imagery. He has worked with many local Minnesota artists and was   a primary editor for the Hamline University Fulcrum Journal during his time there. Aside from art, Johnny is also an avid film enthusiast and a lover  of media in general.
Artist  Minneapolis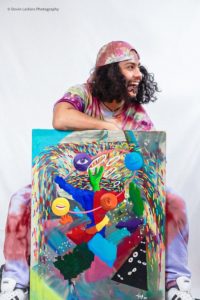 Visual art. Using multiple skills for visual design such as Photoshop, Illustrator, Procreate, painting, and sculpting. while using his work to visually attract his audience the experience is more about the story telling, creating a portal to a world that may or may not exist. Working all across the country such as Florida, California, Colorado, Minnesota, and even international in Spain.
Diving into the art world to experience the thrills of human creativity is life changing I invite you to try it    Website: ScorpioRisingArt.com     
Email: ArtScorpioRising@Gmail.com
Artist  Minneapolis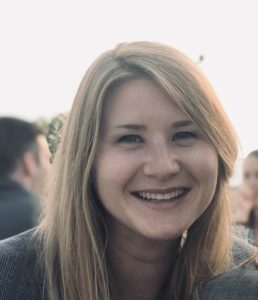 Abby Ross  is an organizer, activist, and most proudly, a creative.
Born and raised in so-called Wisconsin, Abby has always loved the outdoors, craft supplies, music, and bantering with her brothers.
Abby holds a degree in Political Science from the University of WIsconsin – Madison where she first started organizing within the youth climate justice movement, specifically around pipeline  resistance.
Over the course of her organizing career Abby has sought to bring her passion for art activism  to the forefront of her movement work. In 2018 she led a first of its kind Tar Sands Storytelling  Project for which she received the Sierra Club Joseph Barbosa Award. She has since been  invited to speak at events such as the National Women's Caucus for Art National Conference
and the University of Wisconsin Gender and Women's Studies Consortium Conference. Most  recently, Abby has supported young people across the country at the frontline of the climate  crisis to elevate their voices through storytelling and the arts.  Abby currently sits on the Executive, and Equity Committee for the Wisconsin Chapter of the  Sierra Club and continues to lead collaborative, art and storytelling projects on climate justice
issues. She also finds time to get outdoors, indulge her love of reportage illustration, and
sample new pastries.
Appointed as Project Manager for Coaching Project for a Better World      Madison . WI  Activist, Intern
Testimonies from the 2021 Winter Interns.
Scorpio: "As I was becoming an intern with ACW I didn't know what to expect, but I did know I wanted to be a part of the culture that was Art to Change the World. Immediately as we started I felt welcomed and taken care of, everyone was, and is, ready to help one another strive to reach their goals. I was given the resources I needed to find work that was in the community as an artist, collaborate with different styles and concepts, and opportunities that I feel were more accessible because I had ACW to help. The ACW team was able to find me a new computer to use for projects, they introduced me to people I needed to build community and work, and gave me the info I needed to thrive.
There was a lot of hard work that we needed to get through but being able to look around and see a team at work to achieve the goal was really amazing. It shows that if we all work together and give encouragement and support we can really move mountains. Being with ACW is a great experience and helped me grow as a human."
Abby:  ACW is about real-world exposure – and benefits. I was able to have a seat at the decision-making table, make meaningful connections in the Minneapolis art scene, and was provided with copious opportunities to further my personal art career. I also grew important industry skills like grant writing, project management, and community outreach. This is definitely not a 'pulling staples' kind of internship! Thank you ACW!
Devin: I became a member/intern of ACW because I was a young artist looking for support, community and opportunity, ACW gave me that and more.
I felt welcomed, accepted and valued from day one. ACW helped me secure for first big photoshoot by allowing me to take professional photos of members throughout the organization. I was also able to participate in one of the biggest art fairs in the country, Art-a-Whirl, which brought me so many clients and opportunities. And lastly, through being an intern at ACW, I was able to find a studio space for my photography. Being an Intern at ACW has changed my life in more ways than I could have ever imagined. I would encourage anyone who is looking for community, acceptance, and opportunity to be a part of this organization.
Johnny:  "My time working with the Art To Change The World intern program was important to my development as an artist by giving me new challenges working with a design team: coordinating, preparing and workshopping ideas in a more collaborative way than my own solo work. I also got some great exposure to the background and working lives of other artists, and got to expand my network with new, intriguing people. I'd highly recommend ACW not just as a collective for fellow artists, but as a way for artists just starting out to get the experience they need with the modern art world."
---