Back to Events Page
These are examples of the kind of active community engagement your project will need to include.  ALL Media are welcome- including social media , digital, musical, performance etc etc.
---
---
---
---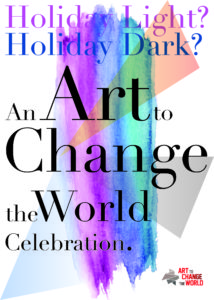 Event: Holiday Light, Holiday Dark
Over 450 attendees, and 150 action promises.
---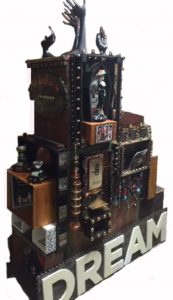 ---
These are projects from SEE. SAY.DO.  Many did not meet the 50-100 active participants but  might serve as inspiration.
Grace Bianchi   – Body Image      Read  About Project
Kira Corser   – Climate Change /Human Rights   Learn More
Madelynne Engle  – Truth and  Resilience    Read About Project   Power Wheelchair Giveaway
Maris Gilbert  – Water Quality   Learn More
Craig Harris – Human Senses-CTSD    Learn More

Laura Hill   -Reclaiming our Narratives: Exploring Race & Identity  Read About Project
Anne Kleinhenz   – Heart Listening   Learn More
Barb Kobe – Emotional Nature – Embodied Knowing – Empathetic Connection  B
Learn More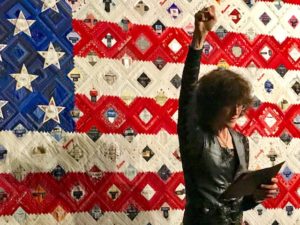 Candy Kuehn  -Dark Energy/Brain Neurology    Learn More
Felecia Lenee -FE -Compassionate Conversations  S  Read  About Project
Wesley May – Identity     Read about the project

Nikki McComb   – Art is my Weapon    Learn More
Layl McDill    – Persuasive Technologies  Learn More
Rebecca Ratzlaff  – Labor/Unions  Learn More
Danielle Ricci  –   Ongoing Refugee Crisis  Threads of My Cloth    Read about the Project 
Shira Richter  –  Motherhood: Women, Men and Money    Read About the Project
Barry Scanlan    Environmental Corporate Abuse    B    Learn More
Jill Waterhouse  –The Chasm between the Divides"   Learn More
Take Action  Pop Up Performances  Learn More
Truth, Healing and Reconciliation Anton Truer and Dodging Bullets  Learn More
---
Ideas from Out in the World
Credit: Jeffrey Markowitz/Sygma/Getty
A traveling public art project, the AIDS Memorial Quilt was created in June 1987 at the height of the AIDS crisis in the United States. The ongoing project memorializes those who have died from HIV and AIDS through quilted panels, embellished with their names and symbolic imagery representing the person memorialized. Currently, the quilt is made up of more than 48,000 panels, with more added every year as more AIDS casualties are submitted to The NAMES Project Foundation.
---
Credit: Tatyana Fazlaizadeh/Facebook
These simple posters, created by New York City artist Tatyana Fazlalizadeh, carry a big message about a type of gender injustice women face regularly: street harassment. The series, called Stop Telling Women To Smile in reference to a common catcall, started in the fall of 2012 and is ongoing by the artist.
---
Credit: AptART / ACTED / UNICEF / Jose Artista
The Za'atari Project is an ongoing series of public art murals that engages Syrian refugees, especially children, in art to make refugee camps less sterile and more welcoming.
---
Wonderful Organization with great ideas: