October 28, 2021 Call for Art " Blood on the Pavement"
October 26, 2021  On George Floyd Discussions
——————————————————-
Ashley, Deacon, Dominique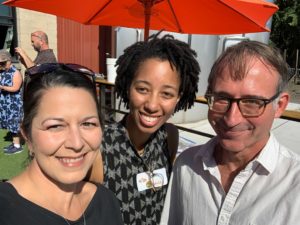 November:
Action items:
Black Table Artists- made contacts shared poems
Layl- Send basic Contract
Venue- Still looking options:
1. Greg Wilkins — Introduction to Heather at Friedli Art Gallery, potential joint show/reading in March to create buzz for exhibit in May
2. Beverly — Upcoming Intro to MN African American Heritage Museum and ROHO collective.
3. Thorp Building — Deacon will connect with his contact next week
4. Owen — Upcoming connection to Synagogues, Dreamsong Gallery, VW Gallery
5. Dominique — Will follow up with film friends/contacts, Jasmine Owen and Caspien Treadwell Owen. This could be a potential venue, just a general connection to create buzz for the project, etc.
6. Upcoming visit Juxtaposition Arts and Springboard next week.
7. Upcoming Homewood Studio visit together.
8. MCAD- June available (worried about content and kids)
9. Follow up: call leads at the California/Casket Blg about potential venue spaces
Goals: Impactful and more traffic, maybe there are multiple showings in places that aren't as high traffic or have a limited audience like religious settings.
Has about 7 aps.
Plans to push them out more, knowing that people wait until the last minute. Regional arts councils and colleges.
Needs:
Keep pushing out app. Will invite specific artists once we know what we need.
Owen's painting- use in exhibit- put up out as a silent auction a week before.
Still open to figure out which organization will be donation.
Other activities? Reading of poetry opening and closing.
Celebrity invites- police chief? Mayor?Rewriting call for artists as Google Form.
1. Google Form finalized tonight / Update CFA with link
2. Mass push of forms to local colleges and regional arts councils. Upload to MN Arts Council Website as well.
3. After research/call with agent, Submittable is not an option for posting CFA
October 20
Progress:
Budget plans being made
Talked about dates and times for exhibit
Compiling contact list of artists 
8 out of 15 Poems done
Joined Black Table ArtsAction Items:
Team needs Contract (Layl)
ACW will Liability Insurance
Explore Venues
Create Applications
Reaching out to Artists directly to invite to the project or connect to other artists.
Explore: "Who is your target audience? And how to get the exhibit to them. 
Ashley: start Social Media Accounts
Find a location.  Barbara will call Squirrel Haus
CALL FOR ARTISTS
Exhibit: "Blood on the Pavement"
Location: TBD
Showing Dates: May 2022
Deadline to Apply: Wednesday, November 24th, 11:59PM CST
"Blood on The Pavement" is seeking local Twin Cities artists! Scheduled to open May 2022, the exhibit will provide a physical space and voice to the black experience and intersections of the black identity. Artists and audiences will navitage topics like violence against black bodies, both verbally and physically, from micro aggressions to police brutality; as well as violence against women's bodies and those identifying as women. But perhaps "blood on the pavement" is also a skinned knee on the pebbled driveway where you learned to ollie. As a group show featuring 7 to 10 artists, vastly different aesthetics, intrepations, and personal lenses will shape the exhibit.
"Blood On The Pavement" is open to 2D or 3D works from artists of all backgrounds, but will give priority to voices from BIPOC and LGBTQ+ communities.
Artists will create work reacting to poems written by the organizer and project manager, Ashley Richardson. Please note there are no "correct" interpretations. Instead, artists should feel free to add to the conversation by creating pieces inspired by the poems.
PAYMENT
Selected artists will receive a minimum stipend of $100.00 to offset the cost of materials, and a free $50 membership to local non-profit, Art To Change The World. Featured artists will also have the opportunity to sell their work during the month-long exhibit or donate their work to a silent auction. Auction earnings will go directly to organizations supporting, protecting, and bettering black lives.
HOW TO SUBMIT
Please email questions or submissions to Ashley at richardson.exhibits@gmail.com. Submissions should include:
Name, address, email, phone, websites, social media platforms, etc.
 Three to four samples of your work (JPEG Format)
 A brief statement of interest, including: a few sentences about your approach as an artist and the works submitted, as well as your reason for wanting to contribute to the exhibit.
Deadline: Wednesday, November 24th, 11:59PM CST
ALL artists will receive a response by Monday, November 29th.
"Blood on the Pavement" is supported by ACW's Coaching Project for A Better World.  Other team members include filmmaker and educator, Deacon Warner, and environmental, health and safety expert, Dominique Zellmer