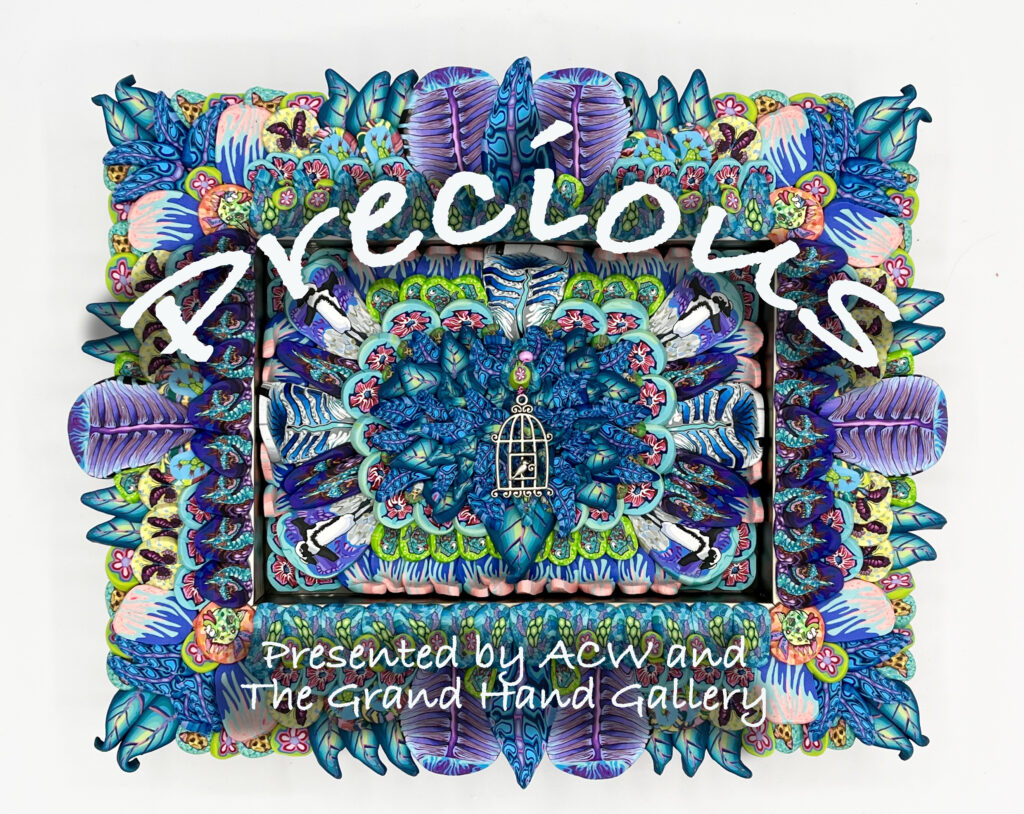 The purpose of the Precious Grand Hand/ACW Happening is to illustrate that all people can be creative and everyday objects can be made Precious. Four established artists working in fabrics, painting/printmaking, polymer clay and found objects will exhibit six works each and each artist will lead one 2-hour workshop for up to 6 people during the month of June, 2023.
Video of the Opening created by Amada Simula https://youtu.be/sQrkWS7lwKM
Opening Event: June 1, 5-7 pm  Music from  saxophonist extraordinaire Walter Chancellor Jr. , Julia Wheaton, Singing in a special cross discipline performance called  "I Can Take Myself Dancing".  Read More.  Models: Kelly Frankenberg and Amada Simula
Grand Hand Gallery,   619 Grand Ave, St Paul, MN 55102

Opening Night Photos
Show Open: May 30 – June 30.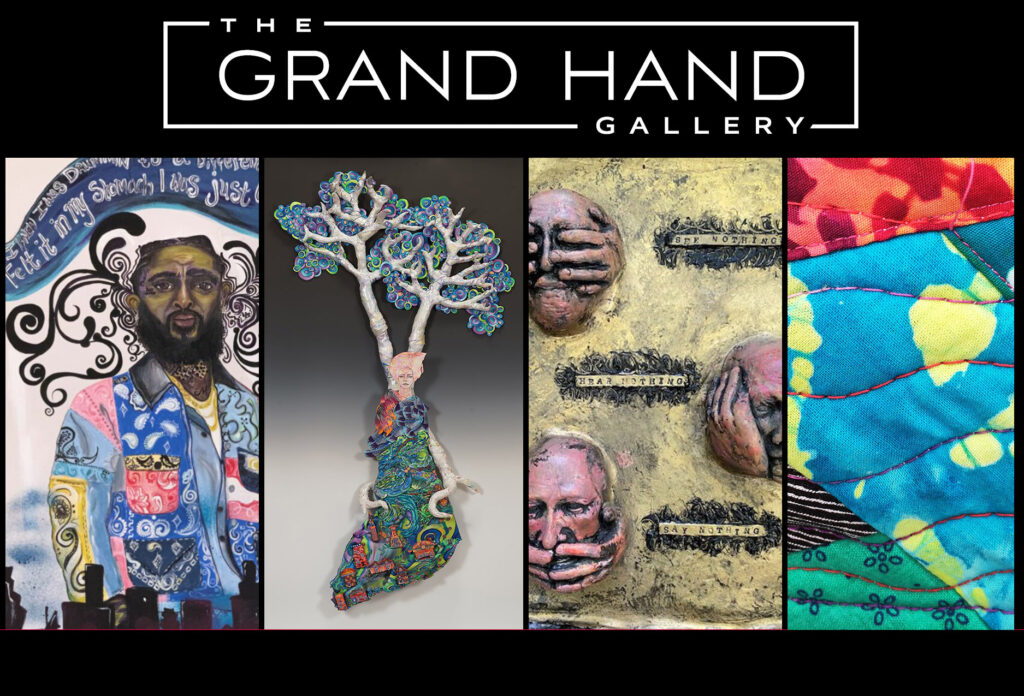 Read More about Barbara's Work (1)
Read More about Layl's Work  (2)
Read More about Lucy's Work (3)
Read More about Bri's work  (4)
Watch how Layl creates her polymer clay Millefiori magic.
https://www.youtube.com/watch?v=z-9RMG6e7IM
Tour Layl's studio
https://youtu.be/NKc9zSHRv6k

Dates for Workshops: Thursday evenings   from 5-7 p.m
June 8   Lucienne Schroepfer   Combine, Sew and quilt fun fabrics together into a zip purse—perfect for Purse organization or to adapt to hang over a shoulder or next to hold necessities. Simple construction, fun color play. There will be 3 machines available, or, even better, if you know your machine—please bring it with you. All supplies needed will be provided.

June 15   Briauna Williams  Lets take those old dull denim jackets, or jeans you may have laying around and give them a new, vibrant colorful life. We will work with patches, paints, gems, and a variety of techniques you will learn that you can easily apply to your whole wardrobe. Let your creativity flow in return creating something that reflects a piece of "YOU".   I encourage you to reflect on an inspirational figure or quote to help you design your new fashionable peace. The hope is when you put that energy into making it. You will be transformed when wearing it, gaining confidence, security and love. Then it later will become an "invisible garment" that you put on each day. 
With or without the physical one present.  You can always add a new patch/affirmation. Just like life each day is a new one to be designed to your liking.   See Examples
June 22  Layl McDill  Polymer Clay Dragonflies. You will be amazed how you can layer colored clay together to create designs that are revealed with every slice.  Learn how to make fanciful dragonfly wings and another design for the body.  We'll put the clay together on a wire to be either an ornament or a small garden decoration.  Take the clay home and bake to cure in your own oven. 

June 29   Barbara  Bridges  Become an intervenor. Bring interesting, but unworn, jewelry or small memory objects  and re-purpose them to create a spectacular new narrative. See examples: https://www.arttochangetheworld.org/bridges-art  
See Pictures and Survey Outcomes of Barbara's Workshop Click Here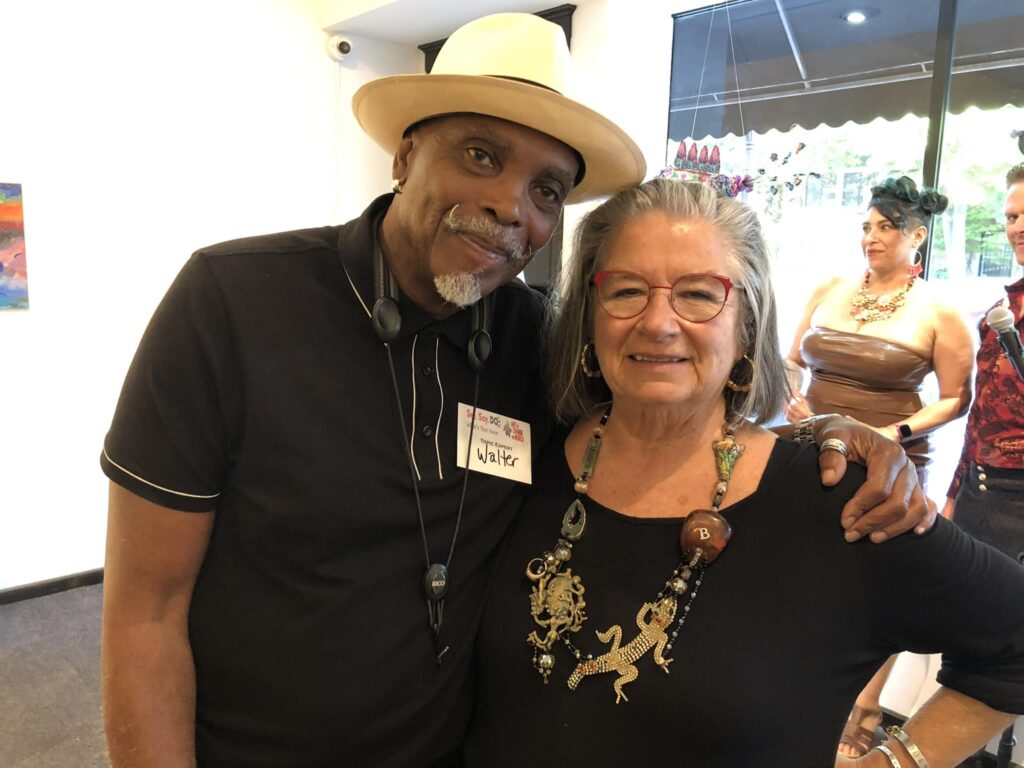 Precious is a celebration of the unique, the playful, the excellent attention to detail that makes art, and LIFE, Precious.
Click to enlarge photos
Artist Biographies and More Information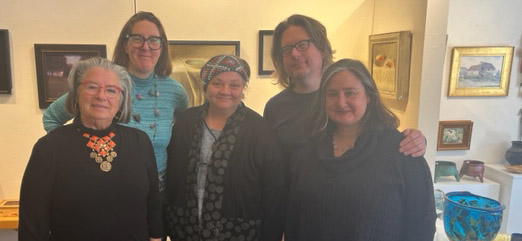 Owners of the Grand Hand Gallery
Co-owners Rachael Hartzler and Jim Jacobson (married, to each other) transitioned from miniature art fairs in their front yard on Grand Avenue to ownership of the Grand Hand Gallery in September 2022. Both were longtime customers and admirers of the Grand Hand Gallery before. Rachael's hand-drawn ink illustrations have appeared at art fairs throughout the Twin Cities and greater Minnesota. Both hope to continue the gallery's strong tradition of fine craft and art, with a special emphasis on the artists of the region. "We're excited to host this event in conjunction with Art to Change the World because art is for everyone. Museums (and galleries!) are great, but art's meanings and contexts reach everywhere there are people. We hope to expand how people think about art and the process of its creation while also supporting Art to Change the World's mission of positive social change."  L to R – Barbara, Layl, Lucy, Jim and Rachael.
---
Opening Night Musician-  June 1 
Walter Chancellor Jr.
Professional saxophonist, multi-instrumentalist, educator, arranger, mentor and music producer.  Walter Chancellor has been a mainstay in the Twin Cities contemporary Jazz and R&B music scene for the past 25 years. After constant touring during his formative years he decided to relocate to musically successful Minneapolis from Des Moines, Iowa and lesson the necessity of so much traveling to perform. Not long after his arrival in Minneapolis, Walter performed and recorded with Prince, earning him a Double Platinum Record for his participation on Prince's "Emancipation" CD in 1996.
Additionally, Walter has performed, recorded and has shared the stage with such artists as Chaka Khan, Willie Nelson, Maceo Parker, Candy Dulfer, Chance Howard (Prince, Candy Dulfer &  Brian Culbertson), Brown Mark Mazarati, Musiq Soulchild, Larry Graham, the late Louis Johnson, Cameo, The Pointer Sisters, Bobby Lyle, The Platters and Producer greats as Chris "Big Dog "Davis, Andre Fischer and Jack Douglas just to name a few.
For the past 25 years, Walter has been a mainstay, Walter has expertly taught Audio and Video Post Production for the "Institute of Production and Recording" (IPR) in Downtown Minneapolis and has since retired his 18yr stay there from 2002 -2020. He has been instrumental in the successful careers of many IPR Alumni that he personally taught and mentored. To give back to the Twin Cites community that has supported his creativity, Walter helped launch and is one of a few founding members of the Twin Cities Mobile Jazz Project and After School program in Minneapolis and St. Paul. The program is designed to expose adults and children to Jazz Culture, technology, music history and gladly educates them about our great American art form, JAZZ and other multimedia art endeavors & opportunities.
Earlier in 2022 Walter released his Smooth Jazz hit "Time 2 Chill" which was one of the most added Smooth Jazz releases to terrestrial and internet radio worldwide upon its release in May 2022
Walter has recently produced a new R&B single for Junior Giscome
"Who's Been Schoolin' U?" released on October 7th, 2022
Currently Walter has Produced Holiday music for the incomparable Twin Cities Jazz Vocalist Thomasina Petrus here for the 2022 Holiday Season, "Mary Did You Know"
A very soulful and heart-warming rendition of longtime Gaither Vocal Band member Mark Lowry. Release date is November 25th, 2022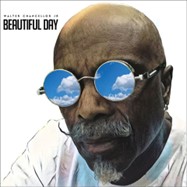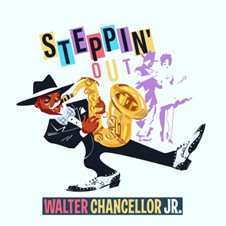 ---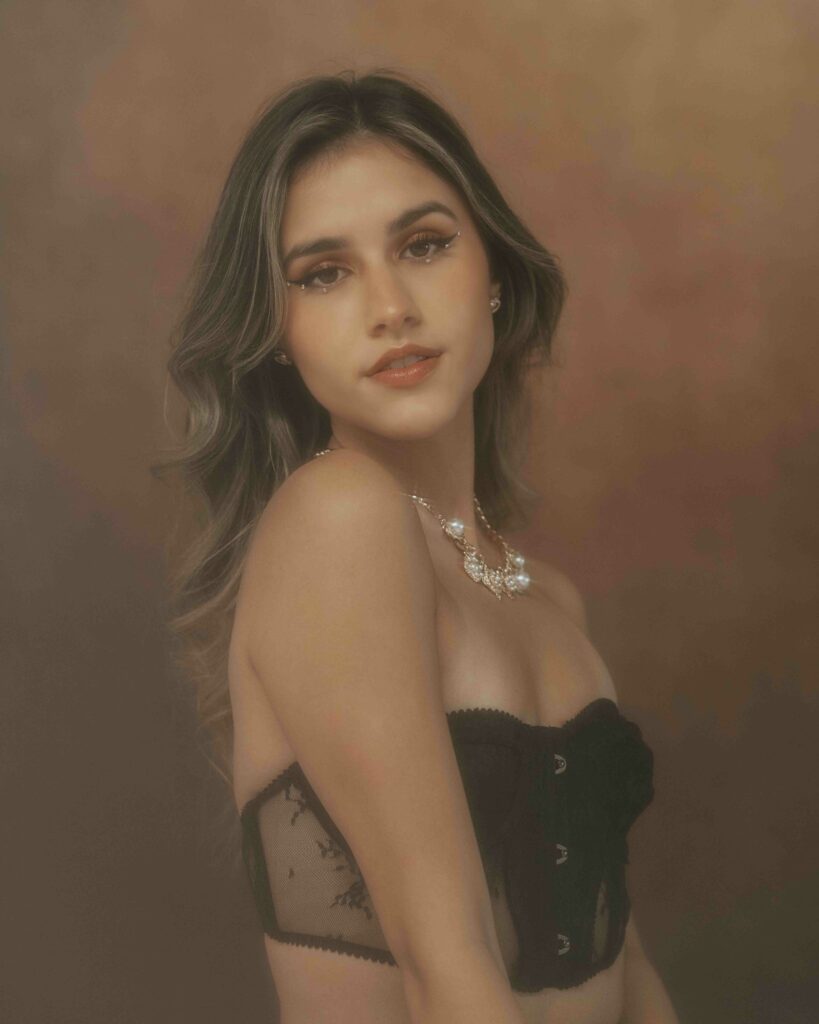 Julia  Wheaton

Singing in a special cross discipline performance called , "I Can Take Myself Dancing". 
The powerful-voiced singer Julia Wheaton, who was born in Minneapolis as a naturalized Brazilian, has been captivating audiences wherever she performs. The 19-year-old singer, who was raised by a Brazilian family, combined the richness and authenticity of her two homes—Brazil and the United States—to cultivate her gift. Julia initially encountered the world of music when she was just 5 years old as she began learning to play the piano.
But it was with the Disney movie "Frozen" that she developed her passion for singing through the theme song "Let It Go," which she sang 'day and night' as she describes it. Due to her incredible talent, her parents started investing in singing lessons, where her voice developed into one fit for a "Soul Queen." Her life's passion and emphasis ultimately evolved into singing. Despite her youth, Julia exhibits an admirable level of skill and knowledge that captures the interest of numerous well-known music producers both nationally and internationally. Every song showcases this talent beautifully!  https://canvasrebel.com/meet-julia-wheaton
---
Logistics for the Artists.
Art delivered to Grand Hand: May 15 – May 22.
You need three things:
Bring a list of  all your works on 8.5 X 11.  Linda will be making the small sticky tags near each artwork.
Examples: .
Neckpiece "Red Hot"
Antique Findings
12: x 18" x 1 "
$800
Creator Turtle's Infusion Sewing Machine (teapot)
Polymer Clay, found teapot
$600
2. ALSO.  Create an art WORK statement.  8.5 x 11 maximum size.  This is where we write about our media and this body of work.
3. Your work finished and ready to be hung.  Bring your best work.  10 or so pieces- according to size.
Work picked up by July 1, 2 or 3.