Art to Change the World  (ACW) is a non-profit, diverse coalition of artists, educators,
scientists, topic experts, and other change makers who join forces in service of positive social
change. We employ the arts, education, audience engagement, and organizational partnerships to provoke discussion, reflection, and action.  https://www.arttochangetheworld.org/mission
                                           Support a Topic Team.  Become an ACW Team Member!   $1,000.00
ACW will host a two-week event with exhibition, performances and workshops around the theme of See. Say. DO What's Your Issue? from Oct. 5-14, 2018. Over 20 established and emerging artists and their topic expert team members are creating social and environmental justice works, transforming the cutting-edge art space Squirrel Haus Arts in South Minneapolis into an inviting and magical universe which draws the visitor into a thought provoking, interactive journey with the intent of inspiring positive action in our community.

Do you have a specific social topic you would like to sponsor? The artist/topic expert teams need about $1,000.00 for both of them to research, travel, buy art and educational supplies/materials. Each artist has selected a topic expert (or 2). We might also call these integral team mates a "primary source voice." ALL of the team members learn from each other.  You will become a member of the team. We value your voice.
Support benefits included (all optional) :
Studio visit  * Listed on website and programs * Two tickets to VIP Event * Monthly artist news/networking/ events emailed * Access to the Art to Change the World forum * Membership in book club * Invitations to celebrations and gatherings * ACW coaster set *  ACW Hot Beverage Mug * ACW Steel water bottle. Invitation to an authentic Maine Seafood Chowder dinner created by native Mainer Barbara Bridges  OR   A small artwork created by an ACW Artist.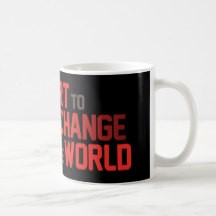 Donate Here  https://www.arttochangetheworld.org/donate/ Post Director, Barbara Bridges, to indicate the amount and the artist team. info@arttochangetheworld.org.
You will receive a letter for your taxes.  Call to discuss details with Barbara if you have questions: 612 845 0416.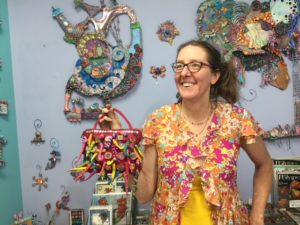 Project Description and Workshop   – Layl McDill  Topic:   Persuasive Technologies

"Do you feel a loss of control and/or feelings of timelessness when using the Internet or Smartphone?",  "Do you find yourself seeking more stimulating/interesting (e.g., exciting) material or content on the Internet or Smartphone? ", "Are you using the Internet/Smartphone as a way of escaping from problems or relieving a bad mood, (e.g., boredom, frustration, anxiety or depression)?"  These are three of the questions on the "Virtual Addiction Test" created by David Greenfield, who runs the Center for Internet and Technology Addiction.   So many of us will answer yes to these questions and so many of us have some range of device addiction to deal with in our lives.  If we aren't dealing with it ourselves it is likely that our children and teenagers are.  Everywhere you look people's heads are bent down gazing into the ever scrolling screen of our devices.
My project's goal is awareness of device addiction.  We might know we spend a lot of time on our devices but we do we know we actually have the signs of a real addiction? How is the addiction affecting our lives or our children's lives?  I will speak to a therapist about their experience with teens that must be separated from their phones in order to start intensive treatment for other addictions and depression.  How does this relationship with their phones effect these teen's mental health?  What changes happen when they are free from all the phone's stimulus.  What happens when the phones are given back?  What have they seen over the years as the use of smart phones has become so widespread?
The art piece I plan to create with be interactive and ask the viewer to add to a "Device Monster" by thinking about their relationship to their devices and consider how their relationship with their device might effect their lives.  I work in polymer clay and my work is very playful and colorful.  My goal is to create a piece that draws you in with humor but gives the viewer an image that will stick in their mind when they ponder how social media, aps and online games effect their lives.
Authentic Voice:
Workshop:
We will start with a conversation about our own personal relationship to our devices- What would you like to change. What is positive about such things as social media and other smart phone aps?  What are the negatives?  How do you feel different after too much "device time"?  Then we will get away from the virtual world and experience hands on COLOR in the form of polymer clay.  Learn a few step by step techniques that you can use to create a small sculpture of your own "Device Monster".  This creature will then be taken home and baked and set in a place where it can remind you what you don't want to become when you get sucked into the virtual world.  Two hour workshop
Biography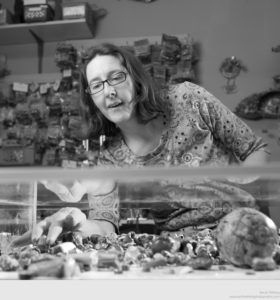 Layl McDill
I use wonderment as a mechanism to show the things we live with everyday in a new perspective, like the green hills you drive by everyday or the laundry hanging on the line. When you are surrounded by my polymer clay sculptures it is as if you are seeing the world through a patterned lens where the mundane is much more precious and mysterious.
My technique and materials are also very mysterious. I use primarily polymer clay with the ancient technique of millefiore. Tiny images that cover every surface of my sculptures inevitably make the viewer wonder "How did she do that?" And even though I have been doing it for more than twenty years, it still seems amazing that I can create a tiny picture inside a chunk of clay.
I have spent my artistic career rendering versions of the world we live in into windows of wonderment. With my most recent work I hope to tingle the viewer's imagination towards opening their mind to seeing something in a new perspective. In one of my recent pieces, "The Root of the Problem," a tree grows above a bulb of roots filled with antique mirrors. "Air Celebration" is a joyful piece that makes you think about our most precious invisible necessity.  Both of these pieces speak of awareness or even possibly give a subtle nudge towards activism to change our impact on the earth.
Viewers are drawn to the magic and wonder of my work. They will be not only fascinated by the technique but presented with some thoughts about ways to look at the world we live in and given their daily dose of wonderment.