Art to Change the World  (ACW) is a non-profit, diverse coalition of artists, educators,
scientists, topic experts, and other change makers who join forces in service of positive social
change. We employ the arts, education, audience engagement, and organizational partnerships to provoke discussion, reflection, and action.  https://www.arttochangetheworld.org/mission
                                           Support a Topic Team.  Become an ACW Team Member!   $1,000.00
ACW will host a two-week event with exhibition, performances and workshops around the theme of See. Say. DO What's Your Issue? from Oct. 5-14, 2018. Over 20 established and emerging artists and their topic expert team members are creating social and environmental justice works, transforming the cutting-edge art space Squirrel Haus Arts in South Minneapolis into an inviting and magical universe which draws the visitor into a thought provoking, interactive journey with the intent of inspiring positive action in our community.

Do you have a specific social topic you would like to sponsor? The artist/topic expert teams need about $1,000.00 for both of them to research, travel, buy art and educational supplies/materials. Each artist has selected a topic expert (or 2). We might also call these integral team mates a "primary source voice." ALL of the team members learn from each other.  You will become a member of the team. We value your voice.
Support benefits included (all optional) :
Studio visit  * Listed on website and programs * Two tickets to VIP Event * Monthly artist news/networking/ events emailed * Access to the Art to Change the World forum * Membership in book club * Invitations to celebrations and gatherings * ACW coaster set *  ACW Hot Beverage Mug * ACW Steel water bottle. Invitation to an authentic Maine Seafood Chowder dinner created by native Mainer Barbara Bridges  OR   A small artwork created by an ACW Artist.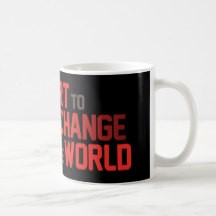 Donate Here  https://www.arttochangetheworld.org/donate/ Post Director, Barbara Bridges, to indicate the amount and the artist team. info@arttochangetheworld.org.
You will receive a letter for your taxes.  Call to discuss details with Barbara if you have questions: 612 845 0416.
________________________________________________________________________________________
 
Project Description:     Jill Waterhouse   Topic: Gender/Sexual Equality (Reconciliation)
"We are so much more than this…" is an examination and exploration of the changes and challenges – for both men and women – embedded in the exploding new paradigm around gender equity, sexual equality and healthy boundaries and the subsequent necessity to redefine the roles and relationships between men and women. In addition, it examines the stereotypes that both sexes have about each other – and themselves – and offers up another lens through which to view these deeply held preconceptions. Lastly, my hope is that this piece and the development and workshop(s) around the topic will encourage honest dialogue between the sexes on how men and women can negotiate the delicate and tricky terrain we now find ourselves in, so that we not only do not lose ourselves, but might find ourselves anew.
"We are so much more than this…" will be a mixed media sculptural installation with two life sized figures, one male and one female, set in relation to one another.  The female sculpture is complete, created from a vintage mannequin. (70"H x 30"W x 30"D.) The male figure will be created using a vintage mannequin also, though will be somewhat larger than the female piece. But, unlike the female, the male piece will be created in collaboration with my authentic and expert voices over the next few months. I am developing a process by which their experience and imaginations, and those of our audience, help me to sculpt what this piece becomes, both figuratively and literally, over time. I will use my interviews, meetings and discussions with both my official authentic/expert voices – and the voices of everyday men (and women) that are authentic, but not in an official or expert capacity – to craft and/or collect the images, symbols, text, objects and physical shape that the sculpture needs to embody in order to more fully represent the male experience.
Topic Experts:
William J. Doherty, Ph.D., Professor of Family Social Science, U of MN, MN. Phone: 612-625-4752 http://www.cehd.umn.edu/fsos/directory/DohertyB.asp,   www.better-angels.org
Workshop:
Waterhouse is working with Dr. Bill Doherty of Better Angels to create an intense workshop dialogue between men and women to examine the challenges and changes embedded in the exploding new paradigm around gender equity, sexual equality and healthy boundaries triggered by the #MeToo movement.
Their work together will be loosely based on Dr. Doherty's renowned work with Better Angels to bring together people from opposite sides of the American political spectrum for honest and meaningful dialogue to help bridge the gap between their viewpoints and/or beliefs. Using that same model of respect, real listening and openness, Dr. Doherty and Waterhouse will moderate what could be a difficult, but ultimately powerful and meaningful discussion between the sexes to try to talk about what we never seem to talk about: our real expectations, hopes, and fears for our relationships with each other, be they friendships, familial or intimate.
In the spirit of that model, the "Opposite Sex" workshop dialogue will train participants in the protocol of an open dialogue and ask each of them to commit to both listening to the other side and being open to their experience and stories. They will do so in a "fishbowl" model with each side alternately in the fishbowl talking and the other side listening. The point of the workshop is not to try to change participants' opinions, but to create empathy for the other side's point of view and experience.
The workshop's design emphasizes listening and learning rather than declaring and debating. We rarely get the chance to listen in on how people of the opposite sex process issues among themselves – that's an advantage of this "fishbowl" model.
The process ends with the opportunity to produce something in writing to share with others, which makes this more than a conversation for the participants. With enough groups producing documents in the future – if this model moves forward – perhaps there could be follow up for other action steps.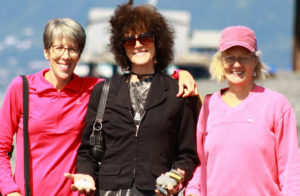 Jill Waterhouse (the one in the middle) has been a practicing artist for over 35 years, as well as a published author, performance artist, community activist and curator. Her work is primarily sculpture, installations and perfomance/social practice art. She has exhibited extensively in museums, galleries, and alternative spaces in the United States, including the Walker Arts Center and Mia, her home town arts institutions. Her work was also included in the 1995 NGO Forum exhibition in China.
Waterhouse has been heavily involved in a number of large community/social art projects and public performances. She has been a long time member, mentor and former director of WARM (Women's Art Resources of MN) and a long time member and chapter president/co-president of WCA MN (Women's Caucus for Art MN). She has also been involved with the Art Car and Art Shanty Projects for years, a member of "What We Need is Here," an environment and arts group at The Phipps in Hudson, Wisconsin. She has received grants and awards from the Metropolitan Regional Arts Council, and the Minneapolis Arts Commission. McKnight/Annenberg/Horncrest Foundations.   Artist: Minneapolis, Minnesota