Art to Change the World  (ACW) is a non-profit, diverse coalition of artists, educators,
scientists, topic experts, and other change makers who join forces in service of positive social
change. We employ the arts, education, audience engagement, and organizational partnerships to provoke discussion, reflection, and action.  https://www.arttochangetheworld.org/mission
                                           Support a Topic Team.  Become an ACW Team Member!   $2,500.00 (Danielle has 13 dancers)
ACW will host a two-week event with exhibition, performances and workshops around the theme of See. Say. DO What's Your Issue? from Oct. 5-14, 2018. Over 20 established and emerging artists and their topic expert team members are creating social and environmental justice works, transforming the cutting-edge art space Squirrel Haus Arts in South Minneapolis into an inviting and magical universe which draws the visitor into a thought provoking, interactive journey with the intent of inspiring positive action in our community.

Do you have a specific social topic you would like to sponsor? The artist/topic expert teams need about $1,000.00 for both of them to research, travel, buy art and educational supplies/materials. Each artist has selected a topic expert (or 2). We might also call these integral team mates a "primary source voice." ALL of the team members learn from each other.  You will become a member of the team. We value your voice.
Support benefits included (all optional) :
Studio visit  * Listed on website and programs * Two tickets to VIP Event * Monthly artist news/networking/ events emailed * Access to the Art to Change the World forum * Membership in book club * Invitations to celebrations and gatherings * ACW coaster set *  ACW Hot Beverage Mug * ACW Steel water bottle. Invitation to an authentic Maine Seafood Chowder dinner created by native Mainer Barbara Bridges  OR   A small artwork created by an ACW Artist. 
Donate Here  https://www.arttochangetheworld.org/donate/ Post Director, Barbara Bridges, to indicate the amount and the artist team. info@arttochangetheworld.org.
You will receive a letter for your taxes.  Call to discuss details with Barbara if you have questions: 612 845 0416.
________________________________________________________________________________________
Project Description   Danielle Ricci              Topic:  Ongoing Hmong Refuge Crisis   https://vimeo.com/275504471
My research examines dance with a social conscience through practice based research methodologies, and how it develops a thematic practice which reflects events and issues that shape our society. This way of thinking brings focus to issues of "human rights and freedom"(Sethi, 2012), with the body, through research of the body and intuitive response to stimuli and events to develop a choreographic process towards artistic activism work.
For years, people have been displaced from their homes and sought asylum from natural disasters, famine, war, and political oppression. America as well as other countries in Europe, the Middle East and Australia have provided opportunities for people to find safety, freedom from oppression, and promise for a better tomorrow as many refugees cannot return to their home countries. For America, this has created the melting pot of race and religion that it is known for. With our current president on a mission to roll back immigration policies that have been helping populations plagued by war, Donald Trump created an uproar by taking away the hope of thousands of people who were relying on the aid of the United States.
This made me reflect and examine who makes up our social fabric of the Twin Cities and how these developments in our government could affect our neighborhoods and the economy.  From my own personal connection to the St. Paul community, I discovered that I wanted to learn more about a story specific to a peoples: The Twin Cities is home to the second largest settlement of Hmong people in the nation. But why? Who are the Hmong people and how did they end up here? Their story is not commonly known by the greater community, yet the impact they have on the community influences the social fabric of the Twin Cities and beyond.
Through research of who the Hmong people are and how they came to live in the Twin Cities, I have discovered a story of hardship, pain, and sorrow, woven into a strong sense of hope and love. This is not taught in schools, it is unknown to the community, and has not been expressed through movement told from an outside eye before. I began to reflect on how many refugees have experienced these same stories within their own unique journey to America. This inspired me to know more and tell the refugee's story through the lens of the Hmong people as we come together as a multi-cultural community of dancers exploring the human condition through movement.
Threads of My Cloth is a retelling of the Hmong refugee experience in Asia before seeking asylum in other countries. This piece is deeply rooted in historical research and the body creating an honest, moving story of the Hmong. This dance concert premiered in March of 2018 and will be reset for See. Say. Do.
Community Response:
The following responses where from members of the Hmong community that attended the performance:
"The dance is very sad and it is a true story of Hmong people because I have gone through that in my life. Besides that, it is great way to show others why we are there."
"We enjoyed it very much and was very powerful."
"This was an incredible, memorable and needed story to be told of our Hmong struggle. My honor and gratitude always."
"I loved the performance, and it was heartwarming to see someone who looks like me be in this dance. I cried so much in the beginning part where the dancers held onto the 'babies'."
"I believe seeing that performance was about the closest I have ever come to feeling the emotions our parents had during the war. I am deeply grateful toward you for sharing this experience with me!!"
"We were greatly touched by this event."
"This piece evoked a lot of emotions: sadness, anger, frustration and even a little fear.  The performance was powerful in that it validated stories of the Hmong people and their struggle and sacrifice.  I thought that the immersive promenade style was great and hoped that this will continue with the next showing."
Link to Sun Post cover story:
https://www.hometownsource.com/sun_post/community/brooklynpark/north-hennepin-community-college-to-host-premier-of-threads-of/article_92b5d85e-26ca-11e8-ab91-0334bdb7671c.html
Biography  Danielle Ricci    Dancer
Danielle Ricci is an educator, choreographer, director, and dancer. She received her BFA in Dance Performance from University of California, Irvine in 2006 under direction of Donald McKayle. In 2014 she graduated with an MA in Arts and Cultural Management from St. Mary's University of Minnesota. She currently an 'MFA in Choreography' candidate at Jacksonville University (2018). She has studied at The Ailey School in New York City as part of their Certificate in Dance Program. Danielle has danced professionally in California, Texas, and Minnesota and has also performed on stage with members of Joffrey Ballet, American Ballet Theatre, James Sewell Ballet, and Minnesota Dance Theatre. Danielle is the Founding Artistic Director of Borealis Dance– a professional modern dance company based in Minneapolis. Her choreography has been recognized as "Best of the Festival" at the Frontera Fringe Festival in Austin, TX in 2010.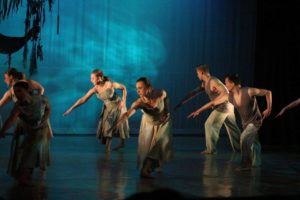 The Path (2013)
The Path was created to speak about Mexican Immigration into America exploring the dangers and the determination it takes to get across the border safely; Researching why people leave Mexico in search of a better life for themselves and their family and what can happen during the journey to America.