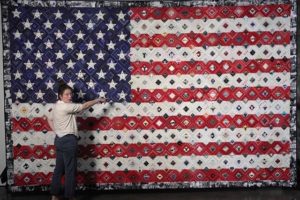 Support a Topic Team.  Become an ACW Team Member!   $1,000.00
ACW will host a two-week event with exhibition, performances and workshops around the theme of See. Say. DO What's Your Issue? from Oct. 5-14, 2018. Over 20 established and emerging artists and their topic expert team members are creating social and environmental justice works, transforming the cutting-edge art space Squirrel Haus Arts in South Minneapolis into an inviting and magical universe which draws the visitor into a thought provoking, interactive journey with the intent of inspiring positive action in our community.

Do you have a specific social topic you would like to sponsor? The artist/topic expert teams need about $1,000.00 for both of them to research, travel, buy art and educational supplies/materials. Each artist has selected a topic expert (or 2). We might also call these integral team mates a "primary source voice." ALL of the team members learn from each other.  You will become a member of the team. We value your voice.
Support benefits included (all optional) :
Studio visit  * Listed on website and programs * Two tickets to VIP Event * Monthly artist news/networking/ events emailed * Access to the Art to Change the World forum * Membership in book club * Invitations to celebrations and gatherings * ACW coaster set *  ACW Hot Beverage Mug * ACW Steel water bottle. Invitation to an authentic Maine Seafood Chowder dinner created by native Mainer Barbara Bridges  OR   A small artwork created by an ACW Artist. 
Donate Here  https://www.arttochangetheworld.org/donate/ Post Director, Barbara Bridges, to indicate the amount and the artist team. info@arttochangetheworld.org.
You will receive a letter for your taxes.  Call to discuss details with Barbara if you have questions: 612 845 0416.
______________________________________________________________________________________________________
Biography
Rebecca Ratzlaff is a fiber artist currently working in Minneapolis, Minnesota.  She worked extensively in ceramics and foundry as an undergraduate at UW-Whitewater, and she received her MFA in Sculpture from the School of the Art Institute of Chicago in 2005.
One of her recent works, Look For the Union Label, sought to address the volatile human rights violations that undergird the economic practices of our country in a rapidly globalizing world.  The American hybrid of "commercial patriotism" is often used as a tool to obscure the fact that Americans are essentially merchandising themselves out of the workforce.  Meanwhile, a parallel of our own troubled history of labor equity and human rights is playing out in the present time of other workers, in other countries, creating products charged with our own patriotic symbols of merchandising.  A world without boundaries has emerged in which wars of commerce, trade, and basic human survival are haplessly intermeshed.
Minneapolis, Minnesota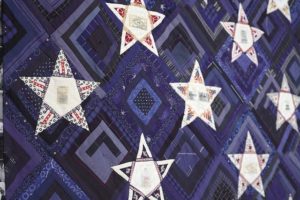 Look For the Union Label  A 14'4″ x 9'2″ quilt, based on the "log cabin" motif. Each 8″ square within the red and white stripes frames a clothing label (still attached to the original garment). Each star within the flag's blue area frames a union label. All clothing labels incorporated into the stripes are foreign made, and have corporate logos referencing America. Additionally, the area within the stripes geographically maps out the United States. The 4" photographic border includes images of past and current American labor issues, along with present day images of foreign workers (often children).  Read More about Look for the Union Label