ACW major donors had a wonderful Thank You experience at the farm/lake home of ACW Board Member, Lynn Olson and ACW member Frank Stone. We enjoyed sharing our conversation starting word, touring Frank's studio and home and sharing our special dishes and the super special brats from a favorite place of Frank's.  Several asked for my Caribbean Coconut Curry recipe.  You may not be so eager once you see how labor intensive it is ; /  0
Testimonies
Linda Lade: What a wonderful celebration for ACW supporters at the home of Frank Stone and Lynn Olson in Wisconsin.  It was a joy to tour Frank's studio and hang out in the beautiful home that Lynn and Frank have designed to reflect their artistic vision and talents.  We had a yummy pot luck. Russian potato salad was my contribution. We then went around the table and each of us shared about a word that we had written on our name tag to reflect our feeling that day. I wrote "trees." Trees is not a feeling word, but trees evoke many deep feelings of connection and belonging in me. I sometimes think of trees as my relatives or higher power. A number of us had the climate challenge on our minds and I wouldn't doubt that this theme will figure into our future plans to change the world.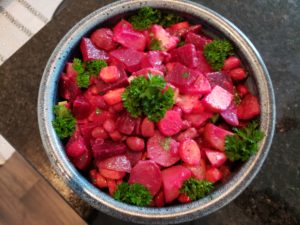 Russian Potato Salad :  Mix together cooked and diced potatoes and beets, chopped scallions, carrots, and parsley. Add a can of kidney beans. Toss with lemon vinaigrette dressing (or your choice of dressing).
Sally Gibson:
Translating
Messy, emotional
Conversing, questioning, creating
Interpretation Invites multiple viewpoints
ART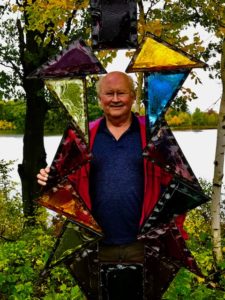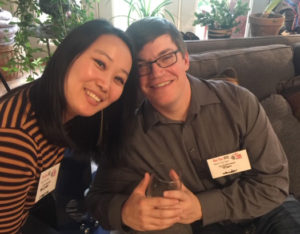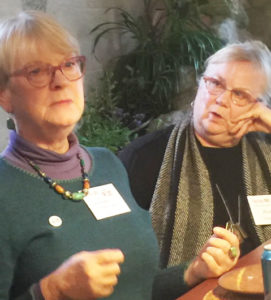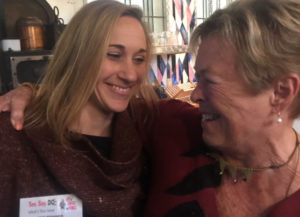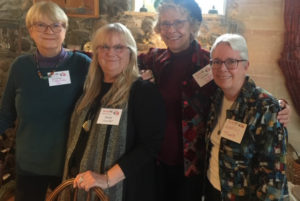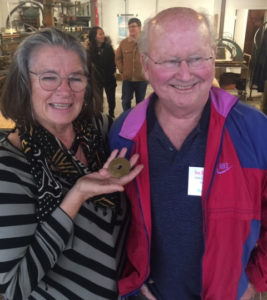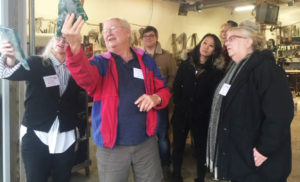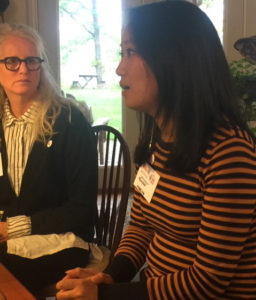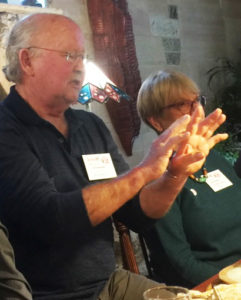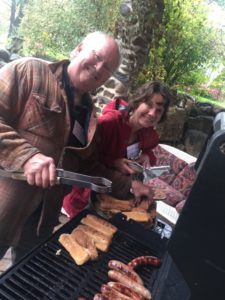 Inez's Caribbean Coconut Curry
Heat ½ a cup of coconut oil and sauté 1 whole HEAD of minced garlic in it.
Add ¼ cup of curry (hot or mild to taste) and make a roux (stir for about 3 minutes on med heat).
Add 2 cups of chopped (.5 inch) onion   (stir for about 3 minutes).
Slice 6 chicken breasts into .5 inch X 3 inch strips and add to mixture- keep stirring and cooking for another 10 minutes.
Optional:  I am counting every calorie so I add 4 cups of sliced portabella mushrooms… extends w/o added calories.
Optional… add two cups of creama de coco (this has sugar in it).
Optional…1 minced  jalapeno  (this is part of the recipe but I have learned to put this to the side for people with mild tastes).
Right before you serve- add 3 cups of flaked coconut  (from the Co-op- .5 inch flakes) .  No sugar added.  Don't use coconut you get in the baking section of grocery stores.   Yuk.
I like Basmati Rice but Jasmine is also great.
My friend, Inez, from Trinidad, taught me to make this when I lived in St. Croix in the 1970's. She served about 20 different condiments but I have narrowed it down to about 10.
Raw peanuts
Flaked coconut
Mango Chutney
Minced onion with mayonnaise
Avocado
Raisins -gold
Plantain chips-dried
Chopped green pepper
Chopped fresh pineapple
Minced hot peppers
Enjoy!