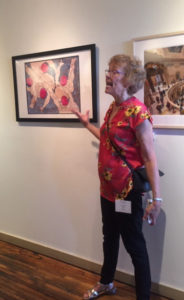 July 14, 1215 Marshall St, NE on July 14 at 12:00 noon
The first ACW See. Say. SHOW session met at Remo Campopiano's studio in the California Building on June 9.  Ten people attended and most shared their work-in-progress which included poetry, painting, sculpture, stand-up comedy, tapestry, collage, 3-D printing, stufties and more.  The group decided to keep the format simple with each person sharing their work and engaging those gathered in conversation related to their work.  The group agreed they would like to see "Never Look Away" together. On the list for the future.  The next 2nd Sunday SSS meeting will be hosted by Jill Stebbins at her Grain Belt meeting space at 1215 Marshall St, NE on July 14 at 12:00 noon. BYOB and Snacks. Need more details? info@arttochangetheworld.org.
Congrats to Jill Stebbins who sold her work "Boot Straps" at her first gallery experience.  ACW meets its mission!
---
June 9
ACW See. Say. SHOW
Second Sunday of every month!  Please join us for ACW See. Say. SHOW ​on ​Sunday, June 9th 12:00- 2pm ​for an ​art sharing session! The first session will be hosted by Remo Campopiano, sculptor, installation artist, roboticist and painter, taking place at the ​California Building: 2205 California St NE ​where Remo's studio is located. Everyone will meet in the common space through the doors of the California Street entrance.  Bring a piece of work in progress and come chat with us about it! This is a great way to get some feedback, show and talk about your work, and learn from each other in a loosely facilitated discussion. Stop by Mojo's for food and beverages. We will be rotating hosting studios each month. If you have a space or studio and interest in hosting the next session please reach out so we can make this possible! info@arttochangetheworld.org. We hope to bring together a small yet diverse group of artists on the Second Sunday of each month for an opportunity to inspire and support artists in our community.  Read more about Remo: https://remocampopiano.com/