Studio Visit      Pictures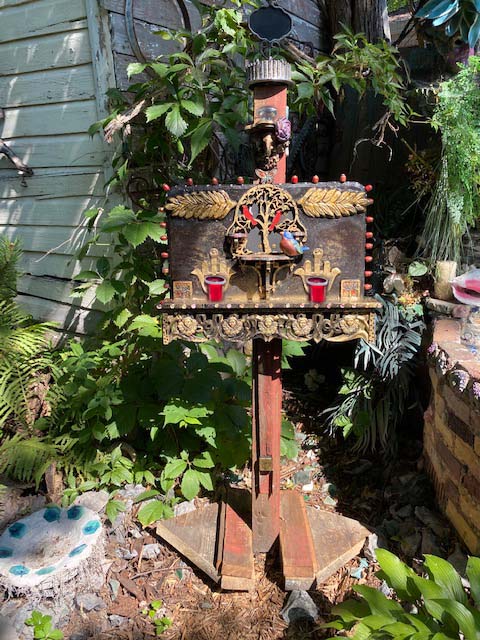 Higher Power G(g)od(s) Altar #1

Assemblage Mixed Media 72″ H X 36″ W x 4″ D  2020   $450.00

Everyone who has ever been to a 12 step program has heard that if you do not believe in a G(g)od(s), you can choose anything for your higher power – even a door knob.  As I created these door knob altar sculptures, they became little soldiers for me, fighting against the effects of all trauma.  All altars are created to give the appearance of aged patina and sealed with 2 coats of boat epoxy.  Waterproof!  Higher Power Garden Altar # 1  can be shown inside or in the garden.  The Higher Power in this work is a 90 year antique old crystal door knob and includes two votive candles. There is room on several small shelves for your own objects.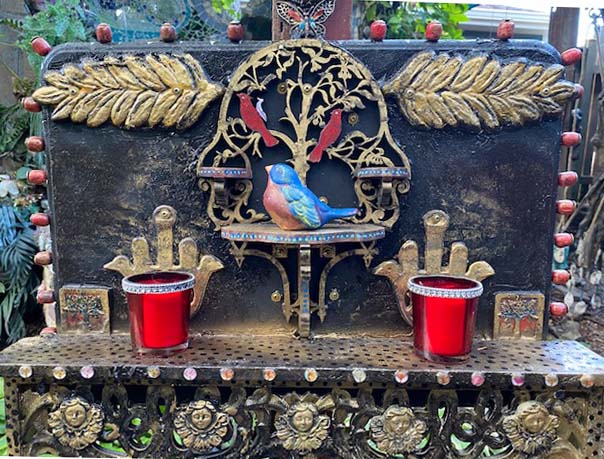 Your trauma is not terminal.
You are not broken.
You can create your own life raft of hope and resilience with practical strategies.
Click on picture to enlarge details.
---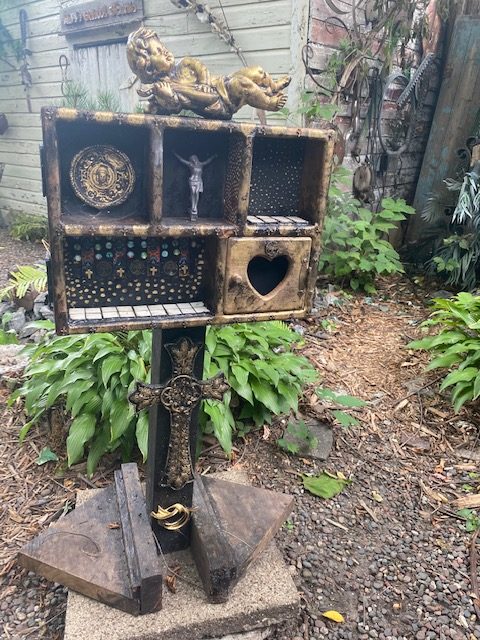 Cherub Mixed Media
48″ T x 36″ W X 6″ D $200.00
This work has a Christian theme and was created to allow the owner to add their own icons.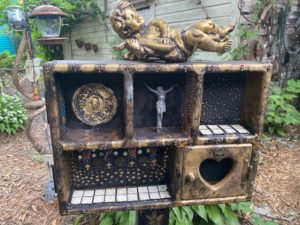 ---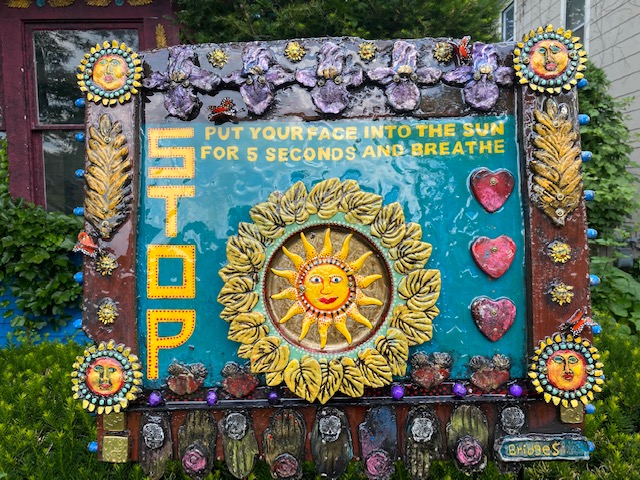 Sun Power  72″ H X 48″ W X 4″ D  Mixed media, resin casting, aged wood, metal trellis, beads, boat epoxy.  NFS
Sun Power is a re-purpose object and resin garden sculpture designed for  beans, cukes and morning glories.  Sealed in a double coat of boat epoxy I used to make boats in Maine.  Installed in my front garden on Monroe St,  the purpose is to encourage walkers to stop and put their face in the sun.  Part of my Healing series.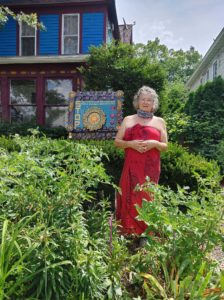 ---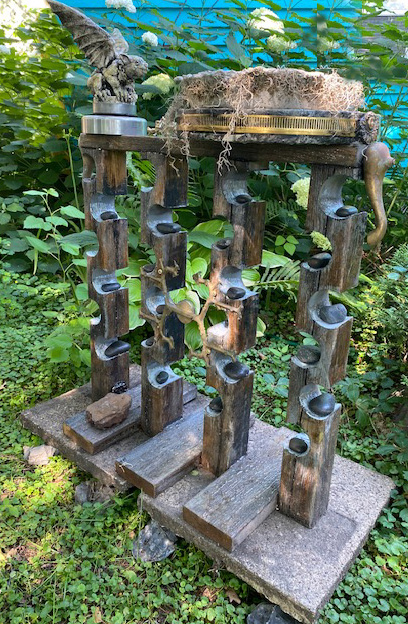 Garden Sentry 48″ W X 40″ T X 5″ D  Mixed Media  Aged Wood, Lake Superior Stones,  Gargole Sentry, Gold free form,  resin cast angel, Kohler finding, handmade concrete birdbath.   $400.00 Includes concrete pad.  ADOPTED
Garden Sentry is an interactive sculpture which incorporates many rare and precious objects.  The intent is to install in your garden to bring good memories and serve as an object for reflection when you are working and relaxing.  The entire sculpture is sealed in two coats of boat epoxy for longevity.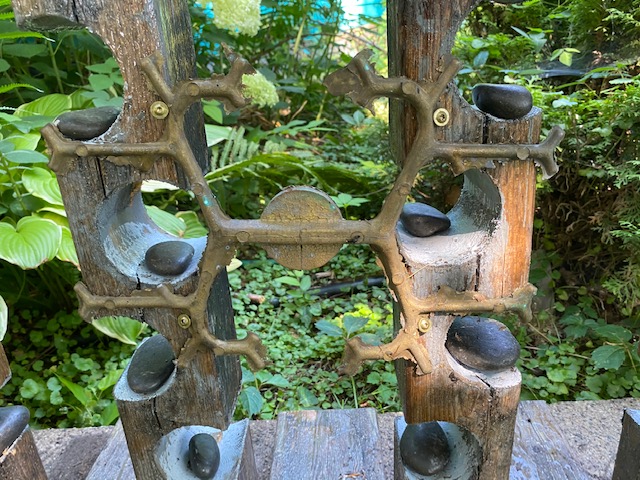 Detail of Kohler finding and Superior Stones
Click to enlarge details
---

Harmony  6′ Tall X 1′ WX 1′ D   Mixed Media
Unique jumbo vine, stone from Penobscot Cove, Maine,Bird feeder, votive or plant holders, Harmony plaque.
SOLD
Sealed with 2 layers of boat epoxy.
Click to Enlarge
---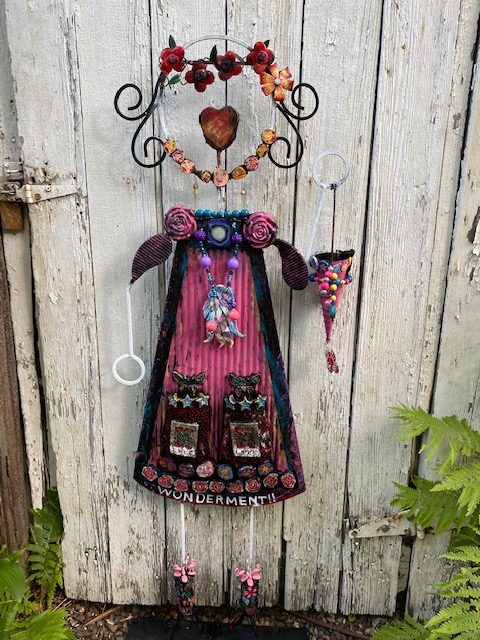 Florence the Flamingo Dancer in the collection of Layl McDill, using her polymer clay seconds. http://laylmcdill.com/
The garden sculptures include many different themes including bird feeders, altars and bird baths.  Bring your own special objects.
Layl: "It was fun to see how Barbara incorporated my scrap pieces of polymer clay!  I think my favorite part is that she used slices of clay created by my daughter when she was 6 or 7.  I had held on to them for over 13 years not wanting to throw them away but not having any idea what I would do with them- now they will be on display in the perfect place!"
Click to enlarge.