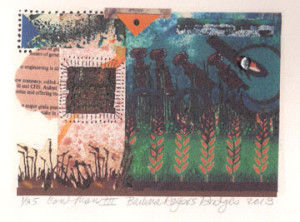 Con Man and Con Man 2  are the first in a series of works speaking to the Ode To Gluten dialogue. The limited edition print Con Man addresses many of the issues present in my sculptural piece, Ode to Gluten.
 Artist, Barbara Bridges' Ode to Gluten is a large sculptural work created to celebrate wheat's history here and to engage viewers in a dialogue about wheat: about its past, present and future role in the American diet, as well as in shaping the political, economic and social development of our city, state and country. Consider where support for the arts in the Twin Cities would be without the legacy and philanthropy of wheat?
This large assemblage sculpture incorporates iconic historical artifacts, wood fabrication, bronze patina resin and ceramic construction.  The nine foot tall work is distressed and has the appearance of a vintage "something" that one might stumbled upon in the corner of an old General Mills factory.  The flattened Summit beer caps and Schell's vintage beer cans provide a comfortingly predictable pattern, while the filigree of the Grain Belt artifacts creates contrast with the worn wooden Gold Medal packing crates.
Ode to Gluten also encourages the viewers to consider the evolution of our collective memories and beliefs about wheat. And, interactive materials provided with the piece prompt a discussion on the power of General Mills' icons such as Tony the Tiger, the Jolly Green Giant and the Pillsbury Dough Boy.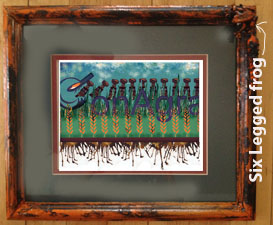 You may purchase  Con Man fo$40.00 unframed.  For a 5 legged re-cycle frog frame. $75.00. Post   drb@bridgescreate.com