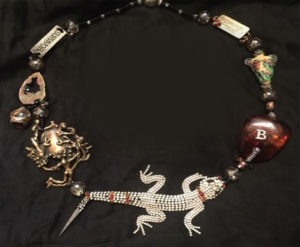 I  am an Intervener
Cambridge educated philosopher, Tim Ingold, holds a unique theory on art making. Dr. Ingold suggests that artists are simply interveners on any particular materials and/or objects the artist manipulates.
Bring me your history objects or jewelry you love but never wear and I will engineer them into an Objetos de la Historia for you. $100-$500
Left: Barbie B -In the collection of Barbara Bridges.  Barbie B was created from objects from my history but not being worn.  Now there is a new narrative. Barbie B Appearances
---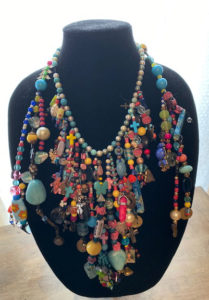 La Mujer (The Lady) Series continues to explore my reflections on feminism and specifically on women of power in Mexico. I selected the  women I see EVERYWHERE: Frida Kalo and The Lady of Guadalupe . La Mujer Series was created to honor and consider the position of power Frida Kalo and The Lady of Guadalupe hold in Mexican culture.  In the United States we refer to the most powerful man in any cultural as "The Man".  In an incredible gender development…I am suggesting that Mexico has "The Lady".  I am just not sure which one is "The Lady" of  Mexico. What do you think?. Read More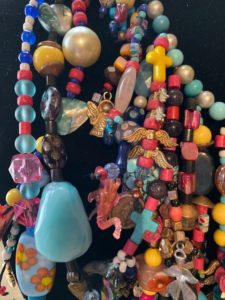 I study culture and have taught human relations in a teacher licensure program for the last 17 years.  I am American Indian, from the Penobscot tribe in Maine. La Mujeres Series invites YOU to reflect on why these two women have such a prominent place in the popular culture of Mexico. Is Money involved? Is Power? Is Religion? Good? Concerning?
All my works are social practice art and eco-focused- using what other people might regard as trash.
---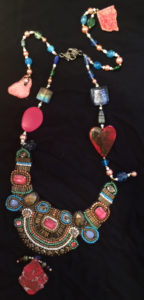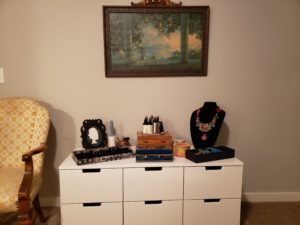 La Princesa Linda
In the collection of Linda Lade
"With several of my most precious possessions: Maxfield Parrish "Daylight " original print from my grandmother and her Queen Anne chair that my mother loved, and a cameo that my daughter Dana made of my profile (torn paper). And now my new yet-to-be-named necklace. "Linda Lade
---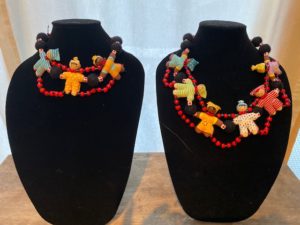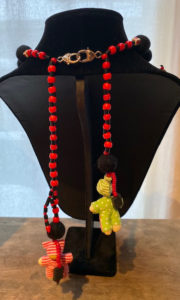 Sally Gibson, 50 year veteran teacher, asked for a  kid themed work.  She received on for her and her grand daughter.
---
Vida, Muerte, Amor Series Body Art
Necklace with back tails.  Beads, cotton thread, skulls.
This necklace and ankle bracelet honors our  journey of life, death and love.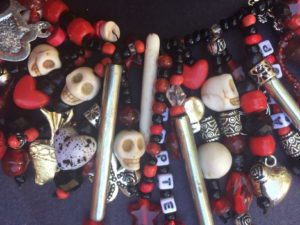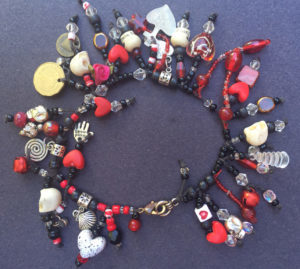 ---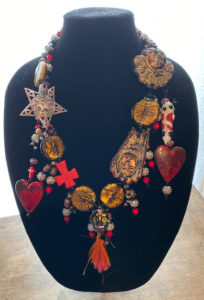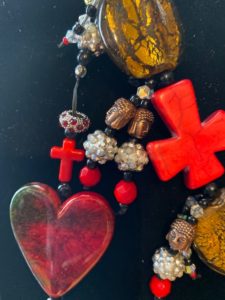 Holiday Light?  Holiday Dark?

An Art to Change the World Celebration
 Art to Change the World -during California Dreamin' weekend at 2205 California St NE, Suite 201, Minneapolis, MN 55418.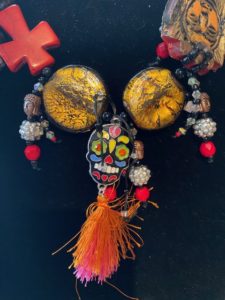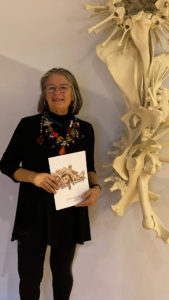 The event  included an exhibition, affordable small works, special speakers, workshops, music, food and beverages.  Together, we will explore divergent holiday experiences and seek to inspire people to be creative as we all discover how art CAN change the world! Special ACW Token: Be the Light
---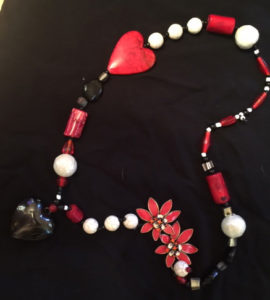 My Heart
Donated to the Northeast  Minneapolis Arts Association Fundraiser.
---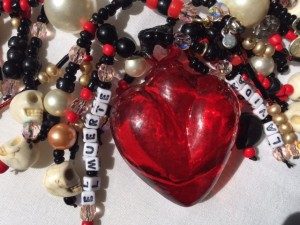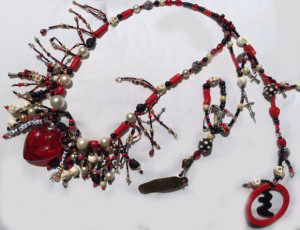 Vida, Muerte,  Amor 2  2016  $250
In the collection of Evi Levins,  Mallorca, Spain.
Mixed Media: Beads, found objects
Life, Love, Death was inspired by the much healthier attitude towards death which I have discovered in Mexico. Read about El día de los muertos
Although many believe romantic love is a social construct – I am holding out for the love of my life to roll on by. Click here to see Evi modeling Amour.