Return to Barbara Bridges Main Page
Created to be worn on your wrist or ankle (wranklet!).  Each wranklet has a theme and a healing charm. The purpose is to provide a present object which reminds you of the fact that YOU are in control.
You can create your own life raft of hope and resilience with practical strategies.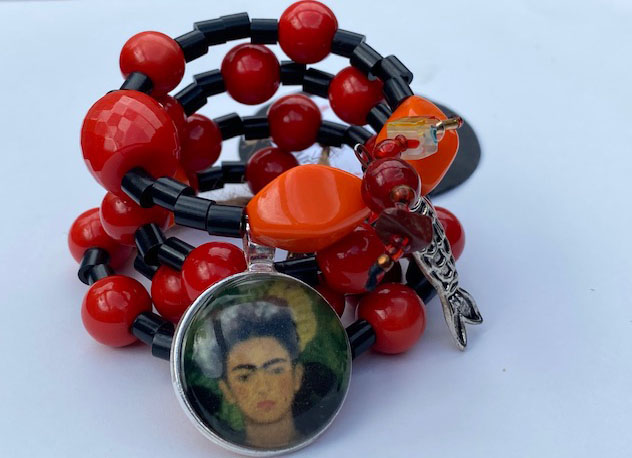 #11  Frida and Heart Milagro  Frida Kahlo is a much beloved Mexican artist -even more popular than her famous husband Diego Rivera.  People are fascinated and admiring of her story of stalwart strength in the face of unbelievable physical and emotional challenges.  The orange, red and black colors are all Mexico and the fish represents the only place she became free- in the water. Click to enlarge details. $40.00
---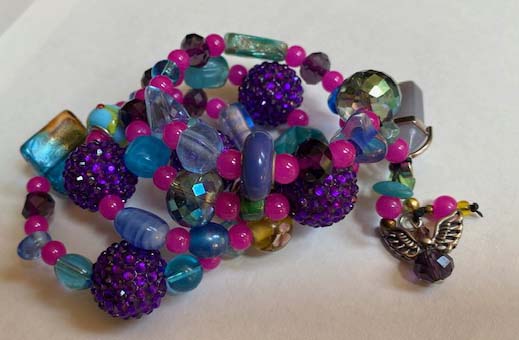 This wranklet includes many glass beads and an Angel Healing Charm and  Crystal #43 $ 35.00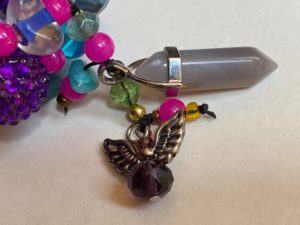 ---

Polished wranklet with pink granite, love charm , gold milagro #41 $35.00
Milagro  is Spanish for  miracle.  Milagros were charms/totems historically made from silver, and now generally pewter.  It is a Catholic tradition to buy Milagros to help heal medical or psychological problems. Historically, they would then be attached to a large velvet hanging in the church.  Today, they are more generally pinned to the supplicant's clothing.  I bought this one in Petatlan,  Mexico.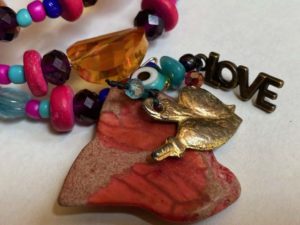 ---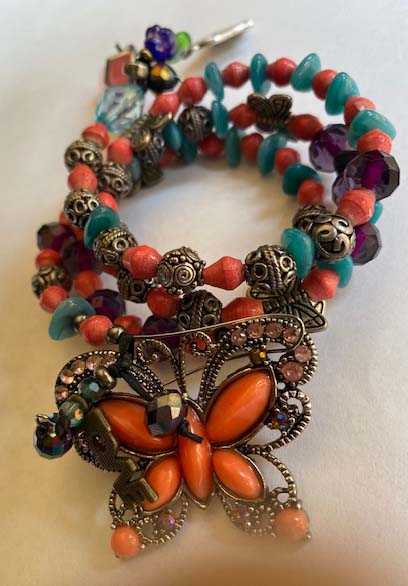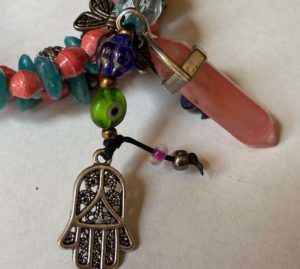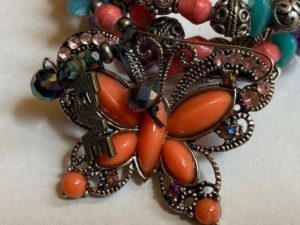 Mariposa (butterfly and healing  crystal and  hamsa hand  #40. Hamsa Hand  is a ancient Middle Eastern amulet symbolizing the Hand of God. In all faiths it is a protective sign. It brings its owner happiness, luck, health, and good fortune. The hamsa hand has a wide variety of different spellings which includes hamesh, hamsa, chamsa, and khamsa.$45.00
---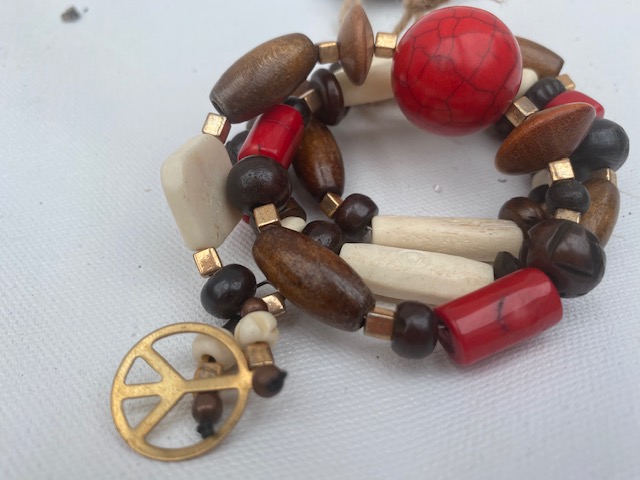 #2 PEACE Natural small/delicate wood, bone, shell and features a large red stone bead.
with a brass 1960's Peace sign started as the CND symbol (Campaign for Nuclear Disarmament) originates as a symbol representing the threat of nuclear annihilation used in British anti-nuclear activism from 1958. During the 1960's it symbolized the spirit of love, service to humanity, and peace. Its use grew from the anti-war hippie culture and quickly merged into mainstream society. $30.00
---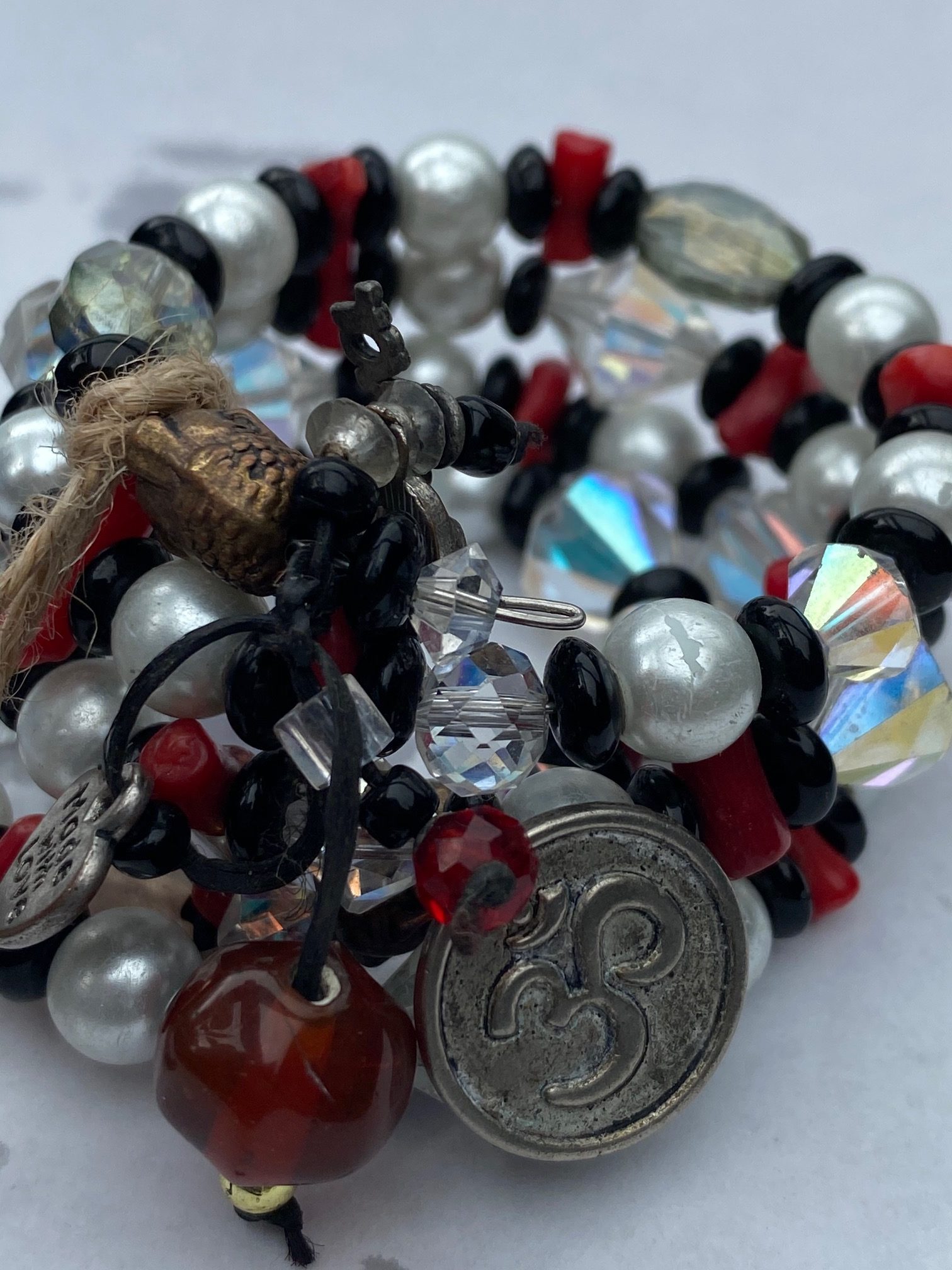 #4 Serenity charm with black glass, high end crystal and red beads. Made with love charm. This Wranklet has a very elegant aesthetic.  $40.00
---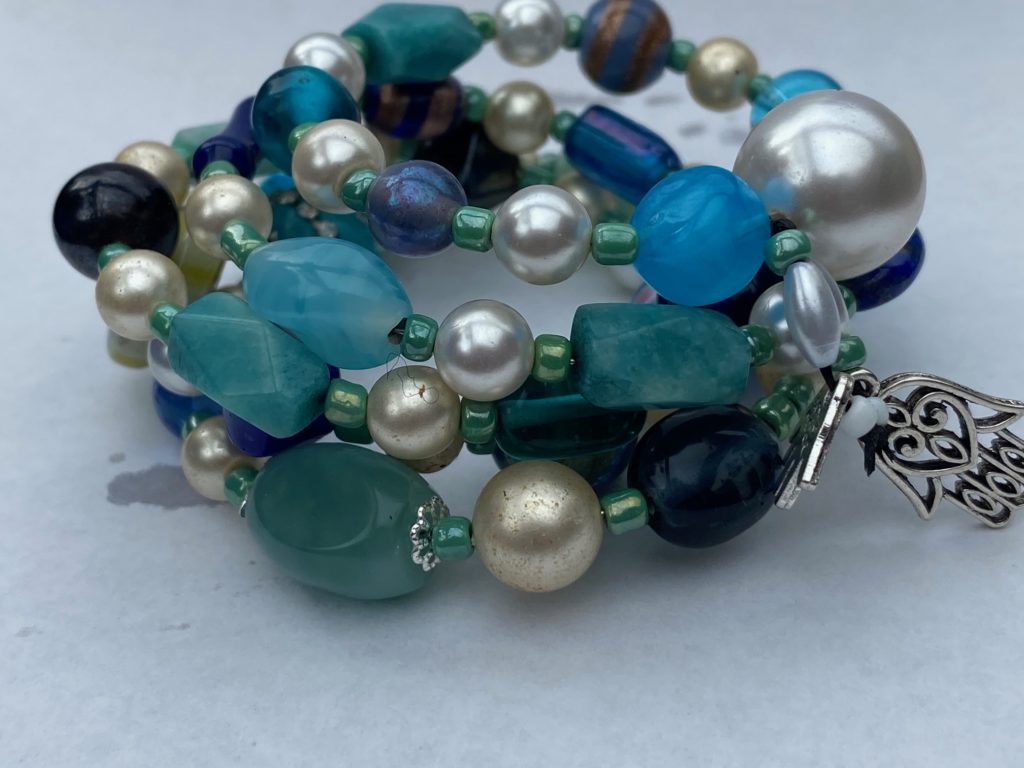 # 5 Blue glass beads with pearls to enhance the Hamsa Hand which is a ancient Middle Eastern amulet symbolizing the Hand of God. In all faiths it is a protective sign. It brings its owner happiness, luck, health, and good fortune. The hamsa hand has a wide variety of different spellings which includes hamesh, hamsa, chamsa, and khamsa. Click to enlarge details.  $40.00
---
#9  AKOWTL  All kinds of way to love in life. The blue, pink and purple colors celebrate bi-sexuality. There is a large piece of turquoise in this Wranklet. Turquoise promotes self-realization and assists creative problem solving. It is a symbol of friendship, and stimulates romantic love. 8 charms of love and luck incorporated in the Wranklet.  Adopted
---
# 6  Cross Key This black and silver Wranklet includes a key for you to unlock your pathway to peace.
According to popular legend, the Celtic Cross was introduced by St Patrick when he was converting the pagans in Ireland to Christianity. … According to the website What's Your Sign, the Celtic Cross represents the meeting place of Divine energies and can be seen as a symbolic compass, offering spiritual navigation.  $40.00
---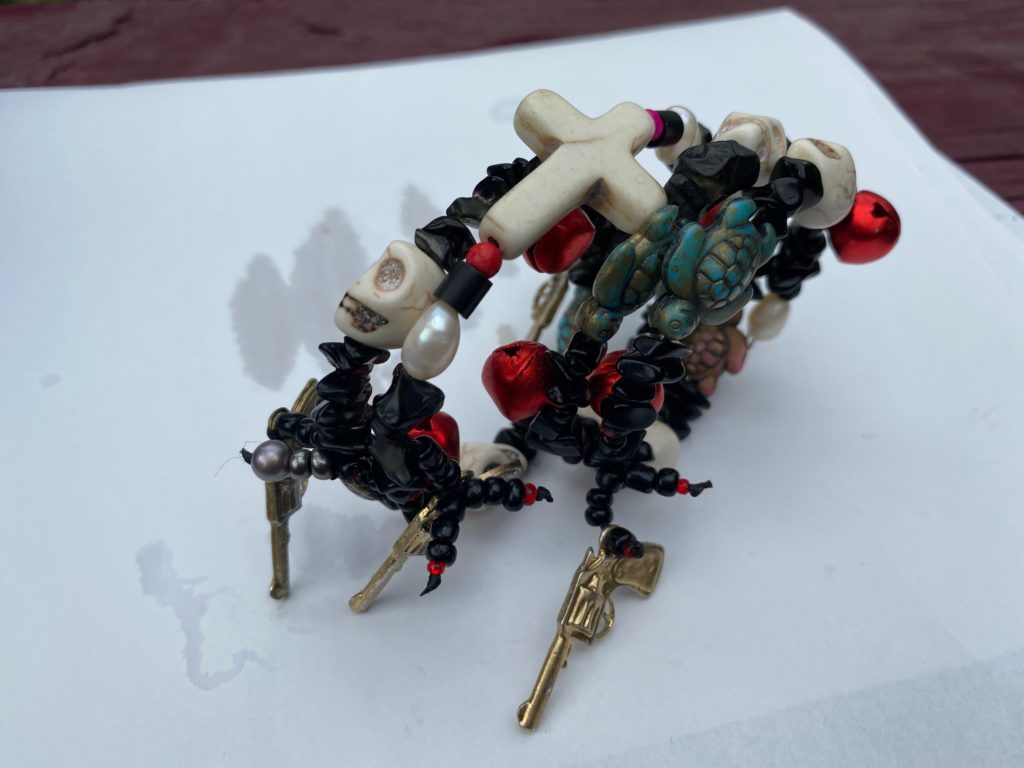 #7 Death, Life, and elusive Spirituality are represented with bells, skulls, pistols, and an ivory cross. The meaning of the Turtles  signifies good health and long life in this complicated Wranklet. The turtle has great longevity living up to 150 years  $30.00
---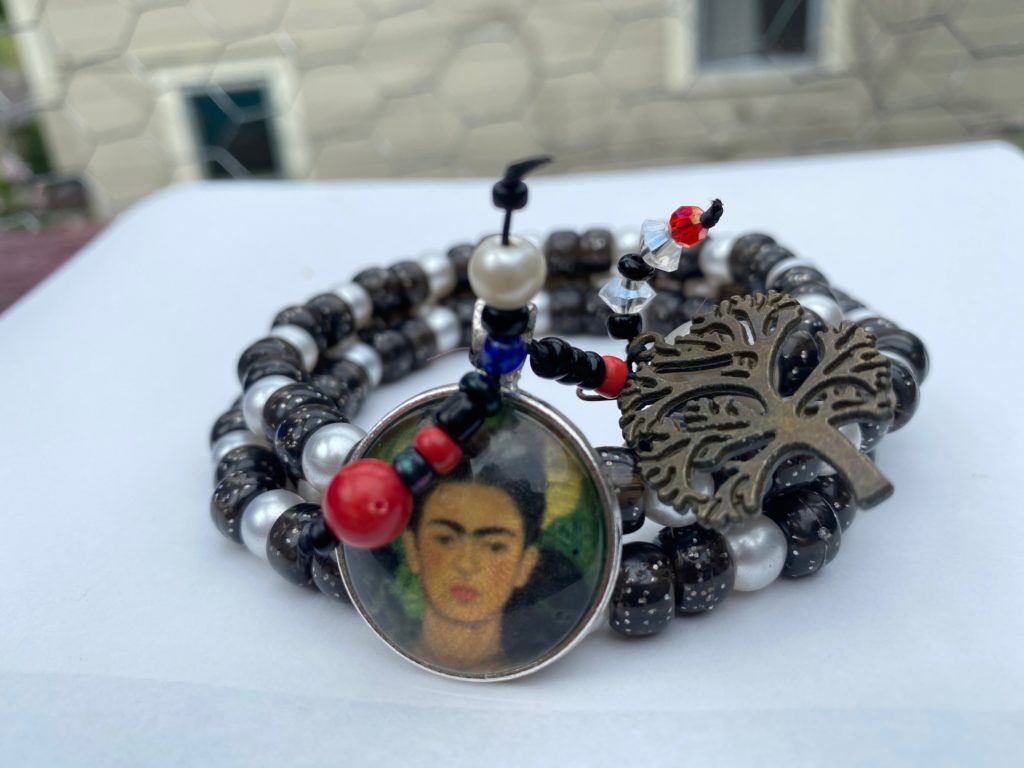 #8 Frida and Life.  Frida Kahlo is a much beloved Mexican artist -even more popular than her famous husband Diego Rivera.  People are fascinated and admiring of her story of stalwart strength in the face of unbelievable physical and emotional challenges.  Her Wranklet is large enough to wear on your upper arm if you are a medium or small sized person. The Frida cabochon is waterproof and the Tree of Life bring you longevity and luck.  $40.00
---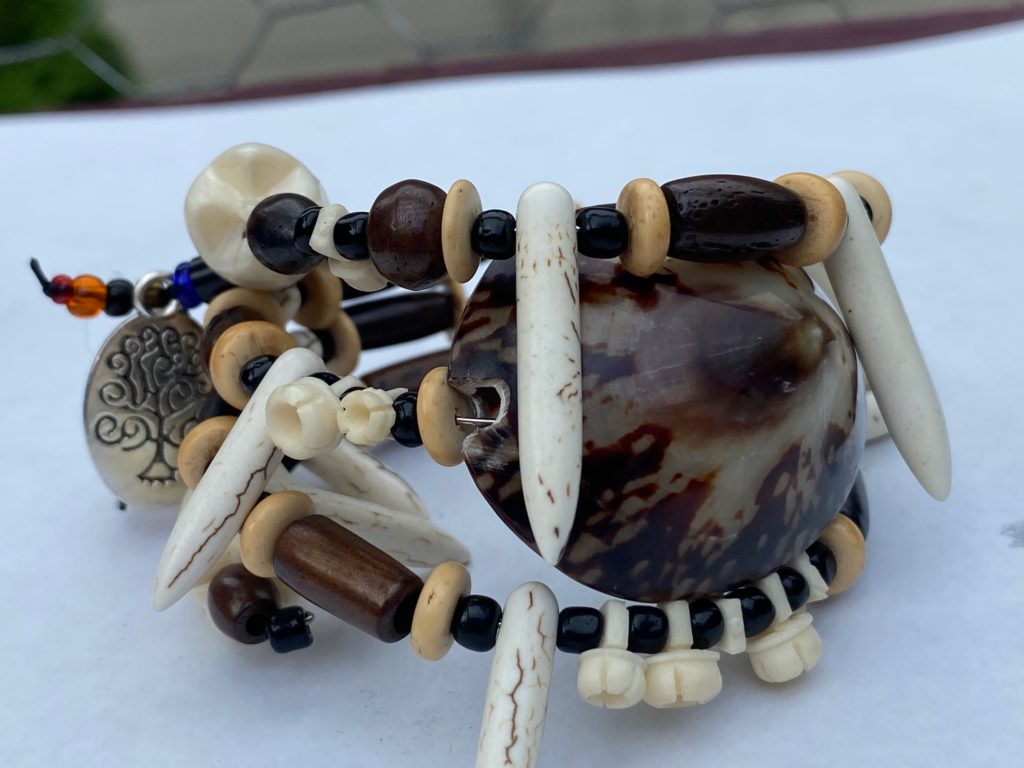 #10 Bones  If you are attracted to the power and beauty of bones, this Wranklet uses many different colored bone beads and celebrates the circle of our experience with a Tree of Life charm. The Tree of Life symbol represents our personal development, uniqueness and individual beauty. Just as the branches of a tree strengthen and grow upwards to the sky, we too grow stronger, striving for greater knowledge, wisdom and new experiences as we move through life.   $35.00
---
#3  PEACE Substantial natural wood, bone and shell beads with a brass 1960's Peace sign started as the CND symbol (Campaign for Nuclear Disarmament) originates as a symbol representing the threat of nuclear annihilation used in British anti-nuclear activism from 1958. During the 1960's it symbolized the spirit of love, service to humanity, and peace. Its use grew from the anti-war hippie culture and quickly merged into mainstream society  $35.00