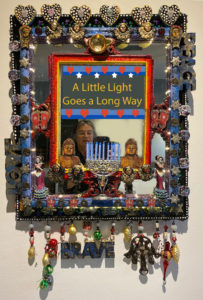 From ACW Director,  Barbara Bridges- my feeble attempt at making sense of it all.
Happy Festivals of Lights
Judaism believes the Maccabees made 8 days of light from 1 day of oil. Happy Hanukhah!
The Hindi Diwali celebrates knowledge over ignorance and good over evil. Happy Diwali!
Christians believe Jesus was born on December 25. Incense and lights are involved. Merry Christmas!
The Germanic Yule time focused on December 21 and the disappearing daylight. Merry Solstice!
And then there is Festivus – an example of art creating culture. Happy Festivus for the Rest of Us!
NO NEED FOR CONFLICT
NO NEED FOR STRIFE
NO NEED FOR US TO GET OUT A KNIFE
LET'S JUST HOLD HANDS AND LIVE OUR BEST LIFE!