Back to Barbara Bridges Main Page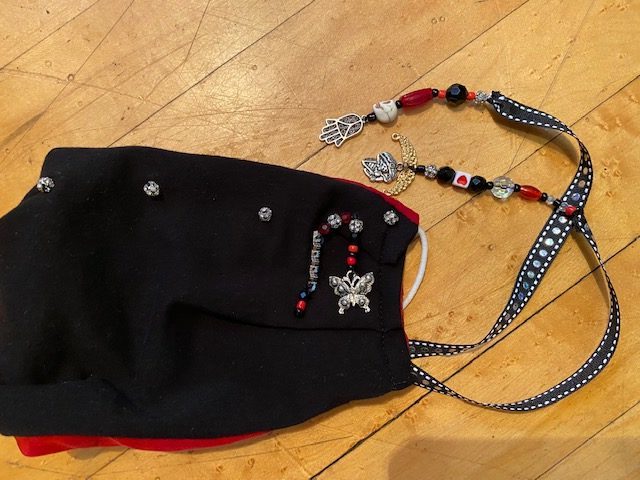 Covid Masks    Hand Made. One of a Kind.  $10.00- $40.00.  Thank you so much for helping support our project.  We give 50% of our masks away to essential workers who are once again marginalized because they can not afford designer masks! Pattern from Allina Health Care.
Pricing explanation. Frida fabric is very expensive, postage is $4.50, Cabochons are handmade and beading  is time intensive.  I am simply trying not to lose money.  Each mask has a pocket to insert a hepa filter-I use a square cut from vacuum bags.   Not included. Hand Wash.    Please reach out if we can create a custom mask for you or a friend. Your charms and your fabric. $40.00. Contact us to make masks for your serving  staff or  bridal party!  Contact me at drb@bridgescreate.com
Scroll down for Frida, Edgy and Elegant, Custom and Kid collections.
All new masks include elastic which is tied in back with a ribbon which keeps mask from slipping and let's you wear around neck for convenience.  Some matching Adult and Children pairs.   Click to enlarge. 
I have been fascinated with mask making for decades. I have around 50 masks from Mexico here in my bedroom (inspired by Frida, of course). I have created mask making lesson plans: http://recordari.com/ and visited Cajun country and was one of the first women to ride in Mardi Gras "Run for a Chicken" traditional parade. http://recordari.com/links.php?link=mask. People throughout history have always been drawn to wearing masks- they allow the wearer to adopt a different persona. It is seductive.

Now, however, the need for a mask is what we hope is a once in a generation necessity…. and not for a good reason. I have often wondered when I saw people in airports with masks on. Now I get it. I have been making masks and you can make them, too.
The Covid 19 virus attacks the elderly, the medically compromised from asthma, obesity etc, the poor, the incarcerated and the marginalized who are forced into crowded working conditions because if they do not work, they do not eat. You may not be at risk but they all are. What kind of person do you want to be? Thanks for keeping yourself and the people around you safe by wearing a mask.
See  our ACW mask archive and see how to make your own masks at:    https://www.arttochangetheworld.org/covid-masks/
Post drb@bridgescreate.com to order masks
---
Holiday Masks  $40.00
Click to enlarge
---
Edgy/ Eclectic and Elegant Collection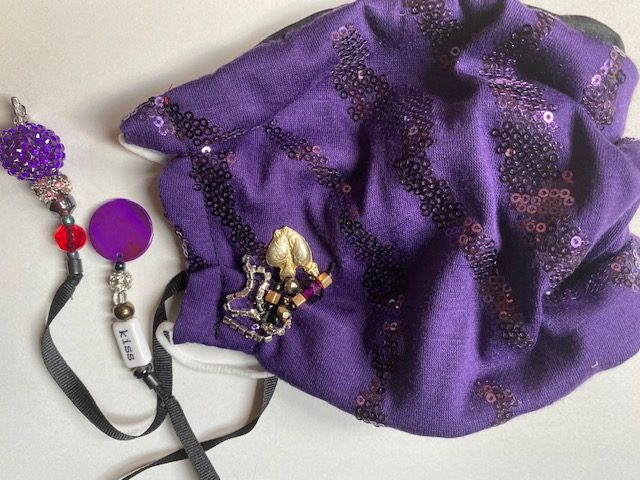 Purple rhinestone ALL SILK with embellished tails  Adopted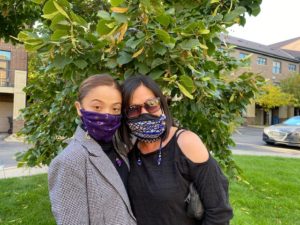 ---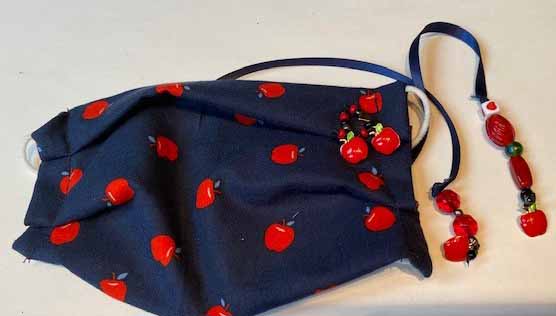 #147 Mini-Apple with Apple charms   $25.00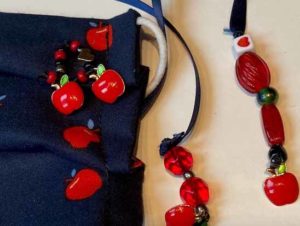 ---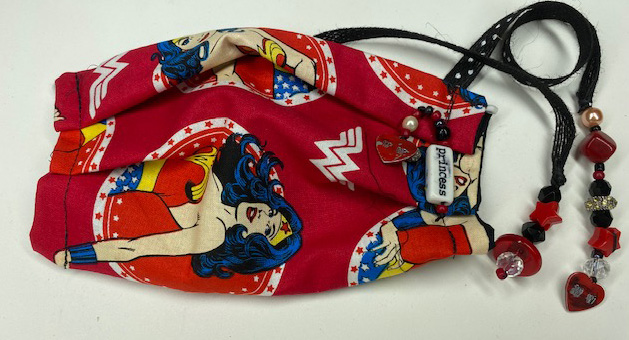 #159 Wonderwoman with princess charm $35  Adopted
---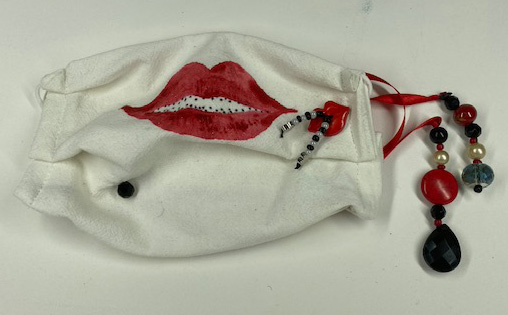 #169 Red hand painted sparkley lips with beauty mark  $40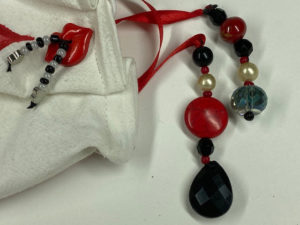 ---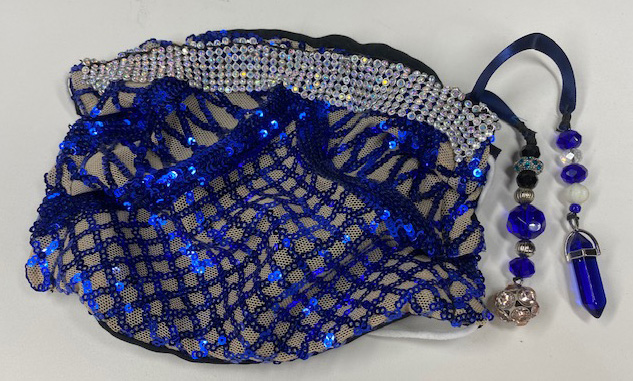 #168 Blue bling with healing crystal  $40

---

#170 Gold Chain Mail. $40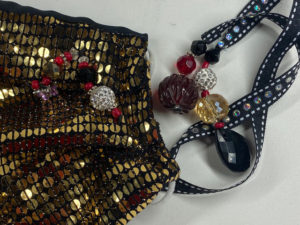 ---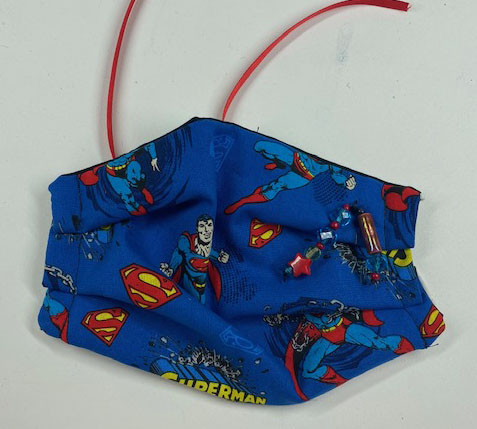 #171 Adult Superman $30
---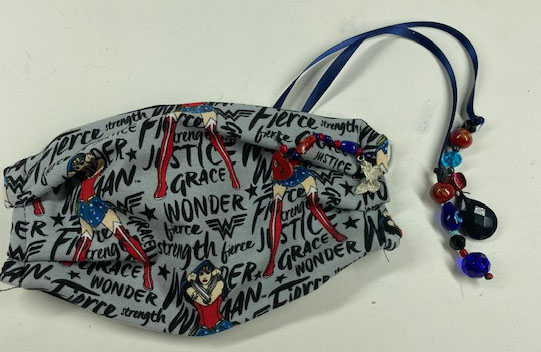 #173 Wonderwoman cotton  $40.00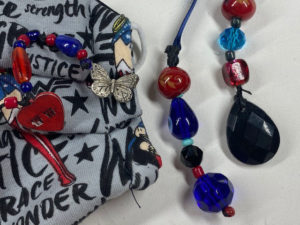 ---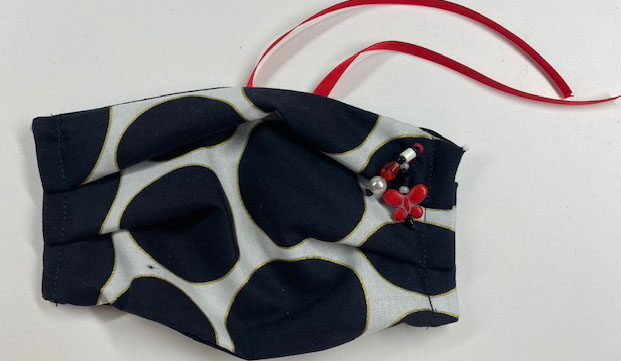 #174 White cotton with black polka dots $30.00
---

#175 Wonder Woman Flannel $30.00
---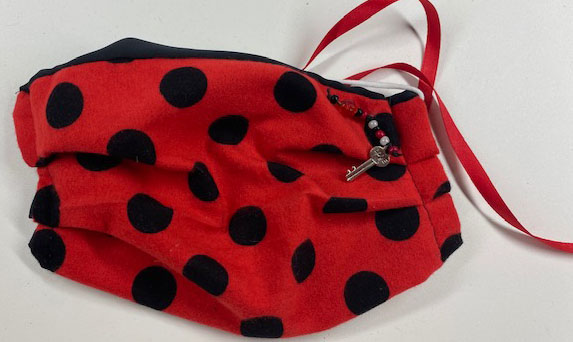 #176 Red flannel with black polka dots $30.00
---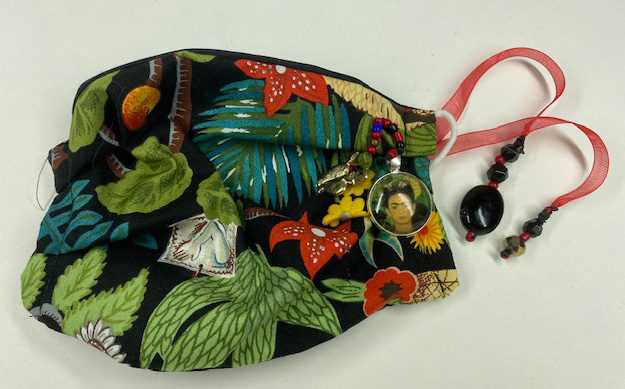 #167 Frida with milagro and Frida Cabachon Adopted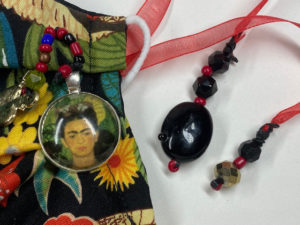 ---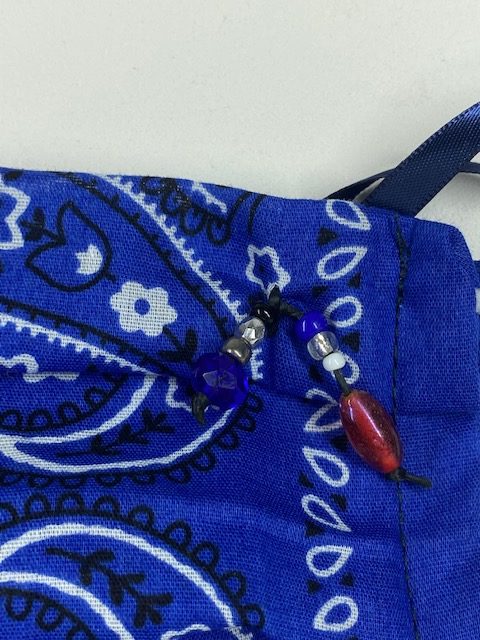 #166 Bandana  $10
---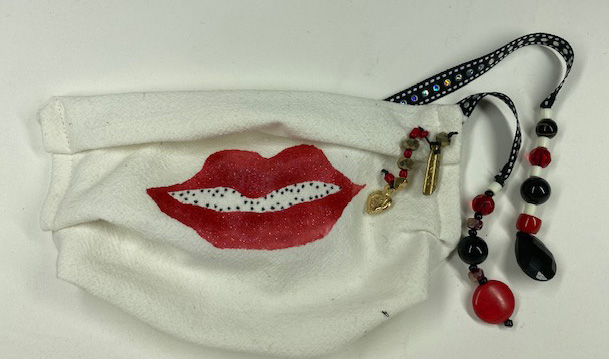 #164 Hand painted red sparkley lips with milgro heart $40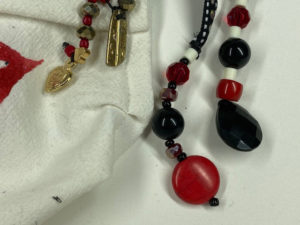 ---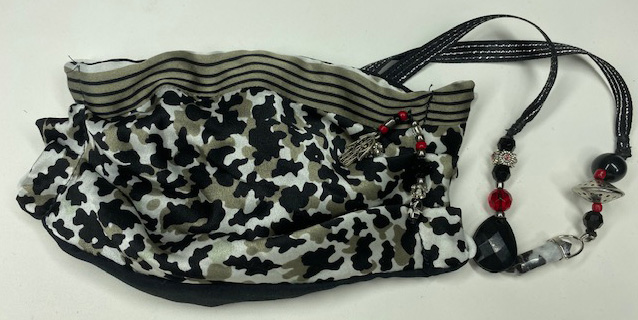 #160 silk camo with hamsa hand  $40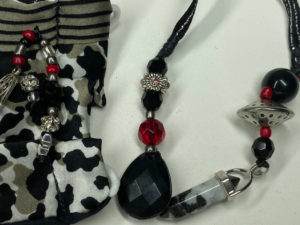 ---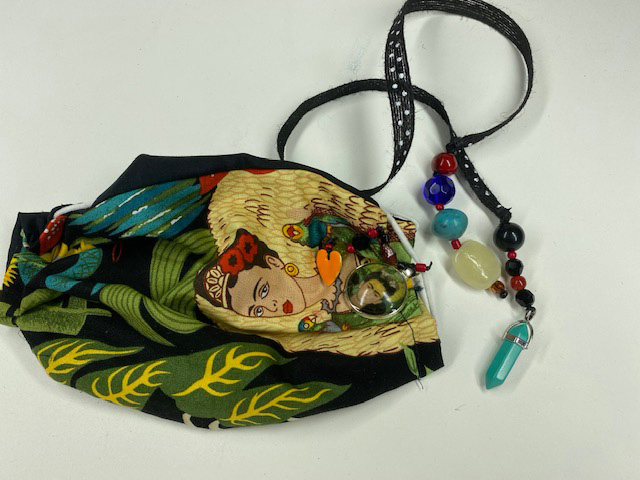 #162    Frida fabric with healing crystal Adopted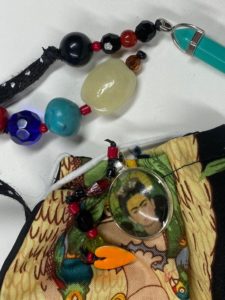 ---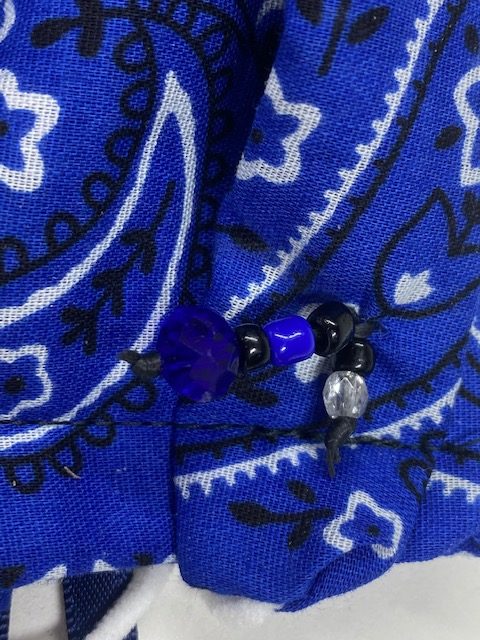 #165 Bandana  $10
---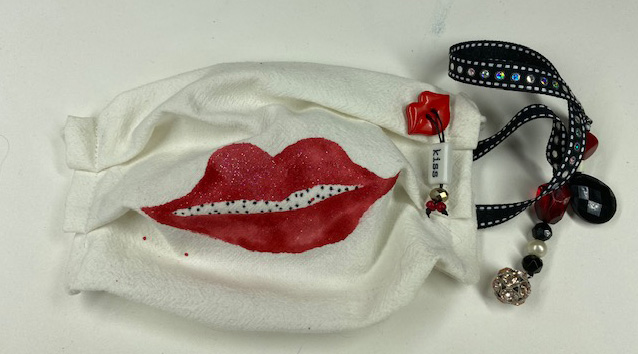 #163 Hand Painted Red Sparkley lips with kiss charm $40
---
#170  Silk Polka dot   $25
---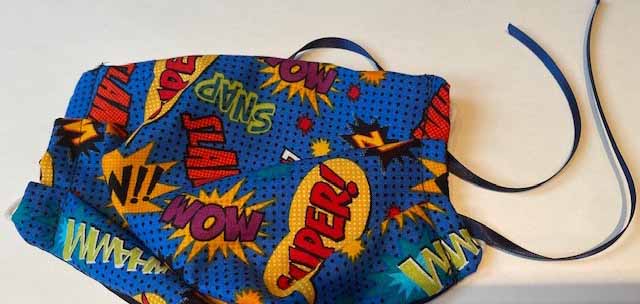 #152 Wow snap  $15.00
---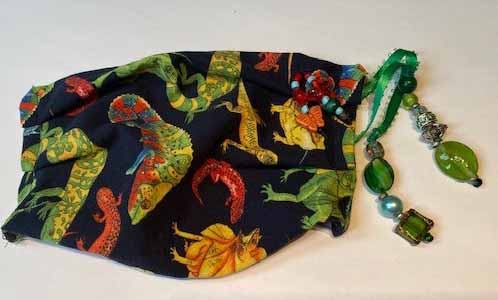 #153 Lizard  $ 35.00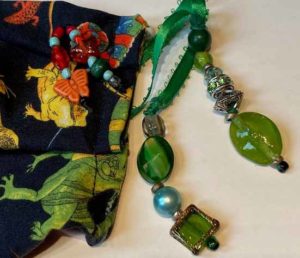 ---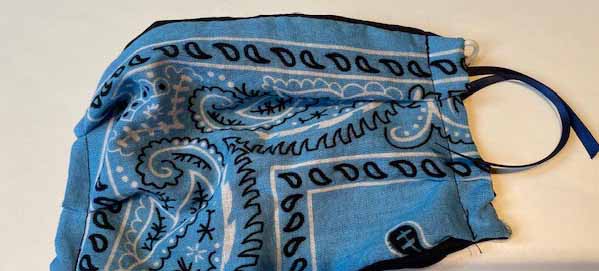 #154 Bandana  $10.00
---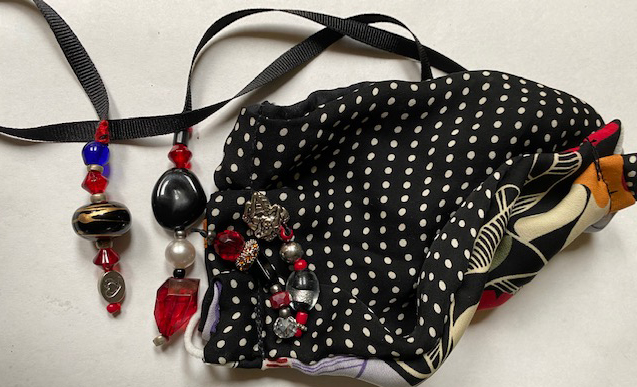 #134 ALL Silk with Katrina and flower lining  Adopted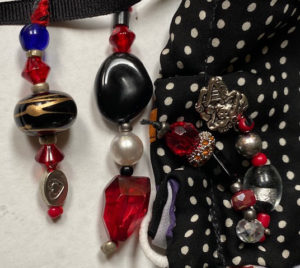 ---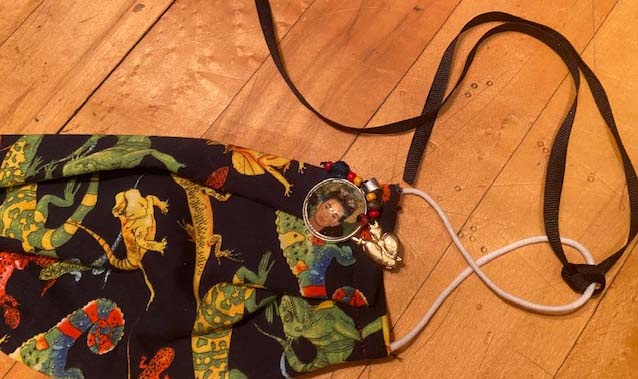 # 89 Lizard cloth with milagro heart from Petatlan Mexico , Frida cabachon D $40.00. X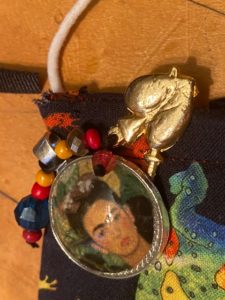 ---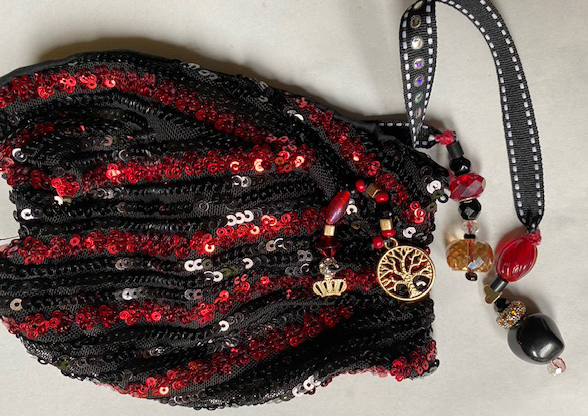 #135 Red Rhinestone ALL Silk with ribbon embellishments  $40.00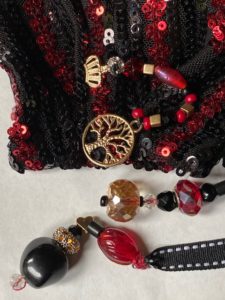 ---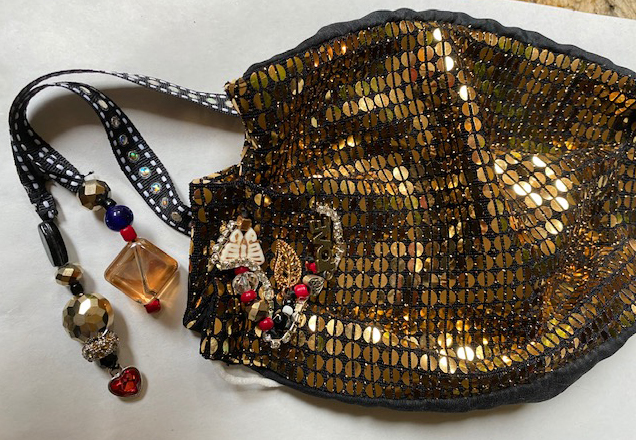 #136 Gold 3 Mariposa with embellishment on Ribbons  Adopted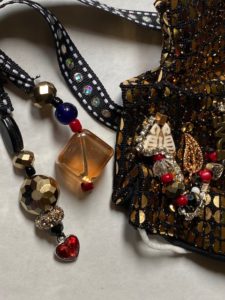 ---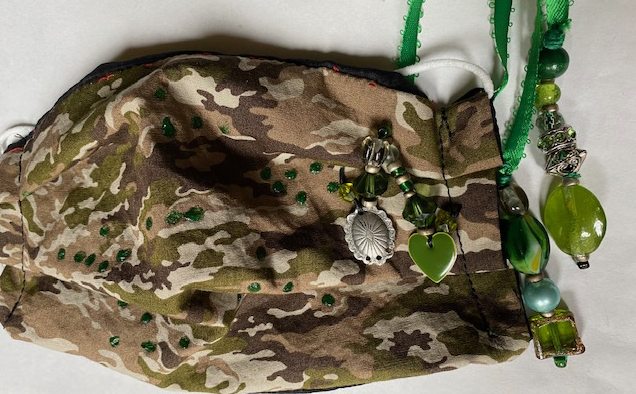 #137 Camo ALL Silk with ribbon embellishments  $40.00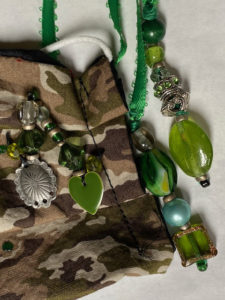 ---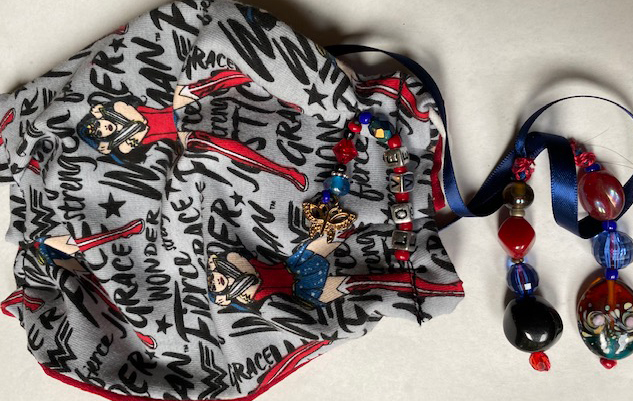 #139 Cotton Wonderwoman with LOVE$ Adopted

---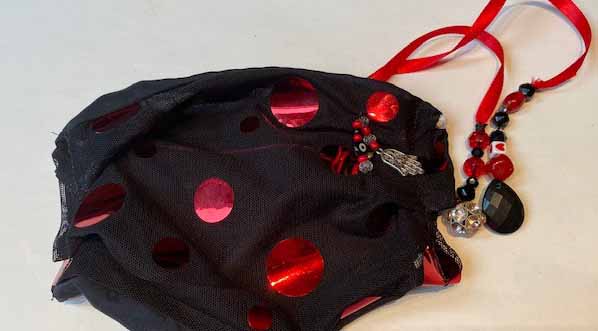 #151  All Silk Red Spot  $40.00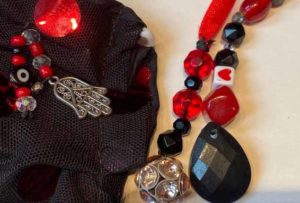 ---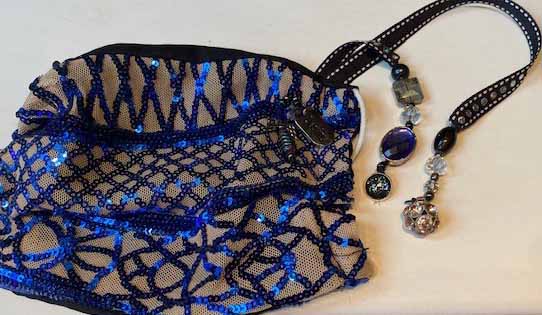 #150  All silk Blue Bling mask $40.00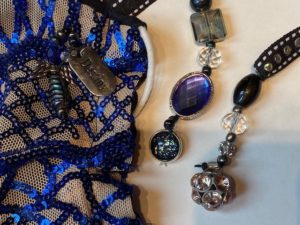 ---

Frida  9 white silk  – 3/4 inch cabochon  $25.00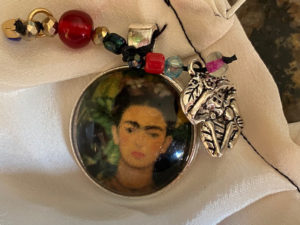 ---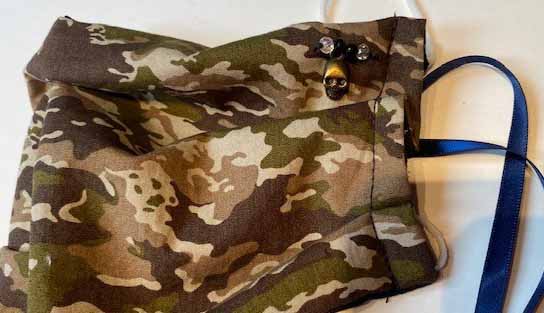 #157 Camo with brass skull $15.00 Adopted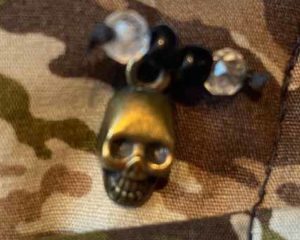 ---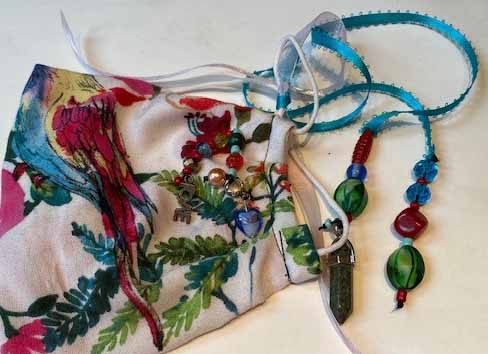 #158  Cotton Bird fabric  $30.00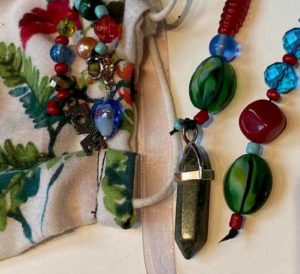 ---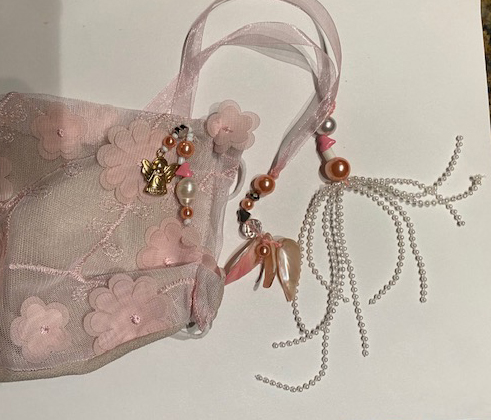 #145 and #175 Pink Silk flowers and pearls  $40.00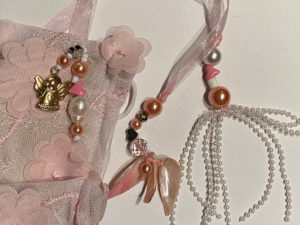 ---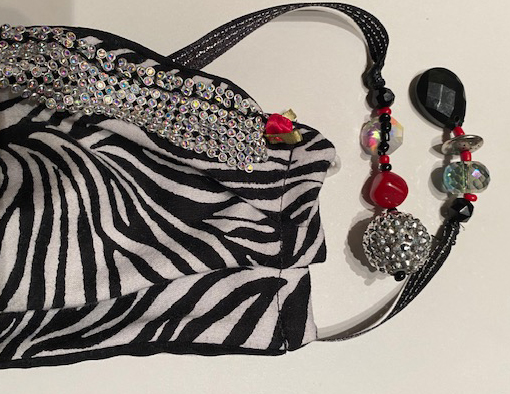 #152 Zebra bling ball  $40.00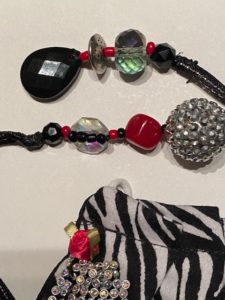 ---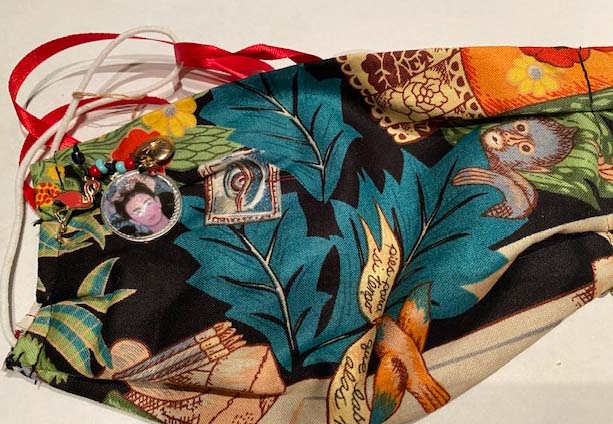 #46 Frida fabric, cabochon, milagro and flamingo charms Adopted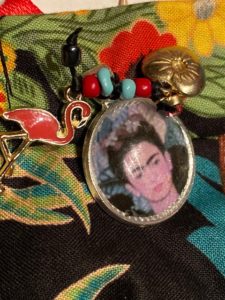 ---
#118 Green holiday   All SILK embellished ribbons  $40.00 Adopted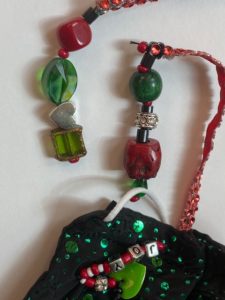 ---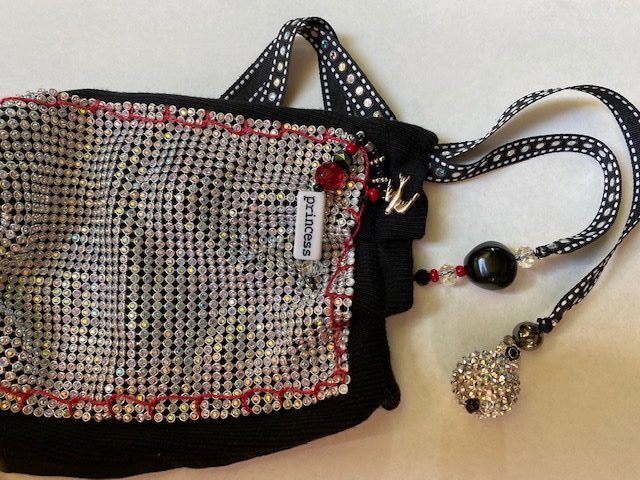 #124 Chain Mail bling princess  All SILK embellished ribbons  $40.00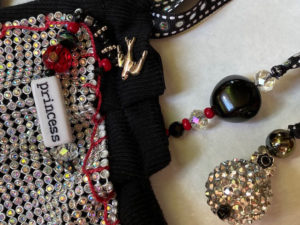 ---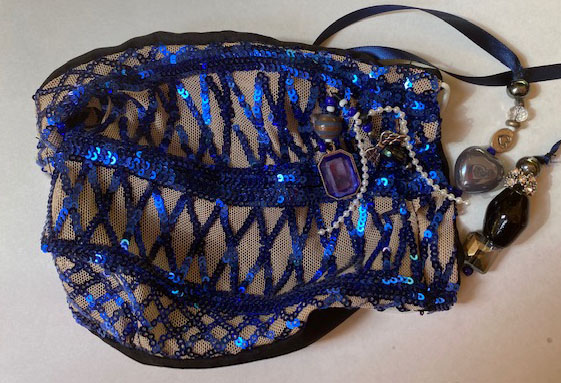 #128 Blue cross bling    All SILK embellished ribbons Adopted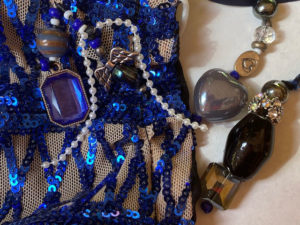 ---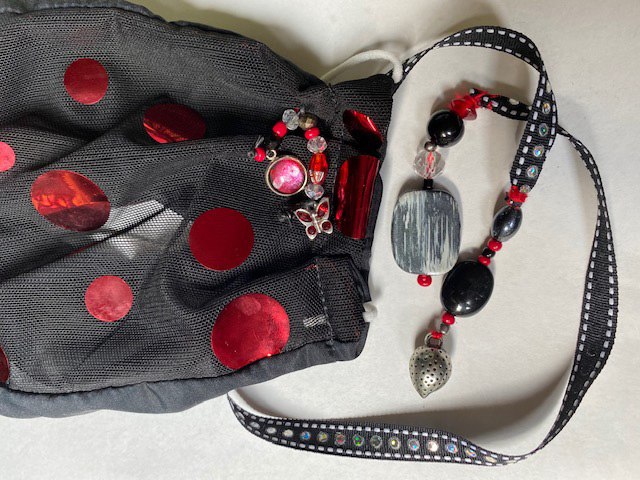 #133 All silk Red Spots with bedazzled ribbons $40.00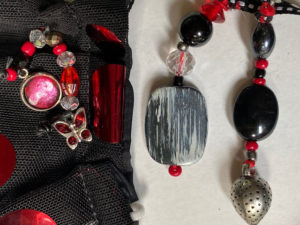 ---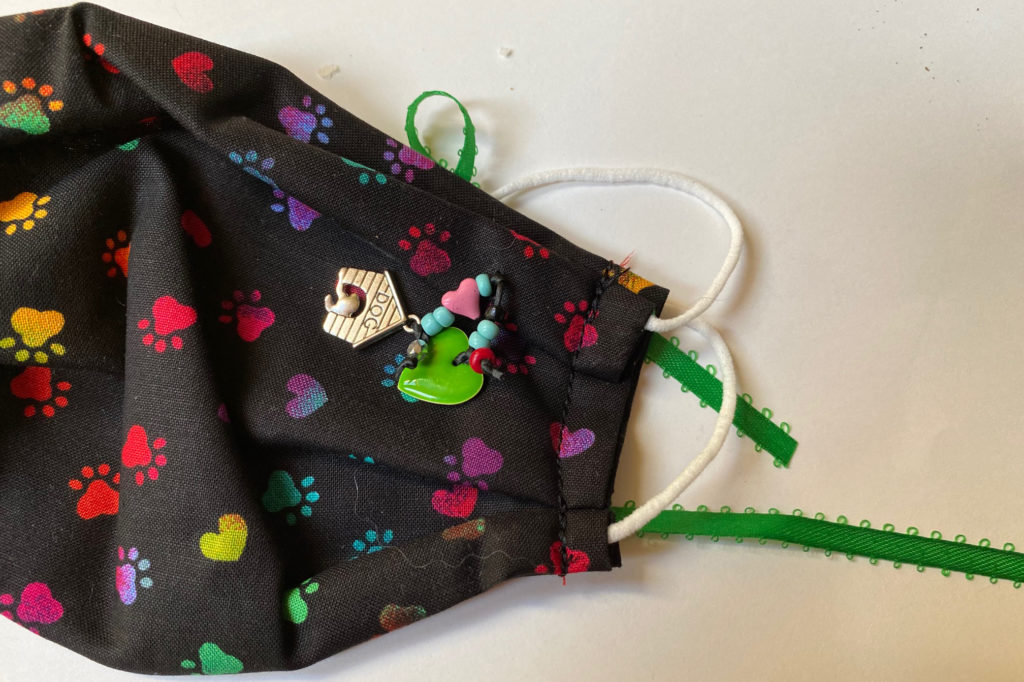 102 Paw Print with dog house Adopted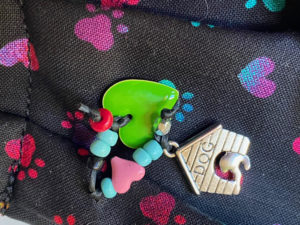 ---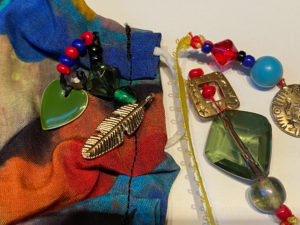 103 Flores with heart feather and ribbon embellishment Adopted
---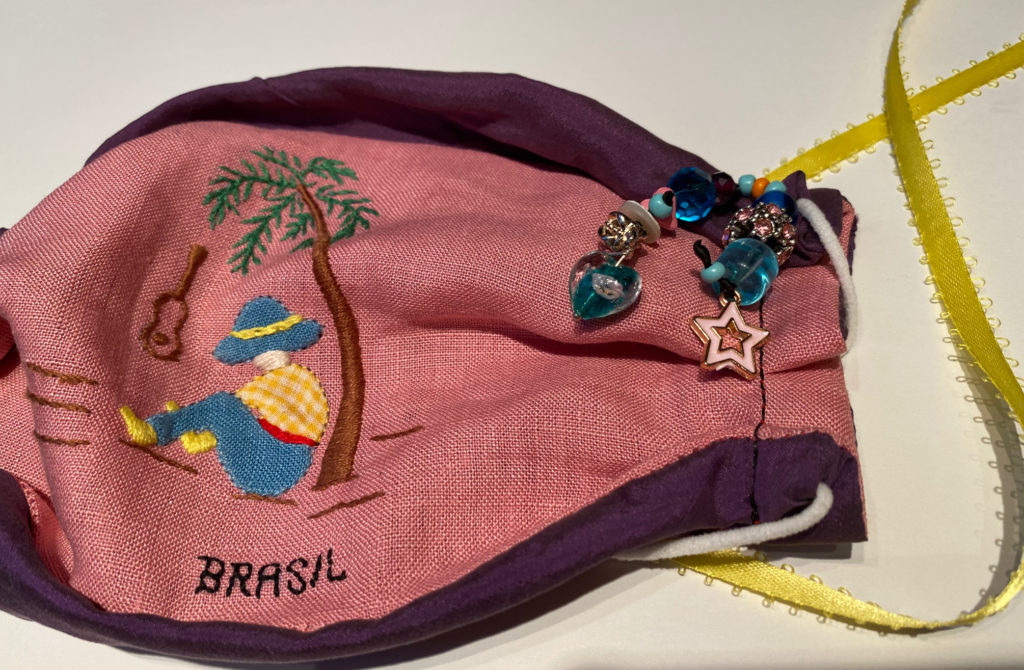 105 linen Brasil with heart bling star  $20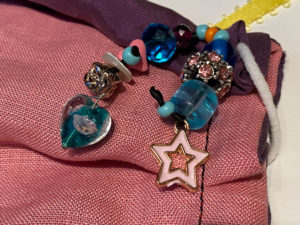 ---

106 Bling butterfly bling love charms $ 30.00

---
#37 white cotton skull and mask charm $15.00 X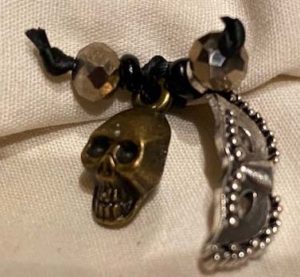 ---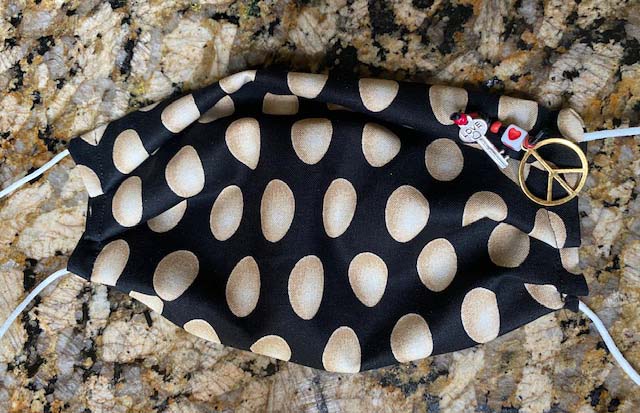 #
#110 sphere with feather and heart  sign with back ribbon tie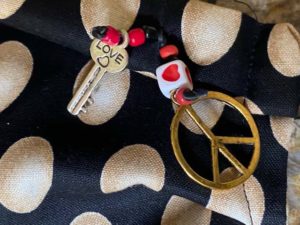 ---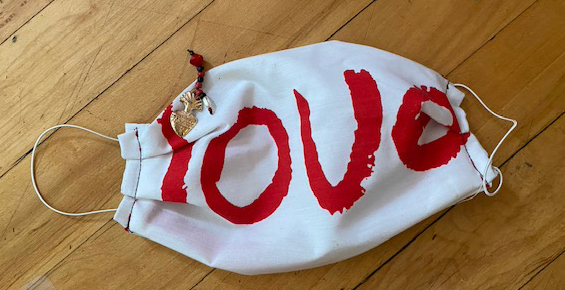 #17 Love One of  Two Fabric Milagro Heart   $40 X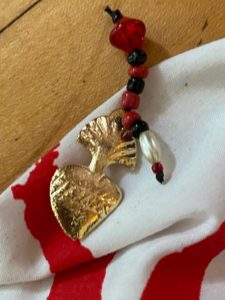 ---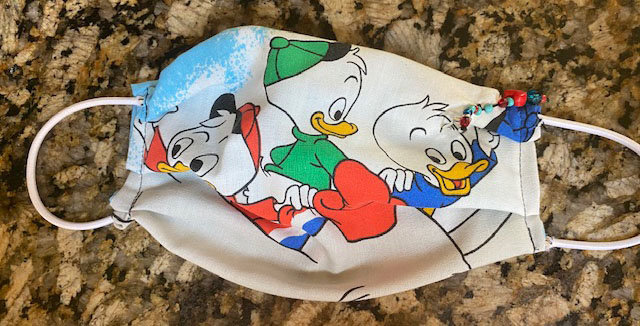 # 57 Disney DD with musical note and heart $ 15.00 X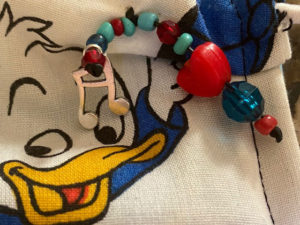 ---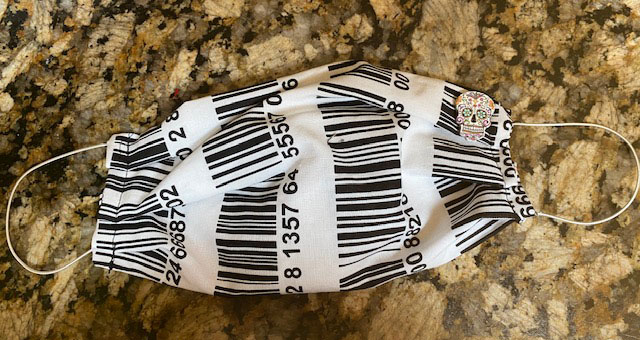 # 43 Barcode with skull  $15.00 X
---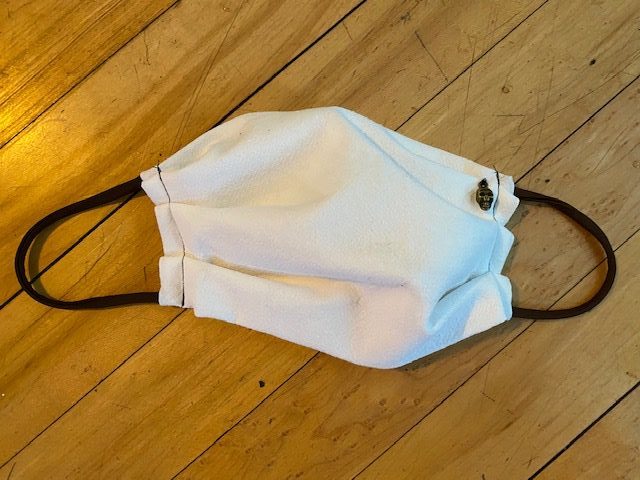 White Cotton with bronze skull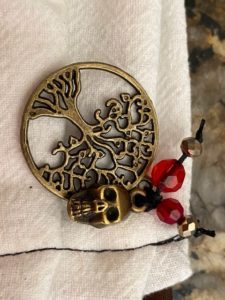 White cotton with bronze skull and Tree of Life with beads  # 31 $ 20.00 X
---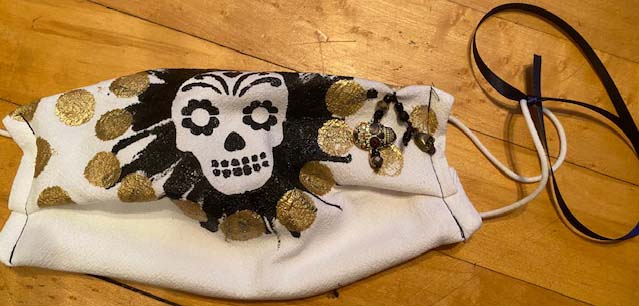 #81 Hand Painted red lips with Milagro heart . Adjustable back tie  Adopted

Could make more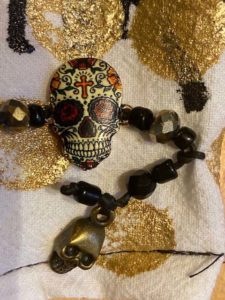 ACW Board member, Sally Gibson, with Skull mask and Sylvia
---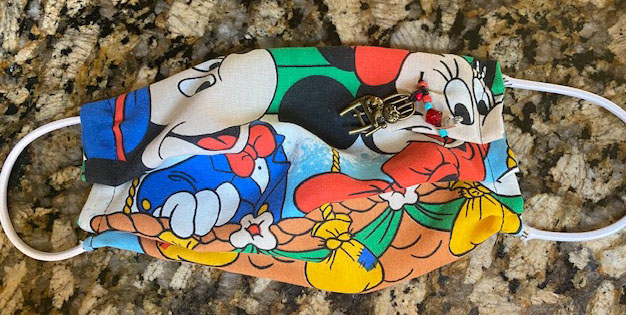 Disney Micky Minnie with cat charm Detail #54 Adopted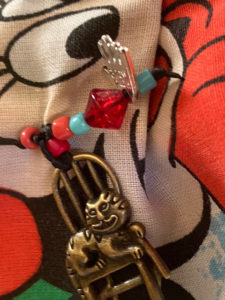 ---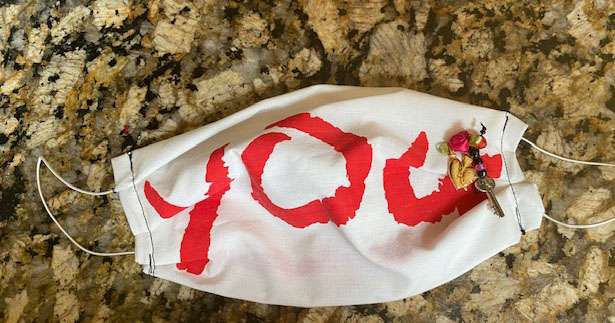 # 42  You with Love key and milagro heart # 42 Detail $30 X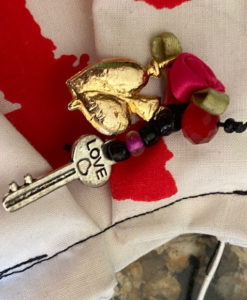 ---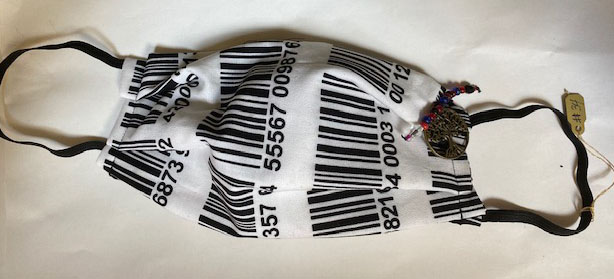 Bar Code Tree of Life # 34   $15.00 X

---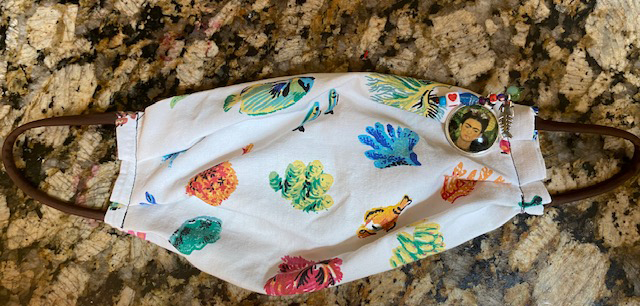 Frida  10 Sea  Fish – 3/4 inch cabochon  $30 X
---
Children's Collection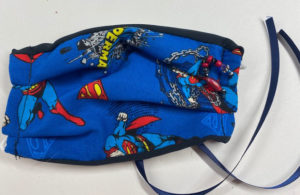 #172 Child Superman. $20
---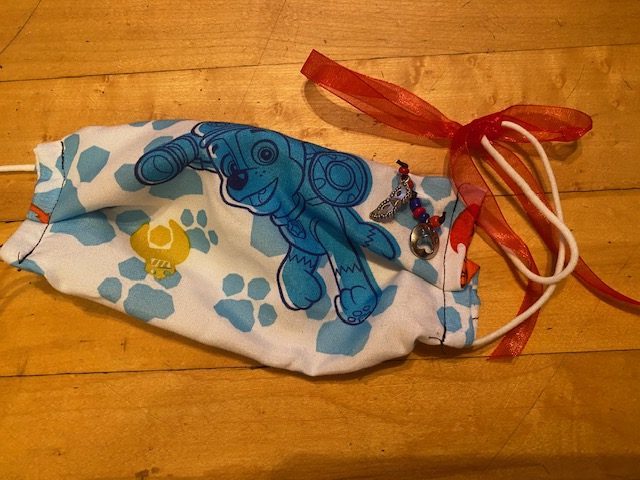 # 80 Paw Patrol with paw and mask charm. Adjustable back tie $15.00

---

#66 Rainbow C with Green Heart and back ribbon tie $15.00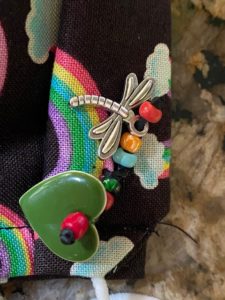 ---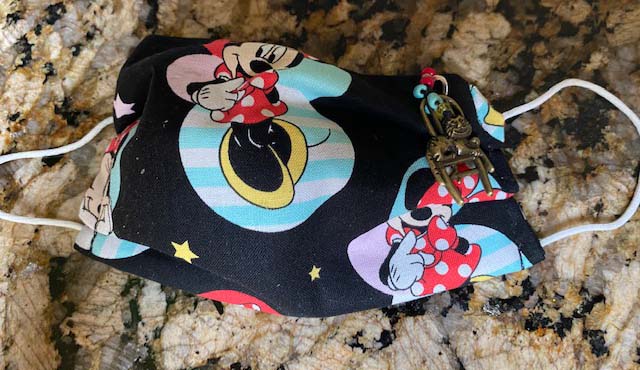 #67 Minnie with Kitty charm and ribbon back tie  Adopted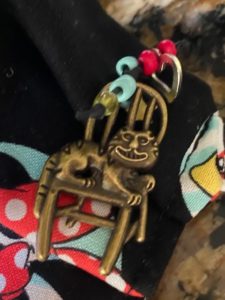 ---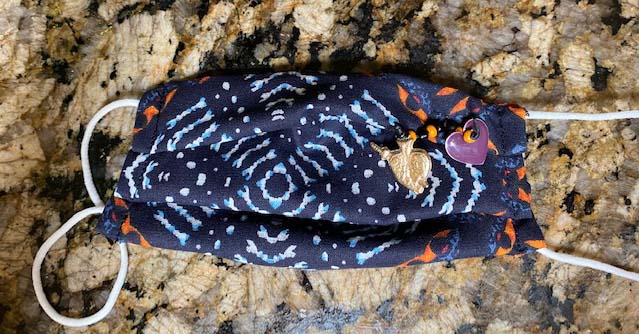 #68 kente cloth Milagro Heart and back ribbon tie $15.00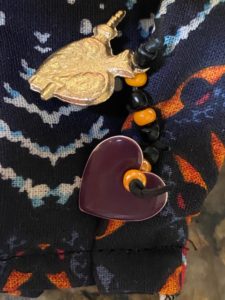 ---
#69 Sphere with mask and heart with back ribbon tie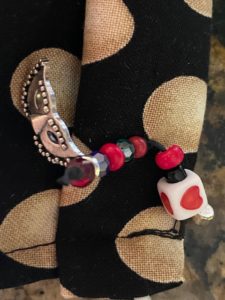 ---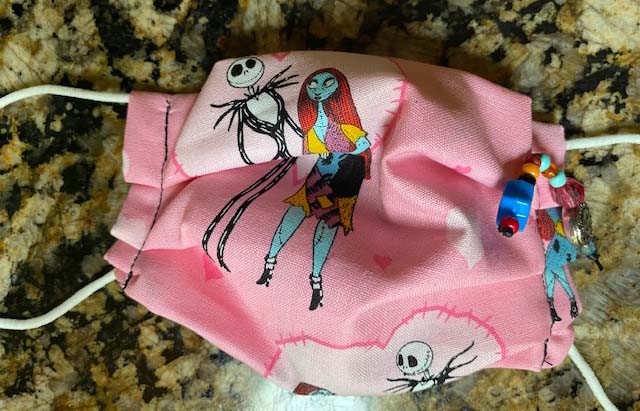 #70 Sally and Jeff  with back ribbon tie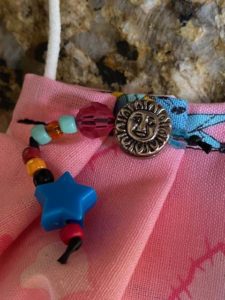 ---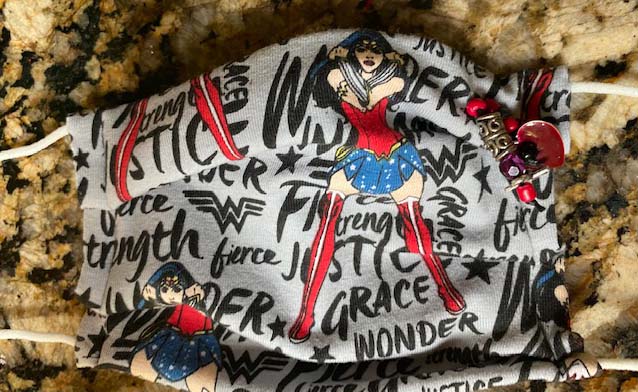 #71 Wonderwoman with heart and star   and back ribbon tie C $15.00
---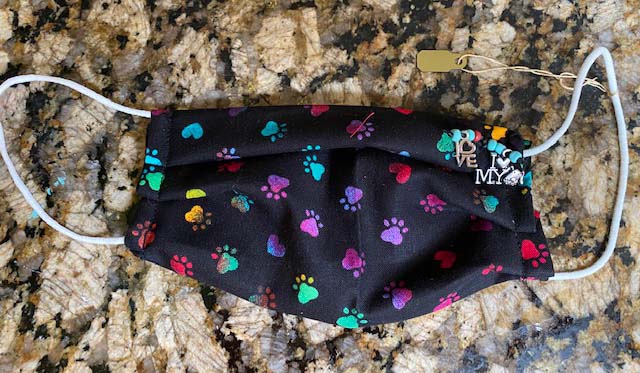 #75 Paw paw I love my puppy charm and  back ribbon tie  $15.00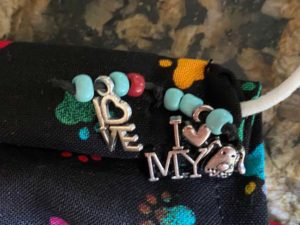 ---
CUSTOM COLLECTION

Custom mask for Josh Blanc from Clay Squared.
---



Anne  Klienhetz   Special Tie Dyed fabric.  Catholic Iconography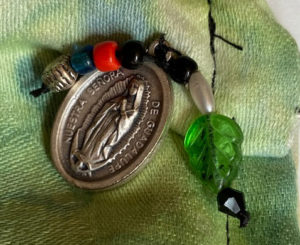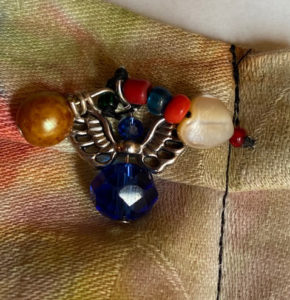 ---

Created for doctor Jill Stebbins .  Ties with elastic to go up over bike helmet and considering of hearing aids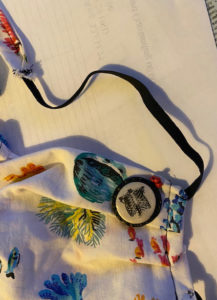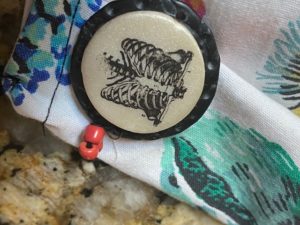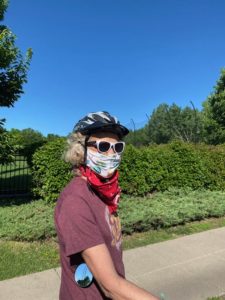 ---
Kit Rocha – Author's Logo for Mercenary Librarians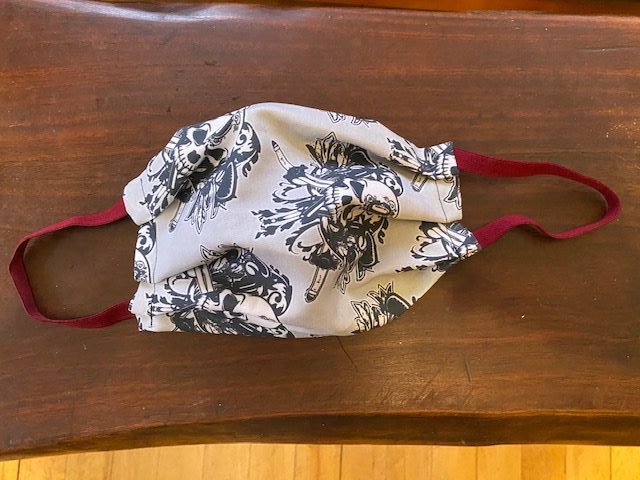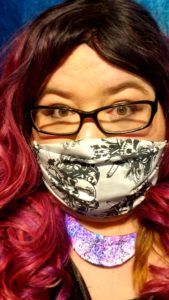 ---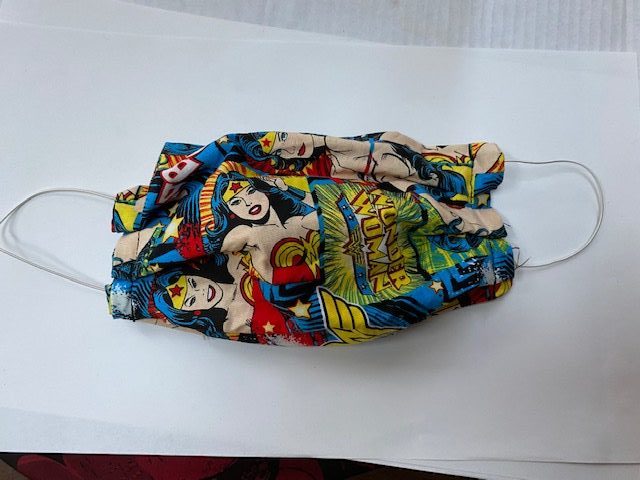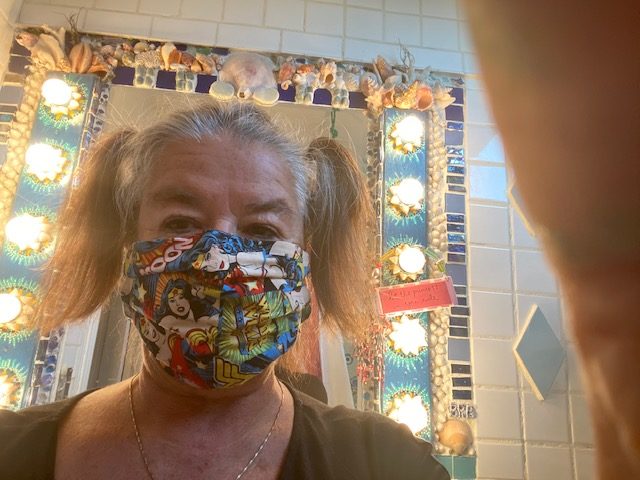 Barbara's Wonder Woman Mask and Covid Hair Solution
---
In the very timeworn opening lines from 'A Tale of Two Cities' seems apropos at the moment; "It was the best of times; it was  the worst of times…
We must figure out how to build resilience into our future endeavors – sooner or later some other catastrophic event will  radically alter our lives and we will confront untold challenges again – hopefully as more prepared citizens. The leading  attribute to being successful is adaptability. We are facing steep challenges as well as opportunities in every environment.   For yourself, be generous, notice small joys. Prepare more, worry less.
How to make a mask yourself.