Barbara Rogers Bridges – Founder and Director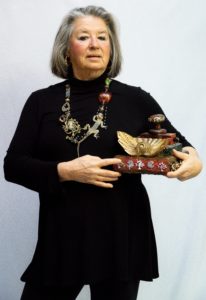 Why did I  start Art to Change the World?  I wanted to create an organization  focused on using art making as a catalyst for positive social change. Over eighty percent of student learning is consumed visually, according to recent research. The time for artists to raise their voices for maximum impact is NOW.  I also want to create a model where artists are paid.  If we do not pay artists, there will be no more artists or only the privileged will be artists. 
The Artist
Barbara Rogers Bridges has been an artist and a teacher/college professor for over 40 years. Her social practice sculptures have been exhibited in Maine, Miami, the Virgin Islands, Maryland, Chicago, Mexico, Spain, Canada, and throughout Minnesota. Bridges taught K-12 art in Minnesota, Maine and the Virgin Islands.
Barbara creates social practice art from fabricated components in a variety of media and rescued "power objects." She manipulates the objects to create meaning and provoke discussions and reflection on a wide variety of social topics including agricultural practices (Ode to Gluten), living a considered life (Talking Chairs and Academia Nuts), water quality (Found In Our Waters),  Feminism (Three Waves,Wonder Woman and La Mujer) and Recovery (Reflecting Pool  and TODAY, I'm Alright.) She is a sculptor on a mission to demonstrate how art can serve as a catalyst for social change and is committed to creating, and empowering others to create, high quality art objects which honor their powerful message. Read More about the Art
The Art Teacher
Barbara Bridges seeks to empower all people to embrace the creative process. Barbara's teaching career began in Maine in 1976 where she was an art teacher. Since then she has expanded her sphere of influence to Mexico, the Caribbean and Minnesota.  Barbara has partnered with various Minnesota institutions such as the Minneapolis school district, the Minnesota Online High School, Perpich Center for Arts Education,  the Walker Art Center, the Minneapolis Institute of Art, the Weisman Museum and the Minnesota Museum of Art. The online discussion group, ArtsNet Minnesota, came out of those collaborations. ArtsNet Minnesota  boasted a membership of over 600 as well as a site that contained over 8,000 pages of material. Barbara has a passion for giving the gift of creativity back to her students. She believes, if motivated and informed, everyone can be creative.
Amongst her proudest achievements were three Educator of the Year awards in 1998 and 2008, from the Art Educators of Minnesota and the National Art Educators Association. Testimonies for Dr. Bridges
The Professor
Barbara has served as a professor for over twenty years at the University of Minnesota and Bemidji State University and has contributed in a variety of ways. Her appointment includes teaching Foundations of Education, Human Relations and Critical and Creative Thinking, also serving as the architect of the unique DLiTE (Distributed Learning in Teacher Education) – a hybrid online K-8 teacher licensure partnership program and the FasTrack secondary initiative designed for previously degreed candidates who wish to teach high school. The combined programs have served over 6000 teacher licensure students average age 35, working, and place bound with children. Although Barbara serves Bemidji as a general education specialist, she has been a powerful force in art education for many years. Barbara led a National Art Educators Fellows Institute at her home in Maine which included the President of the National and International Art Educators. http://www.bridgescreate.com/fellowsb/