---
Lynnette K. Black, Immigration, Social and Environmental Justice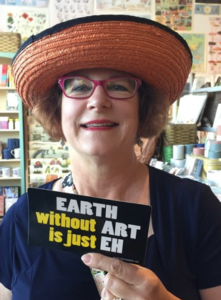 Lynnette Black is a global medical device marketing expert, having used her visual arts and writing ability to market life-saving products and products that improve the quality of life, such as artificial limbs, wound care, pacemakers and interocular lenses for cataract surgery.
Now retired, Lynnette is a full time artist seeking to raise awareness of global issues such as mass migration, equal rights, environmental justice, and racial justice.  A cooperative member of Highpoint Center for Printmaking, she has exhibited nationally, including twice at the Katherine Nash Gallery, Regis Center for the Arts, University of Minnesota, in "Women and Water Rights" and "Women and Money". In 2018 her print "Wood Nymph" was selected by Juror Crawford Alexander Mann, curator for Prints and Drawings, Smithsonian American Art Museum, for the Biennial International Juried Exhibition, Highpoint Center for Printmaking.
A long-term member of Women's Caucus for Art (WCA), Lynnette is also a member of International Association of Female Artists (IAFA) and Art to Change the World.    https://www.lynnetteblackart.com
______________________________________________________________________________________________________________________________________________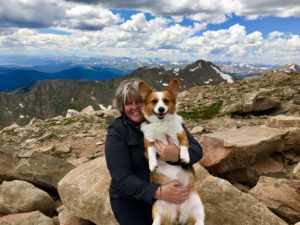 Natalie McGuire's art education began as a small child; she learned photography composition from her father.  Her Aunt Natalie fueled the creative side, allowing it to flourish.  She attended Community education classes in photography in 1997/98, studied under Deirdre Monk. Later in 2010 Natalie enrolled at Hennepin Technical college's digital photography program, studied under Paul Sinkler, Tom Hanly and Tim Grey until the program closed.  She' attended one day seminars with National Geographic photographers.  Continues her education by joining Minnesota Mosaic Guild and SAMA, networking with some great artists learning different aspects of Mosaic.  Networks with other photographers sharing tips and ideas.  Natalie is the creator of Photozaics (start with photograph finish with mosaic frame).
Her artist statement says it perfectly:
My images are little mosaics pieces of my memory that I capture and share with the world. Photography is second nature to me and allows me to express how I see things in day to day life. This gift was given to me by my father.
My subject matter is driven by my ability to go out shooting with an open mind allowing Mother Nature to show me what she wants to be captured.  I look at my scene and decide am I going for color, texture, lines, mood, or drama? This helps me decide if I shoot color or infrared.
My photography is many things, depending on my environment when capturing the image. When shooting infrared, this style of photography brings another worldly look to my photographs, almost a dreamlike state that has a 3D effect. My color images, I primarily use to grab the vibrancy that Mother Nature's glory offers up to us. I create images that make you feel like you are there with me in the scene.
My photography can stand alone or be combined with my photozaics.  https://www.nataliemcguiredesign.com/
Artist,  St. Paul, Minnesota
---
ADP Artists and their  Art works.  Click on Art Works to enlarge.
Scorpio/ Brian Serrano
My name is Scorpio aka Brian Serrano
I am an Independent Artist that works in multiple media such as Painting, Filming, Music Production and Photography. My work is a world that I create to tell stories visually to give a story that is able show new worlds. I use recycled Material In order to work on items that need new life. I feel as if we can grow if we are given a chance. I wish to create as many opportunities as I possibly can to help others and give people a chance.
---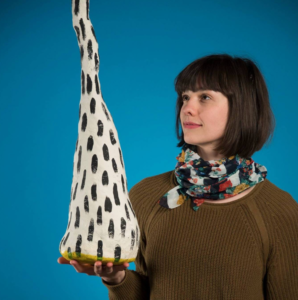 Hannah Foster's exploration of art led to a love of cutting, pulling, hammering, squeezing, smashing, and stuffing physical materials. Surrealism, 80s and 90s pop-culture, and the human body are heavy influences in her work. She attempts to guide the audience to a place of presence, curiosity, and slight discomfort with her odd shapes and material combinations. A recent transplant to Minneapolis, Hannah Foster balances a life of art-making, hiking, watching bad films, and supporting artists with disabilities at Fresh Eye Arts.
Website: www.hannahfosterart.com
Instagram: www.instagram.com/hr_foster
---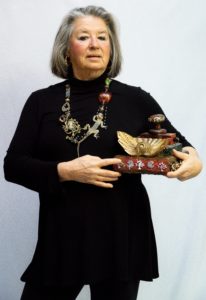 Barbara Rogers Bridges Founder and Director of Art to Change the World
Barbara has been an artist and a teacher/college professor for over 40 years. Her social practice sculptures have been exhibited in Maine, Miami, the Virgin Islands, Maryland, Chicago, Mexico, Spain, Canada, and throughout Minnesota.
Bridges taught K-12 art in Minnesota, Maine, and the Virgin Islands. She was voted Art Teacher of the Year twice in Minnesota.
Barbara has partnered with various Minnesota institutions such as the Minneapolis school district, the Minnesota online high school, Perpich Center for Arts Education, the Walker Art Center, the Mpls. Institute of Art, the Weisman Museum, and the Minnesota Museum of Art.  The online curriculum site and discussion group, ArtsNet Minnesota, came out of those collaborations.
Barbara has served as a professor for twenty years at the university of Minnesota and Bemidji State University and has contributed in a variety of ways. Her appointment includes teaching Foundations of Education, Human Relations and Critical and Creative Thinking and also serving as the architect of the unique DLiTE (Distributed Learning in Teacher Education)  – a hybrid online K-8 teacher licensure partnership program and the FasTrack secondary initiative designed for previously degreed candidates who wish to teach high school. These programs were the first online teacher licensure programs in the nation.  Artist    Minneapolis, Minnesota and Zihuatenjo, Mexico   Read More
---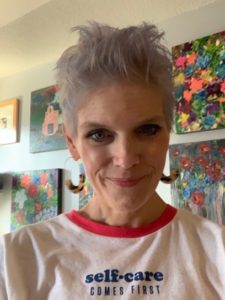 Jodi Janz . I am a Minnesota painter and mixed media artist. After attending Milwaukee Institute of Art and Design, I worked for many years as a freelance graphic designer. Later, I spent time in Santa Fe, New México, and was so inspired by the experience, by the colors, the people, the energy, and the food, that I found my way back to painting.
Several years ago, I had been working on exploring the human figure when I collaborated with a local NM artist in her studio. Since then, my work has grown dramatically and changed in terms of the mediums, and I'm now using my perspective towards the human figure. My work went from a flat, simple, abstract figure to a richer, deeper, multi layered canvas featuring a more diverse and emotional look at the figure in more dynamic poses. It's definitely been a new beginning for me and my approach to my work. Currently, my art work focuses on abstract human figures, landscapes, and florals.
Every day I set out to create the visions, thoughts, and emotions that so move me. My work is healing for me, as I'm painting layer upon layer intensely and emotionally documenting my journey to understand my life, what I see, and how I feel.    www.jodijanzart.com
---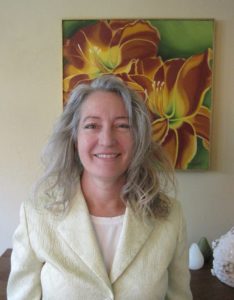 Mary Bacon describes herself as a "Modern Botanical" oil painter. She is entirely self-taught, and has studied oil painting for 20 years.
Minnesota born and raised, she has made a life-long study of the local landscape including close study of the local flowers, trees, and parks. She resides in Minneapolis.
Her work is in many local collections, including Washburn Center for Children, Buzza Lofts, Claire Housing, Hennepin Healthcare Traumatic Brain Injury Center, and
Health Partners Neuroscience Center. Mary can be contacted through her website MaryBaconArt.com. She also works as an art consultant and interior designer. You can
see her design work at MaryBaconInteriors.com
---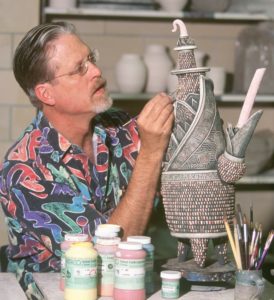 Marko Fields
After teaching for 20 years, MARKO FIELDS, BFA, MFA, McKnight Fellow, founded, created and is the primary owner of
Mojo Coffee Gallery. Marko is widely exhibited, collected and published. His work can be found in numerous public and
corporate art collections, including: The Museums of Fine Arts of San Francisco – The DeYoung; The Renwick Gallery of the
Smithsonian Institute, Washington DC; The Ceramic Research Center, Arizona State University; MARKArts, Wichita, KS; The
Beach Museum of Art, Kansas State University, Manhattan, KS; Emprise Bank, Wichita, KS; The Sprint Corp., KC, MO; and
The Hallmark Corp., KC, MO.
Though retiring from academia, Fields continues to publish and frequently lecture, demonstrate and present at universities, ceramic centers and conferences. His studio is located in the California Building, adjacent to Mojo Coffee Gallery.   Read More:  https://connienorman.com/blog/2010/08/03/marko-fields-plinth-gallery-artist-interview/   Artist, Minneapolis, Minnesota  –  Owner Mojo Coffee  Read More:  http://mojocoffeegallery.com/
---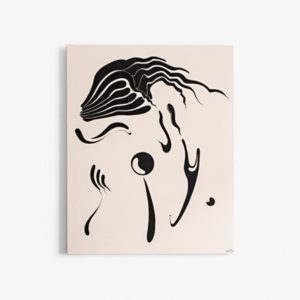 Kathryn Flora is an abstract painter working in Minneapolis, Minnesota.
Her paintings are interpretations of "beautiful moments". She sees beautiful moments as the small romances of everyday life. A genuine human connection, a free flow of emotion, or maybe a cute scrunchie. She's nurtured by the soft aspects in life, and strives to share that gentleness with others.
Kathrynflora.com or on instagram @kathflora
---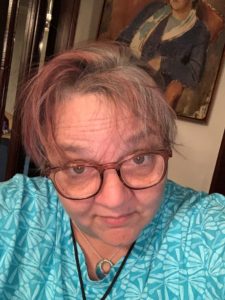 Lucienne "Lucy" Schroepfer
Originally from Cambridge, MA Lucy was steeped in the arts through childhood. Originally focusing on music, she discovered fabrics and sewing 20 years ago and has never looked back.
Lucy starts each morning in her studios at 5 am. On good days, post her day job in the performing arts, she is back in the studio.
Whether experimenting with patchwork and color, creating fabric paintings, or long-arm quilting- her work typically showcases bold colors with a broad bouquet of thread and texture. Inspiration comes from places, books, and the fabric itself. Most fun for her is to witness the surprise from folks realizing, only up-close, her paintings are in fact fabric. Often framing without glass, she reminds folks her art is washable.
Lucy is a member of the Minneapolis Modern Quilt Guild, MN Quilters, Dakota Star Country Quilters, NEMAA, St. Paul Art Collective, and the Mpls, Textile Center. She lives and studios in Saint Paul with her husband, three teens, and mutt "Lulu".
651-231-0984    Quiltlucy@gmail.com  www.lucequilts.com   Instagram/ Facebook- Luce Quilts
---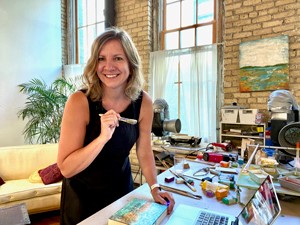 Jodi Reeb
I have been a full-time artist and teacher for over 25 years.  My current body of  work consists primarily of photos I've taken of pollinator-friendly plants from the  "bee's perspective". The images are printed on tissue paper and combined with  Encaustic painting and oil paint.
I have taught printmaking, acrylic and encaustic painting as well as book arts  locally and nationally. My artwork has been shown nationally receiving numerous  awards and is in many private and corporate collections including Wells Fargo  Mortgage, Target Corporation, UnitedHealthCare Group and the Hilton Hotel  among others. In 2020, I was awarded a Hinge Arts Residency through  Springboard for the Arts. I am the recipient of the Minnesota State Arts Board  Grant in 2018.  I received a bachelor's degree in Fine Arts (BFA) from the  Minneapolis College of Art & Design, MCAD, where I instructed printmaking for  over 9 years.  I am a CORE instructor for R&F Handmade Paints teaching  monthly workshops in her studio as well as nationally.  I also teach acrylic  painting workshops and is a GOLDEN Acrylic Paints Artist Educator, Ampersand  Art Ambassador and now a Silverbrush Educator.
I create my mixed-media  paintings and sculptures in my studio at Traffic Zone Center for Visual Art where I  have been a co-op member for 15 years in Minneapolis.  I have had a lifelong fascination with nature and science, especially with the  patterns that emerge in the organic world. The flame of the torch melting the wax  simulates patterns made by water in lakes and marshes. I also take photographs  of pollinator friendly plants as photo collage in my paintings. Exploring the subject  of abstract landscape is a practice of discovery, a way of connecting inner and outer worlds. Process is important to me because of the spontaneous effects of  melting beeswax. Currently, I am creating wall sculptures using aluminum  sheeting and encaustic as well as circular painting wall installations.
The method of Encaustic painting involves applying hot molten beeswax with  pigment to a painting surface, which is then "fused" (melted) with a torch or heat  gun. This creates a variety of surfaces with textured and transparent layers.
Encaustic painting allows me a wide range of tools and the process of  transparent layering.    www.jodireeb.com
---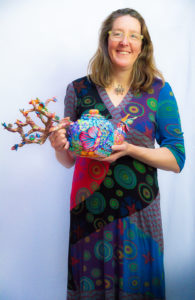 Layl McDill grew up in Gillette, Wyoming where she began creating at a very young age. Her early works were dollhouses, marionettes and even an entire "Smurf Village".  Layl received her BFA in Illustration from the Columbus College of Art Design but she found it more exciting to make sculptural work and sell it through galleries and art fairs.  She has exhibited her work around the country since 1994. Polymer clay has been her medium of choice using the millefiori technique and some mixed media materials added.  The theme of wonder permeates her sculptures that are covered with endless details.  Her work can also be found in numerous books and publications. Selected recent awards include 2nd Place Overall at Arts North International 2021, Best in "Blue" at "Primary" Banfill Locke Center for the Arts 2021,  Best in Sculpture, Edwardsville Arts Fair 2018 and 2019.
Social media: https://www.facebook.com/layl.mcdill
Twitter: @laylm
---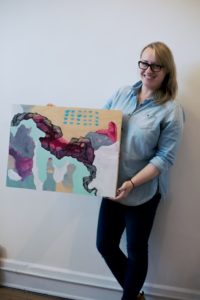 Cory Favre is a visual artist living and working in Minnesota. She has a BGS from Ball State University with focuses in Studio Art and Interior Design and is an alumni of The Women's Art Institute. Cory serves on the Board of Directors for the Women's Art Resources of Minnesota and is a member of the Northeast Minneapolis Arts Association.
Cory's primary mediums are oil and colored pencils. She is influenced by such artists as James Rosenquist, Kiki Smith,  Jenny Holzer, CJ Hendry, and Nancy Spero. Her recent work lives in the space between sarcasm and snark, humor and serious. Social issues, politics and human nature are all inspiration for her work. She is most interested in talking about issues that particularly affect women and mothers.
In 2020, Cory was awarded an Artist Initiative Grant from the Minnesota State Arts Board for her White Knuckled Project. This project will consist of 100 small paintings of items that women carry with them to make them feel safe. Each image will be sourced from real women and what they personally do to ensure their physical safety when out of the home. The final exhibition of this installation will be held at the Banfill-Locke Center for the Arts in November 2021. To learn more about this project, please visit www.coryfavre.com/whiteknuckledproject.
If you would like to see work in progress, please check out my Instagram page!  @the.beatnik
---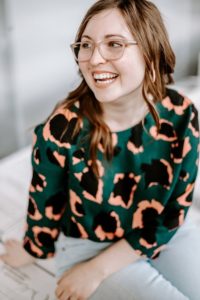 Ashytyn Sibinski
Ashtyn is a fine artist working from her studio in Minneapolis, Minnesota. She received her BA in Studio Art from the University of Northwestern St. Paul. With a combined background in studio art, design and experiential marketing and events, Ashtyn has developed a curiosity for the way a person experiences and responds to visuals; This is regularly explored in her body of work. Within each collage, painting and mural she seeks visual harmony by way of shape, color and composition. Her creative process is fueled by an eagerness to combine colors and an excitement for rearranging shapes.  Address: 1205 NE 27th Ave Minneapolis MN 55418  Phone Number: 218-591-2535
---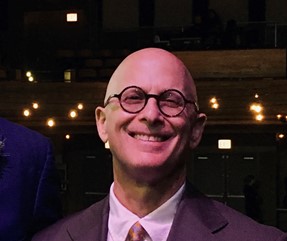 Owen Brown's works have been widely collected, he has pieces at the Fine Arts Museums of San Francisco, the Weisman Museum of Minneapolis, the Minnesota Orchestra, and other institutions. He writes:
"At start I don't know the finish except that there is something within to build, something to say.   Painting is not speech.   We leap to story, but my subject is the story behind story, behind speech.  I keep in mind: "Attention is the beginning of devotion." and "Where danger lies, there deliverance also grows."
I was trained to paint daily, not to wait.  Yet stillness is as important as action.
On good days I am a painter.  On my best, I try to uncover and describe something new, that we can have it within our range of humanity. That should be enough.
owenbrownartist.com
@owen_artist on instagram
https://www.facebook.com/owenbrownartist
---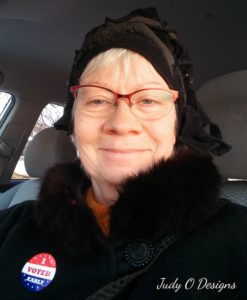 Judy Ostrowski
Being a planter of seeds and connection, a cultivator of community, Judy Ostrowski has been weaving her artistry and activism throughout the Northeast community and the world since the 80s.
As owner of Mehndi Moon and Judy O Designs, Judy has been a fixture at the Minneapolis Farmers Market for nearly two decades; she is a supporter as an artist involved in the world, and other northeast institutions. In addition to using her hands to create beautiful art, Judy has long used her voice to create a more equitable, just, and healthy world for us all through effective canvasing, organizing and singing.
Create the change you wish to see.   Create Joyful Excitement!   Judy Ostrowski   612 558 8262   https://judyostrowski.wordpress.com/
Artist, Minneapolis, Minnesota
---
Anne Kleinhenz is a photographer and mixed media artist currently working out of her studio home at the A-Mill Artist Lofts in Minneapolis, Minnesota. Anne received a Bachelor of Fine Arts with Summa Honors in Photography, in the College of Liberal Arts at the University of Minnesota, Minneapolis campus. She is a past recipient of a Jerome Foundation Travel and Study Grant to Tirana, Albania, where she was part of an exhibit at the National Gallery in Tirana. She took a sabbatical from her full-time career in the Advertising industry, and while a single parent, to participate in an Art in Greece study and travel abroad program through the University of Minnesota. There she fell in love with icons, and her passion for spiritual art was resurrected.
Anne's art has been exhibited in galleries and museums in Minnesota, Washington, Alaska, Greece and Albania. Her work was included in a juried competition at the Katherine Nash Gallery during her studies at the University of Minnesota, and one of her pieces was awarded first place in the annual recognition program and was selected to be included in the permanent collection at the Weisman Art Museum. In addition, her work is included in private collections in Minneapolis, Seattle, Chicago and Anchorage. Anne participated as a Protégé with mentor Jill Waterhouse in the 2013-2014 cycle of the WARM (Women's Art Resources of Minnesota) Mentor Program, which culminated in a group exhibition at the Grain Belt Brewery art gallery. She also was the project manager and print producer on the catalog called "Beneath the Surface" for this WARM mentor cycle, where she was able to collaborate skills that encompassed her professional corporate career with her emerging art career.   Artist   Minneapolis, Minnesota   Read More
---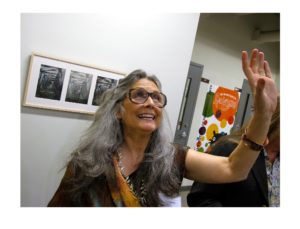 Candy Kuehn creates wearable art, costumes, wall pieces, and sculptures in numerous media. She makes art pieces that are functional, reversible and have multiple uses that sometimes change with the passage of time. Many works live as well on the wall as they do on the body, on the ceiling, on the floor and on the stage.
As a painter her medium ranges from cloth to ceramic glazes. Her work features whatever makes a person or piece of art beautiful and moving. Her work has appeared at the Textile Center of Minnesota's Art-in-motion shows, the St. Paul American Craft Council Fair and the Minnesota Craft Council Fair Market Place at the State Fair grounds. She has also created costumes for the dance theater company Ballet of the Dolls productions of "The Red Shoes," "Enchanted Night," "Sleeping Beauty," "Nutcracker (not so" Suite," and "Cinderella").
Candy was artist-in-residence in the Textile Center Dye Lab for 2007-2009 school years. Her digital photo drawings and portraits have been exhibited in several shows, Southeast Minneapolis Public Library had three shows and fabric installation in children's area over the last six years, the Fine Art Show at the Minnesota State Fair for three years, and for WARM at several venues.
She received honorable mention at the WARM 40th anniversary show. She created digital illustrations for large scale projections and costumes for the Interference Arts production "It is She Who I See", and "Elijah". Candy's "Human and Earth History" panels were selected to be part of the City of Hopkins' Art Street public art program, was seen on the outside wall of the Hopkins Center for the Arts, and won Children's Choice Award. Candy created costumes and large digital projection images for 'Conviviere" and 'The Palabras Project' for Zorongo Flamenco, and costumes about Picasso's earliest paintings, a Zorongo commission in New York City. The Marcy-Holmes neighborhood, commissioned an electrical box cover, for 'Fresh Boxes' which can be seen in Dinkytown, Minneapolis Minnesota. Her digital works have shown in The Hudson Hospital Rehab Wing and Westfield Hospital in Wisconsin and a show in Owatonna Hospitals, in Minnesota, Spring 2017. In  2016, Flow Arts Gallery, curated her work into several group shows, and her digital work was also chosen for "The Paranormal Show" at Banfill-Locke Center for the Arts, Anoka, Minnesota and "National Parks; Personal Perspectives", at The Phipps Center for the Art , Hudson, Wisconsin.  Read More   Artist  Minneapolis, Minnesota 
---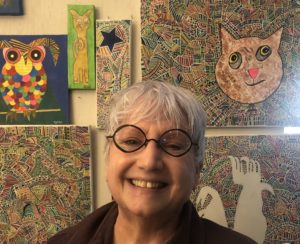 Susan Gainen is a Whimsical Wildlife Documentarian and Abstract Painter of Connections and Neighborhoods.
Her first art memory is the desire to finger paint all over everything all of the time. Putting a stop to that, her Mother bought a crayon set (24 in a box). In 1955, Susan used those crayons to help Winky Dink, the first interactive tv adventurer, to save the day. Unfortunately, she neglected to install Winky's easy-clean magic screen. Getting crayon off the tv screen caused consternation and kerfuffle.
During the next 30 years, she did all of the summer camp crafts, lots of the Girl Scout crafts for badges, and most of the hippie crafts. In 1989, she landed on needlepoint, working on 22-mesh-to-the-inch canvas. She was obsessed with tiny spaces.
This passion for tiny spaces and detail began in the 6th grade when she could not see the blackboard. Between diagnosis and delivery of her first pair of glasses, her Girl Scout troop had a bird watching trip. She saw nothing – not a bluebird or a red bird.  "Delusional" wasn't in her vocabulary, but she was memorably grumpy. When she put on glasses and could see every leaf on every tree and every blade of grass, she knew that it was magic. She celebrates the magic of detail every day.  She arrived in Minnesota in 1992, was introduced to the State Fair, a magical place. She began winning ribbons for needlepoint, jam, jelly, and barbecue sauce.
Pivoting from needlepoint to paint, in 2006, she began a watercolor journey through brightly colored boxes that are both two and two-and-a-half-dimensional, rings and links that celebrate personal connections and friendship; hundreds of whimsical creatures; four years of Image-a-day painting which, when channeled through Photoshop, has allowed her to create thousands of digital magical images, and more.
She founded the School of Painstaking Exuberance in 2009, formalizing her creative process: pencil drawing, clear gesso, painting inside the lines, fountain pen outlines, and topping with self-leveling clear gel.
As a Whimsical Wildlife Documentarian, she welcomes creatures to her living room studio where they sit for portraits, tell their stories, and eat her snacks. Among her pals are creatures from The Lost Cave Paintings of Saint Paul; the Parliament of Owls; the Pandas & Frogs who guard The Hidden Bamboo Forest of Saint Paul; Backyard Roosters of Saint Paul; 4 LLLama (their spelling) Families; 120 Cats; some Dragons, Hippos, and a Wart Hog.
Neighborhoods and Connections In a defining moment, she realized that her abstract paintings represent Neighborhoods, and stand for "every piece looks better because of the pieces that surround it," a Liberal Olde Broad's vision for the future (if not the present). For example, the Starry Night group combines her love of color, obsession with detail, and commitment to the shapes that she can draw but not measure because she has forgotten the finer points of her beloved Solid Geometry.
The patterns her earliest tiny paintings, larger abstract paintings, and in creature portraits, explore connections between and among people and formal and informal organizations. They ask, but don't answer, questions such as: What connects us to one another? To our work? To our world? How does work get done? How do people work together? How does friendship work? How can we create connections to make a better world?
When she turned 60, she abandoned activity requiring safety equipment or liability waivers, including tile and glass cutting, and bungee jumping. She creates mosaic tile with paper and acrylic mediums.
Always looking for new inspirations, materials, and processes, she lives by the words of Martha Stewart, who, on the occasion of her 70th birthday said "When you're through changing, you're through."  More Susan:  https://www.susangainenartist.com/
Artist, Minneapolis, Minnesota

---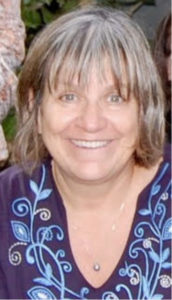 Jo-Anne Reske Kirkman, resident of Orono, Minnesota, is a practicing visual artist associated with the National Association of Women Artists, The Northeast Minneapolis Arts Association, Ming Chiao Society of Sumie painters, and Art to Change the World.
Academic training includes a Master of Fine Arts from the University of Minnesota and a BA from the University of St Catherine in Art Education, with additional studies in Paris.  Additionally, Reske Kirkman has been a Fulbright scholar in Japan, and a Teaching Fellow in Greece.
Before retiring from teaching Art, Reske Kirkman taught in the Orono and Edina School districts and at The Minneapolis College of Art and Design.  During her teaching career, she was recognized as Minnesota Art Educator of the Year, and served as a representative of the National Art Educators Association in delegations to Cuba and India.
Currently, Reske Kirkman works full time in her studio at The Traffic Zone Center for Visual Arts, Minneapolis.
Exhibitions of her ceramic work, photographs and paintings include The New York Hall of Science, Minnesota Museum of Art, Ordway Center, New York Grand Public Library, Catherine Nash Gallery, University of St. Catherine, The Duluth Art Museum, The Plains Museum.
STATEMENT:
Political and social awareness is the integral motivation of my work. Learning about and understanding belief systems and how they coexist within cultural norms are my constant themes. I contemplate the world and its people's struggle for cultural, sexual and religious identity. Besides analyzing current issues, I also delve into historical contexts of unresolved, unforgiven upheavals in societies.
I use pictorial imagery of various cultures, throughout history, by utilizing myths, religious and secular symbols in my work. The images are not literal, but symbolic expressions of prevailing ideas and thoughts about current issues in the world.
Looking through the window of history and comparing current social issues with the past, I strive to provoke thoughtful consideration and awareness of diverse cultures in the world today.
---
Laurie  Samela
I am a practicing artist, and art educator living in the Bancroft Neighborhood of Mpls and my art home is in the Northrup King Building where I settled in over 20 years ago before the walls went up on the 4th floor. I chose my space for its cheerful exposure and fantastic view of the downtown sky line! Stop in for a visit in NKB Studio/Gallery 425 and I will share the view with you!
So, for my credentials:   I was first educated at the University of Minnesota where I graduated summa cum laude with a BFA degree in drawing and painting.  I then joined WARM and set out to learn from the great women mentors there, taking on every challenge offered. My jobs (learning opportunities) include exhibition chair, Fresh Art Coordinator, Membership Chair' and eventually the Chair Woman of WARM Board of Directors.   Through a WARM Max Grant, I became an adjunct professor at Hamline University to teach teachers in southern Mn. how to teach art in the class room. I learned a lot! I also accepted the opportunity to mentor a young woman at El Colegio Creative Arts High School. I taught her how to see herself differently through the art we made together, and she taught me about diversity and how art really can change a person's world!
I think you can see a theme here. For me, art making continues to be a learning experience. I enjoy trying new things, experimenting with new ideas, everything is an art supply and there is nothing I won't try because, for me, art making art is about discovery. Or, maybe I am just ADHD. I don't know. What I do know is how to make a really big mess and that is always a good start!
salmela.laurie@gmail.com   https://www.facebook.com/Gallery425.com  https://www.instagram.com/lsalmelaart/
---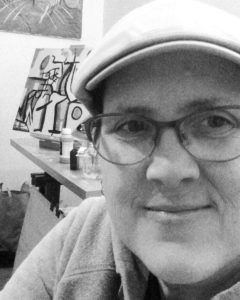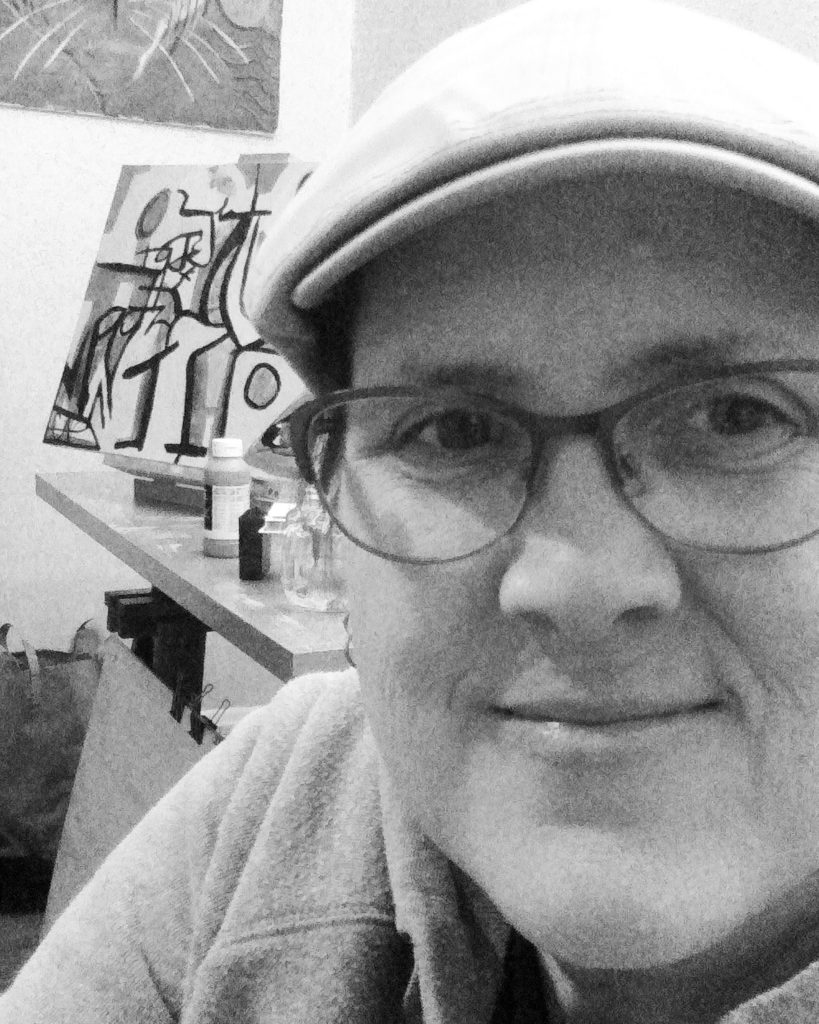 Catherine A Palmer BFA

University of Minnesota Minneapolis, MN While I have been at the business of making art for as long as I can remember, my work as a student began in earnest in 1987 when I was awarded a scholarship to the Split Rock Art program. Since then, my study has led me from the precepts of life and figurative drawing to the freedom I have found in theory and an abstract vision. In other words, you need to know the rules to break them. And in the process of doing so, catharsis is found. My starting place is color; color leads me through space to composition. My subject matter can be identified as a conversation with the world I live in, influenced by feminism, personal circumstance and the on-going attempt to create a pure art object, one that exists solely for the experience of the beholder. I have shown my work in Minneapolis since 1997 in Galleries, Community Colleges and Coffee Houses. As a result, my paintings are held in personal collections across the United States and in Norway.
Artist Minneapolis