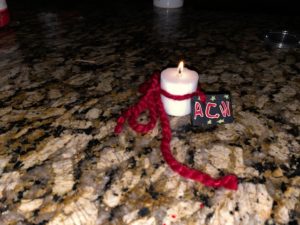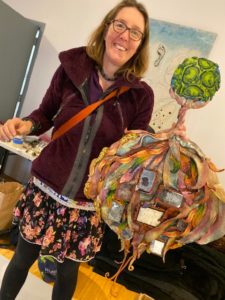 Be The Light Action Responses.  Thanks to Layl McDill for creating the artworks which the visitors received for sharing their responses.
Holiday Light? Holiday Dark? enjoyed 450 visitors! We earned over 100 action pledges, seven new members, two new non-profit partners and two new ACW Board members. When I apply for grant money,  they ask, with some justification,  "How do you know that your art is "changing" anything? People come and drink your wine and eat your cheese, but how do you know you are moving them to action?  Check the responses:  https://www.arttochangetheworld.org/preparing-for-the-event/
I executed a quick analysis on the action responses for emerging trends. Outcomes:
Political: 13
Listen to/care for/be kind to/patient with others 29
Volunteer my hours and services 13
Environmental 10
Use art to spark social discourse 20
Challenge Disinformation/speak up 6
Religious 5
Smile more 5
Stay sober 1
Take personal inventory 3
Dream Big/Learn new skills to serve 13
Thank you to the following ACW members who illustrated that we are a true collective: Ann Meany (sales chair) , Suyao Tian ( Curator)  Kristi Hemmer (Bartender) Anya Achtenberg (writing workshop) Linda Lade (storyboard) Clifford Nessith, Malcolm Potek and Tim (muscle) and Greeters:  Jill Stebbins, Abbey Facer, Margo Ashmore, Anne Kleinhenz, Dana, Jean Schueneman, Andrew Braunberger, Wen Wen Manfred, Jean Schueneman
Check out the Holiday stories on the same link.  Some of them were truly heartbreaking.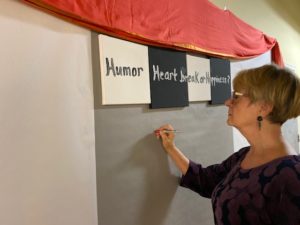 Humor, Heartbreak, Happiness Stories
Thanks to Linda Lade for creating the opportunity for people to share their holiday stories.