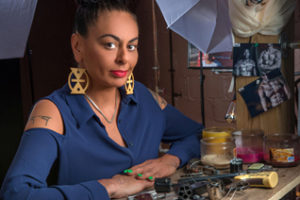 Nikki McComb's public safety campaign titled  #ENOUGH uses art as a catalyst for change and social disruption. Taking on the trenchant problem of illegal firearms, McComb uses photographs and video to reach people from the street level to the legislative arena and to help provide communities an outlet where they feel safe enough to seek help, empowered enough to give help, provoked enough to work harder to unify, and unified enough to make change collectively through art. For seventeen years, McComb has applied her artistic interests and skills to working relentlessly in North Minneapolis and surrounding communities in youth and family achievement. In addition to being an art educator, she has organized exhibitions, including Art Is My Weapon, a program whereby local artists select decommissioned guns to then create new work for display. McComb is  a 2017 recipient of The Jerome Hill Artist Fellowship, a 2016 recipient of a Micro Grant for photography and a 2014 and 2015 recipient of several community leadership awards.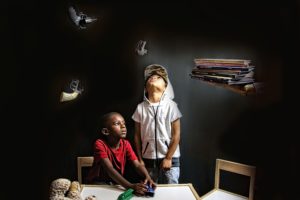 Choices 1 and 2
The photo stories are made to raise awareness in these areas:
Remembering forgotten victims taken by gun violence in Minnesota
Prompting people with information being compelled to come forward in unsolved cases
Reaching policy makers and elected officials to support the campaigns efforts
Ensuring community is aware of unsafe gun laws being authorized within legislation
Reaching those who need help in removing themselves from dangerous living situations or barriers that may have them feeling the need to possess and use illegal weapons in crimes against others
Sharing stories of mental health and other underlying issues that lead to violence
Giving those who suffer from any of the topics of focus a voice to use through art
Pricing
The three part series titled choices is 600.00 each piece in this series  –  sized at 24 x 36 silk matte and unframed. Framed= 750.00 total. Additional charges for delivery. 
Other works with a human body of a real person are 400.00 for a 24 x 36 silk matte framed work. 
Read More
URL(s): http://enough411.com
https://www.facebook.com/enoughMPLS/