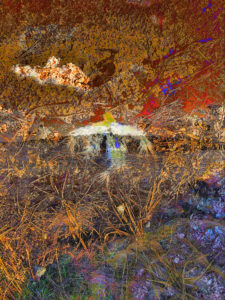 I am a hyper inventive geek, exploring and abusing artistic mediums, with the deepest knowledge in fibers, dyes, and iPhone apps. I fuse color and texture into meaning. I rambunctiously play with imagery and motion using anything I can find. I use fiber content with its drape; dyes and paints with their specific colors; and apps in the iPhone for their meaning. I am curious and cross-sensed. I see music's patterns and shapes; I touch between spaces and time; I smell emotion. Order is a glommed ball where I need story, or tree roots unraveling it. Only then can I see its pattern and motion. I can show what it is I see, hear and sense with fiber content's motion, using color, and with the phone's photo apps. I want everybody to smell what I see, and taste what I know.Physics, now, has the words and theories that I've sensed my entire life – multi-layered universes, dark matter, and gravitational waves that traverse as branches and leaves or as neurons in the brain. These concepts, and their shapes can translate what I see into a working reality.My favorite art works are the cave paintings, shaman works, and over 6000 years old pieces in China, Old Europe, Africa, the Americas. Chagall is my favorite painter. Erte, Zandra Rhodes, Issey Miyake and Alexander McQueen are my wearable artists influences.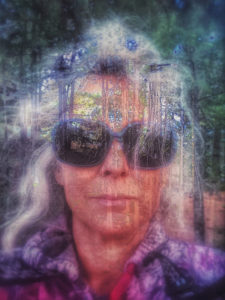 I feel my work is closer to Outsider Art in its unspoken spiritual content, in contrast to our culture's values that are destructive to nature. Nature is cooperative in the "circle of life". Death and growth are a whole, a flow, a movement in balance. Grace and Beauty can be chosen at each breath. I want my work be the healing beauty, a natural force that audiences participate in.
Education
Colleges & Continuing Education
University of Minnesota – Beginning Printmaking with digital processes (2016)
Minnesota Community Technical College. – Fashion Draping & Welding (2009)
Minneapolis College of Art and Design Women's Art Institute (2000)
The Evergreen State College, Olympia, WA. – Bachelor of Arts (1976)
University of Minnesota (1973 – 1974); Macalester College, St Paul, MN – Liberal Arts (1971 – 1974)
Workshops
Textile Workshops: Textile Center; University of Minnesota, Quadna – Textile Design and Fabrications
Guthrie Theater – Stage Costuming, Storytelling, and Cabaret Performing
Photography: Lightworks; Minneapolis Institute of Art – Film and Digital Photography and Fashion Design; Minneapolis Photo Center – Large Format Digital Printing
Northern Clay Center & Minnesota Center for Book Arts – Papermaking and Art Box Construction
Awards
City of Hopkins' Art Street Public Art Program – "Human and Earth History" panels selected to appear on the outside wall of the Hopkins Center for the Arts, won Children's Choice Award (2013).
Honorable Mention award for WARM @ 40 Anniversary Exhibit (2013); Jurors Award for Tree Coat in Nothing New Exhibition at Textile Center (2007); Historical Society Purchase Award in Textile Center's Art In Motion (2005).
Governor's Award,(1983) with Beverly Gold at the first Governor Perpich sponsored Fibers Fair with the Minnesota Craft Council at Calhoun Square, Minneapolis, Minnesota.
Professional Experience
Solo Shows: Westfield and Hudson Hospital and Clinic Healing Arts Program, Digital Illustration Work (2017, 2015); Yoga One Studio ; Digital Illustrations (2014); Frank Stone Gallery; Retrospective (2007); Southeast Dinkytown Library, 3 Solo Exhibitions of Digital Illustrations and Fabric (2015, 2013, 2010)
Group Shows: Abstract; Minneapolis Photo Center, Digital Illustration; WARM Guerrillas: Feminist Visions Exhibition, Digital Illustration; Silverwood Park There's No Escape Where Nature Technology Intersect Exhibition and, Digital Illustration; NEMAA Wintertide Biennial Exhibition, Digital Illustration, 2015; Phipps Center for the Arts Group Exhibition February (2014 & 2005); State Fair Fine Arts Show (2013, 2012, 2011); Nothing New: Recycled Exhibition, Textile Center (2007); Wearable Arts Minnesota Group Exhibition at Textile Center (2015, 2013, 2004); Wearable Art Show at Lincoln Center in Fort Collins (2004, 2002; Surface Design Convention (2011); Eye of the Beholder show in Anchorage, Alaska (2012); Two Branches; One River with Painter Kathy Staszak at Albert Lee Art Center (2006)
The Embrace of the Eternal Feminine, wearable and wall art show coproduced with Jill Waterhouse, White Bear Universal Unitarian Church (2014).
Costume and projection video for Zorongo Flamenco Dance Theatre's production Blood Wedding (2016); Costumes for Zorongo Flamenco Dance Theatre's production Lorca's Women (2016); Digital illustration and Costumes for Zorongo Flamengo Dance Theatre's production ConVivir – 7 Dances to a More Compassionate World(2014); Costumes and digital projection stills for Interference Arts' production  Elijah (2016); and It is She Who I See (2012); Digital illustrations for Katha Dance Theatre's production Rubaiyat – a Life in a Day (2014).
Marcy-Holmes Fresh Boxes Grant – utility box wrap in Dinkytown, Minneapolis, MN (2014).
Textile Center: Dye Lab Artist (2007 – 2009); class teacher (2007 – 2016); Custom drapes and fabric for the building; Artwear in Motion Runway Show and Boutique (1996 – 2006)
Costumes for Ballet of the Dolls (several shows), Xelias Aerial Arts, Circus Juventus, and many Twin Cities dance and aerial arts performers; stage elements and art pieces for Awe in the Family: Interpretations in Space of Time by Carei Thomas; Penumbra's "Black Nativity" and Theatre de la Jeune Lune's Medea
Teaches sewing, (garment design and construction) after school at Marcy Open School (2015-2016) and Medieval Costume at Augsburg College Medieval Summer Camp for high school age students (2010-2014)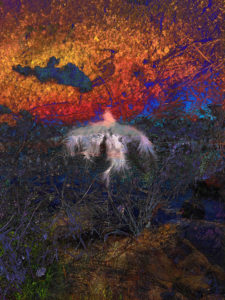 Professional Organizations
American Crafts Council, Textile Center; Women's Art Registry of Minnesota; Surface Design Association; Wearable Arts Midwest; Women's Caucus for the Arts
IMAGE LIST; all work made on IPHONE; framed/matted ; 16"x 20";  archival printed
1.Roots and Wings; Water
2.Roots and Wings ; Sky
3.Roots and Wings ; Cave
4.Roots and Wings ; Dream Grass
5.Roots and Wings ; Dream
Candy Kuehn        718 6th Street SE, Minneapolis, MN 55414-1318 USA        phone: 612-272-1626
email: candy@kolmon.com