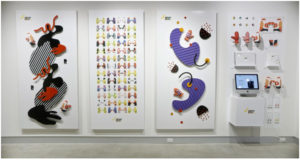 In her fine art reach she creates a unique style of watercolor painting, mainly using watercolor medium while also using different pen marks to define the details of each painting to give the audience layers and depth of the painting.
Her creative process is to extract the fragments of memory and separate, reorganize and integrate them. This process is her communication with them, and a process of self release and expression. These peculiar images often appear in her memory, dreams and subconscious imaginations, so she uses abstraction to catch a moment, feeling, and unclear form when they appear in her mind. She uses bright colors to celebrate her freedom! That becomes her identity to speak out to the world. https://saveig.com/suyaotian/ IG: @suyaotian
She had professional working experience at MCAD gallery for a while, and recently she started to practice her curation projects. She curated DIALOGUE art exhibition, inviting 23 established and emerging artists from MN to bring their work from different perspectives and directions in order to create compelling stories and conversation about Art, Immigration, Citizenship, and Identity.
She believes art can change the world and wants to use her passionate love of art to collaborate will all the talented people to make the world be a better place.