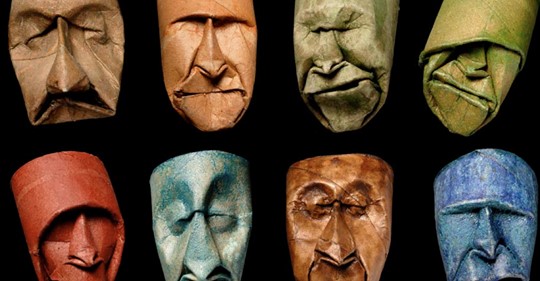 IS this art? YES!
All you need is a  paper TP roll,  water, your imagination and something to make your mask unique!
$100 1st prize, $50 and $25 -third and fourth. Three person review committee.
No entry fees. Do not need to be an ACW member to submit.  Not meant to be worn.
Send  a picture of the TP roll mask to info@arttochangetheworld.org to submit by June 5, 2020.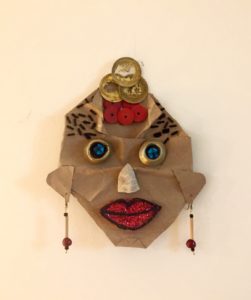 Theresa Paul is a jewelry artist who lives in North Dakota. She and her husband, Don..also a jewelry artist and a sculptor, have taken inspiration from their travels, their love of nature, the Prairies and the Caribbean. www.prairiepaulsstudio.com.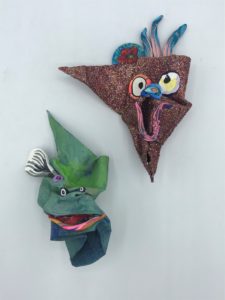 Layl McDill
"What could be more fun than putting clay eyeballs on a toilet paper roll! Well a little glitter of course!  One of my recent series of art has been turning teapots into creatures so this was a fun challenge to try.
In this current challenging time we need any little bit of joy and distraction we can get.  This was fun way to let loose and see what my studio supplies would become when added to a once humble now revered toilet paper roll."   layl mcdill.com
Not in Contest.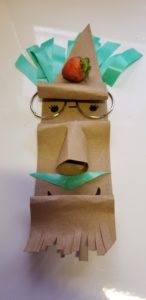 Gail is a retired school counselor who is now focused on learning the art form of Improv. The mask is made from a paper towel roll, key rings, and ribbon from a present sent to her by Barbara Bridges. Barbara can improvise art from anything at all, just like stage improvisers!

Barbara Bridges loves beads and a
"busy" aesthetic.
She used fur that she bought for
Chely's Dolls in Barra de Potosi.
Barbara is an assemblage sculptor.
Re-use, re-purpose, re-cycle!
Read more about Barbara: 
Not in the contest.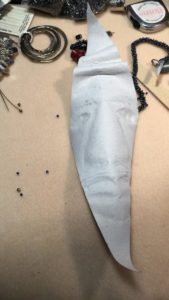 Joanne Purchase is
classic and elegant.
Herbert the Wolf  -Ray Age 5