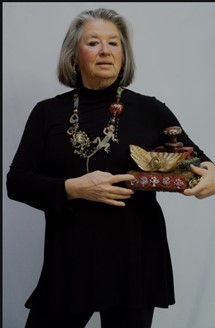 Barbara Rogers Bridges – Director
Barbara Rogers Bridges Founder and Director of Art to Change the World
Barbara has been an artist and a teacher/college professor for over 40 years. Her social practice sculptures have been exhibited in Maine, Miami, the Virgin Islands, Maryland, Chicago, Mexico, Spain, Canada, and throughout Minnesota.
Bridges taught K-12 art in Minnesota, Maine, and the Virgin Islands. She was voted Art Teacher of the Year twice in Minnesota.
Barbara has partnered with various Minnesota institutions such as the Minneapolis school district, the Minnesota online high school, Perpich Center for Arts Education, the Walker Art Center, the Mpls. Institute of Art, the Weisman Museum, and the Minnesota Museum of Art.  The online curriculum site and discussion group, ArtsNet Minnesota, came out of those collaborations.
Barbara has served as a professor for twenty years at the university of Minnesota and Bemidji State University and has contributed in a variety of ways. Her appointment includes teaching Foundations of Education, Human Relations and Critical and Creative Thinking and also serving as the architect of the unique DLiTE (Distributed Learning in Teacher Education)  – a hybrid online K-8 teacher licensure partnership program and the FasTrack secondary initiative designed for previously degreed candidates who wish to teach high school. These programs were the first online teacher licensure programs in the nation.  Artist    Minneapolis, Minnesota and Zihuatenjo, Mexico   Read More
---
Lucienne "Lucy" Schroepfer
Originally from Cambridge, MA Lucy was steeped in the arts through childhood. Originally focusing on music, she discovered fabrics and sewing 20 years ago and has never looked back.
Lucy starts each morning in her studios at 5 am. On good days, post her day job in the performing arts, she is back in the studio.
Whether experimenting with patchwork and color, creating fabric paintings, or long-arm quilting- her work typically showcases bold colors with a broad bouquet of thread and texture. Inspiration comes from places, books, and the fabric itself. Most fun for her is to witness the surprise from folks realizing, only up-close, her paintings are in fact fabric. Often framing without glass, she reminds folks her art is washable.
Lucy is a member of the Minneapolis Modern Quilt Guild, MN Quilters, Dakota Star Country Quilters, NEMAA, St. Paul Art Collective, and the Mpls, Textile Center. She lives and studios in Saint Paul with her husband, three teens, and mutt "Lulu".
651-231-0984    Quiltlucy@gmail.com  www.lucequilts.com   Instagram/ Facebook- Luce Quilts
---
 Layl McDill
grew up in Gillette, Wyoming where she began creating at a very young age. Her early works were dollhouses, marionettes and even an entire "Smurf Village".  Layl received her BFA in Illustration from the Columbus College of Art Design but she found it more exciting to make sculptural work and sell it through galleries and art fairs.  She has exhibited her work around the country since 1994. Polymer clay has been her medium of choice using the millefiori technique and some mixed media materials added.  The theme of wonder permeates her sculptures that are covered with endless details.  Her work can also be found in numerous books and publications. Selected recent awards include 2nd Place Overall at Arts North International 2021, Best in "Blue" at "Primary" Banfill Locke Center for the Arts 2021,  Best in Sculpture, Edwardsville Arts Fair 2018 and 2019.
Social media: https://www.facebook.com/layl.mcdill
Tiktokk.com/@laylmcdill    
Twitter: @laylm
---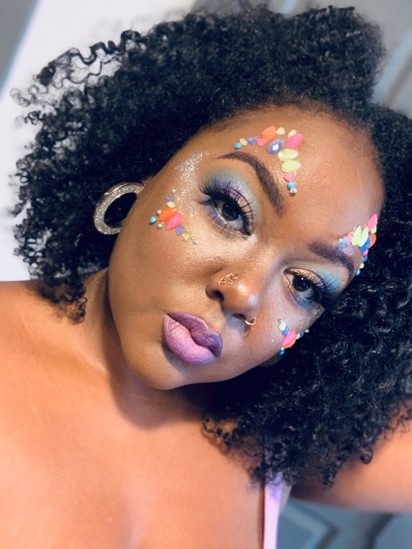 Briauna Williams  Minneapolis Native.
A graphic design graduate that has been drawing since the age of five.  Always having the dream of wanting to change the world with her work. Briauna, colloquially called Brii Noir she is an all round creative most of her work she's wearing the hats of an acrylic artist, muralist, henna artist, teaching artist and community engagement artist. She draws inspiration from her family, social Justice and nature.  Using paint to tell stories, Ones of empowerment, and resilience.  Briauna began painting as an outlet in 2017 she found it very therapeutic and it soon began to open many doors for her and her work. Soon blossoming into a platform to share her tools of healing with community through her many self curated events. Briauna Is now hosting events and painting murals throughout the Dfw area as well as Minnesota.
Her Words of Inspiration; "Never lose touch of the little person deep within"
#ArtIsLife #Briinoir
Website: Www.BriiNoir.com
IG: www.Instagram.com/briauna.williams
Email: BriiNoir.heart@gmail.com