Back to Maker Space Landing Page
Schedules
Addresses
Haven Housing:  1803 N Bryant Ave, Minneapolis, MN 55411
Creating the Maker Spaces. Read about the artists:  https://www.arttochangetheworld.org/13771-2/
Classes start again in Spring 2023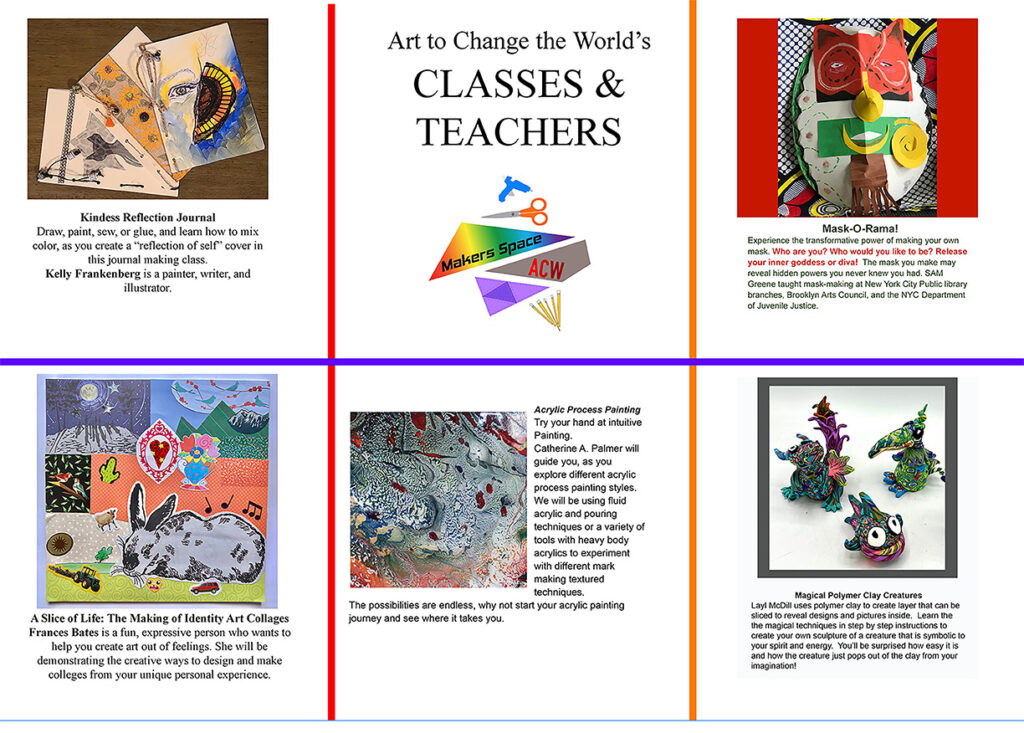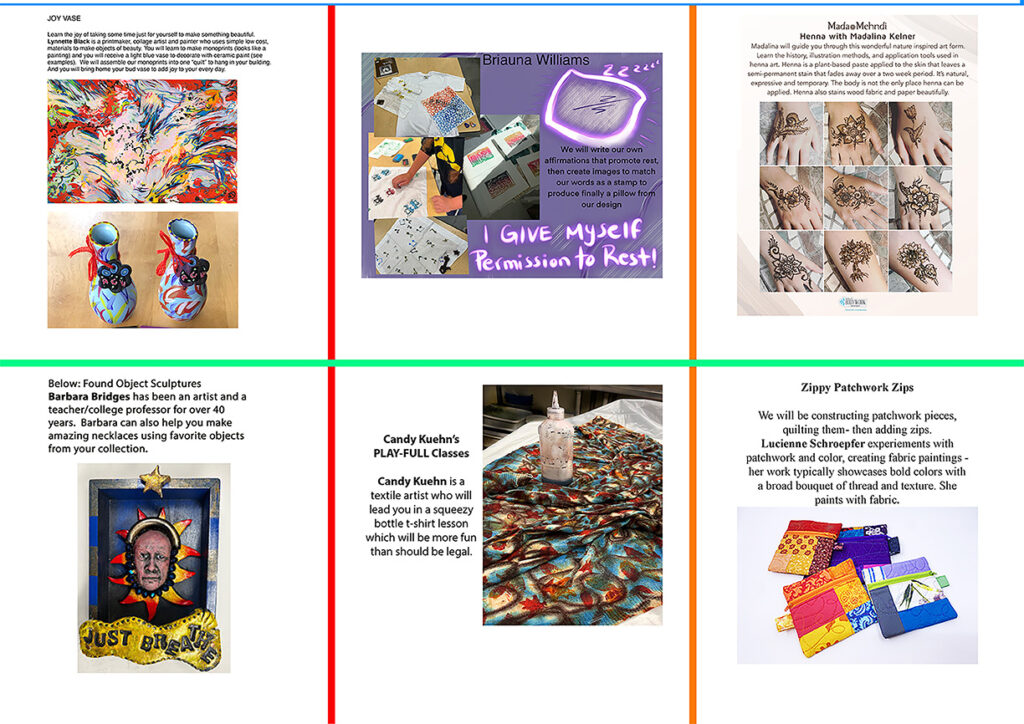 _______________________________________________________
Artists:  Read All of this message, Thanks!  Includes:
1.Bookmark the website
2. Schedules
3. Supplies  – Make an envelope for your supply receipts. Due Sept 14
4. Bring your $100 art work and another work for sale for each site.
5. Bring another big work for sale.
6. Each art work displayed must have a deconstruction statement
DETAILS BELOW
1.Thank you so much for all who submitted their bio and picture, lesson plan and other paperwork.  Bookmark our Maker Space project page.  This is how ACW keeps track of the hundreds of details (and edits) associated with our various projects. Email is not always reliable these days. Always check here on our Maker Space project page:  https://www.arttochangetheworld.org/maker-space-project/  We generally have 5 or 6 projects going at any given time.  The Project Page model is the only way I have found to keep the data up to date and manageable from my end. Thanks!
Here is the schedule /  Note that the times are a little different at the YMCA.
September 6  YMCA    5:00-7:00   Barbara, Sam, Katie, Layl, Briauna, Frances, Lucy 2, Candy
September 7 Haven House 5:30-7:30    Kelly, Barbara, Layl, Madalina Frances, Lucy 3, Candy
September 9  Haven House    5:30-7:30    Katie, Lynette, Barbara, Madalina  Frances
September 13 YMCA  5:00-7:00  Lynette, Barbara, Kelly, Briauna, Frances , Lucy, Katie 2
September 14, 2022  Haven Housing 6 PM.  Healing Curriculum session with Sandra Reardon
What I need next:

3. Supplies.  Buy the supplies that are unique to your lesson before your first Maker Space room renovation.  Bring your supplies to put in the 2 rooms. I will make an HH box and a YMCA box.  After we see what we get for donated supplies and what you bring Sept 6 and 7 we will all have a better idea what we still need for the project.  I have money to buy tools and non-consumable art supplies like drills, caulking guns, scissors, papers, rulers, markers etc etc. .  We will build a list of these infrastructure supplies as we build the rooms.
September 14 Reimbursement for Supplies:  Please total the receipts and put your name and the total on the outside of an envelope.  You have $200 to spend for BOTH rooms. $200 Total.  Not $400.   You will have from 6-8 students in each class (or less). Buy for that. Most of you will be teaching 2 classes but stay fluid on what that second lesson will be.

4. Bring your $100 artwork ready to hang.  We have $100 to pay but please bring a work that is worth that or more!   We want these works to be inspirational.  They should be finished and ready to hang.

5. Also… consider bringing a work for sale… make it a good one… these are for inspiration.
All works brought should have a deconstruction statement. Let's honor our participants by inviting them into our creative process… this will empower and inspire them.
Your Name
Title
Media
Description for what this work is all about.  The $100 work should also say:
Attend 4 lessons and take me to your home.  Should we make a card they can collect a stamp or sticker to track their attendance? Who would be willing to create this? Need a volunteer.
The work for sale should have a price listed so they can get the idea of what artworks are worth. I plan to hang one large work in each space..
PLEASE MOUNT YOUR STATEMENT ON MATT BOARD OR FOAM CORE