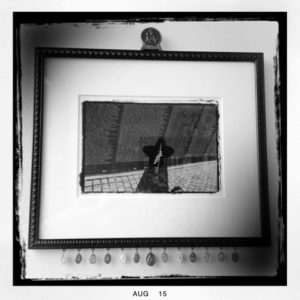 Energy Never Dies it Only Changes Form
Vietnam Memorial, Washington D.C.
Traditional Handprinted Darkroom Silver Gelatin Print & Objects of Protection
+ Anne Kleinhenz +
Mixed Media Artist
+ akleinhenz@mac.com + 206.409.4140 +
Artist Statement  "My first art memory was seeing "The Large Blue Horses" by Franz Marc at the Minneapolis Institute of Art, when my parents took us there as children. I was mesmerized and somehow knew then that art would always be a part of my path. Later, when a decision had to be made about my major in college, it was pure intuition that landed me in the Studio Arts department at the University in my Motherland state of Minnesota. Before being moved by blue horses, my dream was to become an archaeologist. Digging in the dirt and collecting agates were original passions. To seek stuff buried in the dirt. That would be a life of travel and dreams come true. Eventually, the road of fate would bring me to a point of intersection between science and art."
Anne Kleinhenz is a photographer and mixed media artist currently working out of her studio home at the A-Mill Artist Lofts in Minneapolis, Minnesota. Anne received a Bachelor of Fine Arts with Summa Honors in Photography, in the College of Liberal Arts at the University of Minnesota, Minneapolis campus. She is a past recipient of a Jerome Foundation Travel and Study Grant to Tirana, Albania, where she was part of an exhibit at the National Gallery in Tirana. She took a sabbatical from her full-time career in the Advertising industry, and while a single parent, to participate in an Art in Greece study and travel abroad program through the University of Minnesota. There she fell in love with icons, and her passion for spiritual art was resurrected.
Anne's art has been exhibited in galleries and museums in Minnesota, Washington, Alaska, Greece and Albania. Her work was included in a juried competition at the Katherine Nash Gallery during her studies at the University of Minnesota, and one of her pieces was awarded first place in the annual recognition program and was selected to be included in the permanent collection at the Weisman Art Museum. In addition, her work is included in private collections in Minneapolis, Seattle, Chicago and Anchorage. Anne participated as a Protégé with mentor Jill Waterhouse in the 2013-2014 cycle of the WARM (Women's Art Resources of Minnesota) Mentor Program, which culminated in a group exhibition at the Grain Belt Brewery art gallery. She also was the project manager and print producer on the catalog called "Beneath the Surface" for this WARM mentor cycle, where she was able to collaborate skills that encompassed her professional corporate career with her emerging art career.
Anne is a member of WARM (Women's Art Resources of Minnesota), in addition to NEMAA (Northeast Minneapolis Arts Association). She has also been involved with volunteer work with Art Buddies, a local Twin Cities group that mentors inner-city grade school children to activate an interest in arts related career options. Other arts community activities include volunteer work at the International Gallery for Contemporary Art in Anchorage AK, and volunteer mentor and panel participation in ASMP (American Society of Media Photographers) and the Seattle Central College in the Visual Media program focusing on Commercial Photography careers.
Her artist statement notes that photography is the foundation and conceptual groundwork from which she creates visual memories anchored in personal and universal narratives. Images are the nucleus for commemorative stories that meld and honor power filled spiritual icons and vintage everyday repurposed objects. Her art is a mixture of photography and archaeology.
The remnants of nature and the relics of humanity are fundamental elements of her art form. Travel pilgrimages and ancestral origins beckon Anne to investigate the mysteries of the interconnectedness of all forms of energy and light.
It is soul activism that captures her passion through art. Forward into Light is a main mantra. How to find light in a dark place. As the Dalai Lama has said "Peace in the world depends on peace within…external disarmament depends on inner disarmament." Democracy can die in darkness. Art is a source of light. May peace and the spirit of compassion, dialogue and respect reign in all human hearts.
Anne Kleinhenz
St. Annie Alchemy
A-Mill Artist Lofts
315 Main St. SE #502
Minneapolis MN 55414
Project Management
Print Producer & Art Producer
Professional Multimedia Artist
akleinhenz@mac.com
C: 206.409.4140