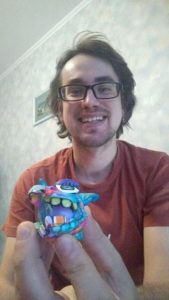 ACW really enjoyed the visit arranged by Global Minnesota on request of the State Department. Ukraine museum curriculum specialists visited my studio and we talked about social justice art and what are are doing in ACW. I was nervous about welcoming an international delegation into my very unconventional situation here at my studio but we all seemed to benefit from the interaction!I invited them to take a talisman from my Recovery work TODAY, I'm Alright.  The Know Your Biology  skeleton key and Layl' McDill's Device Monster were favorites.
I need to give a special shout out to the interpreter,  Peter Voitsekhovsky.  He was incredibly patient with my ramblings and was very supportive of their overall experience.  He  helped make everyone feel comfortable.
Thank you, Barbara! Your studio is wanderful and cozy. I'll think about our connections in future, maybe your mission and artworks will inspire someone else in Ukraine, like it inspires me.  Keep in touch! Olha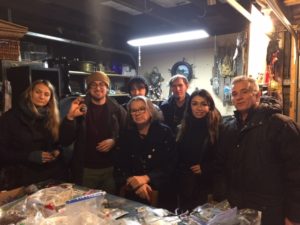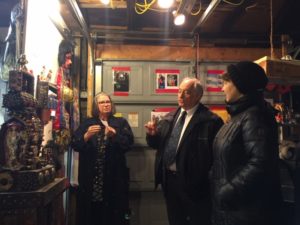 Dear Ms. Barbara Rogers Bridges,
During our stay in the United States in Promoting Social Change through the Museums (A Program for the U.S. Embassy in Ukraine), you were kind enough to say that I could write to you. I am taking this opportunity to tell you about my safe return.
On behalf of Olena, Zariema, Yaroslav, Olha and myself, please accept our sincere appreciation for a great opportunity to visit your house, take on the experience and the chance to meet of you.
In closing, mere words can not exist to all of you how we felt about our visit to your city. We will always cherish the memories.
Sincerely,   Andrii Bryzhuk.