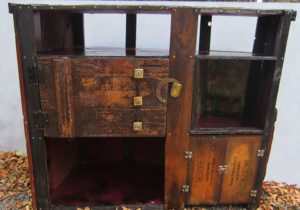 Triangle Cabinet  2014  NFS
48″W X 42″T X 24″D
Mixed Media, NE Minneapolis 1920's fence,
antique hinges, dynamite box, solid brass Kohler parts,  Con Man Print
This cabinet was designed for a difficult under screen triangle corner and was created using rescued objects from the streets of Minneapolis, wooden dynamite boxes, stained glass, Kohler brass, 130 year old aged fence wood and architectural salvage warehouses. The carpentry is very skilled and finished and all is sealed in matte boat epoxy for durability and a clean non-shedding surface. Many one-of-a-kind details including original art work. I am eager to use YOUR objects for a custom made art work.  .Many one-of-a-kind details including limited edition print Con Man here. 
Will incorporate your historical power/memory objects.