Description
Warrior Nation  Signed by  Anton Treuer
Book – Signed Copy
$25.00  (includes  shipping)
Contact:   Anton Treuer assistant@antontreuer.com
The Red Lake Nation has a unique and deeply important history. Unlike every other reservation in Minnesota, Red Lake holds its land in common—and, consequently, the tribe retains its entire reservation land base. The people of Red Lake developed the first modern indigenous democratic governance system in the United States, decades before any other tribe, but they also maintained their system of hereditary chiefs. The tribe never surrendered to state jurisdiction over crimes committed on its reservation. The reservation is also home to the highest number of Ojibwe-speaking people in the state.
Warrior Nation covers four centuries of the Red Lake Nation's forceful and assertive tenure on its land. Ojibwe historian and linguist Anton Treuer conducted oral histories with elders across the Red Lake reservation, learning the stories carried by the people. And the Red Lake band has, for the first time, made available its archival collections, including the personal papers of Peter Graves, the brilliant political strategist and tribal leader of the first half of the twentieth century, which tell a startling story about the negotiations over reservation boundaries.
This fascinating history offers not only a chronicle of the Red Lake Nation but also a compelling perspective on a difficult piece of U.S. history.
---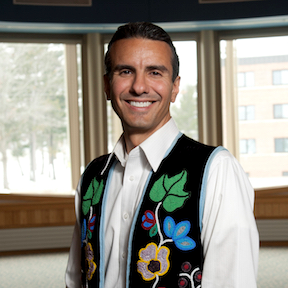 Dr. Anton Treuer (pronounced troy-er) is Professor of Ojibwe at Bemidji State University and author of 14 books. He has a B.A. from Princeton University and a M.A. and Ph.D. from the University of Minnesota. He is Editor of the Oshkaabewis (pronounced o-shkaah-bay-wis) Native Journal, the only academic journal of the Ojibwe language.
Dr. Treuer has presented all over the U.S. and Canada and in several foreign countries on Everything You Wanted to Know About Indians But Were Afraid to Ask, Cultural Competence & Equity, Strategies for Addressing the "Achievement" Gap, and Tribal Sovereignty, History, Language, and Culture. He has sat on many organizational boards and has received more than 40 prestigious awards and fellowships, including ones from the American Philosophical Society, the National Endowment for the Humanities, the National Science Foundation, the MacArthur Foundation, the Bush Foundation, and the John Simon Guggenheim Foundation.
His published works include Everything You Wanted to Know About Indians But Were Afraid to Ask, Warrior Nation: A History of the Red Lake Ojibwe (Winner of Caroline Bancroft History Prize and the American Association of State and Local History Award of Merit), Ojibwe in Minnesota ("Minnesota's Best Read for 2010" by The Center for the Book in the Library of Congress), The Assassination of Hole in the Day (Award of Merit Winner from the American Association for State and Local History), Atlas of Indian Nations, The Indian Wars: Battles, Bloodshed, and the Fight for Freedom on the American Frontier, and Awesiinyensag ("Minnesota's Best Read for 2011" by The Center for the Book in the Library of Congress).
Supporter/Educator, Author  Bemidji Minnesota