Description
Nishiimeyinaanig  Signed by Anton Treuer
Book – Signed Copy
4th grade reading level
$25.00  (includes  shipping)
Contact:   Anton Treuer assistant@antontreuer.com
Through the Aanjibimaadizing Project, an initiative of the Mille Lacs Band of Ojibwe, sixteen first speakers have teamed with linguists, teachers, and Ojibwe language experts to create this new literature for Ojibwe language learners. Conceived and presented only in Ojibwe, the stories reflect a rare authenticity as they transmit cultural values, increase vocabulary, and reinforce identity. Nishiimeyinaanig (Our Little Siblings) was written for teachers, students, and Ojibwe language and culture enthusiasts ages ten and above.
In these twenty-six charming and original stories, animal characters act foolishly and bravely, show wisdom and weakness, and have funny and surprising adventures. Join cunning Waagosh (Fox) as he finds ever more creative ways to trick rabbits; the famous Gaazhagens (Cat), who manipulates children and entertains their grandmother; and a menagerie of animals engaged in sport, game, and life lessons of all kinds. This is Ojibwe entertainment at its finest. Agindaasodaa (let's read)!
Copies adopted by Margo Ashmore, Barbara Bridges, Youthprise, Wen Wen Manfred
__________________________________________________________________________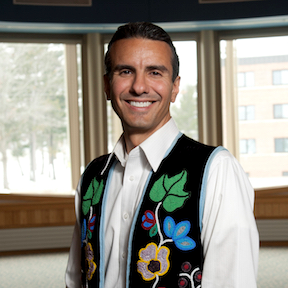 Dr. Anton Treuer (pronounced troy-er) is Professor of Ojibwe at Bemidji State University and author of 14 books. He has a B.A. from Princeton University and a M.A. and Ph.D. from the University of Minnesota. He is Editor of the Oshkaabewis (pronounced o-shkaah-bay-wis) Native Journal, the only academic journal of the Ojibwe language.
Dr. Treuer has presented all over the U.S. and Canada and in several foreign countries on Everything You Wanted to Know About Indians But Were Afraid to Ask, Cultural Competence & Equity, Strategies for Addressing the "Achievement" Gap, and Tribal Sovereignty, History, Language, and Culture. He has sat on many organizational boards and has received more than 40 prestigious awards and fellowships, including ones from the American Philosophical Society, the National Endowment for the Humanities, the National Science Foundation, the MacArthur Foundation, the Bush Foundation, and the John Simon Guggenheim Foundation.
His published works include Everything You Wanted to Know About Indians But Were Afraid to Ask, Warrior Nation: A History of the Red Lake Ojibwe (Winner of Caroline Bancroft History Prize and the American Association of State and Local History Award of Merit), Ojibwe in Minnesota ("Minnesota's Best Read for 2010" by The Center for the Book in the Library of Congress), The Assassination of Hole in the Day (Award of Merit Winner from the American Association for State and Local History), Atlas of Indian Nations, The Indian Wars: Battles, Bloodshed, and the Fight for Freedom on the American Frontier, and Awesiinyensag ("Minnesota's Best Read for 2011" by The Center for the Book in the Library of Congress).
Supporter/Educator, Author  Bemidji Minnesota