Don Scott, singer, songwriter, guitarist, rack harmonica and all-around seasoned blues man has been performing for 47+ years throughout the US, the UK, Europe, Asia and Mexico. Minnesota native and disabled Vietnam vet, Scott started the legendary Dust Bowl Blues Band in 1970 and never looked back. Over the years he's shared the stage with Lazy Bill Lucas, Mighty Joe Young, The Legendary Blues Band, James Harmon and William Clark to name a few. His musical influences include Sonny Terry, Brownie McGee, T-Bone Walker, Count Basie, Big Bill Broonzy, Etta Baker and Richard "Hacksaw" Harney. Whether in a full band or solo, and now duo with Rosanne Licciardi on percussion, Scott is well schooled in the idiom. He has 7 studio CDs to his credit with a Minnesota music award for best blues recording in 1997 and an IBC nomination in Memphis for winning the best Blues recording for the Minnesota Blues Society in 2013. Scott has been nominated for the Minnesota Blues Hall of Fame 2017.
Percussionist, Rosanne Licciardi grew up in the musical scene of Rochester, NY in the 60's. She studied and performed classical and jazz piano for 25+ years winning numerous awards in music and also art and theater. While playing bugle in a competition drum corps, Rosanne kept her eye on the drums. She founded "Soiree Africaine," a nightclub venue bringing in musicians from Senegal, Zaire and Brazil. She spent a lot of time in the African discotheques in Montreal so by the time she met Scotty and his blues in 2012, she was ready to combine the various rhythms of her life in more ways than one. They married in 2014. She joined him on drums a year later.  Rosanee and Scotty CD Cover
Blues Festivals: Blues On The Chippewa, Durand, MN; Bayfront Blues Festival, Duluth MN; Blues on Belgrade, Mankato, MN; Smokin' in Steele BBQ and Blues Festival, Owatonna, MN; Mississippi Valley Blues Festival, Davenport IA; Tucson Blues Festival, Tucson, AZ, Pecan Festival, Florence, SC
New CD!  See Objects for Adoption to purchase.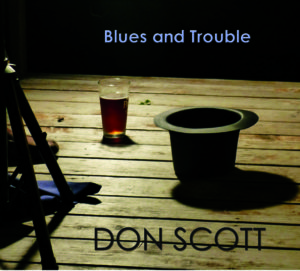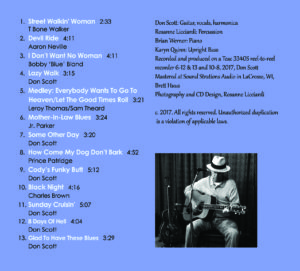 2013 interview by Michael Limnios: http://blues.gr/profiles/blogs/interview-with-veteran-minnesota-native-don-scotty-scott-an-old
Link to more videos: https://www.youtube.com/user/rozzzy123
C. Photography and Videos by Rosanne Licciardi
The Don Scott Blues Duo is available for festival and club bookings
Email bluesscotty@hotmail.com or call 507-316-0037 or 507-272-0918
---
The Don Scott Blues Duo, comprised of Don Scott and Rosanne Licciardi, travels around the US and Mexico seven months of the year. The duo recently played in Ireland capturing attention on Scotty's original songs, "The White Man Still Runs The BIA" (Bureau of Indian Affairs) and "JP Morgan, Citibank, Wells Fargo." You can follow them on www.donscottblues.com.
Artist      Rochester, Minnesota