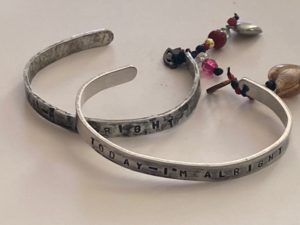 The Covid Crises has created many citizens of many countries who might be feeling despair. Are you experiencing what feels like trauma? The planet WILL survive. The question is – will the mammals who have dominated it over the last 500 years learn anything from the experience. We may all need to be mindful and deliberate about our own personal RECOVERY.
What does that word actually mean when connected to trauma? I chose to use the word RECOVERY because my TODAY, I'm Alright series is a message of hope.
Your trauma is not terminal.
You are not broken.
You can create your own life raft of hope and resilience with practical strategies.
I created the artwork "TODAY, I'm Alright" to deliver a message of hope and serve as a catalyst for positive social change. It is interactive. Workshop participants open all the cupboards and drawers, consider what they see and select an object to keep. They left their reflections and comments in Esperanza's (Hope's) backpack.
In my project on Recovery and Healing, I was joined by team members Marya Hornbacher, author, and David Swarthout, psychotherapist.
Marya influenced my thinking. She indicated when people ask her if she is "in recovery" she responds with strength, contentment, and peace of mind "TODAY, I'm alright."  I decided to name my work after this insight.
I now know that TODAY, I'm Alright.
We made these very hip bracelets as a token for workshop participants to remind themselves that "Today, I'm Alright".  Skyler, my studio assistant, suggested we "distress" some them (beat them up). This, of course, adds extra meaning (and hipness)  ; /0  The first 10 people to email me at drb@bridgescreate.com with their address will receive a bracelet of hope from me to you. Gratis.  Please pass on an RAC to another person today.  Read More