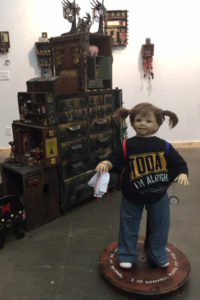 M age 50  The whole piece is whimsical, thoughtful and timely. I love the messages of "Hope" in several places. It's beautiful!
M age 21 The reminder to pause and find something to hold onto.
F age 33 I loved all the drawers how interactive it was.  Gorgeous to look at.
M  -I loved the ring thing for stress!  Also the back pad that she had. i did not know things like this existed. It's Cool.
M Age 21 Giving us the opportunity to  let our trauma out.
F age 65 Today,  I am alright. My estranged daughter came with me  and she was brave.
M age 71  -You created art that deals with trauma.  How cool is that?
Other age 21 The stallion was so cool
Non-Binary- 18   You made trauma into a whimsical and fantasy-like experience.  You need to research the steam punk experience.
F  age 52   Your work is very heavy and seems to be relevant because of the supreme court nomination today.
F age 24  I loved all the art and collection of found objects to make the pieces cohesive yet unique. I spoecially like the box sets. I find myself drawn to the Bridges and Hope. I wanted to examine each piece within the altar. there is plenty more to see.  Just lovely.  Esperanza does not seem inviting.
F age 37  Discovery( i opened  the drawer with the stuffed animals, , the first looking at me red/brown/white bird I owned in my childhood. Exactly like this one! I was raised in Germany. I don't know what to think about the prices. I would feel more comfortable without them but nothing was wrong with that.
F age 8    the writing on the surface.  I did not like the doll's hair.
F age 31  The presentation was amazing
F age 44  I loved touching the talisman for each trauma. Bring to more places where people can interact.
M age 76  I loved it all
M  age 16   I loved all the art and especially TODAY
F age 8   I loved the Barbies.  You need botte caps- just a suggestion.
M age 16   I loved the way you unveiled the whole thing. So unique and wonderful.
F age 52  I loved the playful interactive quality. y favorite part is the "private' drawer that sticks. That was intentional, right?
M age 15  i loved it all. The details were amazing.  It is perfect as it is.
F age 70  I loved seeing so much creativity. It all looks good.