Artist Statement:
My work strives to connect our human experiences through thought and movement. My creative vision has led me to create stories on stage, either from a classic author or poet, a current event, or drawing from my own personal experiences. I explore how to communicate stories, thoughts, and feelings through movement and dance. I want my audiences to personally connect to what they see and ignite feelings within them and to be a catalyst for conversation and change.
I believe that we are stronger as individuals and as a society when we come together. As an artist and teacher, it is important to me to create collaborative experiences on the stage and in the classroom. Part of my mission as an artist is to work with installation artists, musicians, videographers and actors within the community to create relationships as we work to bridge the gap between the arts; This creates a more defined experience for the artists and audience as we expand the reach of our work.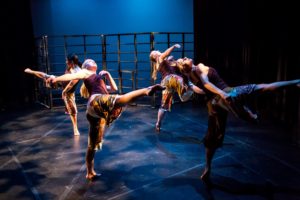 The Path (2013)
The Path was created to speak about Mexican Immigration into America exploring the dangers and the determination it takes to get across the border safely; Researching why people leave Mexico in search of a better life for themselves and their family and what can happen during the journey to America.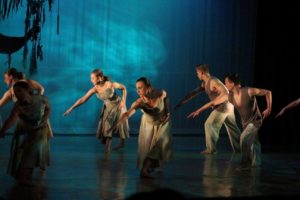 Found in the Water (2016)
Found in the Water addresses the growing concern of our water quality. Based off of the philosophy of artist Barbara Bridges' "Found in Our Water," this piece explores the breaking down of an environment and quality of movement as a representation of our water systems.
Read more on Danielle's Method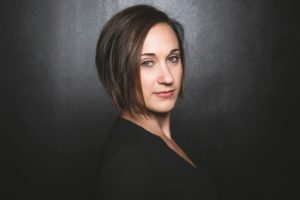 Danielle Ricci is an educator, choreographer, director, and dancer. She received her BFA in Dance Performance from University of California, Irvine in 2006 under direction of Donald McKayle. In 2014 she graduated with an MA in Arts and Cultural Management from St. Mary's University of Minnesota. She currently an 'MFA in Choreography' candidate at Jacksonville University (2018). She has studied at The Ailey School in New York City as part of their Certificate in Dance Program. Danielle has danced professionally in California, Texas, and Minnesota and has also performed on stage with members of Joffrey Ballet, American Ballet Theatre, James Sewell Ballet, and Minnesota Dance Theatre. Danielle is the Founding Artistic Director of Borealis Dance- a professional modern dance company based in Minneapolis. Her choreography has been recognized as "Best of the Festival" at the Frontera Fringe Festival in Austin, TX in 2010.
2009- Present       Artistic Director Borealis Dance- Minneapolis, MN
Artistic Director of professional modern dance company.
Teaching professional dancers and apprentices modern and ballet.
Choreographing full-length productions as part of the performance season.
Designing and teaching outreach curriculum
August 2017        Guest Lecturer- Graduate Seminar Course
Puerto Rico Cohort – Jacksonville University MFA Choreography
Selected to present proposed Thesis Research and field questions for one week of this course.
20016-2017         Guest Choreographer- University of Wisconsin, River Falls
Guest choreographer for Dance Theatre.
Set new work
Teach master classes in ballet and modern technique.
Presented work for the Midwest Region American College Dance Festival Association
Choreography/ Theatre Direction
2016- Present       University of Wisconsin, River Falls
Original work choreographer for Dance Theatre and presented at ACDFA
2015                      Oklahoma City Contemporary Dance Festival- Oklahoma City, OK
Perpetual Motion Dance Company
2014-Present        Northeast Middle School- Minneapolis, MN
Director: Bye Bye Birdie (2017) Beauty and the Beast Jr. (2015) Wizard of Oz (2014)
Choreographer: Shrek Jr. (2016)
2012-2017              North Hennepin Community College- Brooklyn Park, MN
Choreographer: Women on the Verge of a Nervous Breakdown (2017) Sasquatch the Musical (2016) Violet (2015) Dames at Sea (2014) Avenue Q (2013) The Three Musketeers (2012) Bat Boy: The Musical (2012)
2009-Present        Borealis Dance- Minneapolis, MN
Artistic Director: Love Stories (2017) Shift-Affect (2016) Past Forward (2015)
The Night Before Christmas (2010- 2017) Found (2014) Reflections (2013) Who Are We (2011) Love Stories (2009) Human Emotion (2009), Austin Dances Ailey (2009)
Original pieces: Awaiting Fate (2009) and Peace Is With You (2012) Awarded 'Best of the Festival' for Frontera Festival Short Fringe Festival in Austin, TX
2008-2009            Austin Metamorphosis Dance Ensemble- Austin, TX
Artistic Director: In the Land of Make-believe, Bittersweet, Ballet Under the Stars
2003-2009            Hibbing Community College- Hibbing, MN
Choreographer: Pirates of Penzance (2009) Disney's Beauty and the Beast (2007)
The Blues Brothers (2004) A Christmas Carol (2003)