Noble Truths Studio Visit – Layl McDill
December 6, 2022 @ 8:00 am

-

5:00 pm
Noble Truths Studio Visit Artists for 2022-2023
Layl McDill December 6, 2022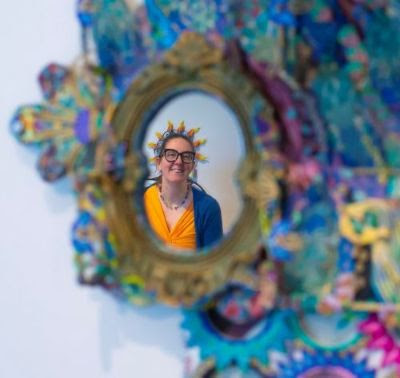 Noble Truths Studio Tour December 6th at 6:00
Her studio is located at 2505 Howard St NE
Step into the wonderland of Layl's studio in the Flux Arts Building.  She shares her space with her husband Josh Blanc as part of Clay Squared to Infinity.
Layl's creates polymer clay sculptures that focus on wonderment and storytelling and Josh makes handmade tiles.   She will give a tour of both her studio and her husband's.  As an extra bonus Layl will perform one of her stories which she recently told on the Moth Stage at a Story Slam.  And you won't be able to resist playing with some polymer clay scraps so feel free to play away!– Layl McDill grew up in Gillette, Wyoming where she began creating at a very young age. Layl received her BFA in Illustration from the Columbus College of Art Design but she found it more exciting to make sculptural work and sell it through galleries and art fairs.
Layl lives in Minneapolis and is co-owner of Clay Squared to Infinity, a tile and art studio and showroom in the Northeast Minneapolis Arts District. She has exhibited her work around the country at art centers, museums, and art fairs. Her work is about wonderment and story primarily polymer clay using the millefiori technique.
"A long time ago in a kitchen in Wichita, Texas a young mother mixed up another batch of homemade play dough. She made all the colors for her freckle-faced daughter and when her daughter rolled and squished this salty substance something magical happened- she began to turn into an artist."
And THAT is my origin story. Stories help us make sense of our world and help us connect with others.  My polymer clay sculptures are filled with the sensation of story. When people engage with my work I am often asked  "What is this from?" because my work seems like it's derived from fables or myths. But soon they realize the stories are all fresh and just a little off-kilter.
Read More:  http://laylmcdill.com
Social Media: 
Www.laylmcdill.com
www.claysquared.com
https://www.facebook.com/layl.mcdill
https://www.instagram.com/laylmcdill
https://www.tiktok.com/@laylmcdill
Twitter: @ https://twitter.com/laylm
https://www.etsy.com/shop/laylmcdill
Youtube: https://www.youtube.com/user/laylmcdill
Linked In https://www.linkedin.com/in/layl-mcdill http://laylmcdill.com
Contact Layl at layl@claysquared.com, or 612-781-6409