Arts District Palette:     Where Neighbors and Artists Mix
Call for Art
Partners: An Art to Change the World (ACW) , The Huxley,  Northeast Minneapolis Arts Association (NEMAA), Northeaster, Northeast Minneapolis Arts District, and Sociable Cider Werks.
            Introduce our new NE neighbors to your art and build community 
                                      in the NE Minneapolis Arts District.

The Huxley, 657 22nd Ave NE • Minneapolis, MN 55418, has commissioned 224 art works. ACW will develop May Day welcome swag bags stuffed with 20 artists' works, gifts from local businesses and an invitation to an outside pop-up art event in August where the new NE residents and artists will mix socially distanced.
We are looking for twenty ACW and NEMAA artists to make 12 pieces of art each.  Artists will earn a total of $360.00 ($30 per piece). We are seeking funding to raise this stipend. This is a  relational opportunity to develop new collectors. Art submitted should be worth at least $30 (or $40 or $50- according to how many donations we receive), We are not encouraging artists to take a loss on their work when applying but keep in mind that this is a promotional opportunity for you.
These can be 12 different works. This is an investment. This is just the beginning and more projects will follow. Do you have works worth more in your studio that you would like to move out? This is that chance.  Artists may also include coupons, discounts on artwork at your studio or lessons.   Ten artist members will be chosen from each organization (ACW and NEMAA).
Timeline: 
Deadline for submissions: February 15th 2021.  
Notification: February 23rd 2021
Art Delivered by April 15th 2021 (Location to be determined)
Welcome Swag Bags Delivered to Huxley Residents May 1st
In Person "Pop Up Palette Party" late August (All artists involved invited to display and sell work)
Artist Requirements:
Artists must be either a member of Art to Change the World (join here: https://www.arttochangetheworld.org/product-category/support-us/ )
Or a member of NEMAA (Join here: https://nemaa.org/membership/)
Participation in ADP earns an automatic membership to both organizations. 
Artists must live or work in Northeast Minneapolis OR be working on this project through ACW or NEMAA  Contact info@arttochangetheworld.org to get involved.
Artwork Requirements:
All 12 pieces do not need to be the same but they need to be similar to the submitted photo (s).

All artists should be willing to attend The Palette pop Up Party (PUPP) (TDBA)
All physical mediums accepted- sculpture, painting, drawing, mixed media, photography.
We suggest the art work be worth more than $30 – this as a marketing opportunity for the artist but we are not suggesting the artists lose money on the art work. 
Art should  be display ready.  We want the recipients to think about how they will be decorating their new home with real art from local artists.  
We encourage you to include an Artist statement with contact information and a message.
All participating artists need to promote the project on their social media and Newsletters
Pieces must be approximately   15" X 18"  or less. 3-D= *" x 8″ x 8″.
Coupons for classes or future purchases can also be added to the totes (if you do not want to be a fully participating artist but would like to add marketing material that includes a discount contact Layl McDill at layl@claysquared.com

How to Apply: 
No entry fee.
Email the following to layl@claysquared.com by February 15th.  She will confirm receipt.If you do not hear back from her…post info@arttochangetheworld.org.
Indicate if you are applying as an ACW or an NEMAA artist
Jpg images at least 300×300 dpi that shows what you plan to make.  Send multiple images to show a variety of pieces if possible.  Images that show final packaging design is also helpful.   
Description of what you plan to make.
Include website and/or social media links that show your body of work and general style.
Name, address, email, website and phone number.
Other opportunities: 
One image from a participating artist will be chosen for one side of the tote bag.  
Pop Up Palette Party in late August.  All participating artists are invited to display their work at 8×8 foot space, bring your own tables with coverings or displays.  Tables need to be covered to the ground. No fees. This will be a chance for the recipients of your art to meet you and purchase more of your art.
Your art will be included in the Arts District Palette marketing which includes articles and ads in the Northeaster, radio (AM950 and JAZZ88 and others), social media, newsletters, press releases etc. 
See example below:
Barbara Bridges  ACW
13″ W X 8″ T X 2″ D
Mixed Media
Value: $75
Contact: drb@bridgecreate.com  612 845 0416
2323 Monroe St NE, Mpls, MN 55418
See  more of my work:  https://www.arttochangetheworld.org/barbara-bridges/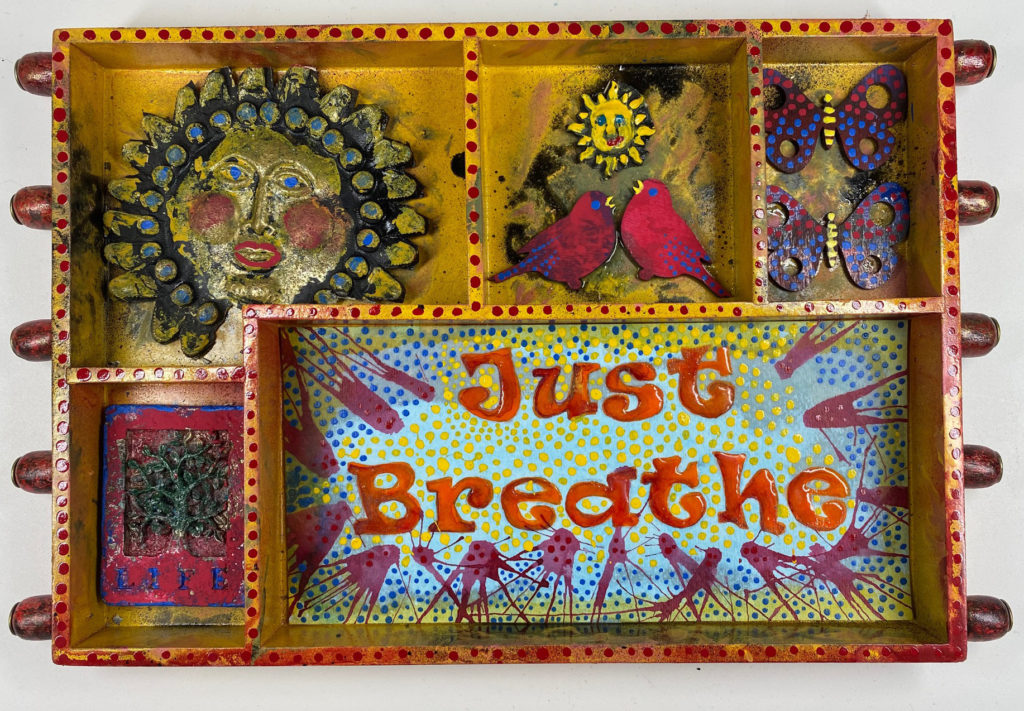 Click to Enlarge